First Look: With The Snug, the de Vere White brothers bring an Irish pub with a craft cocktail twist to R Street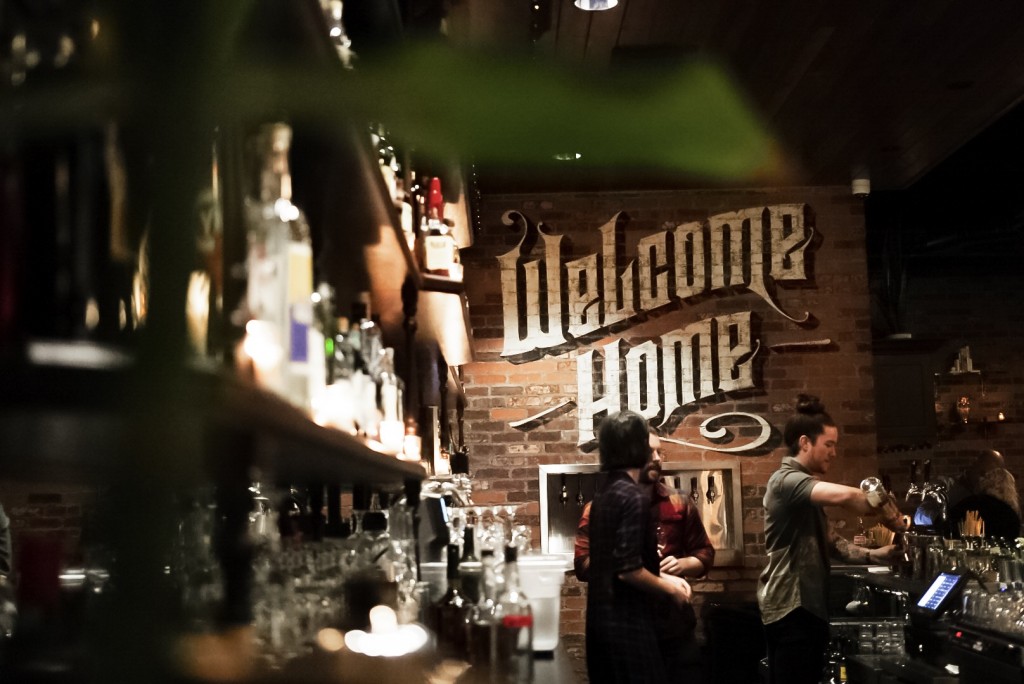 "All Irish pubs have one," says Simon de Vere White, referring to the small, walled-off room inside a bar that Dubliners refer to as a "snug," which also happens to be the name of the new R Street bar he opened on Jan. 2 with his brother Henry. "They were originally for priests and women because it was improper for them to go up to the bar. They were used for meetings—uprisings and revolutions were formed in snugs."
This sense of storytelling is on display throughout the 1,800-square-foot space. As with the brothers' first pub De Vere's—which has locations downtown and in Davis and nods to their clan's past with decor touches like family photos—The Snug is deeply embedded in Irish tradition and history.
The bar's carefully curated design elements include a large, rustic "Welcome Home" wall art, which was painted by local sign artist John Dozier; the taxidermied warthog head—which had belonged to the late father-in-law of Henry's best friend—above the bathroom entryway; the faux leather wallpaper in navy and cream bearing the de Vere family crest (hand-drawn by graphic designer Tina Ross); and tall, carved mahogany booths designed by an old family friend in Ireland.
But while Henry and Simon looked largely to their Irish roots for inspiration ("It was a part of the law in Ireland that if someone showed up at your house and it was raining, you had to offer him shelter and food," says Henry. "[Hospitality] is a part of the DNA"), they also sought to create a worldly space for Sacramento's current bar scene. "We want to take people on a journey," Henry adds.
As such, the brothers and general manager Trevor Easter (formerly of Shady Lady, San Diego's Noble Experiment and San Francisco's Rickhouse) created the imaginary character Sir Liam O'Farrell, a cocktail-swigging avid traveler who bears the maiden name of de Vere Whites' paternal grandmother, to embody the spirit of The Snug. He is the uncle who trots the globe and returns to share his tales over a drink. "He's kind of a mix of the Dos Equis guy and Hemingway," says Easter, who envisioned The Snug's cocktail menu as O'Farrell's would-be travel journal in which he jots down drink recipes and anecdotes. For instance, for the Bamboo Cocktail, a blend of dry sherry, French vermouth and orange bitters, O'Farrell writes how he tried it at a bar in Japan in 1955, and while the ingredients sound terrible, the drink was "as refined and polite as the people serving it."
Thumb through the lined pages of the journal-slash-menu (also hand-drawn by Ross), and while you may expect an Irish pub to lean heavy on the whiskey, you'll find "a drink for every thirst" (The Snug's tagline). Sure, the bar's popular signature Snug No. 1 is a smoky Old Fashioned-esque cocktail with bourbon, brandy and bitters (see above picture; yes, its ice cube is branded with the bar's name), and we loved the Black Lodge, a spirit-forward libation made with a house rye blend, vermouth, banana, truffle and damp peat, but there's also the Spruce Goose, a mix of cucumber-infused gin, amontillado sherry, house-made orgeat syrup, absinthe and lemon with a cucumber garnish, and the Martuni, made with vodka, aquavit, fino sherry, apricot, honey and a rosemary sel gris. Confused by all the cocktail speak? Flip to the back of the hardbound bill of fare, where you'll a glossary of ingredients to find out what you signed up for.
And those who are extending their Sober January into February don't have to be relegated to seltzer with lime. The Snug (and both De Vere's locations) carries Seedlip, a distilled nonalcoholic spirit that is featured on the menu in a "gin and tonic" with grapefruit. (Pro tip: If you're feeling adventurous, ask the bartender to make a booze-free Dealer's Choice for a sippable surprise.)
Whatever your poison, it's easy to snuggle up to The Snug. "We really wanted to create a private place for people to have an escape from where they were coming from," says Henry. "A lot of heart and soul went into [creating this bar]."
The Snug. 1800 15th St. snugca.com
You Might Also Like
Milk House Shakes to open in Old Sacramento
The Cabin, a cozy camping-themed bar, to open soon in midtown
Owners of Binchoyaki plan new bento box spot