Fit for a King
To celebrate Martin Luther King Jr. Day, now is the perfect time to take the first steps to honor him in California's capital with a statue befitting his legacy.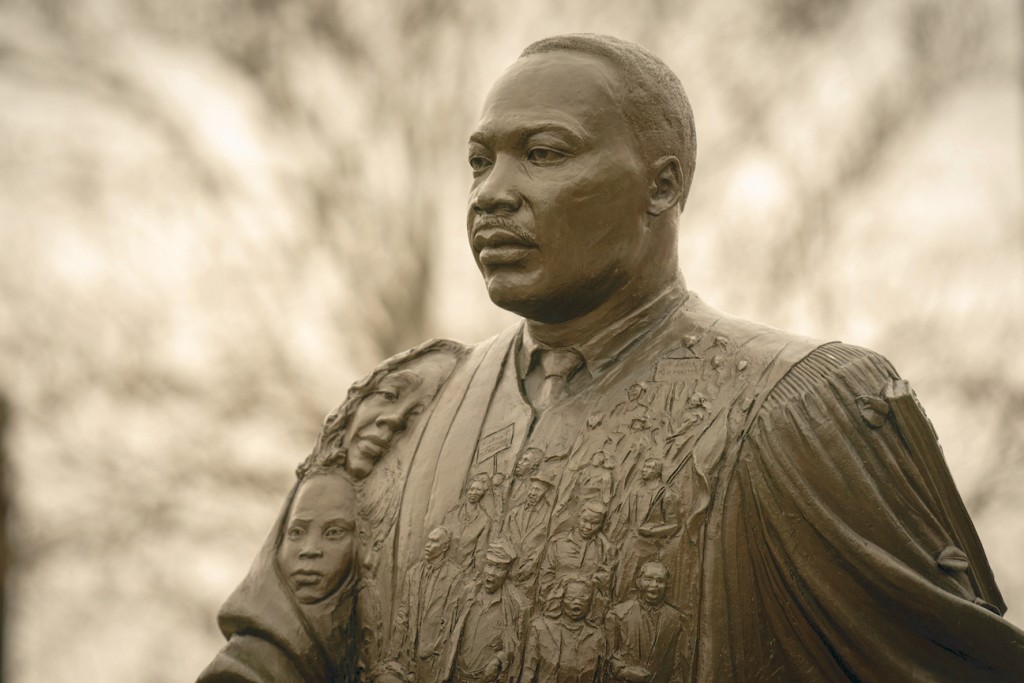 The Idea
In the wake of the 2020 protests after the murder of George Floyd, at least three controversial statues in Sacramento were removed—those depicting John Sutter, Junípero Serra and Christopher Columbus. So let's create some tributes that can unite us instead, starting with Dr. Martin Luther King Jr.
According to a recent study, Dr. King is the fourth most memorialized figure in America after Lincoln, Washington and Columbus (and Columbus' numbers are dropping). In California alone, statues and memorials honoring the civil rights leader exist in cities like San Francisco, Los Angeles, San Diego, Fresno, Stockton, Riverside, Long Beach, Compton, San Bernardino and Pittsburg. Given the fact that Sacramento is the capital of California, it's surprising—and disappointing—that we have no such tributes here.
There is a statue of MLK inside the UC Davis law school named for him, but we need a public one, perhaps in Capitol Park or in the prominent space in the Capitol rotunda previously occupied by Columbus. After all, it was a longtime inhabitant of the State Capitol—Ronald Reagan—who as president signed Martin Luther King Jr. Day into law on Nov. 2, 1983.
Dr. King gave several speeches in Sacramento—at Sacramento State's stadium in 1967 (only six months before he was assassinated) and in downtown's Memorial Auditorium in 1964 (another possible site for a statue), where he inspired a 10-year-old Cornel West—today, a leading scholar on race relations. "I'll never forget it. It hit me so hard," West recalled in an interview with Sactown in 2019. "I just knew, here was a brother who was for real, serious about trying to love and serve people, and it was just such a beautiful moment."
The Players
To make a Martin Luther King Jr. statue or memorial a reality will take effort and money, but when it comes to the potential artist, there's a compelling case to be made for Lisa Reinertson. The Benicia-based artist not only grew up in Sacramento and studied art at UC Davis, but she created the MLK statue for UCD's law school in 1987.
Also, remarkably, her father marched with Dr. King from Selma to Montgomery in 1965. Since completing her full-size likeness of the civil rights leader for UCD, she has since created other MLK statues in Riverside and Kalamazoo, Michigan. Reinertson's renditions are among the most realistic and artistic of any likenesses of Dr. King found anywhere.
As it happens, she also crafted the statue of Cesar Chavez in the park that now bears his name in front of Sacramento's City Hall. Then-Mayor Joe Serna was the driving force behind that effort.
Perhaps Mayor Darrell Steinberg—an alum of UC Davis' King Hall—could be a driving force for a tribute to Dr. King.
Of course, when Reinertson won the law school's commission in the 1980s, it was part of a design competition—a process we could emulate today.
The Bottom Line
Similar statues in other cities have recently cost between $250,000 and $500,000, with variable factors such as site design, materials and scale. Whether the city, the state or private groups take on this worthy effort, now feels like the time to ignite such an undertaking. With racial tensions flaring across the land, Dr. King's words of love and unity are simply the right message at the right time.