Five creative installations at K Street's new Art Hotel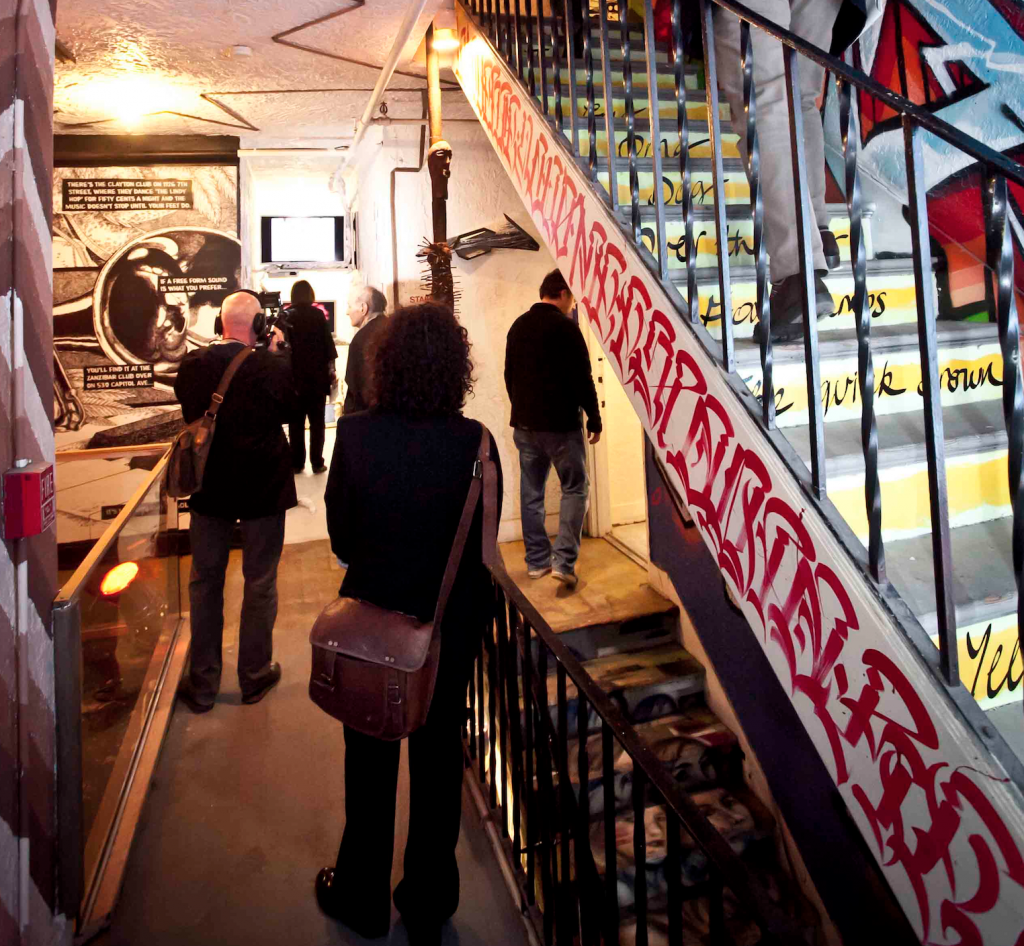 Last night in downtown Sacramento at 7th and K streets, dozens of guests checked into a five-story brick hotel. But their intent was not to find a place to rest their heads, but rather to discover one of the largest new art installation projects in Northern California.
The event was a VIP preview party of the Art Hotel, an experimental and multi-medium art exhibition housed inside the former Jade Apartments, where nearly 100 artists have transformed the abandoned space into a temporary show that will be on public display from Feb. 5 to 13 before the building is demolished in the spring and reconstructed into a Hyatt Place.
The project began when the Jade's owner approached local muralist Shaun Burner to create a work on the hotel's exterior while it awaited demolition. After exploring the Jade's vacant, disheveled rooms, Burner, together with other members of newly formed M5Arts Collective (representing the five mediums of painting, photography, sculpture, video and performance), were inspired to offer the unusual space to local artists.
The hotel become a canvas and, eventually, a full-fledged gallery in which everything from stairwells to fire extinguishers are treated as art pieces.
"The idea of it being torn down—that's why I wanted to do it," Burner says. "Everything is temporary. It's more about the process. I like the fact that if you come and see it, you'll see and if you don't, you won't. It's in the moment."
Here are five very cool artist installations and collaborations at Art Hotel.
Matthew Porr and Andrew Taggert (Room 202 Living Room)
For their installation "The Riding on the Wall," artists Matthew Porr and Andrew Taggert constructed a skateboard ramp inside the former living room. After installing blank canvases in the ramp, Porr and Taggert drizzle paint on the ramp's surface and skate while guests look on, creating abstract splashes of color derived from a physical experience. "I wanted to do something that was specifically interesting in this kind of space," Porr says.
Franceska Gomez and Shaun Burner (Room 302 Living Room)
Perhaps one of Art Hotel's most physically impressive pieces, the collaboration between mixed-media artist Franceska Gamez and painter Shaun Burner is a larger-than-life sculpture constructed of individual pieces of jutting wood that together create a human form, which is illuminated from within by multiple light bulbs. The sculpture's torso and head take up an entire living room, while the legs fill an adjacent kitchen.
Jose Di Gregorio (Room 308, Kitchen)
Local abstract artist Jose Di Gregorio, known for his bold, geometric designs, specifically asked event organizers to take over a kitchen in which to fashion a "rainbow room," insisting that painting the multitude of surfaces—the floor, the sink, the stove, the refrigerator—optimizes his anamorphic color gradient creation. Di Gregorio is interested in how Art Hotel upsets the conventions of experiencing art. "It doesn't have to be a precious object, and it doesn't have to be a painting on a canvas that is purchased by a collector and taken home because it's pretty," he says.
Vera Ximenes (Room 402 Living Room)
Installation artist Vera Ximenes was inspired by the lives and deaths of past Jade tenants in crafting her dimly-lit room in which a metal bed frame, complete with exposed springs and draped in red netting that reaches to the ceiling is the stark centerpiece. "A bed is symbolic—most people are born in a bed, they die in a bed, a lot of important things happen," Ximenes says of her totemic offering to the Jade's past.
Eric Howard and Chad Turner (Room 404 Living Room)
Videographer Chad Turner and programmer Eric Howard collaborated to create an interactive installation that challenges notions of privacy and voyeurism. A black column stands in the center of a blue-lit room, inviting guests (like the Crocker Art Museum's Lial Jones below) to look inside at a screen filled with "intimate" images, including eyeballs and female nudes. The twist? A distorted reflection of the onlooker's face is projected on the exterior of the adjacent building, which is visible through the window. Howard says, "You can't invade privacy without two different people," capturing how the installation creates a multi-person experience.
Art Hotel is free and open to the public Sun. Feb. 7-Thurs. Feb. 11 from 3 p.m. to 9 p.m. and Friday and Saturday Feb. 5 & 6 and 12 & 13 from 12 p.m. to 11 p.m. Catalogs and coffee table books are available for pre-order and will be the only remnant of the exhibit. For more information, visit m5arts.com.
You Might Also Like
Massive new tower proposed for Capitol Mall could end up as city's tallest
10 exhibits and events to check out on Sacramento Museum Day
Downtown's Whired Wine bar will open with winemaker series featuring local vino