Five farms to open their doors for Mountain Mandarin Orchard Days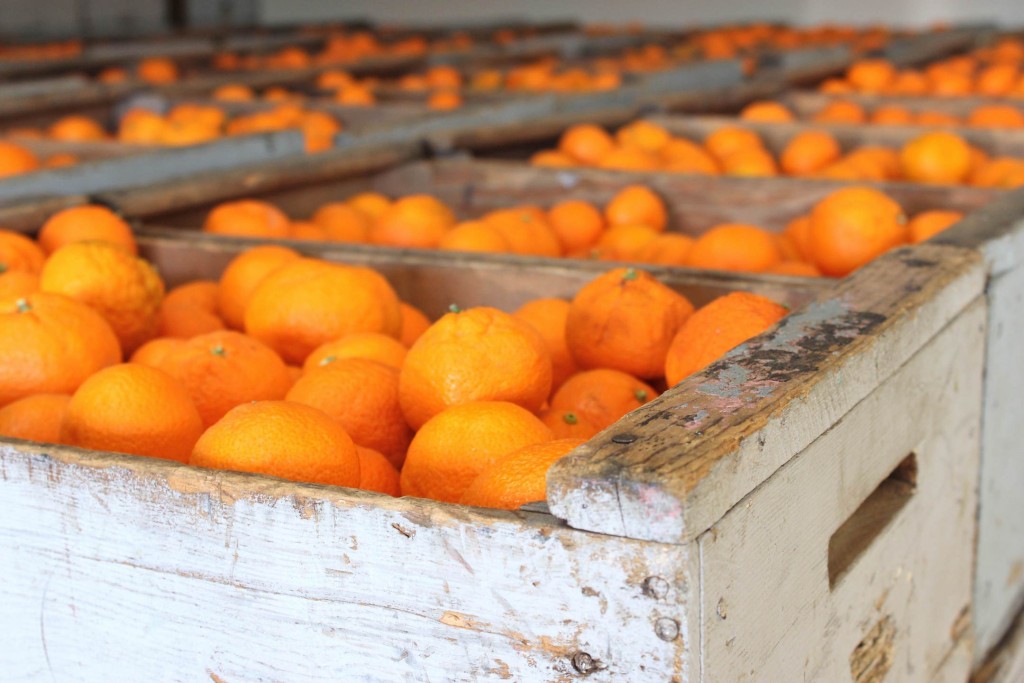 'Tis the season for twinkling lights, gift-giving and—if you live in the Sacramento region—those plump orange orbs called mandarins that we've grown to covet. For two weekends each December (this year's dates are Dec. 3-4 and Dec. 17-18), dozens of Placer County mandarin farms and orchards open their doors to offer a bushel of events and homemade goods in celebration of the popular citrus. You can view a map of all of them here. Read on for five juicy highlights.
The Flower Farm
Citrus lovers can dig into farm-fresh mandarins, naval oranges, blood oranges and Meyer lemons at this bucolic farm in Loomis, which also offers a tasting room featuring Loomis' Casque Wines. Visit the cafe for a mandarin salad with arugula, feta cheese, toasted sesame seeds and almonds, or a flatbread mandarin pizza topped with mozzarella, kalamata olives and homegrown tomatoes. And on Orchard Day afternoons from 12-4 p.m., Santa will land his sleigh at the farm for little ones to score free photos on his lap. 9280 Horseshoe Bar Road. Loomis. 652-5661. flowerfarminn.com
Highland Orchard
Mandarins aren't just for peeling at this Penryn orchard. The citrus comes in many creative forms, like addictive mandarin fudge, white chocolate oatmeal mandarin cookies and mandarin mimosa jelly. There's even sweet-smelling mandarin soap if you're in a gift-buying mood. Adults can sip wine from Auburn's Fawnridge Winery and nosh on smoked salmon while little ones munch on bags of fresh caramel corn, take a ride on a miniature horse carousel and get their faces painted. 2170 Aguilar Ln. Penryn. 663-3897. highlandorchardmandarins.com
Mandarin Hill Orchards
Hop on a hayride or take a walking tour of this historic 70-year-old orchard, where you can also sample and purchase sweet Owari Satsuma and Clementine mandarins, visit with fluffy alpacas and goats, and check out an exhibit featuring wool-spinning and knitting. If you're hungry, food trucks selling homemade tamales will be on site, or you can pick up a complimentary grilled hotdog or hamburger and nab a spot at one of Mandarin Hill's many wooden picnic tables in its serene orchards. 2334 Mandarin Hill Ln. Penryn. 663-3852. mandarinhillorchards.com
Newcastle Mandarin Ranch
Stock up on mandarin-infused condiments and gifts at this Newcastle ranch, where offerings include farm-fresh honey, mandarin barbecue sauce, fruit spread and marmalade. Visitors to the ranch receive a complimentary cup of fresh-squeezed mandarin juice, but you can also purchase one of the popular malted mandarin milkshakes to satisfy your sweet tooth. Pose with picturesque backdrops like a vintage tractor and truck, or the 35-foot tall windmill, then warm up by the ranch's fire pit and munch on bags of mandarins, persimmons or walnuts, all sold at the ranch. 3219 Hector Road. Newcastle. 663-1475. newcastlemandarinranch.com
Sunset Ridge
This 20-acre Newcastle mandarin farm, overlooking the Sutter Buttes, makes for a great place to watch the sunset, follow a hiking trail or picnic under the canopy of the orchard's 2,500 trees. Learn the best way to pick your own mandarins and fill up a bucket to take home, then stick around to sample treats like wildflower honey, marmalade and mandarin ranch dressing. Sunset Ridge also offers pulled pork with beans and cornbread for lunch, along with tastings of Loomis Basin Brewery's mandarin wheat beer. 7825 Fox Hill Ln. Newcastle. 663-9158. gotmandarins.com
Mountain Mandarin Orchard Days will take place Dec. 3, 4, 17 and 18 from 10 a.m. to 4 p.m. For a growers' map and complete list of mandarin farms, visit mountainmandarins.com.
You Might Also Like
Set your holiday spirit aglow at these 10 local tree lighting ceremonies
Shop, stroll and play during the 12 Days of Midtown
Nine fun ways to give back this holiday season