Five questions for rock climber Alex Honnold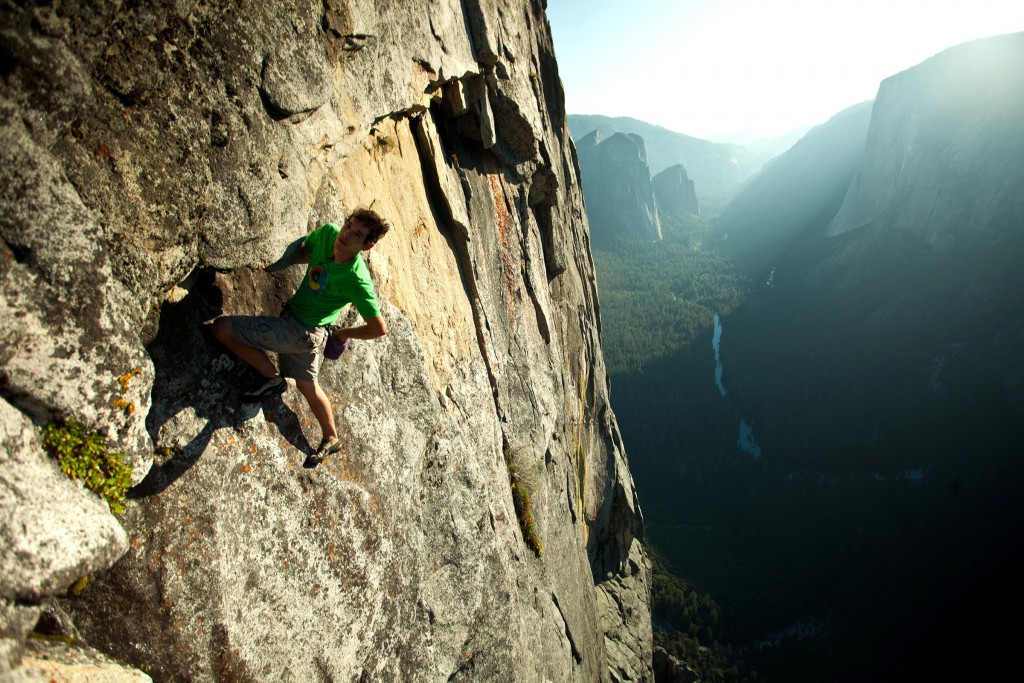 Professional rock climber and Carmichael native Alex Honnold has defied the odds—and gravity—ever since he was a kid learning to climb at Granite Arch in Rancho Cordova. Today, the 30-year-old is one of the most accomplished free solo climbers in the world, holding multiple speed and distance records for climbs from Yosemite to Patagonia. Over the last year, he compiled the accounts of his greatest feats in a memoir entitled Alone on the Wall, slated for release on Nov. 9. Sactown recently caught up with Honnold about his book, his favorite thing about coming home to Sacramento, and his quest to climb one of the tallest skyscrapers in the world.
You co-wrote Alone on the Wall with fellow climber and award-winning author David Roberts. What was it like to put together your first book?
The process was fun. I just seemed like the right time. I've done a lot of film projects about climbing, tons and tons of clips on YouTube and interviews here and there, but there's nothing that lays it all out in a more comprehensive way. It's a pretty straightforward chronological look at my life and [it describes] the best of all the climbing I've done. I read several of [Roberts'] books when I was a kid and was stoked on his writing. [Alone on the Wall] is the kind of book I'd like to read if I was a young climber again. And I hope that non-climbers get something out of it. Hopefully somebody will read it and it will motivate them to try their hardest.
In the book you talk about what would be one of your biggest ropeless climbs—the Taipei 101 skyscraper in Taiwan that was once the world's tallest building. The last chapter talks about how National Geographic was supposed to televise it, but they got cold feet about the risk and production cost. Do you think it will still happen?
I am still very optimistic about doing it at some point, but it's been dead for several years now because Nat Geo pulled the plug. I would be stoked to do it. I actually played on the building and it's super fun. It's really cool climbing. I already did all of the groundwork and I'm totally prepared, so if you know anybody who wants to do a filming climb, put the word out. It's not like the building is getting any taller.
What do you say to your critics who think that type of climbing is too risky?
If anything, I'm hoping people understand from the book that [free solo climbing] is not that crazy. Within the context of my greater climbing, the soloing shouldn't seem that outrageous. I'm hoping that if someone reads the whole book they get a sense of just how much climbing I do overall and where soloing fits into that. It's a small part of the overall climbing package.
In 2012, you started the Alex Honnold Foundation to provide sustainable aid to organizations around the world. What are some of the projects you're working on?
Last month I was in Angola, Africa for a couple weeks doing the first hands on-trip through the foundation. There's no solar market in Angola at all right now so we provided the seed money to get [a solar energy project] off the ground there. I've also been supporting Grid Alternatives, which actually works in Sacramento [the non-profit provides solar technology to low-income communities in the U.S. and abroad]. I mean, I'm still living in a car with basically no overhead, so I feel sort of obligated to try to do something positive.
When you're not on the road, do you still come back to Sacramento pretty often?
I don't spend a lot of time here anymore but I still love it. I still use Sacramento as my home base. I love the climbing gym, Pipeworks downtown. I've been going there since it opened. I probably spend more time there than anywhere else in Sac. And my mom's house. Yesterday after being abroad for a month [Honnold spent the last several weeks on climbing trips in South America] and then landing, I was so happy to be back in Sac. Last night I went out to dinner with a friend and I was so happy to just Yelp Thai food somewhere and just show up at any restaurant. It was just some random place on San Juan in Fair Oaks and it was so good.
To preorder Alone on the Wall and to find out more about upcoming book signing events, visit alexhonnold.com.
Check out Sactown's Aug/Sept 2014 feature "The Rise and Rise of Alex Honnold," in which the superstar climber attempts a record-breaking series of climbs in Yosemite.
You Might Also Like
Sacramento graphic artist creates book based on comic series
Walk These Ways: Sactown's guide to the region's best fall hikes
Spin City: 10 amazing bike rides in and around Sacramento