From Italy with Love
Inspired by their trips to cities like Rome and Naples, the Selland family opens Obo' Italian Table & Bar in East Sacramento. With house-made pasta dishes and scratch-made Neapolitan-style pizzas, it's ciao time.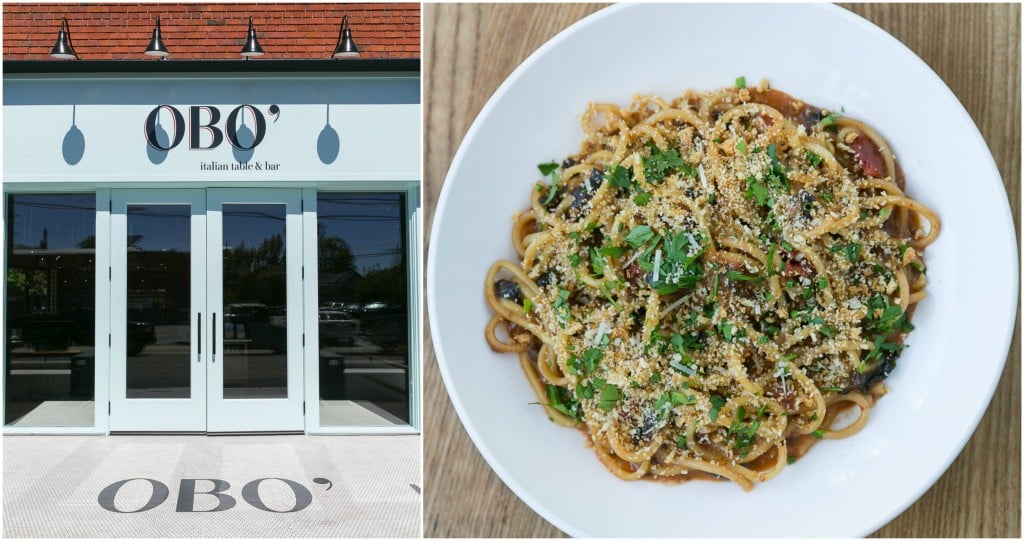 I
Obo' Italian
Table & Bar
3145 Folsom Blvd.
822-8720
oboitalian.com
R
In Rome's cobblestone alleyways, grandmothers churn out pasta by hand near the entrances of their family restaurants, kneading away in a flurry of flour. Four years ago, local food mastermind Nancy Zimmer witnessed this scene during a month-long trip to Italy with her husband, fellow chef Randall Selland. "It was amazing to have someone out front there, putting some love into food," she says.
So, even though Zimmer and Selland have found success with their acclaimed New American establishments, including The Kitchen and Ella Dining Room & Bar, she and Selland set out to fulfill their European vision this time. And, after three years of menu planning and research, Obo' Italian Table & Bar opened in mid-June. Just off the gritty bustle of Alhambra Boulevard in East Sacramento, the large brick building (which previously housed Andiamo, another Italian restaurant) looks like a breezy oceanside escape. And behind the counter, a pasta maker rolls out house-made spaghetti for all to see.
The restaurant's open atmosphere evokes the family's memories of Italy. In the mountainous seaside town of Ravello, wedding parties spilled into the narrow streets, where relatives trailed behind the bride and groom, Zimmer remembers. Also, in Italy, "grandmothers, children—they all feel welcome and share the [same dinner] table," she says. Obo' aims for the same sense of inclusiveness. The casual, quick-service eatery balances child-friendly décor ("Kids can run around and bang into things," Zimmer's daughter Tamera Baker says) with a full cocktail bar for date nights, complete with a signature Amaro liqueur fermented by Zimmer's son Josh Nelson, who serves as CEO of the family business.
Then there's the menu itself. Zimmer and Baker (who led the design of the restaurant) know what they don't like: "chef-y food," Baker says. Similar to the Italian ethos, they appreciate comfort food that's sustaining and life-affirming. "We cook to nourish more than to impress, really," Baker says. Her mother adds, "We want people to feel good when they're eating the food."
Italy might seem worlds away, but its food culture jibes with Sacramento. "[Obo' is] also very much based on local products, which is very Italian, but we're in California," Baker says. Naturally, the family has a full-time staffer to scour the area's farmers' markets three times a week. The restaurant's kale, chard and beets come from Capay Valley, and its tomatoes and squash from Watanabe Farms. Selland's decades-long connections with Central Valley farms have come into play, as well as his philosophy for finding the best ingredients—which means mostly local, but not by the book. The prosciutto, for instance, is imported, along with some cheeses. "The Parmesan has to come from Italy," Zimmer explains.
The pizza also required special care. When Selland and Zimmer stayed in Naples, they frequented a hole-in-the-wall family restaurant near their hotel overlooking the gulf. "[That] pizza was what we wanted our restaurant's [pizza] to be," Zimmer says. "I wanted to smell the yeast." She wanted it crispy on the puffy edges and solid in the center when picking up a thin slice.
Mission accomplished. The truffled mushroom pie tastes as if it had been hand-tossed by a chef in pizza's motherland. The golden brown crust is freckled with clusters of flour and salt, breaking to reveal layered and gooey dough. Nutty fontina plays perfect counterpoint to the supple, almost meaty truffle mushrooms. After much experimentation, the dough now "rises beautifully," says Zimmer. "We have all got five pounds of gluten-induced pizza-tasting weight on us right now," Baker jokes.
To make nostalgia coincide with reality, Zimmer collected pages and pages of Italian recipes and organized them in a binder. "All my cookbooks are torn apart," she says. Pointing to an image of a pizza blanketed with prosciutto, she adds, "I love the look of this—not just the ingredients, but the look of the pizza." She uses these visuals to communicate her lofty ideas to Obo's other chefs.
The house-made pastas present their own challenge. "It's figuring out how al dente you can serve it here in Sacramento, as compared to Italy, to get just the right texture of pasta," Zimmer says. (The family is quick to say that Obo' doesn't aim to be dogmatically Italian, despite rigorous samplings. "We're just having fun with it," Baker says. "It's not like a church of Italian food.")
For those who appreciate fresh noodles, try the dishes made with bucatini pasta (think hollow spaghetti that traps a gush of sauce). "The bucatini carbonara is my favorite," Baker says. "It's just delicious." Meanwhile, the bucatini puttanesca is a swirl of buoyant pasta strands, resulting in a toothsome nest studded with crackly breadcrumbs, tart sundried tomatoes, and cured olives drenched in the satisfying bitterness of anchovies. With a collision of tastes and textures, this dish is a must-try.
The chocolate budino in the dessert lineup is another standout. A humble glass jar contains a silky sea of molten pudding and sauce on top of a lightly salted, crumbling cookie. Sinfully rich, the treat offers a sensuous mix of dry and moist chocolate. On the lighter side, go for the bouffant-looking stracciatella cream puff. A fluffy pastry sandwiches smooth ribbons of cream dotted with chocolate flecks.
Despite Zimmer's spearheading of the Obo' menu, no member of the family claims to be the best cook. Each insists that someone else is. Zimmer, for her part, says that her daughter is the tops of their tribe. "[Tamera] was with me in the kitchen this morning correcting the salads," Zimmer says. "It's a joint effort in everything."
As for the décor, "at first I had this 'Italian holiday in the '50s or '60s' thing in my head, and it just kind of evolved from there," Baker says. Glass doors are framed by seafoam blue paint at the restaurant's entrance, which is boldly emblazoned with drop-shadow letters spelling OBO' (which is the nickname of Nelson's oldest son, Owen). Once inside, white hexagonal tiles give the space an airy crispness, and natural light pours in from tall windows. The color palette was drawn from Baker's memories of her trip to the dreamy island of Elba in the Tyrrhenian Sea.
High ceilings with exposed wooden rafters echo the chatterings inside, adding to the eatery's convivial vibe. In the middle of the room, the crown jewel dangles: A large chandelier made out of pizza peels looks at once sophisticated and easygoing, inventive and traditional—mimicking the delicious food served beneath it. Outside, lemon umbrellas match the lemon trees in planters, sparked by Baker's impressions of sun-soaked Tuscany.
Of all the places she visited, Zimmer says the Italian restaurants that inspired her most had families toiling in kitchens side by side. It's safe to say she's replicated that scene back home. With the namesake of Obo' zipping around tables with her other grandchildren, Zimmer has become like the grandmothers in her Italian memories—making pasta by hand with love. S