Funny Business
In his new B Street Theatre show about his long stand-up career, comedian Jack Gallagher plays for laughs while sharing professional highlights (his "Tonight Show" debut) and lowlights (his "Tonight Show" encore).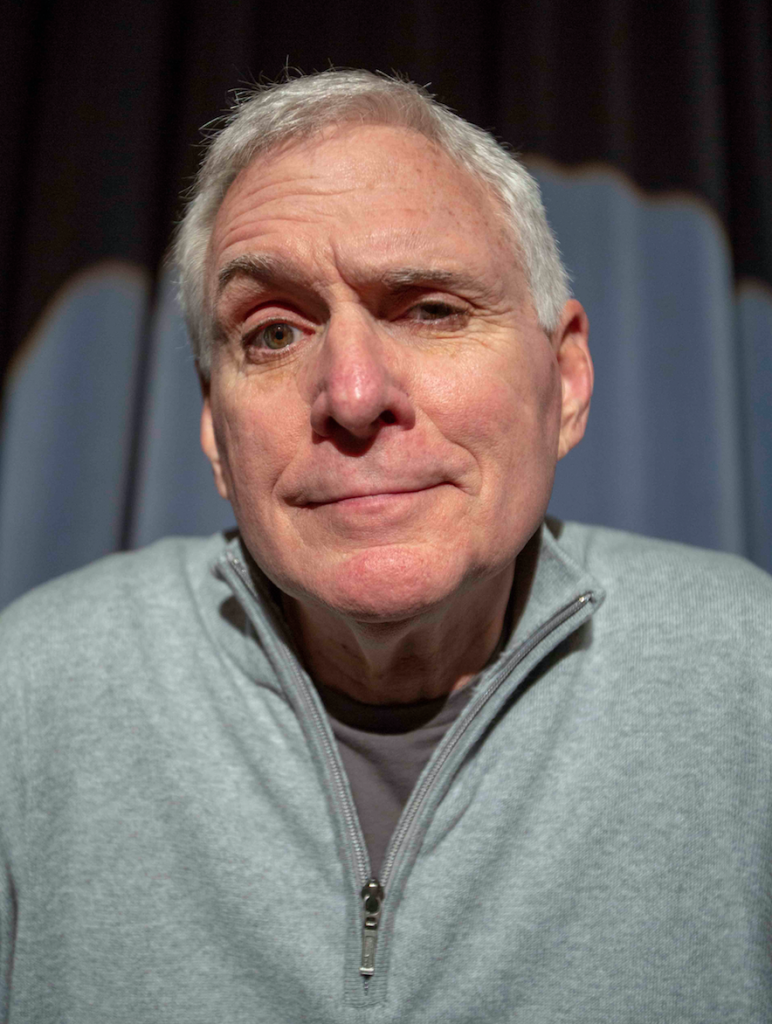 JJack Gallagher does this thing with his eyes. His brow furrows with a thought. Then it bursts upward with excitement, exposing his eyes as if punctuating a sentence. It happens a lot when he talks about his 40-year stand-up comedy career, especially when contemplating the early days recounted in his new one-man show about, well, his 40-year stand-up comedy career: A Stand Up Guy, which premiered on Sept. 10.
Take Gallagher's story of his first time trying stand-up in 1978, when he worked as a student bus driver while attending the University of Massachusetts in Amherst and his then-girlfriend Jean persuaded him to attend an open-mic night at a campus restaurant. "It was a very small room," the comedian remembers. "There were maybe 20 people in the room. I think there was me and maybe…" His brow drops, scanning his memory. "Maybe three other comedians that went up? And we had five minutes."
Gallagher's inaugural set observed the habitats on his bus route—the high-rise where the jocks lived, the hippies' residences in Dickinson Hall, and so forth. Immediately hooked, he became an open-mic regular. "It was good for me because I had to write something every week and I wasn't used to writing stand-up." Audiences voted on a winner for the evening. "When you won, you got a coupon for two to have a dinner at the restaurant, which was a huge deal for me and Jean because we had no money and we never went out to eat."
Boom—Gallagher's brow goes up below his scalp of white hair, and his brown eyes sparkle with recollection. As with his previous one-man shows, for A Stand Up Guy, the longtime Sacramento resident mines his life for the foundation of humorous anecdotes and personal milestones on which he builds his narrative. It starts with the very first joke Gallagher ever wrote, as a 12-year-old growing up in the suburbs south of Boston, and traces the comedian's journey and growth from that college open-mic night to his first Tonight Show appearance (which Gallagher regards as the highlight of his career) to his rebound from the cancellation of his 1995 ABC sitcom, Bringing Up Jack (an ordeal detailed in his 2002 one-man show, Just the Guy).
The trials and tribulations that afflict life on the road are here as well, with Gallagher sharing coping strategies for crazy roommates, homesickness, air travel and hecklers. "If you heckle me, I always say, 'I'm sorry, what?' " Gallagher explains. "I do that for two reasons. I heard what you said, but the audience might not have heard what you said. It also gives me two or three seconds to think of a comeback."
Job-related hazards aside, Gallagher has done fine for himself since he and Jean—now his wife of 39 years—settled in Sacramento in 1987 after he landed a hosting gig on KCRA's short-lived news-variety experiment TV Lite. Stand-up is the constant amid nearly three decades of other TV jobs: Many Sacramentans still recognize Gallagher from his Crystal milk commercials in the '80s and '90s, his recurring guest spot as Larry David's doctor on Curb Your Enthusiasm, or his Emmy-winning hosting stints for KVIE series like Money Moves and Kids, Cash and Common Sense. A Stand Up Guy is Gallagher's eighth one-man show with the B Street Theatre, and his first at the troupe's recently opened home, The Sofia, in midtown.
There's so much color and experience for Gallagher to draw from that it's almost impossible to believe he hasn't written a show about stand-up before now, especially in a booming comedy culture where podcasts, improv clubs, Netflix specials and myriad other outlets have made it safe—even cool—to be a comedy wonk. The comic himself seems a little surprised when asked about what took so long, but he has a simple explanation.
"Because I'm stopping," Gallagher says. "If somebody calls me, I'll go work, but I'm not chasing it. I'm 66. My wife retired last year and I don't want to be on the road anymore." Instead, Gallagher says, he splits his time between home in Land Park with Jean and their younger son Liam, 24 (the subject of Gallagher's 2010 show A Different Kind of Cool, about raising a child with autism), and family summers in Massachusetts at their cottage on Cape Cod. He'll pick up a stand-up gig here and there—a winery in Lodi, a theater in Mill Valley. Overall, though? Gallagher finally feels like he has a chance to look back. "My career is not ending," he adds, "but I jokingly say that I'm in the twilight of a mediocre career. I can see the journey, and it seemed interesting."
Gallagher's self-assessment evokes his comic signature, in which gently barbed, occasionally caustic observational wit streaks through down-to-earth personal narratives. It also evokes the early '90s—when his older son Declan was a toddler and Gallagher sought an escape from the grueling road life of a stand-up comedian. The resulting one-man show, Letters to Declan, fused Gallagher's stand-up storytelling with the introspective, anxious musings of a new father. The show debuted in 1993 at the Improv in San Francisco, further burnishing an era when jokesters like Whoopi Goldberg (The Spook Show), Rick Reynolds (Only the Truth Is Funny) and Rob Becker (Defending the Caveman) found critical and commercial success teasing and extrapolating dramatic arcs from the antic stand-up pursuit of laughs per minute. Gallagher's one-man show was among the most lauded of the bunch: The San Francisco Chronicle praised the "care, wit and expertise with which [the] show is crafted." The Los Angeles Times noted Gallagher's facility with mood and tone: "Equal parts sensitive-is-good and funny, Gallagher's piece is never too deep, never too dark."
A little more than a quarter-century later, Declan Gallagher shares a writing credit with his father on A Stand Up Guy. Gallagher invited his son, who is an actor and writer living in Brooklyn, to weigh in with feedback on early drafts. By fall 2018, the pair were dialed into an official collaboration where Gallagher would send revisions to Declan, who would then supply more in-depth notes and changes of his own. "It seems incredibly obvious
to say it's been a remarkably smooth writing process," Declan says. "It's hard when you take a pass at something that is a voice you're not familiar with. Even if it's a close friend, it can feel like shooting in the dark. This is just like, 'Oh, well, I know exactly.' I know the rhythm of this. I know exactly if I need to change something or swap something. I have had his voice in my head for 27 years."
Despite taking the traditionally spartan stage form of a Gallagher stand-up set—microphone, mic stand and a stool—A Stand Up Guy is not a Jack Gallagher stand-up act. And while it has a script, he insists it's not a play, either. ("A play is, in my estimation, six cast members, scene changes, stuff flying in and out," he says.) Nor does it follow the tear-jerking patterns of his family-driven one-man shows since Letters to Declan. Gallagher describes it as a series of anecdotes mapping the ups and downs of his career as a comedian, such as when he performed at Boston's famous Comedy Connection club in 1979, sharing a bill with his pal (and now-legendary comedian) Steven Wright. Or working alongside up-and-comers Denis Leary, Barry Crimmins, Kevin Meaney, Lenny Clarke, Bobcat Goldthwait and others as their local and eventually national profiles grew. (Gallagher and Goldthwait remain especially close, with the latter comic visiting Gallagher's family at Cape Cod for a week this summer.)
There is also, of course, the miraculous night in November 1985, when Gallagher had Johnny Carson and millions of American TV viewers in stitches on The Tonight Show. There is the stinging reversal of fortune months later, when Gallagher bombed on his Tonight Show return. (Only after Jay Leno assumed Carson's hosting mantle was Gallagher invited back again in 1995.) The comedian's style is customarily self-effacing, but he acknowledges how his memory of his doomed Tonight Show encore lapsed into self-flagellation in early drafts of A Stand Up Guy. He credits Declan with helping soften the tone with a son's unique outside perspective, advising Jack not to diminish the triumph of his first show and everything that has happened since. "That never occurred to me," Gallagher says. "Obviously all of these are my recollections, but Declan has a way of making it more streamlined—making it more listenable, perhaps."
Additionally, for anyone who ever doubted the craft that goes into building, sustaining and surviving all of the above, Gallagher unveils some of the inner workings showing how comedians do what they do.
"Since [A Stand Up Guy] is about comedy, it's funny, but you learn that the art of comedy is highly technical," says Buck Busfield, the co-founder and producing artistic director of B Street Theatre, and Gallagher's longtime stage collaborator. "What do you do when you start to lose an audience? How do you stack your materials so you finish strongly, and what's your second segment going to be so that you can create a nice dramatic arc to the thing? How do you handle a heckler? How do you ride a wave? When do you introduce material that you're unsure of, you know?"
Ultimately, though, whether it's as a comedian or in a show about being a comedian, for a big crowd or small crowd, all of Gallagher's thinking and rethinking and craft and collaboration is in the service of one thing.
"I love—love—making people laugh," he says, tumbling back into the rapture of building, performing and perfecting jokes. "When you get that initial idea and know it's there? Oh my God." There go the brows again. "It's like an electric jolt."
A Stand Up Guy will run Sept. 10-Oct. 20 at The Sofia. Tickets are $28-$47. Times vary by day. For more information, call 916-443-5300 or visit bstreettheatre.org