Game Nights
We've got game—or rather, games. From a new underground mini-golf pub pouring local craft beers to a popular BBQ joint that just added axe throwing, here are six hot spots around town where you can eat, drink and play your way through these cool winter nights. Game on!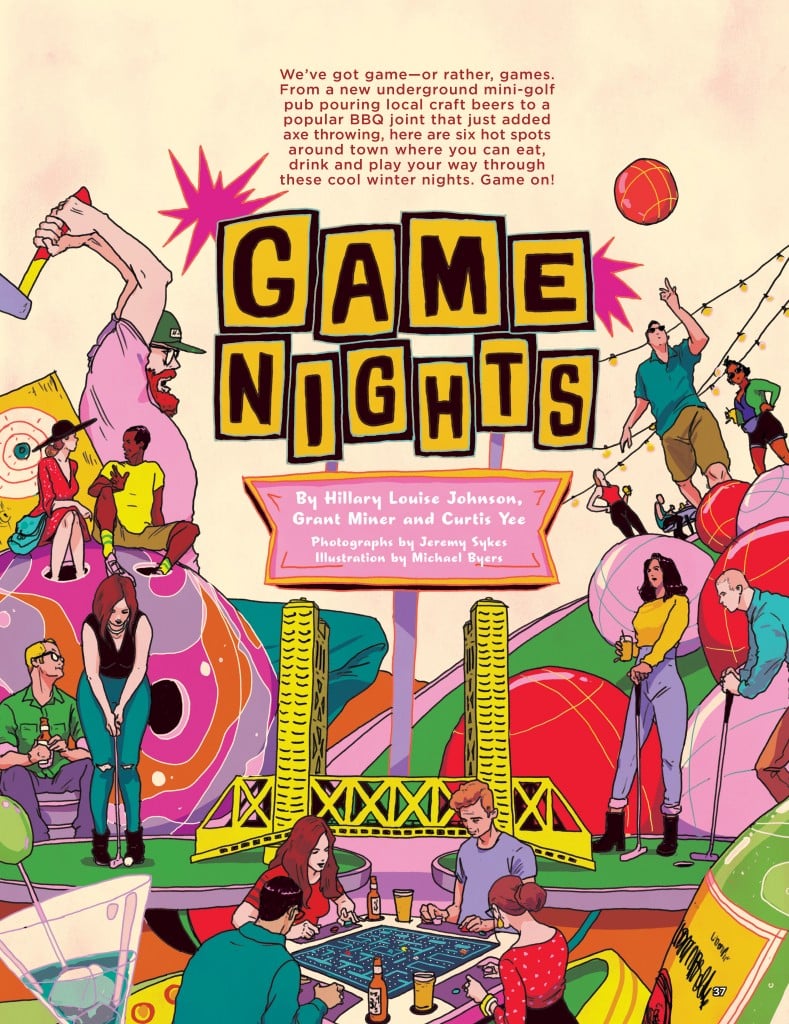 Coin-op Game Room
Like your nostalgia straight up, no twist? Coin-Op Game Room is like an underground portal that lets you tunnel directly back to the 1980s, when video arcades functioned as every budding gamer's after-school program. Tucked into a basement on K Street, the space takes advantage of its windowless walls by packing them tight with a rotating cast of 62 bleeping, blooping vintage electronic games and 12 flipperty-blipperty pin-ball machines. Blink and you could mistake Coin-Op for the arcade where Dustin attempts to beat Lucas' high score in Dragon's Lair on the '80s-influenced series Stranger Things. Pass the Centipede, Donkey Kong and Ms. Pac-Man, hold the irony, please. This is a serious slice of cultural history—hey kiddos, without pinball or Pong, there is no Candy Crush, no Angry Birds, no (gasp!) Pokémon Go.
No wonder Coin-Op appeals to wide range of ages, even with its 21-plus restriction. "On a Friday or Saturday, we'll have the under-25 crowd," says assistant manager Brian Sullivan, "but one woman just told me she wanted to have her 60th birthday here."
Not everything is period-authentic at Coin-Op—thankfully, owners Evan Louis and Roy Ledo have chosen not to replicate the era's cuisine. No microwaved Hot Pockets here; instead you can sink your teeth into pretzel bites slathered in house-made bier cheese, wings drenched in fiery-sweet honey sriracha sauce, or, our favorite, a glorious slice of New York-style pizza (go classic with cheese or newfangled with The Lost Woods topped with tomatoes, broccoli rabe, garlic sauce and onions). The barcade's bartenders can pull you a pint of Drake's or pour a craft cocktail like the citrusy 1-Up—cupholders at every game station mean you'll never be thirsting to take a break from the action. 25 cents for most games; free on every last Sunday of the month. 908 K St. 916-661-6983. coinopsac.com —Grant Miner
---
Flatstick Pub
A mural depicting Sir Mix-A-Lot reads, "I like big putts and I cannot lie," which neatly telegraphs the kind of nerdy fun on tap at Downtown Common's new Flatstick Pub. Recess for adults is having a moment, and Flatstick, which opened in October, is right on time with its 12,000-square-foot mini-golf-themed, adults-only bar.
"We're calling it drinkertainment," says Jenny Robinson, a Sacramento native who owns the venue with her husband Brandon. The concept is licensed from the original Flatstick Pub in Seattle, inventors of Duffleboard, which is a cross between golf and shuffleboard and can be played with a beer in one hand. At the DoCo outpost, you can do so while supporting the local economy, as all 42 of the bar's taps boast area brews, including the custom Flatstick Lite lager from midtown's Big Stump Brew Co.
The Robinsons are also passionate about supporting regional artists and artisans, hiring Sacramento architect Brendan Koon (Camden Spit & Larder) to oversee the buildout. So while your typical sports-themed bar slathers its walls with paraphernalia and calls it a day, Flatstick has upped its game, filling the basement space with commissioned work, like that Mix-A-Lot mural, one of several by local artist Maren Conrad, along with an astounding trio of 3D photorealistic portraits of golf greats Arnold Palmer, Jack Nicklaus and Gary Player made entirely of painted golf tees by Blake Byers.
The nine-hole putt-putt course is designed to be challenging—not just a goof-off gimmick—but it also includes whimsical obstacles like a replica of the Tower Bridge constructed out of gilded golf clubs and bike pedals by midtown sculptor Gina Rossi. In other words, this is clearly not your grandfather's (or granddaughter's) mini-golf course. $9-$12 for one round of mini golf. 630 K St. 916-872-0772. tipsyputt.com —Curtis Yee
---
SacYard Tap House
You know that caged-in feeling you begin to get sometime in December, when you've been cooped up inside for too long? We can think of no better antidote than an evening of fresh air coupled with belly-warming food and libations—and you can find all three in spades at SacYard Community Tap House. Small wonder then that the sprawling beer garden housed on the site of a former auto repair shop is just as popular in wintertime as in summer, if not more so, says Melody Thebeau, who opened the East Sacramento hangout in January 2018 with her husband Dan.
Bocce, invented in a Mediterranean climate similar to ours, is a perfect cold-weather game, but what sets SacYard apart isn't just its weatherproof, perfectly groomed Astroturf court, but how every ingredient is present to construct a quietly superlative indoor-outdoor evening. For starters, you can bookend your bursts of effort on the bocce ball court with stints lounging around a roaring firepit—the space has two, one XXL in the biergarten, and a smaller one on the front patio, with a dozen strategically deployed heat lamps filling in the gaps. Then there's the creatively curated seasonal beer menu: As a winter tonic, you might try Green Flash Brewing's Celtic Sun IPA, paired with a shot of Jameson—a perfect match, as they're brewed in the same barrels. Food trucks roll up every day of the week—we especially love to visit on Sundays to get our hands on Nash & Proper's impossibly popular Nashville-style hot chicken sandwich. And fingers crossed, starting this spring, you'll be able to try another kind of "hot" fare, this time via a permanent on-site food stall from Brad Cecchi and Clay Nutting, owners of neighboring Canon, which earned a prestigious Bib Gourmand rating from the Michelin Guide in May. The standalone venture will feature a full kitchen and serve up "burger-centric fare that goes great with beer," according to Nutting. Looks like things are about to heat up again at the already sizzling SacYard. Free for bocce. 1725 33rd St. 916-400-4708. sacyard.beer —Hillary Louise Johnson
---
Sauced BBQ & Spirits
Consider the lumberjack, that plaid-clad, bearded, be-denimed icon of the Sierra. To many around these parts, he's on a par with the cowboy, a rugged style icon who connects us to our Western roots. So it's no surprise that the latest game craze to hit the urban eatertainment scene is the manly art of axe throwing (one that's fun for all genders).
The sport, which grew out of Canada's rugged Lumberjack Games of the 1960s, has been sweeping the country, but our favorite new place to sling a blade has to be downtown barbecue mecca Sauced, which added four axe-throwing lanes to its country-cool indoor funscape in September—yes, the cowboy and the lumberjack can be friends. "We're trying to give Sacramento something to do that's a little fun and a lot of crazy," says Lance Laxson, the small NorCal chain's director of operations.
If you're brave enough to give it a whirl (the axe tumbles end over end after you straight-arm it towards the colorful round of hewn tree that serves as a bullseye), staffers are on hand to coach you along. Just save that shot of Pappy Van Winkle bourbon for your victory dance, as this isn't a drinking game, for obvious (we hope!) reasons. In fact, house rules dictate that nobody who's had a shot or a double within two hours can throw. And if you're merely axe-curious, grab a table nearby and watch the high-flying show while savoring slow-cooked, Southern-smoked ribs and Sauced's locally legendary burnt ends—without fear of aerial axes (the throwing lanes are fully caged).
Reservations are recommended, and Laxson is spinning up an axe-throwing league for regulars, along with other crowd-pleasers. Fancy throwing an axe at a Lakers logo before heading into a Kings game at the nearby Golden 1 Center? Go ahead, because plaid is always rad, whatever team you root for—or against. $15 per half hour, $25 per hour for axe throwing. 1028 7th St.  916-400-4341. saucedbbqandspirits.com —Curtis Yee
---
Punch Bowl Social
When was the last time you romped around the playground without a care in the world? Now, when was the last time you did that with a mint mojito in your hand? That's the idea behind indoor playground Punch Bowl Social, where you can bowl or play foosball, billiards and giant Scrabble, gleefully butcher a Taylor Swift number in a private karaoke room, or don virtual reality goggles to battle ogres or aliens.
A maze of rec zones spread over 25,000 square feet and two floors, with room to seat 500 guests, Punch Bowl—located inside downtown's Kimpton Sawyer hotel—strikes a happy balance between crazy fun and crazy cool. The hustle and bustle of activity options keep things festive, while the hip décor—a mix of industrial concrete, ductwork and glass—and an elevated comfort food menu (think tacos with cocoa-dusted carnitas or chicken 'n' waffles with chipotle-citrus maple syrup) ensure that the experience never tilts into Chuck E. Cheese territory. Haven't seen an actual punch bowl since junior prom? You can order one here that serves eight (we recommend the spiked version for karaoke, virgin if you want any chance of winning at darts) to be delivered game-side along with all other drinks and eats.
And if you happen to be a grown-up with an inner and an outer child, there's a great menu for the little ones (confession: we love to order the honey-kissed banana and almond butter sandwich for ourselves) and booster seats available. Happy kids, happy kiddults. $10-$12 per hour for bowling. 500 J St. 916-925-5610. punchbowlsocial.com —Curtis Yee
---
Topgolf
At first glance, Roseville's slickly appointed Topgolf—the first (and for now, only) California location for this global chain—could be mistaken for a splashy new suburban casino or multiplex, but behind the large architectural façade lies a uniquely luxurious yet playful golf-themed complex centered around an open-air driving range that raises the game with some creative high-tech innovations—and there's something for every skill level, whether your handicap puts you in Tiger Woods' league or Charles Barkley's. For starters, the same sophisticated climate-control technology that keeps Topgolf's would-be Rory McIlroys warm in the UK will keep you driving even in a driving rain. Last year the place was packed on Black Friday, despite a freezing downpour.
All the golf balls are microchipped, so if you're a ringer, you can bring your own carbon fiber driver and study each shot's exact trajectory, distance and speed—no better way to tame that hook or slice. Or if you're just looking  for a swinging Friday or Saturday night (when Topgolf is open until 1 a.m.), you and your crew can take over a whole six-person bay and use the facility's two-sizes-fit-all clubs to hit balls at carnival arcade-style targets, racking up points while video screens animate your play. The menu too, accommodates the serious as well as the playful. You can opt for a cauliflower-crusted farmhouse flatbread, or go big with the jumbo pretzel board, a hearty round of dough decorated with assorted charcuterie, fruit and nuts and dressed with Dijon and Pabst Blue Ribbon cheese sauce—an appetizer masquerading as a parade float. Both should pair well with a Kentucky Mule, but either way, make sure to leave room for dessert. Because here, even if you miss your target by a suburban mile, with injectable fillings like Bavarian cream for doughnut holes, you can at least shoot an edible hole-in-one. $27-$50 per bay per hour. 1700 Freedom Way. Roseville. 916-200-1002. topgolf.com/us/roseville —Grant Miner