Go with the Flow
Thanks to the swiftly melting snowpack of the High Sierras, the American River is once again bursting with whitewater rapids. We've got the lowdown on the splashiest summertime rafting trips in the region, whether you are wet behind the ears or ready to dive right in.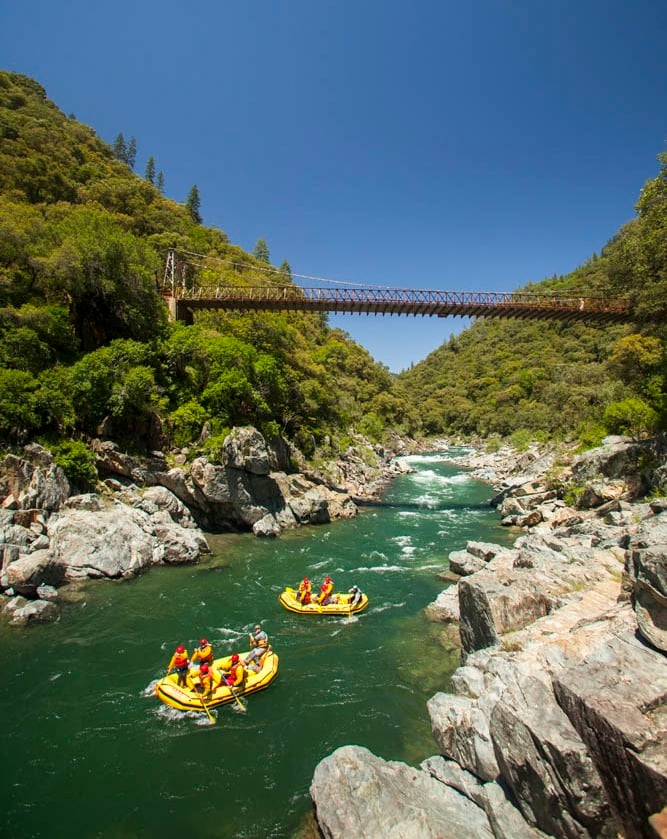 For Beginners
The South Fork of the American River is widely recognized as the best place for rookie rafters to get their feet wet, thanks to its mildly adventurous Class II and III rapids (rapids are classified on a scale from one to six, with one being very calm and six being virtually unrunnable). "The South Fork is a great starting [section of] river," says Bill Center, a Coloma resident and avid rafter who previously ran the California branch of the multistate American River Touring Association. "It doesn't have any rapids that have high levels of danger." Center specifically vouches for the portion between Coloma and Greenwood Creek (located in between the lower and middle sections of the South Fork), which is calm enough for the most novice boaters to navigate solo and "get their sea legs on." For a guided first-time experience, the Lotus-based Whitewater Excitement has a quick and easy intro to rapid-wrangling with its half-day trip on the lower section of the South Fork ($85-$110; 530-888-6515, whitewaterexcitement.com), which starts off slow in Lotus with mellow, Class II rapids and builds up to Class IIIs by the time you reach the end at Folsom Lake.
For Scenery-Seekers
Nature nerds don't have to sacrifice soaking up gorgeous views of the Sierra foothills while on a wet 'n' wild adventure. Paddling down the South Fork is a great way to take in some incredible scenery, since this part of the American River "is the most varied in its topography," Center says. "The [lower] section down to Folsom Lake [called the Gorge] is like rafting through the English countryside. Forests cover one side, and hillsides of grass and flowers cover the other side." You can admire the flora, plus the pristine rapids and impressive rock formations during the one-day South Fork American River Lower Gorge trip from O.A.R.S. (Outdoor Adventure River Specialists), which kicks off in Lotus and continues down 13 miles of Class II and III rapids before hitting calmer waters at Folsom Lake ($125-$145; 209-736-4677, oars.com).
For Families
For those with pint-sized adventurers, Mari Coyle—who started guiding whitewater rafting trips in 1999 with UC Davis' Outdoor Adventures while attending the school, and lived (and rafted) in Lotus until moving to the Napa area last August—also touts the novice-friendly section of the South Fork from Coloma down to Folsom Lake. "It gets a good variety [of low-class rapids] so it's good for families," she says, adding that there are pockets of practically still water that the kids can swim in. If slow and steady is your speed, the Tom Sawyer Float trip (which will start being offered near the end of June) from Lotus-based company All Outdoors drifts down a peaceful five-mile stretch of the South Fork of the American River ($134; 925-932-8993, aorafting.com). Along the way, wee rafters (5 years old and up) can jump out to splash around in the tranquil river and pick wild blackberries from bushes on the bank.
For Adrenaline Junkies
For the ultimate thrill-seeker (with prior rafting experience), the Middle Fork of the American River is where you'll find a series of rapids ranging from Class II to Class IV that sport names like Good Morning, First Flip and Final Exam, as well as the infamous Tunnel Chute, a 150-foot descent down through a dynamite-blasted passage that is one of only two raftable tunnels in the world (the other is in Queenstown, New Zealand). "Tunnel Chute is pretty extreme," says Coyle. "That's definitely high adrenaline—it's really fast because it's pretty steep." The Middle Fork Double Down trip from Coloma-based American Whitewater Expeditions ($250-$425; 530-642-0804, americanwhitewater.com) takes adventure chasers down the 18-mile Middle Fork—and through the dark Tunnel Chute—twice over a two-day period, resulting in 36 total miles of adrenaline-pumping fun.
For Epicureans
Want to pair wine with whitewater? "I recommend [creating your] own adventure by doing a [half-day] morning rafting trip," says Coyle, who suggests rafting the Chili Bar Run of the American River, a popular jaunt that is located in the upper section of the South Fork and ends in Coloma, where she would stop in the afternoon at wineries just off Highway 49 (only minutes from the river), such as David Girard Vineyards, Everhart Cellars and Gold Hill Vineyard & Brewery, and eateries like the Argonaut cafe, which serves seasonal, farm-to-table fare. If you want someone else to take care of the planning, American Whitewater Expeditions' two-day, overnight Wine & Whitewater camping trips (packages start at $399; americanwhitewater.com, 530-642-0804) take guests to El Dorado County wineries, such as Boeger and Lava Cap, and offer meals like a picnic lunch with gourmet meats and artisan cheeses and a lavish dinner of barbecued tri-tip, chicken and fish accompanied by sides like grilled corn and Caesar salad. The next morning, your group will embark on a guided rafting trip to battle either South Fork or Middle Fork rapids, which will satiate any appetite for adventure.