Going the Distance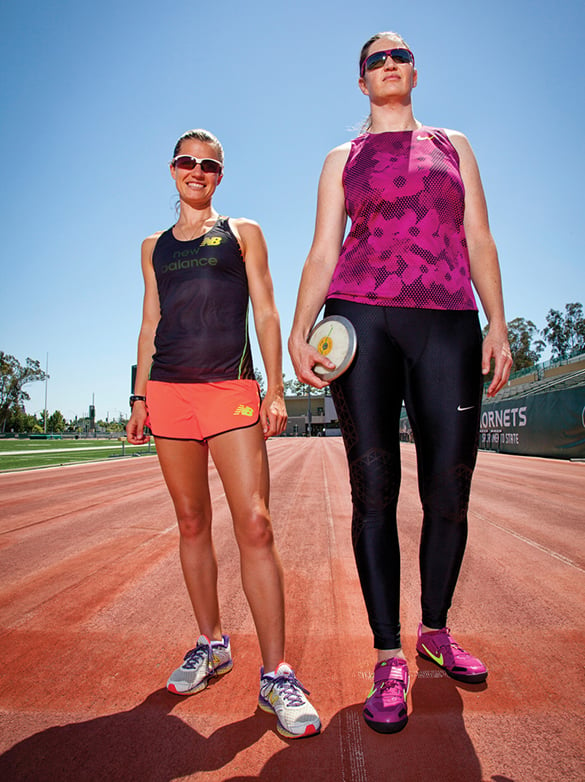 When nearly 900 athletes from around the nation come to Sacramento in June for the 2014 USA Outdoor Track & Field Championships, two of the event's brightest stars will be commuting from their homes right here in our region to compete at Sacramento State University's Hornet Stadium. On your marks, get set, and get to know Stephanie Brown Trafton and Kim Conley.
Stephanie Brown Trafton
Sport: Discus
Age: 34
Home base: Galt
Milestones: Gold medal at 2008 Summer Olympics in Beijing; set American women's discus record with a toss of 222 feet, 3 inches in 2012.
Her goal: "For this event, I'd like to be able to [reclaim] my title as the national champion. Going forward, I'd like to be able to make the 2016 Olympic team. That's my ultimate goal: to make the next Olympic team and be able to represent the U.S. in Brazil. This next Olympics is going to be that much more significant, because I took last year off to have a baby and now I have a 10-month-old daughter almost running around."
Kim Conley
Sport: Running (will compete in 10,000-meter race)
Age: 28
Home base: West Sacramento
Milestones: Third at 2012 U.S. Olympic Trials (5,000 meters); competed in 2012 London Olympics
Her goal: "I've never won a U.S. title, so that's the big goal for me this year. I came out of college at UC Davis and decided to stay in the area, and it was really the running community [in the Sacramento region] that supported that journey for me and helped me to become an Olympian. So now, to contend for my first title in front of the home crowd? That would be very meaningful to me."
The 2014 USA Outdoor Track & Field Championships will take place June 26-29. Tickets $10-$125. Hornet Stadium at Sacramento State. 6000 J St. 278-4323 sacsports.com