Google Eyes
We've proven that we can come together to help launch successful small businesses. Now let's get creative about attracting some new Googles here, too.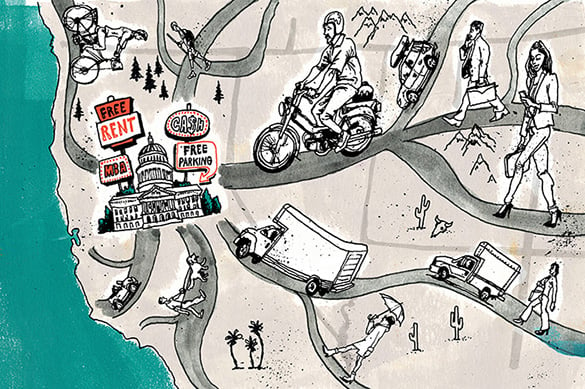 Last year, the Downtown Sacramento Foundation (DSF) launched one of the most inspired local projects in recent memory with its "Calling All Dreamers" contest. DSF partnered with private companies to offer prize packages worth a total of about $200,000 to help budding entrepreneurs launch their dream ventures, with the idea that filling empty storefronts with unique small businesses would make the urban core a more interesting place to live, work and play.
Last year's big winner, Andy's Candy Apothecary, received free rent, cash, marketing services, legal assistance and much more. Today, the sweets shop is thriving.
Now, imagine if we took that same brilliant concept to the next level. Andy's Candy is a fantastic start (in fact, he made our "Best of the City" list this year), and we certainly need more of these creative small businesses.
But what if we could grow a Google?
You only need to look back to 2005 to find a time when we came together as a city to try to create a biotech hub by attempting to lure a multibillion-dollar state agency.
Back then, Sacramento engaged in a high-profile battle to land the California Institute for Regenerative Medicine, also widely known as the stem cell institute. The heavily funded state agency promised to yield a new biotech boom in whichever city landed it, and the competition was fierce. Sacramento was pitted against Los Angeles, San Diego, San Jose, Emeryville and San Francisco, all of which were already far more established biotech hubs, and all of which were offering free rent and other substantial amenities.
Los Angeles, for example, was offering use of a private jet, while San Jose offered "round-the-clock concierge service. Emeryville even tempted the selection committee with access to Pixar Animation Studios' digital theater and gourmet kitchen.
In the end, San Francisco took the prize in what was widely considered to be a predetermined outcome, but Sacramento placed second in the weeks leading up to the final vote. Why? Well, we didn't have Pixar, but locally based private and public interests came together with lightning speed, made big commitments without lengthy debate and displayed a sense of unity and purpose.
Imagine that.
Developer Angelo Tsakopoulos led the way for Sacramento, offering 10 years of free rent in more than 17,000 square feet of office space at his One Capitol Mall building, along with $800,000 in tenant improvements (he even threw in free janitorial services). The city contributed free parking and meeting space, with discounted hotel rooms. The combined package was estimated at approximately $7.3 million.
And it all happened in a flash. Sacramento's offer was made within weeks of the city joining the list of candidates. Even though Sacramento lost, the competition generated tremendous excitement and proved that public and private entities could, in fact, work together and, perhaps more significantly, do so quickly.
Now, we probably can't lure a Google or some other established tech company to our region, but what if the city and private businesses came together again to bet on young technology start-ups—the kind that can experience meteoric growth—from this region and across the country? Imagine if we held a national contest, much like "Calling all Dreamers," where entrepreneurs submitted videos, proposals and business plans, vying for a prize package somewhere between that befitting a candy shop owner and a $3 billion state agency.
And like the Dreamers contest, the companies should be ones that capture the public's imagination. While data centers and digital security firms may be lucrative, if we're going to generate excitement and get locals lining up to be a part of this, then the candidates should be consumer-focused technology companies (think social media, video game and mobile device companies). And let's not put all of our golden eggs in one basket. There should be multiple winners so we can hedge our bets.
For the selection committee, we can assemble a blue-chip team of area business school deans and professors, civic groups like the Metro Chamber and SARTA (the Sacramento Area Regional Technology Alliance, which already successfully nurtures the local tech community), and regional angel investors. Perhaps there can even be a public voting component as well.
So what can we offer these nascent businesses, other than being a dynamic California city? Plenty, actually. We can start with turning our negatives into positives.
In Detroit, where thousands of abandoned homes sit empty, a local nonprofit is offering houses up for free to creative writers willing to move to the troubled city. The plan is to bolster the city's literary arts scene one resident at a time.
Sacramento doesn't have a surfeit of empty houses, but with an office vacancy rate of 21.46 percent in the first quarter of this year (the national average is 14.8 percent), we have plenty of available space with which to tempt start-ups of all stripes. San Francisco, by contrast, has an office vacancy rate of 6.1 percent. Offering rent-free office space for at least a year is key. It could also pay off big for the building owners if one or more of the winners succeed and need more space.
In Las Vegas last year, a local ad agency held a contest offering 1,000 square feet of office space for only $1 a month to tech start-ups, which competed for the space by submitting creative 15-second Instagram videos (they only planned on one winner but chose two). This year, New York City's Economic Development Corporation and Columbia University are partnering on their sixth annual "NYC Next Idea" contest, where start-ups from around the world compete annually for six months of free rent, $35,000 in cash, pro bono legal advice, mentoring and more. And in March of this year, Chicago Mayor Rahm Emanuel launched a nationwide contest to lure 10 tech start-ups per year founded by college students, with a year of free shared work space (in a concept similar to our own Hacker Lab and Urban Hive) along with mentoring programs.
In addition to Sacramento building owners providing free office space, other private companies like law firms and marketing agencies can pitch in and offer their services, too. And local universities can get in on the act by awarding MBA scholarships to the winners' execs or staff. Universities know that successful grads can produce generous alums, like KlickNation founder Mark Otero, who sold his video game company to industry giant Electronic Arts, and who has given generously to UCD's Graduate School of Management (which already has an annual business plan contest in place).
Also, SARTA and the chamber could corral mentors willing to help, and the city could give breaks on valuable amenities like parking and meeting space.
In 2005, we dreamed big. In the end, we failed. Not because we lost to San Francisco and not because we lost the stem cell institute, but because we lost our momentum.
Today, we have a chance to hit the reset button and pool our resources again with an energized, high-profile competition in which both the companies and the city can win.
It's time to stop dreaming about becoming a technology hotbed, and to start coming together to actually make it happen.