Grange Restaurant & Bar hires new executive chef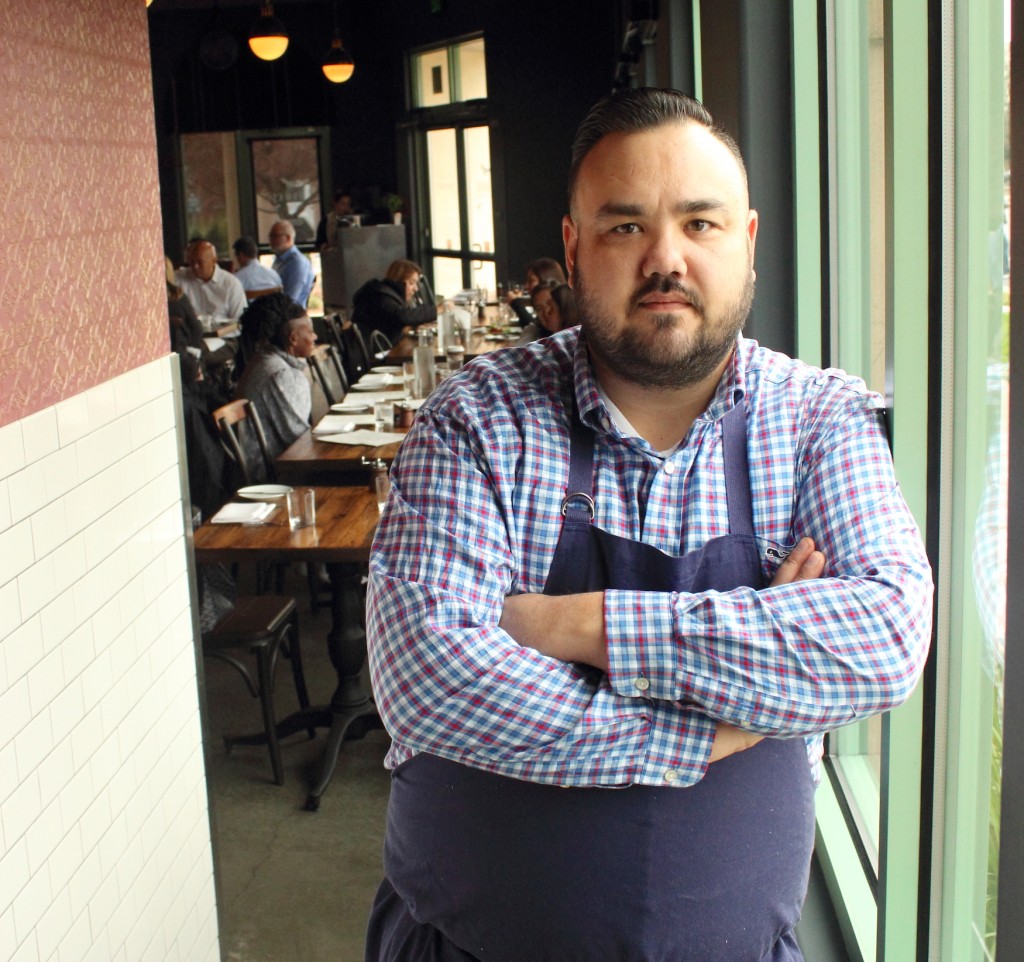 Sacramento native Dane Blom, 32, has taken over as executive chef of downtown's farm-to-fork-focused Grange Restaurant & Bar, replacing longtime chef Oliver Ridgeway, who departed last month to launch his own venture: a London-inspired restaurant along Capitol Mall called Camden Spit & Larder.
Since his first day on Feb. 26, Blom began putting his own touch on the downtown restaurant's dishes and has completely overhauled the dinner menu, adding all new salads; starters like a charcuterie board with chicken truffle terrain, ciccioli, duck liver mousse and house-cured pickles; and entrées like California halibut with herb panade, asparagus and black garlic.
"My goal is for everything to be made in-house, from the hamburger buns to the charcuterie," Blom says. "Grange has always been a phenomenal restaurant that speaks to the Sacramento community, so the concept doesn't need to change at all. I'm just coming in to create things I think are delicious."
A Loomis native, Blom began his career in the restaurant industry while still a student at Granite Bay High School, obtaining a permit to work at Fat's Asia Bistro in Roseville, where he says his love for cooking began. In 2006, he graduated from the Culinary Institute of America in New York and went on to cut his teeth in the kitchen of Terra, a one-Michelin-starred restaurant in St. Helena, before returning home in 2007 to the Sacramento area and becoming the first person Michael Fagnoni and Molly Hawks hired for their then-new eatery Hawks in Granite Bay.
"I went over there and the place was still a shell, but there was a menu hanging on the window," Blom recalls. "I placed a sticky note over it saying 'I want a job—give me a call,' and a couple hours later, Mike Fagnoni gave me a call."
Blom remained at Hawks for seven years, working his way up through the ranks to sous chef and eventually departing in 2014 to become chef du cuisine at Grange until February 2017, when he left for a brief stint at Hawks Provisions & Public House in East Sacramento.
Now that he's back at Grange, the young chef is ready to represent Sacramento as a burgeoning culinary destination. On April 6, he and eight other prominent local chefs like Kru's Billy Ngo and The Kitchen's Kelly McCown will headline Sacramento's Farm-to-Fork All Stars, the first Sacramento-focused event at Pebble Beach Food & Wine, which runs from April 5-8. During the luncheon at the 11th annual prestigious culinary fête, the local chefs will present 120 guests with creative dishes they feel best represent the Sacramento region (for his passed apps portion, Blom is cooking up smoked Passmore Ranch steelhead tartlet with house-cured steelhead roe and dill crème fraîche).
"The amazing thing about Sacramento is there's this strong camaraderie between everyone in the restaurant industry," Blom says. "Right now all of the attention is on the Bay Area, Napa and L.A., but Sacramento has a lot to offer and it's time for us to showcasing what we're capable of. I'm excited to represent the city well."
For more information on Grange and its menu, visit grangesacramento.com. To purchase tickets for Pebble Beach Food & Wine or to learn more about Sacramento's Farm-to-Fork All Stars event, visit pbfw.com.