Great New Places to Eat 2018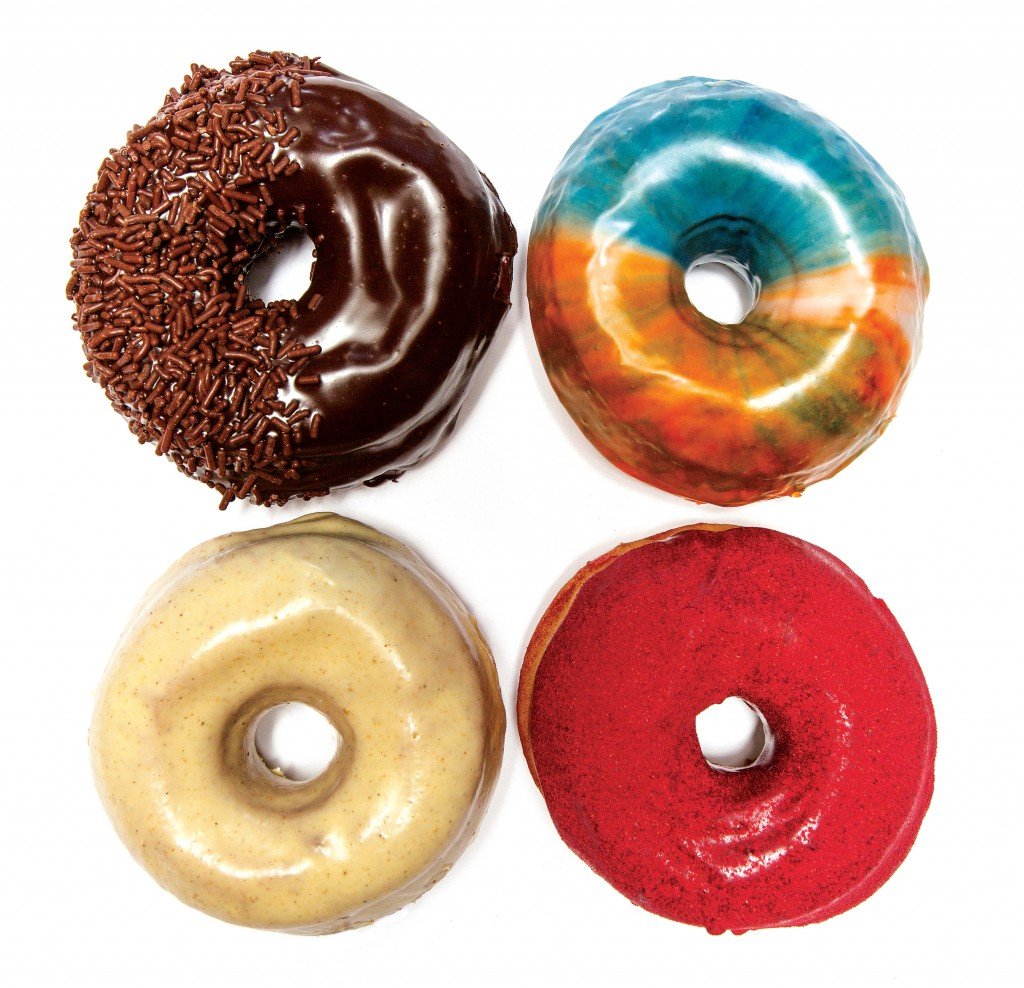 It's a good time to be a foodie in Sacramento. As the city's culinary reputation expands, restaurateurs are stepping up their game. Some are longtime locals looking to raise the bar on regional cuisine, some are returning home after working in Michelin-starred kitchens elsewhere, and others are moving here to take part in our gastronomic gold rush. Wherever they're from, they're pushing our dining scene forward in exciting ways, from duck confit tacos to shiitake mushroom doughnuts that taste like maple. Here's our look at 10 shiny new local restaurants—the oldest ones opened in the fall—that are worth going outside your comfort food zone for.
​
Mas Taco Bar
While the Delta breeze might be the closest thing Sacramento gets to an ocean spray, Mas Taco Bar—the newest eatery from Mason, Alan and Curtis Wong (the brothers behind Cafeteria 15L, Firestone Public House and Iron Horse Tavern)—is bringing surf and turf to the R Street Corridor.
"We're trying to do something fresh and refreshing," says executive chef Christian Palmos. "[Mas has] that feeling of a coastal restaurant, warm with bright colors—you're transported to a beach in Hawaii."
Palmos has harnessed the feel of an oceanfront walk-up taco stand with his menu of 14 different two-bite tacos, which includes imaginative combos like corn tortillas filled with crispy fried oysters, cabbage and Tapatío aioli or melt-in-the-mouth duck confit in tamarind glaze, and steamed bao shells stuffed with succulent Korean fried chicken tossed in a tongue-tingling gochujang sauce. "We're not just a regular taco joint. We're not doing anything traditional," the chef says. 
The waterside mood at Mas, which opened in late March, is further enhanced by the spot's indoor-outdoor aesthetic (thanks to accordion glass doors), wrap-around patio and white quartz-topped bar that sits front and center and serves canned beers from California breweries like Sacramento's Track 7, Auburn's Knee Deep and San Diego's Ballast Point. And while the cocktails aren't presented with tiny umbrellas, they do adhere to a tropical, south-of-the-border theme; the pineapple ginger mojito, for instance, is bright and fruity and the dessert-like horchata colada is cool and frothy with hints of cinnamon and coconut.
With its seaside vibe and menu of laid-back yet elevated eats and drinks, we think this new staycation spot is beachy keen. —Jessica Rine
1800 15th St. 916-706-1330. mastacobar.com
Canon
If you're the type to suffer major FOMO over that delish-looking dish your tablemate ordered, this East Sacramento restaurant by LowBrau co-founder Clay Nutting and Michelin-starred chef Brad Cecchi, which opened in October, may be your new go-to gathering spot. At Canon, instead of traditional entrées of meat and two veg, you'll discover creative yet comforting plates and bowls that are meant to be divided and conquered. (Remember, sharing is caring.)
Take Cecchi's rendition of tater tots: the bite-size morsels, crispy on the outside and pillowy soft on the inside, are made in-house using Kennebec Spuds and paired with a spice-forward 60-ingredient mole sauce. Brunch features intriguing options like the Frank's Special—a fried rice dish that pays homage to an old local favorite (the chef took inspiration from former Chargin's Bar & Grill chef Frankie Lau's recipe, which included linguica, bacon and ham, and added touches like a confit chicken drumstick and blistered shishito peppers)—and toasts on baked-in-house potato bread that are whimsical and fun. While you will find avocado toast here, don't skip the millionaire's bacon version with thick-cut candied bacon, bacon jam, a poached egg and crispy onions.
From its array of inventive eats to its well-curated selection of brews (Nutting is a self-proclaimed beer nerd) and the bright, airy environs with high wood ceilings and custom light fixtures, Canon delivers on its aim to offer an elegant communal experience that is also easy and effortlessly hip.
"I love Sacramento," says Cecchi, whose résumé includes stints at Mulvaney's, Grange and Solbar in Calistoga. "I wanted to do a really cool restaurant that pushed the boundaries of artistic freedom. I want Canon to be this standalone beacon of cool."  —Jessica Rine 
1719 34th St. 916-469-2433. canoneastsac.com
Allora
Allora is the third restaurant in a year from the husband-and-wife team of sommelier Elizabeth-Rose Mandalou and chef Deneb Williams, whose Uptown Pizza Kitchen and Woodlake Tavern serve casual comfort in the Del Paso neighborhood. The name of the restaurant, which opened in February, comes from an exclamatory Italian phrase that translates roughly to "What's next?"
"For [us], Allora is our 'what's next,' " Williams says of the decidedly upscale bistro in East Sacramento, a maze of intimate corners perfect for seducing a significant other over a shared plate of bucatini glistening with morsels of Dungeness crab and uni in a citrusy cream sauce. Or sidle up to a communal table crafted by Orangevale furniture designer Cedrick Gousse, lit by a cluster of white and gold lanterns and flanked by emerald green velvet chairs to create a theatrical setting for the kitchen's dramatic presentations.
The pulpo appetizer is currently the seafood-forward restaurant's signature. "Our octopus is cooked sous vide with red wine herbs and shallots, painted with a balsamic glaze and grilled so you get that nice char," says Williams, formerly the executive chef at The Firehouse Restaurant. If you're looking for a wine to pair with your diver scallops or skirt steak, Mandalou is one of only two certified advanced sommeliers in the region—so when she suggests a Greek chardonnay, you're in for a sip that would make the angels sing. And if you're always telling people you're "not a dessert person," executive chef Joe Pruner's buttermilk panna cotta with salty pistachios and crispy honeycomb will make a liar out of you.
"This is definitely a collaboration," says Williams. "It's like a theatre troupe. And you can sit at the bar next to the kitchen and watch the dance."  —Hillary Louise Johnson
5215 Folsom Blvd. 916-538-6434. allorasacramento.com
Estelle
This airy patisserie in Arden-Arcade is our favorite new French connection: One step inside, and we're whisked away to a bustling Parisian cafe, where glass cases are filled with golden croissants, miniature cakes and delicate tarts lined up like tempting, colorful Cartier jewels, and folks linger over lattes, buttery pastries and the morning paper, eventually departing with a baguette in hand.
If the bakery's name sounds familiar, it's probably because you knew (and loved) its original incarnation downtown at 9th and K streets, which closed in 2016 to make way for Estelle 2.0. The Arden Way location, which opened in January, is twice the size of its predecessor and includes a patio that seats about 30 patrons on warm days. A second smaller outpost at the DoCo plaza right across from Golden 1 Center offers the same menu and signature aesthetic, with more salads and sandwiches (like the must-try caprese sando on a house-baked French baguette) to cater to the downtown crowd.
With both moves, owner Esther Son has expanded on her previous offerings—introducing new items like raspberry dome cakes, a full espresso menu and afternoon tea service—and had brought on Steve Acosta, formerly of Jean Philippe Patisserie at the Bellagio hotel and Lupo by Wolfgang Puck, to serve as executive pastry chef and craft concoctions like the almost-too-pretty-to-eat macaron rosé, with rose-infused cream, raspberry compote and fresh raspberries, their naturally plump forms layered inside a pink almond macaron that's topped with a dried rose petal. "You can tell those are handcrafted with so much TLC," Son says. "I want anyone who walks in here to have an unforgettable experience." —Tori Masucci Cummins
Arden-Arcade: 2530 Arden Way. Downtown: 615 David J. Stern Walk. 916-551-1500. estellebakery.com
Mezcalito Oaxacan Cuisine
The sleeper hit of the season may be a colorful hole in the wall tucked at the end of a strip mall in Rocklin that serves up artful plates of classic Oaxacan cuisine for breakfast, lunch and dinner. Mezcalito, which opened in December, is the brainchild of owner/GM Ruben Regalado and head chef Francisco Garcia, who met working at Agave Uptown in Oakland.
Garcia, whose sister Blanca co-owns the restaurant, grew up in Oaxaca, learning traditional cooking from his grandfather and parents, who catered quinceañeras and weddings and often roasted whole sides of beef and pork in the ground. "Oaxacan food has passion," he says. "I compare our food to Indian food—lots of spices, but balanced very well."
The restaurant, which doesn't take reservations, may resemble a charming roadside dive, decked out in vivid paint, simple Formica tables and shelves of ceramic sugar skulls, but the plating shows off Garcia's fine dining chops. Enmoladas, a variety of chicken enchiladas smothered in dusky, complexly layered 22-ingredient mole, arrive on an oblong plate arranged beside a perfect pyramid of rice, an homage to the ruins at Oaxaca's pre-Columbian archaeological site Monte Albán. The Mezcalito salad resembles a floral arrangement, studded with jewels of corn, almonds, quinoa and golden beets. And a bowl of ceviche is bright with lime and red rings of Fresno peppers. But the most popular dish on the menu is the lovingly prepared carnitas, which Garcia cooks in fat before griddling to crispy perfection.
"The regulars are bringing their friends," says Regalado. "And they're telling us we need a bigger place," adds Garcia. "Where do you think we should open next?" —HIllary Louise Johnson
5065 Pacific St. Rocklin. 916-701-4772. mezcalitocuisine.com
Beast & Bounty
It's dinnertime, and your beef-loving buds are caught up in a melee with your vegetarian pals about whether to head to the latest barbecue joint or that cool vegan Thai place down the street. If this sounds all too familiar, Beast & Bounty, set to launch mid-July at midtown's Ice Blocks complex, maybe your new way to keep the peace.
"We're celebrating both meats and vegetables on the same level, all on an exhibition wood-fired grill," says Michael Hargis, who owns the restaurant with chef Brock Macdonald, and co-founded LowBrau and Block Butcher Bar. "[Beast & Bounty] is actually an answer to what's missing in the Sacramento food landscape."
The setting—minimalist chic with white oak tables by local artisan Steven Tiller, hand-glazed black kitchen tiles, and pink-and-brass hanging planters and cascading greenery—serves as the ideal complement to Macdonald's eclectic herbivore- and carnivore-friendly menu. We sampled a variety of dishes, including a vibrant vegan plate of fried pickled vegetables like cauliflower and asparagus with beet aioli made using aquafaba (the leftover liquid from cooked chickpeas), and a 60-day dry-aged rib eye, perfectly charred in the open wood-fired hearth, topped with chermoula (a zesty Moroccan relish with cilantro, harissa and garlic) and accompanied by fried confit potatoes.
And with the clever cocktail menu—Tobacco Old Fashioned or Lemongrass Fizz, anyone?—and extensive wine list, not to mention the bocce ball court out back, we think this new midtown foodie haven is shaping up to be the ultimate people pleaser. —Jessica Rine
1701 R St. eatbeastandbounty.com
Milk Money
When asked about the name for his wildly creative new desserterie, Michael Hargis jokes that it came to him because co-owner/chef Brock Macdonald and head pastry chef Edward Martinez (both burly and heavily tattooed) looked like guys who would steal your lunch money in school.
Don't worry: there won't be any wedgies at Milk Money, which has held pop-ups around town since September and is scheduled to open its storefront this summer at the Ice Blocks next to its sister establishment Beast & Bounty (see previous page). Rather, you'll find Martinez's artisanal doughnuts and ice cream served up to the head-bobbing beats of hip-hop artists like Tupac, Dr. Dre and Snoop Dogg.
The chef's oversized brioche orbs are light, airy and utterly blissful in their richness, and branded with fun and funky names that reference everything from current events (like the Tide Pod, a vanilla doughnut with tie-dye-esque blueberry swirl glaze that alludes to the bewildering "Tide pod challenge" fad) to the music that Martinez and Macdonald grew up on (like Ghostface Killah, a black pepper doughnut stuffed with strawberry Nesquik filling and dusted with powdered sugar that nods to a member of the rap collective Wu Tang Clan).
Having crafted sweets for serious foodie destinations like the Michelin-starred Lazy Bear and Wayfare Tavern, Martinez saw Milk Money as his avenue for no-holds-barred imagination—he only makes one flavor of doughnut per day, which changes every morning (he ultimately wants 100 varieties on rotation)—and his inventiveness extends to the half-dozen kinds of ice cream also on offer, with flavors like redwood (yes, as in tree bark) and breakfast cereal (his favorite go-to snack).
"You can't be stressed out making doughnuts and ice cream. I basically throw stuff against the wall and see if it sticks," says Martinez of his unusual ingredient combinations. "I just want people to be like, 'This is f–king delicious.' "
One thing's for sure: As long as the pastry chef keeps playing with his food, we'll gladly be handing over our milk money. —Jessica Rine
1715 R St. milkmoneymidtown.com
Ten Ten Room
Over the past five years, Tyler and Melissa Williams have built a loyal following in Sacramento for their creatively themed bars and restaurants—including the tiki hot spot Jungle Bird and historically inspired Tank House BBQ—and the husband-and-wife duo's latest showpiece is sure to add legions of diners to their fan club. Since it opened in September, Ten Ten Room has been drawing both downtowners and out-of-towners to its cozy quarters adjacent to The Citizen Hotel, thanks to its nostalgia-inducing menu and vibe.
"No one had really done anything [here] with that mid-century feel—what our grandparents would have held near and dear," Tyler, 38, says.
Inspired by American comfort foods of yesteryear, chef Greg Pilapil (formerly of Hook & Ladder and the erstwhile L Wine Lounge) dishes out classic fare with a twist, like his take on Southern shrimp and grits, which pairs succulent pan-fried prawns with spicy chunks of chorizo sausage, creamy polenta and bright romesco sauce, and his roasted chicken breast served with deconstructed green bean casserole, an elevated interpretation of an old-school frozen TV dinner. A selection of small plates—think meatballs smothered in grape jelly glaze and Scotch deviled eggs—evokes the go-to party apps of the day.
The cocktail lineup also leans heavily toward tipples Don and Betty Draper might've whipped up, like citrusy Harvey Wallbangers, boozy Manhattans (poured tableside with a half-full shaker on the side) and—our favorite—frothy Grasshoppers made with crème de menthe, crème de cacao and mint.
And with its moody lighting, custom mahogany bar, deep-teal-tinted walls and display of "yearbook photos" (black-and-white headshots of area restaurateurs like Patrick Mulvaney and Kru's Billy Ngo) further enhancing the retro-cool feel, Ten Ten is a perfect 10. —Jessica Rine
1010 10th St. 916-272-2888. tentenroom.com
Backbone Café
With bone broth and bone marrow on the menu, you'd be forgiven for thinking the name of this downtown cafe to be beefy in origin, but it's more of a nod to an accident at Burning Man that broke co-owner Joey Woolston's back in 2016. While he was laid up for a year, he and his brother Tomas (their family also runs the Crocker's Supper Club and Matteo's Pizza & Bistro) expanded on a concept they'd previously been working on for a new health drink bar, opening Backbone in December. "I have tried out every kind of healthy diet," says Woolston, "but you go to these vegan places that market themselves as serving healthy food, and everything is drenched in canola oil or tons of sugar. There was always something cringeworthy."
He credits bone broth—simmered for 48 hours with ginger and anise—with helping his recovery, and it's a key ingredient in the boîte's colorful curry bowls, fragrant with mint, basil and cilantro. Everything from smoothies to tacos to salads is prepared using healthy oils, and nuts and grains are sprouted to maximize the bioavailability of nutrients. (With the exception of the breads, everything is also gluten-free—there is a non-gluten bun option from Pushkin's Bakery—and all the produce is organic.)
The space is cozy and a bit trippy—a large mural by local artist Irubiel Moreno depicts psilocybin mushrooms and the vine from which Amazonian shamans brew vision-inducing Ayahuasca, and there's a leather couch where you can sip on a Golden Milk spiced with turmeric, ginger, cardamom, pepper, honey, nutmeg and cinnamon blended with coconut oil and nut milk. You might even get to drink your keto coffee—an energetic concoction with grass-fed butter and MCT oil—elbow to elbow with a King. Being a stone's throw from the Golden 1 Center, Woolston says, "we have seen a number of very tall gentlemen come in." —Hillary Louise Johnson
729 J St. 916-970-5545. backbonecafe.com
Real Pie Company
The smell of freshly baked pie lingers in Kira O'Donnell Babich's fond memories of childhood trips to her grandparents' farm in Humboldt County, where she would pick wild blackberries with her lumberjack grandfather, and her grandmother would then turn their bounty into the classic dessert.
"There's just something about pie that makes people feel cozy and comforted," says the local baker, who cut her teeth at Alice Waters' famed Berkeley restaurant Chez Panisse. Now, after a 10-year hiatus, she's relaunching the Real Pie Company with her husband Fred Babich in its new home along the Broadway Corridor. At 3,400 square feet, the rustic space, with its warm, butter-yellow walls and reclaimed wood communal tables, more than triples the size of O'Donnell Babich's original spot at the corner of 12th and F streets, which she opened in 2007 and closed just one year later to spend more time with her children. "Pie has been the one common thread through everything in my life and it feels so good now to do this full time [again]," she says.
Real Pie Company's menu features 10 to 12 scratch-made baked goods—think tarts, cakes, galettes and, yes, pies (available whole or by the slice)—and savory items like chicken pot pie or ham and vegetable quiche that rotate seasonally and feature farm-fresh ingredients from local purveyors like Twin Peaks Orchards and Full Belly Farm. Our favorites include the jumbleberry pie—a sweet, zingy blend of blackberries, cherries, wild blueberries and raspberries resting between O'Donnell Babich's signature, flaky butter crust—and the decadent butterscotch banana cream pie, piled high with clouds of whipped cream.
And just in time for warmer weather, the bakery will soon serve up pie shakes—half slices of pie blended with Gunther's vanilla, buttermilk, cinnamon or caramel ice cream—making deciding where to go for dessert this summer as easy as, well, you know. —Tori Masucci Cummins
2425 24th St. 916-838-4007. realpiecompany.com