Forever (530)
Davis native Hasan Minhaj wears his hometown pride on his sleeve—or sometimes on his sleeveless Kings jersey signed by '90s-era point guard Bobby Hurley, which he proudly keeps in his New York office. The former Daily Show correspondent and Patriot Act host also filmed his first Netflix comedy special, Homecoming King, here at the Mondavi Center in 2017, and steadfastly refuses to part with his 530 Davis area code number. With his new one-man show, The King's Jester, now streaming on Netflix, he talks to Sactown about honing his comedy chops at Laughs Unlimited and Punch Line, loving the new vibe of midtown Sacramento, feeling the lingering pain of the Kings' crushing Western Conference Finals loss 20 years ago, and bringing that "I gotta make up for 2002" energy to NYC.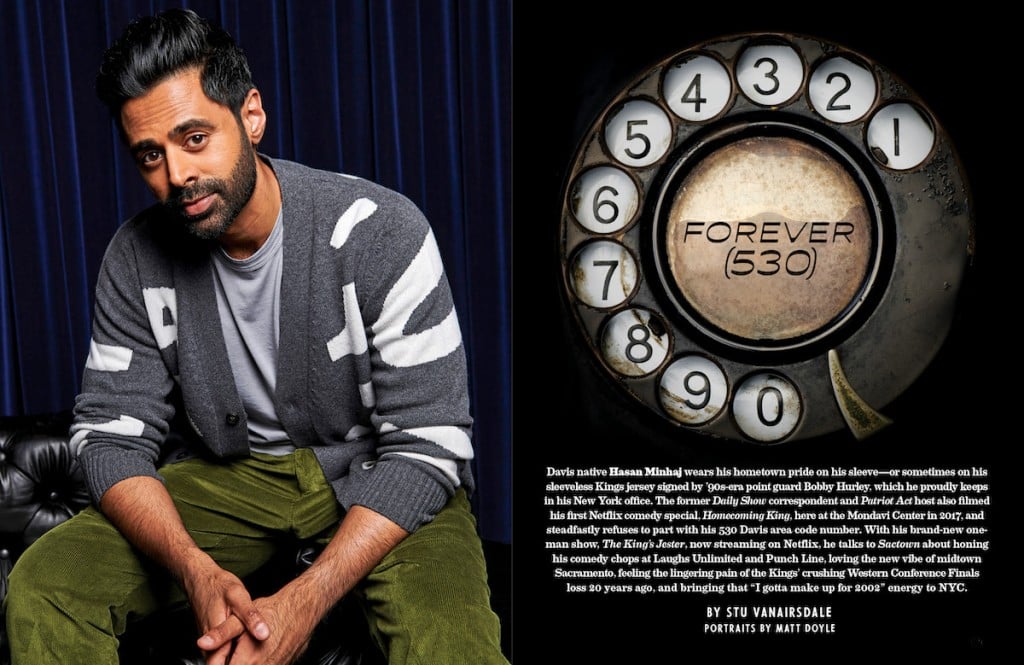 H
Hasan Minhaj was 16 years old when he landed his first joke in the parking lot of a gym in Davis.
It was in 2002, in the dark shadow of 9/11, with Muslims like Minhaj and his family seemingly under suspicion at every juncture of their lives. In his new Netflix comedy special The King's Jester, which was released on Oct. 4, Minhaj tells the story of an undercover FBI agent who was frequenting his mosque in Sacramento and attempting to make friends with young men, assessing terror threats along the way. Minhaj's father, one of the mosque's leaders, was pleased to see a new grown-up on the scene to mentor young Hasan and his friends.
But Minhaj wasn't fooled. Instead, in a sort of proto-jester move that foreshadowed his cutting-edge career poking at powerful figures, he kindled a slow, ironic burn of prank comments at the agent's expense (more on this later). The resulting confrontation—and Minhaj's one-word punchline, which you'll have to watch the special to find out—proved an unwitting first step on his path to comedy's upper echelon.
Two decades after his mockery milestone, the 37-year-old is a celebrated comic with an international profile and an award-winning run of television series and specials. Minhaj's big break came in 2014 when Jon Stewart hired him as a correspondent on The Daily Show. He later won an Emmy and a Peabody Award for his Netflix show Patriot Act, a fearless take on current events named after the post-9/11 law that routinized the surveillance of American Muslims. (The series ended its six-season run in 2020.)
But it's Minhaj's one-man shows that epitomize his magnetic blend of crackling satire, social commentary and cultural introspection. His Homecoming King was filmed at the Mondavi Center on campus at his alma mater UC Davis and released by Netflix in 2017. While that solo show poignantly mapped the vicissitudes and vulnerabilities of growing up as a first-generation Indian American and served up a heaping helping of hometown pride, The King's Jester focuses on Minhaj as a husband and new father learning how to use his razor-sharp gift for speaking truth to power.
Minhaj, who now lives in Connecticut, has come a long way since that first joke, but he's still that same swaggering kid from Davis with a taste for Mr. Pickles sandwiches and rocking a local phone number. "I still have my 530 area code," he says. "Jerry Seinfeld taunted me [when we were shooting] Comedians in Cars Getting Coffee. He goes, 'You're gonna change it.' And I told him, 'Jerry, I'm never changing it. Never.' " Minhaj Zoomed with Sactown in September from the New York office of his production company 186K Films, surrounded by index cards, whiteboard notes, and other remnants of his work on The King's Jester.
This interview has been edited for length, flow and clarity.
---
You recently returned from a trip to India. How was that?
It was amazing. I'm in pre-production on a film that I'm doing next year with Amazon. So I spent some time there prepping for that and also got to see my 94-and-a-half-year-old grandmother. Growing up in Davis, while my dad had his sister nearby, I didn't have a ton of cousins around. Whenever I go to Delhi, I realize, "Oh, this is what life could have been like." All my aunts, all my uncles and all my cousins are kind of within 10 to 15 miles of one another, which is a pretty cool feeling.
In The King's Jester, you recount your exchange with a Modi supporter who heckled you while you were filming interviews for Patriot Act outside a rally in Houston for the Indian prime minister that was hosted by Trump. And then of course the heckler wanted a picture with you.
That to me was such a quintessential moment of what everyone's house is like over Thanksgiving, when you have that uncle you politically disagree with, but they still want to hug you because you're family. Like, "I can't stand you! You should be ashamed of yourself. How dare you! This is what you should think. All right. Can we take a selfie?"
Were you as surprised as I was when that heckler invoked you being from Sacramento? Did you think, "Oh, now it's really on!"
I was like, "How do you know me? How do you know where I grew up?" It's one thing to be like, "I politically disagree with you," but it's another thing to be like, "I know where you grew up, and I'm ashamed to say you're from there." That really hurt.
Since your Netflix show Patriot Act ended in June 2020, we've had the aftermath of the George Floyd killing, the Jan. 6 attack on the U.S. Capitol and the repeal of Roe v. Wade. Do you wish the series were still around for a time like this?
There are definitely times where I wish I could go chime in and do an investigative deep dive with visuals on a particular topic. And then there are times where, quite frankly, I'm glad I don't have to come up with something to talk about this week. It was definitely a fun thing, but I'll be honest—I'm really excited and enriched by the other things that I get to do. The King's Jester would never have happened had I still been hosting a show. I couldn't have toured it. I couldn't have made it good. I couldn't have created a show with that size and scale and quality. It takes a ton of time to make and build it at a Broadway theater level and concert film level, one that feels like a quality piece of work, you know?
You performed two sold-out Sacramento shows of The King's Jester in January. How did those hometown gigs go?
Northern California shows are unique because there's this feeling that a lot of people in the crowd saw me as I was coming up as a comedian. They first saw me when I was performing at the Sacramento Punch Line in 2008, or they saw me when I would go perform at Laughs Unlimited in Old Sacramento. And they're like, "Oh, I knew you when!" I've gotta show the people who saw me when I was just a baby in comedy that I've grown and evolved.
Five years prior, you taped Homecoming King at the Mondavi Center. How did you decide to film The King's Jester in Brooklyn?
Homecoming King was such a Davis story. It was such a NorCal story. It felt right doing it there. The idea there was that The King's Jester kind of picks up narratively where Homecoming King leaves off. If you remember Homecoming King, we end with me joining The Daily Show. And one of the first lines I say in The King's Jester is, "Do you guys wanna know a secret? For four years, my wife and I couldn't get pregnant, and it was my fault." The cadence and the delivery that I wanted was, "Hey, do you guys wanna know a secret? We haven't caught up in five years. There's this thing I haven't talked about." And then we pick up there. Since 2014, which is where Homecoming King ends, I've lived in the New York City [area]. The Daily Show, the White House Correspondents' Dinner, Patriot Act, my daughter being born, my son being born, everything that we've gone through as a family and everything that I've gone through in my career—it all happened in that city. So I thought doing it there felt like the right place to do it.
You do start the show candidly discussing your struggle to conceive children. We don't really hear a lot about male fertility issues in mainstream culture. How did you decide you wanted to tackle that topic, especially right out of the gate?
When I was putting the material together for this show, one of the huge inspirations for me was [comedian] Mike Birbiglia. I've watched Mike Birbiglia work before he hits Broadway [for his one-man shows], and he'll go up at Union Hall in Brooklyn and he will just start with a music stand and literally like a hundred pieces of white printer paper of material. And he'll tell these stories. Some he's just riffing out—you know, premise, punchline—but I saw the way he worked.
As I was putting together material, my director Prashanth [Venkataramanujam] told me, "You need to start by putting everything that you're humiliated or scared by on paper. I can direct you, but you've gotta bleed a little bit on this paper. I can only direct what you give me." To me, great storytelling in great comedy is the art of confession, so starting with that confession was a pretty good starting point.
The edge in this material feels sharper than the edge in Homecoming King—which was still pretty sharp. Did you sense that sharpness too, as you were approaching the new material?
Yeah. For me, one of the things I really felt with this project was that I've grown up a lot. I started writing Homecoming King… gosh, around 2012. And when I go back and I watch that material, the theme of Homecoming King is kind of like a young performer and a young boy coming of age. I'm an adult now. I'm married, I have two kids. I've had to deal with a lot of things to start a family. Our marriage has gone through a lot. These are pretty adult themes.
The last thing that I wanted to do was have Peter Pan syndrome in my work. Do you ever notice that there are men that dress like 19-year-olds and don't dress their age? This is a common thing. Like, you'll see guys that are—God bless 'em—in their mid 50s or early 60s, and they dress like Justin Bieber. For me as an artist, the thing that you want your art to reflect is where you are in time and in your life. For it to feel authentic and real, it has to reflect where you are in life. I was hoping to show sharper writing and a sharper performance, but more importantly, a maturity in the subject matter in the topics that I was diving into.
It's kind of like Homecoming King was about finding your voice and The King's Jester is about using your voice.
Totally. Homecoming King for me was kind of like my introduction to America. The King's Jester to me really is an analysis on why I believe what I believe—you know, whether it's the theme of family, fertility, freedom of speech or how far I'm willing to take a joke. All of those ideas are really being questioned.
At the same time, you obviously haven't left Davis totally behind in The King's Jester. You mentioned you were a junior at Davis High in 2002 when you found out you were funny—when you told your first joke. I won't spoil the punchline, but is that a true story about the gym and the cops and the other circumstances of that first joke?
I will say this: My dad was the president of the Muslim Mosque Association at 411 V Street. That is one of the oldest mosques in North America west of the Mississippi. It's [near] downtown Sacramento, and a lot of times there are communities of immigrants that live in America that don't realize that they're living through a chapter of history, and you don't get a chance to reflect on it until it's over.
The story I tell is from 2002—it's 20 years ago. That story is based on [undercover] FBI agents who would come and hang out at the mosque. It's a combination of a bunch of stories that are from my life and my friends' lives, where they would befriend us and hang out with us and they'd play basketball with us. It was a really surreal thing.
Your actual quote is, "The moment I landed that joke, I was in control." Can you elaborate a little on what being "in control" meant as a 16-year-old trying to establish his identity?
A lot of times, adolescents talk about being funny and shooting spitballs in the back of class. I remember when I trolled that FBI agent and I noticed people laughing, it was a feeling of agency and control in a world where I felt like I didn't have control. Things didn't make sense. And for a moment, it was almost like the rules of gravity stop—I could bend and manipulate time and space. I could make people laugh involuntarily because of my words. The way I structured them gave me power. It really felt good.
In The King's Jester, you show photos of Will Moroski, your best friend growing up. You also talked about Bethany Reed in Homecoming King—the girl you were dating and hoping to take to the prom. How comfortable do you feel invoking real-life people in your stories?
There are certain people [whose names] I've changed. Just to show how the sausage gets made, I'll take a series of two to three stories or four stories that happen over the course of several months or years and condense them. Or I'll take inspiration from this story that happened to my cousin or friend and this thing that happened to me, and I'll merge the two.
Will Moroski is a longtime friend. His Instagram is very real—feel free to follow him. But with people like Bethany Reed, I'll change their names, because the last thing that I wanted to do was have people become internet vigilantes and go back and adjudicate a prom story. We're still friends, and that person's living a great life.
For me, it's more about focusing on the way the story made me feel in that moment and what it said about what it meant to grow up as a Muslim American during that period of time. Hamid Hayat was a real kid from the community. [Hayat, whom Minhaj talks about in The King's Jester, was arrested in 2005 on terrorism charges and served 14 years in prison following a wrongful conviction. That conviction was later overturned, and he was freed in 2019.] He lived in Lodi. The attorney that defended Hamid in court was from Sacramento. She went to the local mosque. This was a huge issue in our community. This is a real thing that happened. It's a real story.
You can't really composite your family, though. Where do you draw the line talking about your parents or your wife and kids?
The rule I have at home with my wife is, "Hey, let me open-mic it first. And once it gets to a polished place, can I present it to you? And you can let me know what you think." And Beena, my wife, she's been gracious enough to say, "All right. As long as the open mic has less than a hundred people in it, I'll let you work off it." She's like, "You'd better run it by me before it goes into a theater." I'm very lucky. Beena has really allowed me to be me and to pour myself onto the page. Funny enough, there are lines in [The King's Jester] that she specifically wrote.
Really? Like what?
"Oh, if you do that again [put our kids in danger], I will leave you in a second." [Controversial comments by Minhaj on Patriot Act went viral and led to their family becoming potential targets of retaliation.] And I wrote that down, and I go, "Do you want me to say that?" And she goes, "You'd better say that!"
You joke in The King's Jester about how your wife has a Ph.D. and you do "PowerPoint comedy." But the "PowerPoint comedy" really is a sophisticated signature of your work—the graphics, the backdrops, the photos, the visuals. How have you developed and refined that style over the years?
I think I've always been a visual storyteller. My palate of reference pre-Pinterest came from music videos, short films and all the movies that I was just inhaling while I was [growing up]. I would watch NBA basketball on NBA on NBC, but then the only way I could [truly] get my fix was through Slam, XXL and Spin magazines. I still go to the airport and buy physical magazines, and I'll just get inspiration from the color of this lapis blue. [Minhaj holds up a full-page photo of sky in a magazine.] Or the depth of this orange. I wanted to make art that felt cinematic and visual. And a lot of times, stand-up comedy as an art form can be very cerebral. But if you add light and color and design to it, you can [add] more emotion to it.
When Prashanth and I were storyboarding [The King's Jester] with our cinematographer Declan Quinn, we wanted to open with just a single steady shot of me looking directly at the camera on a sparse stone background, and then use color as a creative language. So we start with that sandstone and we transition into blues and oranges and greens and purples and letting the color match the emotion of where we're at. The inspo for that was the great artist James Turrell. Turrell uses light as a primary tool to convey emotion, truth, anger, jealousy—all of those things, so [we wanted] to be more succinct instead of being so graphic, using color as the language of emotion.
Is part of your mission as a comic to advance the format and shake it up?
I'll be candid with you. I'm a huge basketball fan. Do you watch basketball?
A little bit.
When I see this young generation of talent [like Milwaukee Bucks star] Giannis Antetokounmpo… we're talking about a Nigerian immigrant from Greece. Like, I'll give you the footwork of Hakeem Olajuwon, but I'll give you the length of Kevin Garnett—and his ball-handling—with the speed of Scottie Pippen. And also the power of LeBron. That's Giannis, you know? It's like all of those things combined—that's this new thing.
Similarly with me, I take so much inspiration from Richard Pryor, Spalding Gray, David Sedaris, Mike Birbiglia, Colin Quinn, Bo Burnham, Jerrod Carmichael—all of those people. They've all inspired me in different ways. And what I've tried to do is combine all those influences and go, "How can I expand the genre to make it something new?" It's imperative that the genre and the style look different, feel different, and that [we] keep adding and expanding and stretching not only culture, but the art form itself.
The theme for this anniversary edition of our magazine is "Hometown Pride." How do you show that you're Sacramento Proud?
I've been repping Sacramento for a long time. This is pre-Lady Bird. You can even YouTube [my hometown pride]: I went on ESPN's First Take, and Stephen A. Smith asked me who I thought [the second best] player was of all time [after Michael Jordan]. And I looked dead into the camera and I said Mitch Richmond from the Sacramento Kings. But let me explain to you, Stu—
He was the only player who could guard Michael Jordan!
Exactly! Exactly. Thank you, Stu.
Was that what you were going to say?
[Laughs] Yes!
I saw them play! Mitch locked MJ down!
And MJ gave him credit!
How do you feel about the Kings this year? New coach Mike Brown—yay or nay?
[Long, smiling pause] I've been hurt for so long. What I'd rather do is keep my expectations at bay and let them play. I want to watch. I want to just see how the season unfolds.
So I shouldn't ask you if you think they're going to make the playoffs this year?
I mean, I've said it every year: We're making the playoffs. But that's because I believe in manifesting things. I approach being a Kings fan through the lens of Marcus Aurelius and the great stoics: I'd rather just be calm and collected in my demeanor.
I can appreciate that. I've waited a long time too. I'm an OG Kings fan, but I never got over the 2002 Western Conference Finals. I still have that dagger in my heart.
That trauma. Yeah, totally. It's also triggering because whenever I travel anywhere and people go, "Hey, where are you from?" and I go, "I'm from Sacramento," they go, "Oh, you guys really got screwed over. I remember when you guys were good." And they always harken back to those two years [between 2001-2003]—that window where we really were on the cusp of a championship.
But here's the way I've always carried what Sacramento means to me in my heart: I carry that small chip on my shoulder, and I brought that to New York City. So even at my Daily Show office, I hung up a Bobby Hurley jersey in there.
The Kings' point guard in the '90s—No. 7!
Bobby was so nice. He sent over his officially licensed jersey, a signed jersey, a warm-up from like the '94-'95 season—I think I have them over here. I'm not kidding. I mean, it's a big deal to me. It's right here. [Minhaj crosses his office to retrieve his Bobby Hurley garments, then holds the early '90s white, blue and red warm-up jersey up to the camera.] That's right! Look at this. These are the official warm-ups. [He holds the mid-'90s white, purple and black warm-up jersey up to the camera.] Now this is when everyone got on the bandwagon. This is when they changed [the team colors]. This is Bobby's. It's signed right here—Bobby Hurley.
Do you understand the amount of pride you have to have to take the 916 and boldly carry it into the 917? The way I carry that is very different than an artist who grew up in New York City. I really come in like I've got something to prove. I come in with this "I gotta make up for 2002" energy. And honestly, people are like, "Go to therapy, and let it go." And I'm like, "Never! Never! We must adjudicate the past!"
How do you keep your Kings enthusiasm after so many years of futility and failure?
I want the Kings to be good so badly. When I see Drake fly back to Toronto for [the Raptors'] playoff runs, that's the feeling I want. I want to book a flight from JFK to SMF and be at the [playoff] game. You know what I mean? Wear my jacket from 1992 and bring it back to 2022 and be like, "This is my city!"
This is what I'm getting at, though. How do you endure the not-so-good team today?
I'm in New York City, baby! I have a kinship: Knicks fans. The pain, the suffering. Knowing that nothing's gonna change, but we love you regardless. That's why I go to Knicks games—because it's the closest feeling that I have to attending Kings games.
Do you ever think about doing a show at Golden 1 Center?
I would love to do a show at Golden 1 Center, but arena shows for the type of comedy I do… I don't think it would play that well. I think the best type of venue is like a Mondavi Center—something that's 1,500 to 3,000 seats, two decks. The top deck is staggered in such a way that it's on top of the first, so you feel like both decks are right on top of you. Those are my favorite types of theaters—the audience just feels so intimate. As great as the big theater shows are that are in the huge performing arts spaces with 6,000 or 8,000 seats, you start losing that third and fourth deck. At that point, [the audience is] watching a monitor and watching this little person, you know, dancing on stage.
Last time Sactown magazine spoke to you was in 2016, in advance of the Mondavi Center taping for Homecoming King. Was that experience—the crowd, the room, the results—everything you hoped it would be?
Yes, it was a dream come true. It's so funny that you say that—"the last time I spoke to the magazine." There was so much possibility in front of me. I had never done a stand-up comedy special. You know, for a comedian, that's your calling card. There was so much pressure, and that chasm of possibility was really terrifying.
I also didn't know I was doing something kind of new and different, and I didn't know how it would be received. There are screens and graphics, you know what I mean? It wasn't a traditional [stand-up concert], with me in front of a red curtain doing premise-and-punchline-type jokes.
I know that your family still lives here. How often do you get back home to see them?
Quite a bit. My mom had knee replacement surgery recently, so I flew in just a couple of months ago.
When you come back, are there any things you like to do? Any restaurants you like to go to?
My favorite spot is Mr. Pickles [Sandwich Shop]. I don't know if you're a Mr. Pickles fan. They give you a [free] cookie afterwards. And midtown's really come up—midtown is really jumping. It wasn't like that when I was a kid. Now you can just kind of stroll about and make an afternoon of it.
Do you remember the first comedy show you ever caught in Sacramento?
Yeah. I went to the Sacramento Punch Line—to the Tuesday open mic, and I went just to do some recon. I was 18. And I went and they sat me right up front. I was alone. It was a two-drink minimum. I don't drink [alcohol], so I ended up getting nachos and Cokes. And every comedian roasted me. They were like, "What's up, dude? You're here alone." Like, "What's up, virgin?" What was so reassuring was they weren't very good. [Laughs] And their mediocrity was my greatest inspiration. I was like, "Maybe I could do this."
When you talked to us a few years back, you said, "Growing up in Davis, things like The Daily Show and SNL felt a million miles away." Obviously you got on The Daily Show. Do you ever think about setting or being that example for kids in Davis or other smaller cities who might be like you were at their age?
Yeah, for sure. For me, I took my pride of being from the 916 to the 917, and I really wanted to share it with the world and show that it really is achievable and doable. I wasn't some wunderkind where my dad was this esteemed director or producer. My dad worked at the CalEPA; he's an organic chemist. My mom is a physician at the Mather VA hospital. When I was a speech and debate kid, and Ms. Takeuchi [at Davis High] told me that she won't give me detention if I do impromptu public speaking at the FBLA [Future Business Leaders of America] tournament, that's my X-Men origin story. I know it's not sexy. There's not a great movie log line in that, but it is my story.
What's next for you? Is there anything on the horizon? You mentioned the Amazon project in India. Anything else you're working on?
So at 186K—the [production] company that Prashanth and I started—our goal and our mission is to take stories that we think exist on the margins and take them to the mainstream. Twenty years ago, or even 15 years ago, when I first started auditioning for projects, there were really no roles or opportunities for people like me. The movie that we're in production on, For the Culture, it really is my offering as a writer, producer and performer to help that next generation of really great young comedic performers. [Minhaj will also star in the film.]
What can you tell us about that project?
It's based on painfully true events, and it's about the highly competitive world of collegiate Bollywood dance.
You? Painfully true events?
Yeah. [Laughs] Yep. You've seen The King's Jester—it's about censorship and the jurisprudence of jokes. And next, everybody wanted me to do a one-hour drama about, you know, the opioid epidemic. [Laughs] Nope. It's a hilarious college romp based on how I fell in love with my wife Beena when she was doing competitive collegiate Bollywood dance. I can't wait to do it. Again, pursuing exciting stories that people haven't heard or seen before—that's really the feeling that I chase.
You also acted in the second season of The Morning Show. Is acting something you're interested in pursuing more?
There's stuff that I enjoy doing as a work-for-hire actor, and those things are fun. But I really enjoy producing, developing and creating. I think there is a history of comedic minds that have done that, like Adam McKay did when he left SNL or Tina Fey did when she left SNL or even, you know, Jon Stewart did when he left The Daily Show. I want to kind of carry on in their footsteps.
Do you think you might return to do more work in Sacramento? Like Homecoming King?
Oh, man. I gotta find something to do back in my hometown. I gotta do something.
Did you see Lady Bird?
Of course.
What did you think?
I loved it. I loved the way Greta [Gerwig, the writer-director of Lady Bird] captured teenage angst and that feeling of, "I want to stretch my wings and go see the world." I really loved it. But I did not like how she made fun of UC Davis. That wasn't cool. And no one I went to high school with was as hot as Timothée Chalamet. So that was a bit of a stretch, Hollywood casting.
Greta Gerwig said she wants to do a couple more films, like as part of a trilogy or something like that in Sacramento. She has said she didn't truly appreciate Sacramento until she left. Do you relate to that at all?
I definitely am defensive and I have mama-bear energy with [detractors]. I'm like, "Hey, don't you dare do that." But there was part of me that had this feeling of, "You're not as cool as you think you are, Fremont." You know? I would get shade like, "What do you guys even do in Sacramento?" "I do the same things you do in San Ramon!" Like, unless you live in San Francisco proper and your apartment oversees the ballpark, you're living just like me. Just like me, you're going to the grocery store, you're going to Jamba Juice. You're going to an overly air-conditioned movie theater. You're getting in your car. You're going back home. Don't act like your life is a Woody Allen film.
The contribution that I want to make is to always make sure that I speak positively of the city. I rep my city. I show my love for my hometown. I always come back and tour in my hometown—and I always will.