The Return of the "King"
As a senior political correspondent on The Daily Show, Hasan Minhaj gets the dangerous laughs with bits like Muslim Makover and his visit to the Republican National Convention in whiteface. In January, the 31-year-old Davis native will bring home the funny with a performance of his aptly titled one-man show, Homecoming King, at his alma mater's Mondavi Center. Sacramento, get ready for your moment of Zen.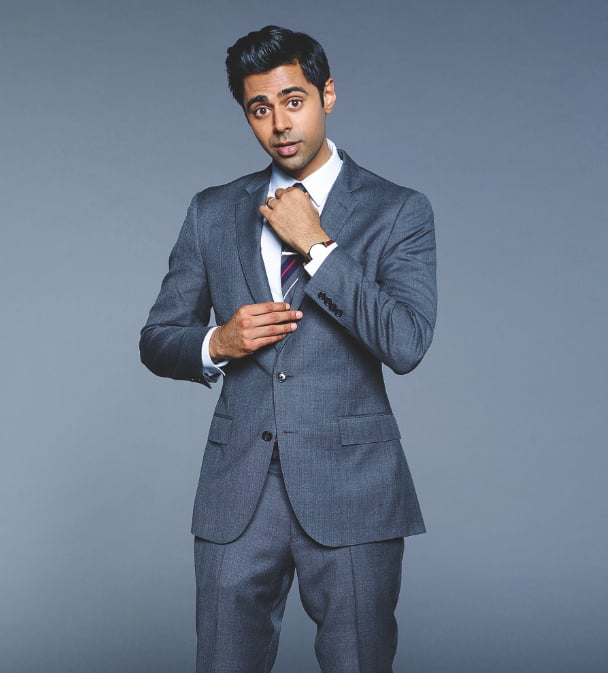 Where are you right now?
W
I'm in New Orleans. I literally was just getting picked up from the airport and dropped off to my hotel. I do The Daily Show Monday through Thursday, and then Friday, Saturday and Sunday, I go do [my one-man] show, so it's pretty tiring. But it's awesome.
Can you tell us a little bit about your one-man show?
The show is a long-form narrative I started developing in 2013. I was performing at the Riot Comedy Festival, which is a popular comedy festival in downtown Los Angeles. The Moth Radio Hour just happened to be doing a show downtown, and they wanted comedians to tell stories. I got asked to be a part of the show, and the theme was heartbreak. Driving to the gig, I remembered my first heartbreak, and I told this story about falling in love with a [Caucasian] girl and trying to go to the prom with her, but because of the way her family was, we couldn't go together. That was my first encounter with love and racism and identity in America, and that became the genesis of this show.
I started working on it with a stage director, and we slowly built it out. We developed it at the Sundance Labs, and before we knew it, we had a show. It's really fun to combine traditional storytelling with comedy, satire and political commentary.
I was a pretty nerdy kid growing up, so I thought it would be a really interesting play on words to call it Homecoming King. I would hope that when folks see the show, they see there is a positive message at the end, that we're all kings and queens in our own right.
Homecoming King is also a fitting title for your performance at the Mondavi Center. How do you feel about filming your show for Netflix in front of a hometown crowd?
I'm really excited. I know there are going to be certain things I talk about that will be a little too real, or that might be a little uncomfortable or ugly, but I think that's what's going to make it special.
To me, there is no better way to talk about the things I'm talking about in the show than to bring it back to my hometown, as a kid who dealt with all these issues there [of being an Indian-American Muslim in a predominantly white community]. I thought that would be the perfect place to [shoot the comedy special]. It's really fitting for me. It's literally like a homecoming.
Why is it important to you to address the issues of race and religion in your comedy?
My dad was an immigrant to this country, and there was this huge learning curve. He went through what a lot of immigrants before him went through, whether it was Polish immigrants, Irish immigrants, Jewish immigrants—so many immigrants came before him and left their mark on this country. And I'm realizing, as a 31-year-old guy, I got to see over the past 30 years what my dad has sacrificed and done to add his chapter to this book called The American Dream. I happen to be his son, so I have the privilege and the tremendous blessing to be able to use the platform of comedy, art and television, and add our story to this narrative. I think that's powerful. And it's really, really important that we share those stories. They live on for a long time and become a part of popular culture. I would be remiss to not say, "Hey, this is what our story is."
Were you born here?
I was born and raised in Davis. I went to Pioneer Elementary School in Davis, I went to Davis high school. My mom worked at the Mather VA [hospital], and my dad worked at the CalEPA [the Sacramento-based California Environmental Protection Agency], so our roots are in Sac.
You're based in New York now. Do you make it back home often?
My parents live in Rancho Cordova so I do go back quite a bit. We have our little local joints that we hit. I definitely go kick it in midtown with friends. I love that midtown is popping, I love that people go to Temple Coffee. Temple is definitely somewhere I go hang out.
And I understand that you're a big Kings fan. Did you get to a lot of games when you were younger?
I would go to Arco Arena all the time. I would sit in the upper deck, in the nosebleeds. But yeah, all the time. I'm very familiar with the Natomas In-N-Out right there. I'm not just saying this to be colloquial, like, "Ooh, I love the Kings." I'm not playing. I remember the Mike Bibby game five shot [which won that game for the Kings during the 2002 Western Conference Finals against the Lakers]. I remember the Robert Horry [buzzer beater that won it for the Lakers during game four of the same series]. I remember the horrible mess we went through [in 2013] when we were potentially going to lose the team—when [then-Microsoft CEO] Steve Ballmer was about to buy the Kings, I felt our pain. That's why when Golden 1 Center opened I was so thrilled. This indoor-outdoor arena downtown—yes! I love it! I love that the people of Sacramento are continuing to really build the culture of our city. And I'll stand by this: the Sacramento International Airport is probably one of the best airports in the country—you've got a Dos Coyotes, you guys have all these things. It's a hell of a lot better than LaGuardia [in New York].
After Davis High, you went to UC Davis and studied political science there. When did you catch the comedy bug?
Believe it or not, it wasn't [while] studying political science in college. A lot of people are like, "Oh, you're on The Daily Show and you studied political science in college. Of course." For me, it was actually in high school. I was really into speech and debate and forensics, and anytime I was doing impromptu speaking, or I was doing a debate, if I could make the judge laugh or make the audience laugh or even make my opponent laugh, it was the ultimate takedown. When I first started watching comedy in college, I was like, "Oh my God, this is it. Stand-up comedy is funny speech and debate." The intellectual game of satire, of writing jokes, that's what got me excited. That's what made me really go, "Wow, that's the type of comedy that I want to do."
Did you perform locally when you were getting started?
I would go everywhere to do stand-up. I would go to the Sacramento Punch Line and Laughs Unlimited. I would go to Tommy T's, which is now in Rancho Cordova. I would frequent all the Sacramento clubs. The fact that I was able to land The Daily Show and it all worked out that way—I'm just very lucky.
Speaking of The Daily Show, you were one of the last correspondents Jon Stewart hired before he left in August 2015. What was it like to work with him?
I refer to him as Jewish Yoda. [Meeting him] was surreal. I couldn't believe it. Growing up in Davis, things like The Daily Show and SNL felt a million miles away. It was one of those things, like, "I am meeting somebody who revolutionized one of the most influential forms of comedy [and] had a huge impact on my life." Just being around him and seeing the way he worked, seeing the way he treated others, that was really amazing. He could be incredibly intelligent and brilliant, and at the same time be so kind and generous to people. That was really inspiring to me—that you could be a great man and a good man. Those are not mutually exclusive concepts. We live in an interesting time where everybody reads the Steve Jobs [biography] and [thinks] the way you accomplish great things in life is by tearing other people down or stepping on people or being a jerk—and he wasn't. He put so much personal equity on the line, like, "I really care about this country and I really care about the people here." And that's what made him resonate with so many people. You can see his fingerprints on [Stephen] Colbert, [Samantha] Bee and [John] Oliver.
Those three Daily Show  alums went on to host their own talk shows. What's next up for you?
I just finished this movie called Rough Night with Scarlett Johansson that comes out [in June]. It's kind of like The Hangover meets Weekend with Bernie. A bunch of girls go on a bachelorette trip—Scarlett Johansson plays one of the girls—and they accidentally murder someone. It's this crazy, funny comedy with high jinks and murder. Ilana Glazer from Broad City is in it, Kate McKinnon [from Saturday Night Live] is in it. It's an amazing cast. I play one of the groom's friends. I'm so flattered they asked me to be a part of it.
You started on The Daily Show  in November 2014, near the start of the 2016 presidential campaign season. What was it like to cover it?
It was a whirlwind, and it was crazy because our election cycle is almost two years long. Let me just use Trump as an example. When he came down the escalator and announced he was running for president, Jon was still hosting the show, and [by the end] Trevor had been hosting the show for a year. It's insane!
Hasan Minhaj will appear at the Mondavi Center in Davis on Jan. 27 at 8 p.m. Visit mondaviarts.org to purchase tickets ($35 each) or for more information.
You Might Also Like