The Mondavi at 20
Don Roth grew up in New York City on a steady diet of many of the world's best cultural offerings. That influence rubs off in his role as the executive director of UC Davis' Mondavi Center, which launches its 20th anniversary season on Oct. 6. Roth talks about highlights for the year ahead, his vision for a thriving regional arts community, and his top three Mondavi memories.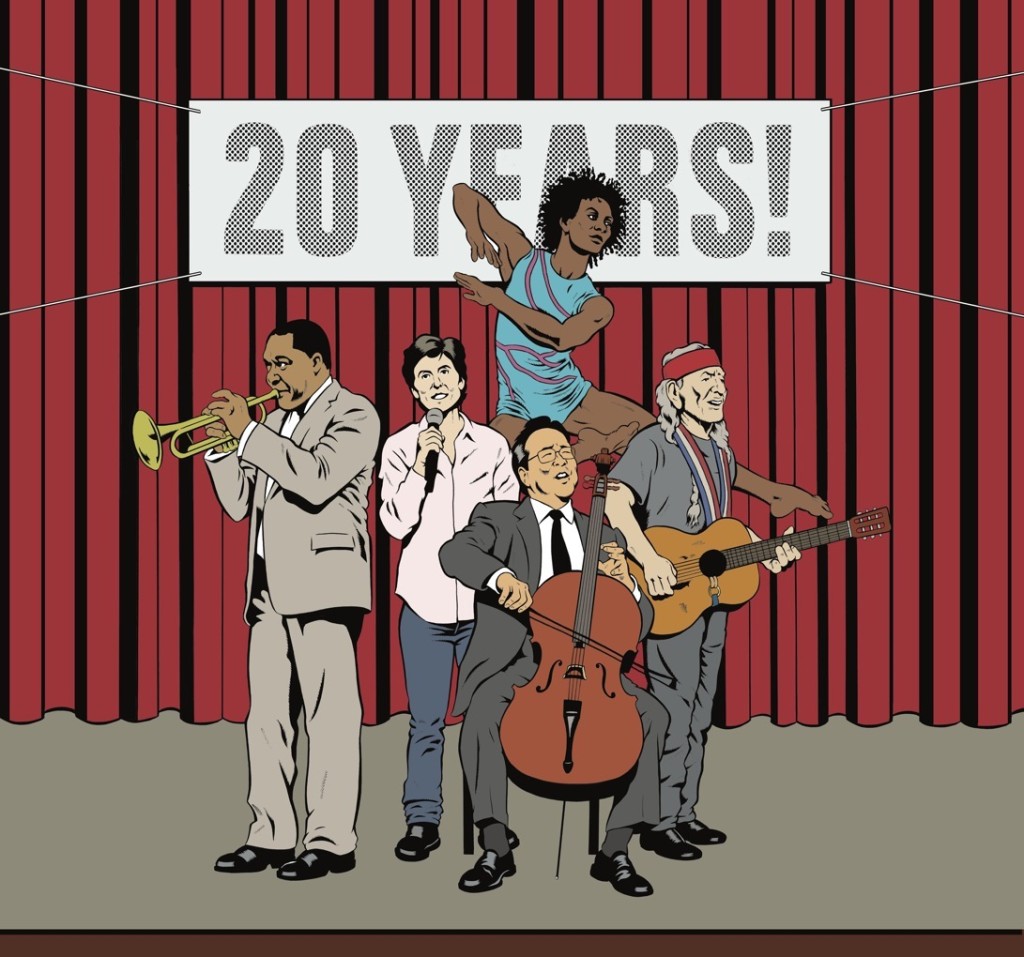 Congratulations on 20 years of the Mondavi Center! I remember driving by 20-plus years ago and seeing it being built, and here we are two decades later. It's kind of hard to believe. For the majority of that time, 16 years, you've been the director there, right?
Yeah. It's interesting. I've worked at organizations that were, like, a hundred years old, so you always felt like you were just a drop in the bucket. Here, 16 out of 20 years actually feels pretty significant. I would say that Brian McCurdy, who was the first executive director, did a great job of getting the program started. It was one of the things that attracted me to come here. We've been able to evolve, and I feel like my team and I have been able to have more of an impact than you can in an organization that's got so much history like some of the orchestras where I worked. We feel like we can put our stamp on it and respond to the different conditions, different changes. And obviously the last few years have been particularly notable for that.
How do you put your stamp on it? How do you make a job like this and a venue like the Mondavi Center your own?
It's a very good question. You start—as I think you should do in almost any [new] job—by taking a little time to observe and see what's working and what's strong. And listening—when I got here, I went on a listening tour to the people who had been here since the beginning and heard what they thought. I also watched. I saw what worked and I saw things that I didn't think worked. We were doing a lot of theater. Most pieces of theater were either too small or too large—we don't really have a pure theatrical space. So now we tend to try to do something really interesting and dynamic like this version of Hamlet [Prince Hamlet, in the 2022-23 season], which has a lot of video. So that was one thing.
I think probably the place where I put the biggest stamp on things was to broaden what we did. I mean, I love classical music—that was where most of my career was. And we've done a lot of jazz. But you've just got to make sure people feel like there are things here for everyone. We brought Willie Nelson. We brought Merle Haggard. We've been bringing Lyle Lovett forever. When I got here, we would almost always open the season with an opera singer. And I love opera! It's one of my favorite things. But we opened the season five years ago with [norteño group] Los Tigres Del Norte. For me, the perfect weekend was when Kiri Te Kanawa, the great opera singer, sang one night and Doc Watson, the great country singer, sang the next night. What we do is ultimately for everyone—or almost everyone.
How has the landscape of performing arts venues in Sacramento or the Sacramento region evolved since the Mondavi Center opened? And how would you say the Mondavi Center has influenced that evolution?
Basically, we are the place where certain artists and certain genres come through that just wouldn't be here otherwise. Whether it's the Alvin Ailey American Dance Theater—all the great American modern dance companies have been here—or great orchestras from around the world or the Jazz at Lincoln Center Orchestra, or [jazz singer-songwriter] Cécile McLorin Salvant… that just wasn't happening in the way it's happening now. We have the right facility for it. We're an absolutely, astoundingly good dance space. We're a great acoustic music space. We've got a top-of-the-line Meyer sound system for amplifying things.
I'm on the board of SARA, which is the Sacramento Alliance for Regional Arts, and I meet regularly with a lot of the folks in Sacramento. I feel like we've started to develop a regional sense of ourselves, which is something that I think is one of the issues for Sacramento—that it doesn't think of itself as a region. I've worked in San Francisco. "The Bay Area" is a meaningful concept. People who live in San Francisco don't think that Marin County, the Peninsula or Berkeley are foreign countries. The transportation system helps, of course. We have to think regionally, you know? We have to own all our assets. The Mondavi Center is known all over the country as one of the best venues acoustically, one of the best programs… I'm being very modest. [Laughs] And we need to own it. So it's across the causeway—big deal. I do see the growing sense that Sacramento will benefit not just in the arts, but in many ways by conceiving itself as a region. Portland does that. Denver does that. San Francisco does that, and they're all better for it.
What are you looking forward to this season—whether big names or under-the-radar shows that might surprise folks?
I'm very proud of the season and every single show on it. The Alvin Ailey American Dance Theater—they haven't been here in about nine years. In so many ways, it's the great American dance company. The choreography is amazing. The quality of the dancing is amazing. I'm just absolutely thrilled to have them back. Yo-Yo Ma—we found out that he's going out on tour as part of a trio with [pianist] Emanuel Ax, whom we love, and [violinist] Leonidas Kavakos, who's been here before as an orchestra soloist. And it's going to be Beethoven, so that's great.
As far as ones that are less well known, I'd start with the City of Birmingham Symphony Orchestra. Birmingham, England, is to London, what Birmingham, Alabama, is to New York—it's an industrial town, and they've built an amazing symphony hall there. It's probably, frankly, nicer than anything in London. And they have a long tradition of finding wonderful young conductors. Sir Simon Rattle, who is now a distinguished maestro, started there. And they have [36-year-old Lithuanian conductor] Mirga Gražinytė-Tyla, and she's absolutely astounding. They're doing La Mer [by Claude Debussy]. They have a 23-year-old cellist from Britain [Sheku Kanneh-Mason] who's playing the Elgar Cello Concerto.
And Cécile McLorin Salvant—who's been with us before, who I think is the [successor] of Sarah Vaughan and Ella Fitzgerald in terms of being the leading jazz singer of her time—is an artist who's really interesting. She's always doing different things. She's got her own quintet. She's got the voice of an angel, but she combines it with such musical intelligence and interest that is fabulous.
What does the programming process look like at the Mondavi Center? What do you and your staff look for in a performer or a speaker or a dance company?
When I got here, there was kind of a rule that once the season was announced—which is usually April or May of the previous season—we never added anything. And that kept us from booking those artists who are on a shorter time frame. We could never have booked Willie Nelson or Merle Haggard or Tig Notaro [who will be performing during the 20th anniversary season] if they had to know their schedule as much as a year and a half in advance. A lot of the comics and popular acts don't operate that way. So we've been able to really do what we call "Just Added" [events].
We also try to take the long view. We made the mistake in some seasons of booking too many things of the same type. If it's theater or dance, we always try to see it live before we book it because we need to see how it's going to fit on our stage. Music, not necessarily. We can book music from audio and video because in most cases it's not the visual element. It's the musical element.
What's your background? How did you get started in the performing arts?
I'm from New York City originally. Growing up there in the '50s, I had access to free dress rehearsals by the New York Philharmonic and dollar tickets to go to Carnegie Hall and things like that. At that time, most of the museums were free. So I really got an education in the arts that was informal. I mean, I'm not trained in it. Basically I came out of New York with two passions: the arts and baseball. And those have stayed with me.
Mets or Yankees?
Mets. In my family, the Yankees are the evil empire.
Good to hear.
So that was my background. I ended up in Austin, Texas, after being in a number of places—I got my doctorate in American history at the University of Texas. I was teaching at a little private school there, primarily history, and I decided that wasn't for me. I went to work for a friend of mine who was the first Mexican-American city councilman in Austin. I was his executive assistant. And while I was doing that, which was primarily about zoning, we were being lobbied by the arts people for city money. I got to know the museum director and the director of the symphony and the director of the theater. One day, I read in the newspaper that the symphony manager was leaving. I went over to see him and I said, "I don't really know exactly what you do, but I know I like classical music better than I like zoning." So a few months later, I had that job running the Austin Symphony.
I spent nearly 30 years in symphony management. My last job [in that field] was at the Aspen Music Festival, which is primarily an orchestral classical music festival. And then I came here in 2006.
Didn't you also once write for Rolling Stone?
I did, in the early days. I wrote a few articles, mostly about some blues singers that were coming to Austin. And actually, a friend of mine and I wrote an article for Texas Monthly in the early days. We were observing the beginning of the country music scene that was happening in Austin. And in fact, my friend stayed in Austin, and he said that the people who started Austin City Limits actually did it on the basis of that article. So I was like, "Hey, we made a mark."
What are some of the highlights that you'd single out from your years at the Mondavi Center? Let's pick the top three.
I would say that combination of Kiri Te Kanawa and Doc Watson [in 2007]. It was my second season, but the first season that I really got to program. Having one of my favorite opera singers in the world one night on her farewell tour, and then having one of my heroes from my youth—Doc Watson, the great blind Appalachian singer and guitarist—two nights in a row? I went, "Man, this place is great."
I'd say another one was when we presented Harry Belafonte as a speaker. He was in his 80s—he's now in his 90s. First of all, he got up at the podium—still one of the handsomest guys on Earth—and just talked without notes about a life that was deeply embedded in the Civil Rights Movement and his relationship to Dr. King and Sidney Poitier. He had everybody in the palm of his hand.
The third one was our 10th anniversary. We had the U.S. premiere of Snow White by [French dance company] Ballet Preljocaj, which I've seen five times. It is the greatest piece of dance I've ever seen. It's got so many amazing aspects, including aerial work. And it's just so beautiful and dynamic and thrilling.
It's hard to pick three. I mean, [folk-country legend] John Prine, who unfortunately passed away at the beginning of the pandemic, was here at the beginning of the 2019-20 season. I've been listening to him forever, and he delivered a beautiful performance.
Can you give us an example of a risk you've taken? Was there a big gamble that paid off handsomely?
There was a piece by Lucy Guerin, a choreographer from Australia, called Untrained. It wasn't a big financial risk, but the thing about this piece was that there were two professional dancers and then two people who had no dance training—they didn't necessarily look like dancers any more than I look like a dancer. I thought, "I don't know how this is going to go." And it was an amazing thing. I mean, the poignancy of these non-dancers putting themselves at risk in the piece was really, really beautiful.
What did you gamble on that maybe didn't turn out the way you'd hoped? Not everything has to be a sellout. I think we are really good at understanding that if we're going to do unique work—new and unusual work—it's going to get this size audience, and that's going to be balanced by a Yo-Yo Ma show that's already sold 1,200 tickets. So we don't get a lot of surprises.
I'm reminded of the scene… what's the movie about the rock group? The one that Rob Reiner did?
Oh, This Is Spinal Tap.
You know the scene in Spinal Tap where they sketch out [a set design of] Stonehenge on the napkin? It's like in inches instead of feet? [In the film, the stage set of Stonehenge accidentally ends up being mere inches tall.] The equivalent of that, when you're talking things that didn't work out, is we booked the Salzburg Marionettes. We thought, "Are these going to be large enough to be seen in Jackson Hall?" We obviously didn't go to Salzburg, but we looked at the videos, and it all looked good. We also got assurances from the agent. And then the [puppets] show up and they're like this high. [Holds hand several feet off his desk.] I'm going like, "Oh my God." If you're sitting in the balcony, you know, there they are. [Holds fingers a few inches apart.] And we didn't rent opera glasses. So after the first [of four] performances, our crew rigged up a big screen—like when you go to rock concerts now, or ball games. That kind of fixed it, but when they first came out, all I could think of was the Spinal Tap thing—Stonehenge [laughs].
Another time, the Royal Philharmonic Orchestra was coming from Santa Barbara and their bus got stuck in traffic. They got here on time, but they were starving. So we got Woodstock's Pizza for all these Brits. They loved the pizza. They were so hungry. They thought we were great. This could have been a five-star restaurant for them.
What do you hope the next 20 years look like for the Mondavi Center? Are there any changes in direction that you intend to pursue—or a longer-term vision you want to achieve?
I think one part of it is really to become a home away from home for more of our students. I think the one important art form that we have not paid enough attention to is film. The way things have been going with the commercial [movie] theaters, classic films, foreign films and alternative films are really not as strongly engaged. We have great equipment. We have two great rooms [the main Jackson Hall and the smaller Vanderhoef Studio Theatre] for film. We had a series called Focus on Film for a number of years. I'd love to see us do more [film] again. It's also a medium that students can relate to, so there's a role to be played. Even though independent films and classic films are available for streaming, there's nothing like going into a theater with a great sound system and a great screen.
It has always been my goal for us to be seen as a place where age and wealth and who you are is never a barrier. That's the way I felt growing up in New York. I felt like a little kid from Brooklyn could go to Carnegie Hall or go to the New York Philharmonic or go to the Metropolitan Museum of Art or go to the Metropolitan Opera. The stuffiness that we put around the arts is something I always want us to lose. We need to continue to grow towards that.
This interview has been edited for length and clarity.
You Might Also Like
True Colors – The Manetti Shrem's Young, Gifted and Black explores identity
Staging a Comeback – Sacramento Philharmonic & Opera brings opera back to the city
Q&A with Sci-Fi Author Kim Stanley Robinson