Staging a Comeback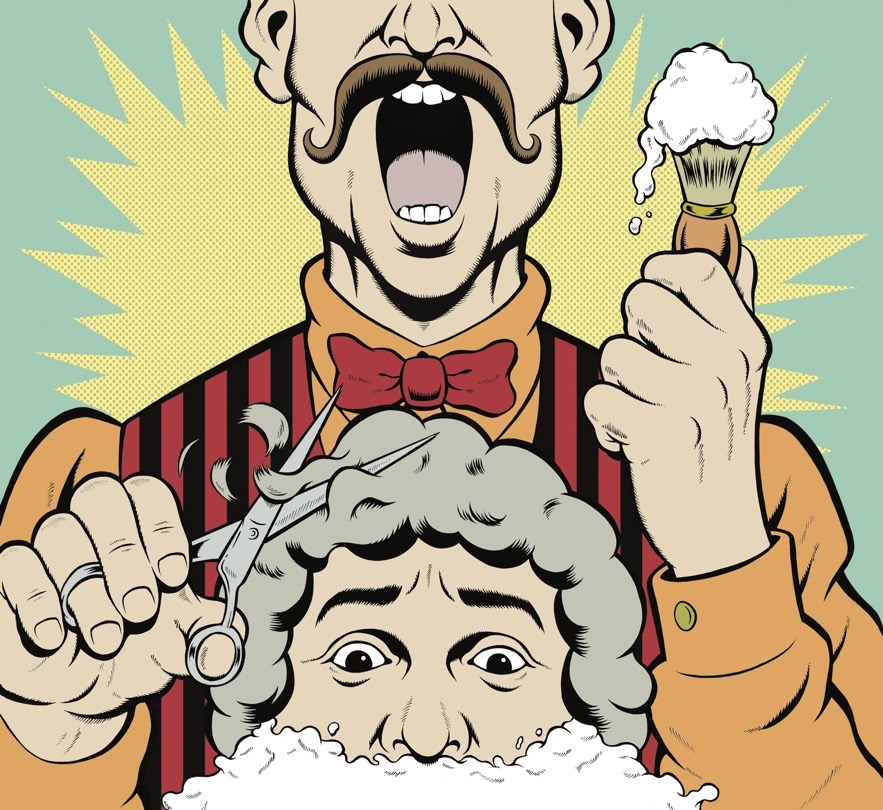 The Sacramento Philharmonic & Opera closes out the season in May with
The Barber of Seville
, its first fully staged opera in almost a decade. But in other ways, that's just the beginning. New executive director Giuliano Kornberg talks about doubling down on operas next season, bringing in a six-time Grammy winner as guest conductor in 2023, and wanting his organization to "be everywhere, big and small."
Congratulations on your new role at the Sacramento Philharmonic & Opera. You officially started as executive director on Feb. 1 after previously serving as the organization's chief revenue and development officer. How has it been going so far?
It's been good. It's been very busy. We had an Opera Favorites concert on Feb. 12. Then on March 5, we had a concert called Romantic Rachmaninoff—which was interesting, obviously, given everything happening with Russia. But we found a smart way to pay homage to the music itself while also performing the Ukrainian national anthem. We have some really cool uplighting at the back of the SAFE PAC [SAFE Credit Union Performing Arts Center] that we can make different colors. We made that blue and yellow to match the colors of the Ukrainian flag. I think it was a nice touch and I think it was really meaningful for the audience.
We're trying to get next season all buttoned down, and we're close in terms of finishing the programming and getting everyone booked and getting the season ready to share with subscribers to renew their tickets. That's a big part of it. Of course, selling tickets. We sold out of The Barber of Seville like a month and a half before the [May 7] show.
What's special about this performance of The Barber of Seville in the history of the organization?
This will be the first fully staged opera that we've had since 2014. We did Tosca in 2018 and Rigoletto in 2019. Those [productions] were semi-staged.
What's the difference between fully staged and semi-staged?
For fully staged, the set design is normally a little bit more robust. I actually think that the semi-staged operas we did back in 2018-19 were really well done. It was just much more modest staging: The orchestra, rather than being in the pit, was behind this really thin mesh screen. In this production of The Barber of Seville, the musicians are gonna be in the pit. The conductor's gonna be in the pit, obviously seeing all the action that's happening on stage. There's full-blown set design, full-blown lighting design, all the singers are in costumes. This was the production that was supposed to happen in April 2020. So this show has been at least a couple of years coming.
Why was there such a long break between the most recent fully staged opera in 2014 and The Barber of Seville?
I think the focus was: How do we just get back to doing what we do best—which is live music—in the most fiscally responsible way. [In 2013, still feeling the deleterious effects of the Great Recession, the Sacramento Philharmonic and the Sacramento Opera merged and produced a fully staged version of Il Trovatore during their first joint season. But with their financial woes continuing to grow, they went dark for nearly a year before reemerging in 2015 with a series of philharmonic concerts, which are less expensive to produce than operas.] We started off in 2017 with the concert version of La Traviata. That was kind of step one. And we raised some more money and got some sponsors. The next step was Tosca in 2018, and Rigoletto in 2019, and kind of bump up the production value even more. And then because of Covid and the subsequent hall renovation, May of 2022 really was the best time [to produce the fully staged opera].
What does the recently renovated venue add to the production? What can the audience expect that will be bigger and better than perhaps it would've been at the Community Center Theater?
The acoustics are better. The city added the Meyer Sound system to the performing arts venue. It's a crazy combination of speakers and microphones. Basically how it works is there are four rows of microphones hanging above the stage. The musicians play, the microphones pick up that sound, and pretty much every square inch of the hall, there are speakers. So essentially the microphones will pick up that sound the musicians are playing, it'll port it out into the hall and the audience will actually hear from the speakers what the musicians are playing. And I think at this point we've kind of balanced it out pretty well—that if you're sitting in the middle of the hall or the back of the hall or the lower balcony or the upper balcony, it's really dynamic. We want to give the best aural experience possible.
All arts organizations have been affected by the pandemic. How have you fared?
For the Rachmaninoff performance in March, we sold about 1,650 tickets, which is good. We were really lucky. Pre-Covid, we were probably selling about 2,000 or 2,100 tickets—2,200 in some cases. I think kind of just everything that we've seen organizationally—the hall shutting down to get renovated, then you had Covid and there wasn't a season, and then [we started] back up again, but there were masks and vaccine checks and testing… it's been ever-changing, but I think there are two things. One, the fact that there were so many Covid relief sources out there from the federal government [was helpful]—the city of Sacramento made a huge investment in the arts with CARES Act [the Coronavirus Aid, Relief, and Economic Security Act] funding. Obviously, the PPP [Paycheck Protection Program] loans and shuttered venue operator grants too. Those were all terrific.
But by far what kept us going were the people here in Sacramento. Because we couldn't play, right? Yet we still had such committed donors who gave their normal gift, doubled their gift, in some cases tripled their gift or made second gifts.
And we did some digital activity. We had nine digital concerts—four in the fall of 2020, one in February 2021, and then four in the spring of 2021—just to give our musicians work. That was really important. Some people donated to get access to those links. We made it free for subscribers and donors of a certain level. It was really a thank you for sticking with us: "Here's some music that you can enjoy from your homes for supporting us." Besides that, it was just phone calls and emails: "How are you doing? Are you listening to music?" To their credit, people in Sacramento were really supportive.
You're wrapping up the 2021-22 season with The Barber of Seville. What's on deck for 2022-23?
Next year will be the first time that the Sacramento Philharmonic & Opera will do two staged productions of operas [in a single season], where we're going to perform the full operas. They'll be creatively staged from start to finish, with the orchestra in the pit and as much staging as we can do.
Pagliacci will be performed in February of 2023. It's the one about the clown. [Laughs] That's a one-act opera, so it'll be a little bit shorter. Again, we're always trying to grow reasonably and responsibly, and going to two big productions in a season would be a lot. We're seeing if we can do a little bit of a smaller production like Pagliacci and still make it really artistically interesting and artistically good paired with La Bohème [in May 2023], which of course is a super well-known opera. Rent was based on La Bohème. We think it's kind of the right cadence for the continued growth of our opera program.
In terms of the symphonic side of things, we've generally found that five shows a season works for us, so we're doing that again next year. There's a philharmonic show in October. We're doing a little two-week festival in January about French music. And probably the biggest name that we're bringing is Leonard Slatkin in April. He is the music director laureate of the Detroit Symphony Orchestra—probably one of the most accomplished, iconic American conductors. [The six-time Grammy Award winner has previously served as music director of the National Symphony Orchestra in Washington, D.C., and chief conductor of the BBC Symphony Orchestra.] The fact that we can get him is really cool. It's shaping up to be a really interesting, dynamic season.
What other programming or initiative would you want to see materialize?
We have a program called Link Up for elementary school students in third through fifth grade. It's mainly for Title I schools, for students who don't really have a lot of opportunities to learn music. And we essentially bring the curriculum and lead professional development sessions and give teachers the tools to teach the music curriculum to their students. And then the whole program ends with a really big concert normally at the performing arts center. Our musicians are on stage and the students are seated in the auditorium playing the recorder [a wind instrument] and singing along with the musicians. It's such a cool program because it gives students hands-on experience. They get experience performing with and hearing a live professional orchestra. We teach about 6,000 students now. Can we get more students involved in the program to grow it to 10,000- or 12,000-plus students? I think that's a great, potentially achievable vision for us.
And Link Up is an orchestra-based program, so our operations person has a great idea: What about opera education? Are there children's operas that we could do? Are there more vocally based operas that we could use to bring to people? There's a lot of potential there. Man, the future's bright.
What is your origin story? How did you get into music and the arts?
I was born and raised in Minnesota. One of the earliest memories that I have is when I was maybe 3, 4 or 5, and I was making noise one day. I was maybe flapping my arms or something like that—I was a pretty hyper kid. So my mom picked me up, put me on the floor of the kitchen with a whole bunch of bowls, gave me a couple of whisks, and away I went.
Your mom's awesome!
Oh, she's cool. Drumming was kind of the original hook. Then I played piano and played guitar a little bit, but drumming, percussion, marimba, timpani… that was always kind of naturally where I gravitated. I played a lot in high school. I got into Stanford and got my undergraduate degree in music with a concentration in percussion performance. It was really fun to be immersed in the musical world there. And I was lucky at the time at Stanford—I think it was midway through my sophomore year, the Bing Concert Hall was being built. So we got to be part of one of the first ensembles to perform there. I stuck around for a fifth year and got my master's degree in Music, Science and Technology, just to get a little more experience in a different side of music—more of the production elements.
It was about halfway through that year of grad school that I started to learn, "OK, there's this whole artistic administration, nonprofit-scene side of things." After I graduated in June of 2016, I got a summer internship at the San Francisco Opera. They're at the height of artistic quality in terms of the productions they have and the caliber of the singers and the caliber of the staff. It was like, "Wow, this is a great intro to performing arts with a legit company." So I did that from June of 2016 to about September of 2016, in the meantime trying to figure out, "OK, I like this classical music work. I like working for a performing arts organization. How do I get a full-time job?"
And that's when I started sending out cold calls and cold emails to pretty much any orchestra in California that I could find. By far, the most promising [response I received] was from Alice Sauro, who was the ED [executive director] here for seven years, from February 2015 through January of this year. We spoke on the phone for about half an hour about what was happening in Sacramento, what was happening with the Philharmonic & Opera. I met her at a conference in August of 2016 and came here to meet some of the board and some of the consultants and some of the staff and a couple of musicians. It just seemed to be a good fit. And I started that September [as development associate]. I've just been lucky that it's all worked out.
Can I ask how old you are?
29.
I hate it when people assume anything, but is it safe to bet that 29 is well below the median age of opera administrators in the United States?
I don't have any empirical evidence or data on that, but you could probably say I'm on the younger side, sure.
Can a philharmonic concert or opera be an appealing date night for Sacramentans in their late 20s or early 30s? Because you can always just go to a beer garden.
Well, yeah: Go to a beer garden from 6 to 7:30 and then just waltz over. The SAFE PAC is so centrally located right in downtown. I'll say this too: Some of my buddies are coming to our performances a little more, and they're floored by how much they enjoy the music. They go to dinner at Ella beforehand. They read the program and they come to hear a little preconcert lecture. They walk around and look at the new hall and talk to folks and see what's going on. Our shows are maybe an hour and 45 minutes to two hours. The music is terrific. There's not really a bad seat in the house because of the sound system. And they're like, "Huh. That's a really cool, really interesting thing to do on a Saturday night with dinner, the education, the show." Then they go out for a drink afterwards, and it becomes kind of a whole night based around a philharmonic or opera concert.
Speaking of the future, when you're dreaming big, what would you envision for the Sacramento Philharmonic & Opera?
I would see us everywhere, from the SAFE PAC to the ballpark, in different cities—all over. I mean, there's so much land between San Francisco and Tahoe. We'd go play Aftershock [rock festival]. Whenever an act came to the Golden 1 Center, like Andrea Bocelli, we could back him up. [The Philharmonic accompanied the tenor during his last three Sacramento appearances.] Would there be an opportunity to play at the Mondavi Center, perhaps? And then of course, hospitals, partner with the youth symphony, partner with Sac State, partner with Fairytale Town, partner with the planetarium, do stuff in Old Sac, do stuff in DoCo [Downtown Commons]. We're doing a pilot project in partnership with Rancho Cordova and performing small free pop-up concerts around the city through late June. [There are new] opportunities for people to engage with our work—whether it's a matinee, a pop-up concert or a pops concert.
We'd be everywhere, big and small. You know, full orchestra, maybe chamber sets—string quartets, woodwind quintets. We'd be performing at every possible venue with every possible partner in front of as many people as possible.
Now, of course, money is a concern. We have to smartly prioritize and strategize and make sure that what we're doing makes the most sense. But the more that we can just get out there, provide work for musicians, develop interesting projects and make Sacramento a better place through music? I'm all in.
This interview has been edited for length and clarity.
Don't Miss Our Other Recent Q&As
Meet Peter Coyl, Sacramento Public Library's New CEO
Q&A with Shonna McDaniels, Director of the Sojourner Truth African Heritage Museum
From the (Uncluttered) Desk of Dr. Robin Zasio