Q&A with Peter Coyl, Sacramento Public Library's New CEO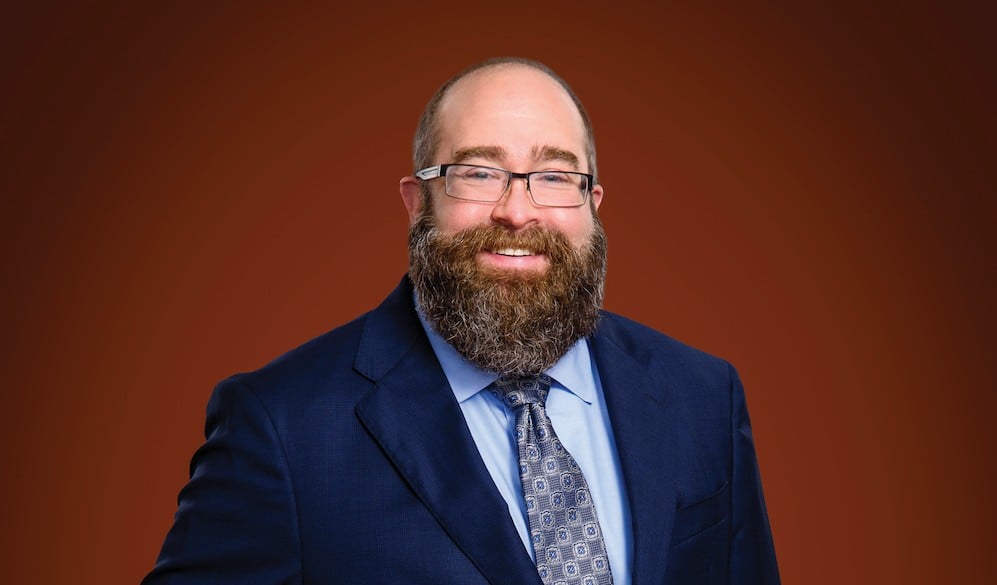 While growing up in '80s-era Arden-Arcade, Peter Coyl read so many books that his parents signed him up for a Sacramento Public Library card when he was just 5. Little did they know that they were setting him on a path that would culminate in him leading the entire 28-branch Sacramento library system, which he took over on Jan. 3 from outgoing director Rivkah Sass, who announced her retirement last year. On the first day in his new role, Coyl, 41, took time to Zoom with us about his full-circle journey, the surprising ways that local libraries can serve their communities in 2022, and why driving a bookmobile as a teenager may still be the best job he ever had.
Do you still have the first library card that you got as a kid in Sacramento?
Yeah. I actually put it in a baseball card holder, so I don't lose it. [Coyl steps away from his desk to retrieve the card in his new office. He holds up a vintage library card in an acrylic frame.]
I had that same card!
I got my first card here, and now I'm running the library that got me started on the path to be a librarian. To say that is pretty awesome. You know, the opportunity to come back to Sacramento and work in the system… I don't want to use the term "give back," but it's very full circle, and it's very rewarding. It just feels really good to be in the position to do that.
What is your Sacramento backstory?
I was born in Santa Clara and then we moved to Sacramento when I was 2. And then we lived here until I was 9. My dad was in school at Sac State.
What was he studying?
Computer science. I was 6 when he graduated and we lived here for a few years after that, and then we moved to Michigan. But when we were here, I have very fond memories of taking field trips to the railroad museum and going to downtown Sacramento—Old Town. I have fond memories of going to see Peter and the Wolf, The Nutcracker and things like that. I have really fond memories of Sacramento.
What do you remember about your local library branch here?
It was the Arcade branch. I can remember in my head what it looked like, and I have very vivid memories of going in and knowing exactly where to get Curious George. My parents got the library card because I read so quickly. They couldn't afford to buy books every week for me. I was a voracious reader, and the library card was their answer to save money. [Laughs] You know? They had three kids, and you've got one kid who reads so many books, it gets expensive. So the library was really a blessing and a benefit for them—that a resource was available for them to be able to encourage me to read and learn. If they didn't have access to the library, I don't know if I would have become as voracious a reader, or learned as much as I did.
How much of the appeal of this career opportunity was the prospect of being in Sacramento again and having that full-circle moment?
I think it was probably twofold. One is that I was aware, as a professional librarian, of all the great things that Sacramento had done, like obviously the Jerry Kline Community Impact Prize. [The national $250,000 award recognizes libraries for their service to their communities. The Sacramento Public Library was the inaugural winner in 2019.] But yes, I think that the tantalizing part was that it was my first library. You know, I've always been a library nerd, so I think the idea of coming back here was definitely a good portion of the desire to throw my hat in the ring for this position.
When and how did you first get into working in libraries?
In middle school, when we moved to Michigan, I worked in the school library as one of my classes and I volunteered at our local branch during the summer helping with reading programs. Then in high school, when we moved to another town [in Michigan], I got a job shelving childrens' books at the Rochester Hills Public Library. I was 14 or 15 when I started working at that library and I did it all through high school and college. And I think through those experiences, I saw what the library did for other people, in addition to what it did for me. I really wanted to be a librarian. I saw all the great services the libraries offered, all the great books. It was always very rewarding to help someone find the answer to their question or find the right book. That's why I got into librarianship—that aspect of helping people and giving them the tools to improve and better their lives, or even just to answer their questions.
Over the years, you've held numerous posts at libraries all over the world: You were a bookmobile driver in Michigan. You were a school librarian in Taiwan. Most recently, you were the director of the Montclair Public Library in New Jersey. What among these roles or others would you say are your most memorable or favorite experiences?
I would honestly say being a bookmobile driver. That probably was my favorite. I wasn't even a librarian. I just drove and helped check out books to people. It was me and one other person, and we would have this route and you got to meet the same people who would come every week. You got to know them, you got to see their kids and know what they wanted, and when new stuff came out, you could recommend it. I really liked that camaraderie and that closeness. Plus, driving a bookmobile is just fun. It really is exciting. People are happy to see the bookmobile! Who doesn't like a bookmobile? So it was always a very rewarding and satisfying experience doing that.
The idea of taking the library to where people are and meeting them and removing that barrier to access is really what the bookmobile is about. I think that that encapsulates the ethos of libraries mostly, and I think that's maybe why I liked it so much, because you could take this great thing to them.
Speaking of the ethos of libraries, what values or ideals should be self-evident when people assess the Sacramento Public Library, especially under your stewardship?
The idea that libraries are for everyone. We want everyone to be seen and feel seen in the library. We want our staff, our resources and our programs to be diverse and inclusive. We certainly can't be everything to everyone, but we want everyone to be welcomed and to feel like there's something at the library for them.
We also want people to see the library as a place of learning. It's not necessarily just about reading books, but the other resources, classes and partnerships we have that can better people's lives. We have a fabulous program where people can go online and get their high school degree if they don't have one. [Providing the ability for someone] to check out a cake pan— which is something we'll be starting—that may not be something that people think libraries should do or have done. [Like the organization's popular Library of Things program, which allows members to borrow everything from acoustic guitars to bird-watching kits and pressure washers, a new cake pan library will lend out 50 specialty cake pans, such as holiday-themed Bundt molds.] It may not be in people's ideas of our mission. But for someone, that's going to make a difference—maybe that's a cake celebrating someone's great accomplishment. If the library can be part of that, I mean, why shouldn't we want to make people's lives better? And that comes in many forms and fashions.
As society has changed and evolved, so have libraries, and I think we have to continue to keep our eye on how we can better people's lives in ways that we may not have thought of before. So, I think innovation, learning, and welcoming are probably the three hallmarks that we'll be focusing on.
Sacramento has a rapidly rising homeless population that often seeks both information services—perhaps Wi-Fi, or maybe the diploma program you were referring to—and also just basic refuge at the library. And that function has created some tension and even fear across the library system, particularly at the Central Library downtown. What is the library director's role in helping mitigate this challenge, or in working with other local leaders on solutions for homelessness in this region?
I don't necessarily think it's a challenge—I think it's an opportunity. It's an opportunity to work with the community, which includes those who don't have a home.
It's also an opportunity to build bridges of understanding. I think sometimes there are stereotypical impressions of people who are unhoused. We can help overcome some of those stereotypes and find solutions by getting to know them as people and figuring out from them what the issues are. We have to figure out the balance between all the different customers we serve and make sure that we're serving everyone the best we can.
Before you came back here, what stood out to you about the Sacramento Public Library as an institution? Does it have a national reputation?
It does. The Sacramento Public Library has a fabulous reputation. And I don't say that as the new director, just to say it. [Laughs] It's the truth. I've been following Sacramento, and, quite frankly, that's how I knew the position was open: I saw that Rivkah Sass had announced her retirement. They are one of the libraries that have… We are one of the libraries that have been at the forefront of a lot of things. And it's a library a lot of other libraries look to.
What programs or influences from Sacramento did you see when you were at Montclair or elsewhere that prompted you to think, "Wow, we can try that"? 
Some of the things were not necessarily replicable because Montclair's such a smaller system. But when I was at the Dallas Public Library, a number of the things that we were doing were similar to what Sacramento was doing—we would kind of compare and see how they did things and brainstorm. Technology innovations and hotspot checkouts and the Library of Things—those are the sorts of things that Sacramento has been at the forefront of.
What are some other existing successes that you hope to build upon, short-term or long-term?
One of the things is that we've checked out over 3 million items on OverDrive this last year. I think it's in the top 10 or top 20 in the world. So if there are ways we can share our success with other libraries so that they can utilize their resources in that way, we'd love to do that.
What is OverDrive, and why does it matter that it's so active in Sacramento?
OverDrive is a platform to check out e-books. The great thing about it is that, with your library card, it's accessible from home or wherever you are. So when libraries have reduced hours or closures, especially during the pandemic, customers can still have access to electronic materials. They can still check out books.
But the other side of that is we have to make sure that the people who don't have internet at home or don't have devices still have that opportunity. So we circulate hotspots and other things to bridge that gap. It's important. More and more people are using electronic materials because of the ease and also the concern of going into public places as Covid spikes. People don't go out as much, but they still want to have access to the library, and they still can do that [via OverDrive].
Are there any Sacramento area destinations or places or cultural spots that you look forward to visiting or revisiting as you settle into town?
I'm kind of a geek, so all of them? I like museums. I like theater. I think probably just for the nostalgia, I'll visit the places that I went to on field trips, like Sutter's Fort. I'm looking forward to going to those things that I remember as a kid and seeing how different they are and how they changed.
They look much smaller when you go as a grown-up. You'll say, "Wow, this looked huge when I was, like, 8."
My expectations are tempered, but I'm sure it'll be fun to go back and, as an adult, better understand the things I was supposed to as a kid. I'm looking forward to that.
This interview has been edited for length and clarity. For more information on the Sacramento Public Library, visit saclibrary.org.
Don't Miss Our Other Recent Q&As
Q&A with Shonna McDaniels, Director of the Sojourner Truth African Heritage Museum
From the (Decidedly Uncluttered) Desk of Dr. Robin Zasio
Q&A with Gulshan Yusufzai, Working on Behalf of the Muslim Community