Sacramento Public Library CEO Rivkah Sass
Since taking the helm of the Sacramento Public Library system in 2009, Rivkah Sass—who was named Librarian of the Year by the "Library Journal" in 2006 while serving as the executive director of the Omaha Public Library—has shepherded the 28-branch organization through the past decade with the introduction of services like digital access to more than 200,000 e-books and the ability to check out everything from an electric guitar to a GoPro camera. We spoke to the Manteca native about what's new at the SPL, ways to keep the library relevant in 2020, and bringing big names—from best-selling author Neil Gaiman to rapper 50 Cent—to town.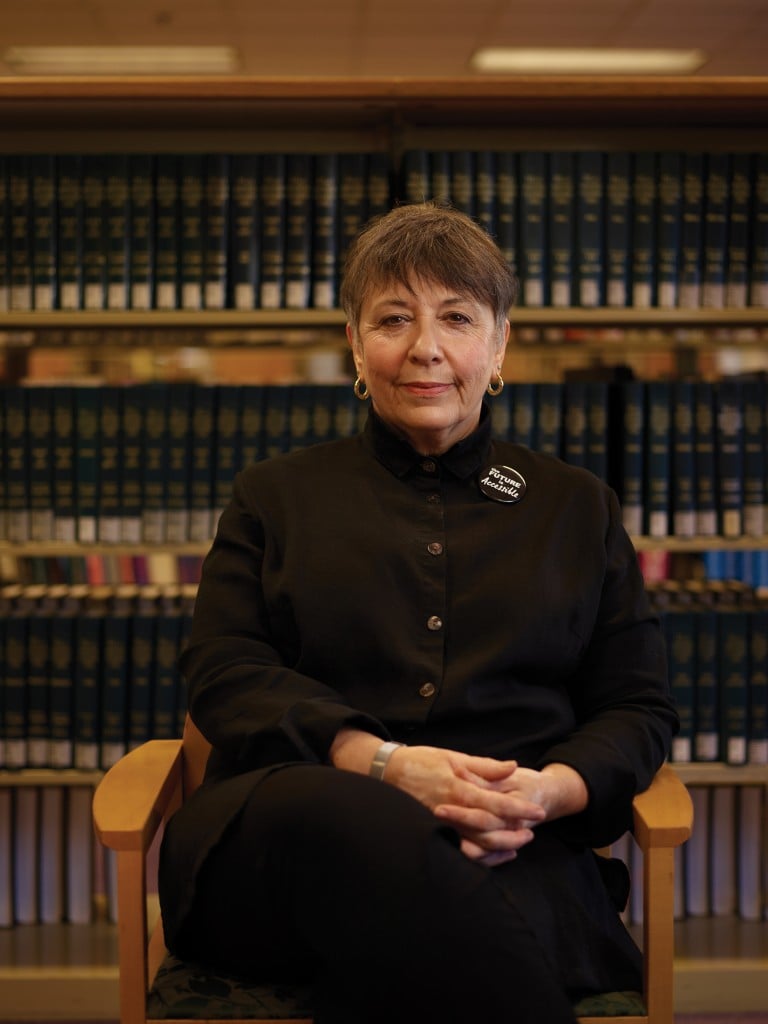 WWhat does the Sacramento Public Library's director and CEO do in the course of a day?
[Long laugh.] Sorry. I do anything that needs to be done. In addition to the city of Sacramento, we serve five incorporated cities in the county of Sacramento: Citrus Heights, Elk Grove, Galt, Rancho Cordova and Isleton. That's 1.5 million people. So it's making sure that everybody that we serve has access to literally anything we can provide. And that goes from baby storytime to business resources to hedge trimmers.
OK, but I doubt you're at the desk helping people check out hedge trimmers.
I work at a higher level than that, but I will say that my heart and soul have always been about making libraries accessible to the public. I just interrupted a meeting because Cornel West called me on my cell phone, and we're going to arrange a Cornel West [lecture] because he's in town. [Editors' Note: This interview was conducted in mid-December. The renowned Sacramento-raised Harvard professor spoke on Dec. 26.] We just had a Jane Austen tea [party]. We had 250 people show up and it was delightful. We had fun, we danced and we talked about Jane Austen. We facilitate that community feeling. You can get your high school diploma [through the Career Online High School program, which was launched in 2014 and is funded by the California State Library]. We've had 146 graduates, so we're pretty thrilled about that. And then there's the Library of Things [where members can check out items from art supplies and musical instruments to electronics and garden equipment, including, yes, hedge trimmers]—we have one at the Arcade library, one in Fair Oaks, and we are thinking about a third site. I suppose in a way I'm an obstacle remover. I'm a "let's figure out where we can find the money to do this" person.
What are some other unexpected offerings or events?
We do a lot of afterschool programming for kids and teens. We offer homework help for kids and teens—we have trained volunteers who come in and provide that service. We're getting more and more authors coming through town who are seeing Sacramento as a literary community. It's really exciting to be able to advocate for the library and email a publisher saying, "Don't worry about a crowd for 50 Cent. If he's on book tour, we'll get 400 people. We'll fill the room for him and we'll sell a lot of books."
Wait—did 50 Cent come to the library?
He hasn't been here yet. We're working on it. It's one of those things where we keep pushing the envelope saying we can make these things happen. I [recently] had a group of businesswomen, and we showed them some of the resources that we have. They don't need to leave their office or home to access incredible databases that can help them do market research. We have [an online version of] Consumer Reports. I mean, how awesome is that?
What other subscriptions or services does a free library card get you in 2020? 
A lot. We provide access to thousands and thousands of e-books that you can download and read on your Kindle, or audiobooks that you can download and listen to on your phone or any other device. Those are things that really surprise people. The Libby app is this amazing app where all you need to do is plug in your library card [number] and you can search our database of hundreds of thousands of titles—either in e-book or audio format.
A few years back, The Economist published an article asserting that "America's libraries need to be fun if they are to survive." Do you agree?
It's absolutely true. It really is about showing the joy that we feel as library workers and translating that to people who walk through the door. The other thing is making sure that we're reaching our very youngest constituents—and that includes babies. A couple of months ago, a friend was visiting and he went to seven storytimes in six days. And most of them were baby storytimes. The Harry Potter Yule Ball [an annual themed holiday party for teenagers] is really the same kind of experience, and one reason I really love it is that it's the teens who put it together. It's about having fun, and they're sort of directing it. Because out of that comes, I think, the curiosity and the desire to learn.
When did you first develop a curiosity about libraries?
I got started my senior year of high school [in Manteca]. I worked one period a day in the school library. I learned how to process books and shelve books and help the librarian. And I loved it. After college, I was a detention counselor in Sonoma County. The place where the kids really, really wanted to go when they had free time? Of course they loved sports and things like that, but they also hung out in the little library that was in the detention center. It really made me think, "Well, you know, I don't really want to be the person who locks the door on these kids. I want to be the person who opens the door for them." And I thought, "You know what? I like people. I like information. Maybe libraries are the best thing for me."
Public libraries nationwide are struggling with everything from budget cuts to political infighting. How is Sacramento faring compared with those in other cities?
I would say we're firmly in the middle. I think there is a sense of, "I can find everything on the internet. Why do I need a library?" And I would say to those people, "Let me show you. Let me show you why." And I would take them around our system, which is urban, suburban and rural. We can get to all 28 branches if we're real fast. But in a day I could take you to a dozen different libraries. And by the end of the day you would say, "OK, I get it."
The one challenge that we all face is awareness—just making sure that everybody knows we're there for them. And in some ways it's easier in a rural community than it is in a city. I think everybody in Isleton knows where the library is and they certainly know their librarian, because she is a member of the community and very beloved. And I think in suburban communities, sometimes it's access because it's more difficult if there's no public transportation to actually get to the library.
In your dream scenario, what would you want to introduce at the Sacramento Public Library?
I would love to have an innovation lab that is all about green energy and showing people how we can reduce our carbon footprint and how we can save the planet. I would have a preschool/daycare center—that's one of my dreams. I would have one that's open from 6 a.m. to 6 p.m.—or even 5 a.m. to 9 p.m.—and we would demonstrate that kids who attend that preschool start [kindergarten] ready to read and rock the house. They'd be developing a foundation that is so different from whatever else is going on these days that prevents children from reaching their full potential as readers.
Are there any enviable library innovations you've seen in other cities?
I want a test kitchen like they have in Philadelphia. Wouldn't it be amazing if we had a real commercial kitchen in our library like they do in Philly at the Free Library? I would steal that so fast. If we actually get to renovate our Martin Luther King Jr. library [in Meadowview], which is approaching its 50th birthday, I want to put in a recording studio. Sonoma County has one. I think that would be really exciting for the community to have access to cool stuff that would allow them to explore digital music.
Meanwhile, this spring, the library will host best-selling author Neil Gaiman (who wrote the children's novella Coraline and the comic book series The Sandman, which is being adapted into a Netflix show).
We applied for the honor of hosting the 2020 Arbuthnot Lecture, which is a lecture sponsored by the Association for Library Service to Children. We won, and he's coming on May 8, and it's going to be amazing. [The lecture is] a free event for the entire public, and it seats 2,000 people. We're hoping the Sacramento Ballet will perform a bit of a piece that was developed based on one of his poems ["Instructions"]. And we want to have music, and we want everybody to come out and show Neil Gaiman how much Sacramento loves him.
What other national recognition has the library drawn recently?
The Gerald M. Kline Family Foundation decided that they wanted to do something big for public libraries, so [last year] they opened up something called the [Jerry Kline Community Impact] Prize. We were one of many libraries across the country who applied—and we won! It includes $250,000 in unrestricted funds. It's all about our impact on the community and, we hope, future impact on our community.
I believe the role of the library is to be a convener. We're the public square. You don't need money to walk into the library, you need curiosity. We facilitate curiosity and exploration. We look at how we can make life easier for people. That's really what we're trying to do.