He Has the Meats
Chef-owner Sam Marvin targets contemporary carnivores with the opening of a modern steakhouse at Downtown Commons.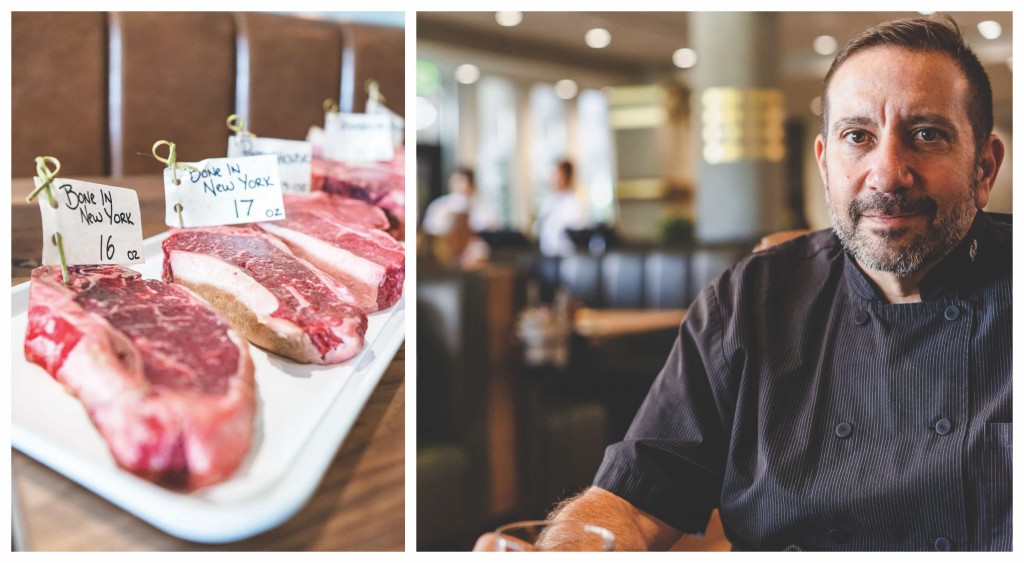 Echo & Rig
500 J St.
916-619-8939
echoandrig.com
R
S
Sam Marvin, the chef-owner of Echo & Rig, chuckles a little when you ask him how he came up with the name of his New American steakhouse.
"I was reading a mythology book one day, and Echo was a nymph," he says. "And Rig, back in my-thological times, was the keeper of mankind—very strong. So you had this sexy, seductive name and you had this strong name, and it felt like a nice juxtaposition for me."
Judging from its strong start, the second location of his sexy Vegas-based restaurant—which opened inside The Sawyer hotel at Sacramento's Downtown Commons in April—seems to live up to its name, attracting herds of modern meat lovers to the burgeoning district.
"People like steakhouses, but they don't like the prices and they're not crazy about the stuffiness," he says of the niche he wanted to fill. Indeed, the airy eatery boasts hardwood floors, a large garage-door window, a concrete bar and music custom-created for Echo & Rig by renowned Sin City DJ Robert Oleysyck pumping from the speakers. The costliest meats on the menu are $39 and all the steaks—which are cooked over a grill fired with California central coast oak—weigh between 9 and 14 ounces, a far cry from the plate-hogging behemoths of bygone days. "People don't eat the same as they did 10 years ago. If you go out and have a piece of fish, it's 8 or 9 ounces, so why would you want a steak that's 40 ounces?" Marvin asks.
Contemporary palates will also welcome the fact that the selections are not confined to traditional choices like filet mignon, with lesser-known options like Spencer and bavette receiving equal billing. (In addition, upon request, servers will bring out long trays with larger specialty cuts—think Tomahawks and T-bones—meant to be shared and served family style.) Accompanied by mushroom Rockefeller (mushroom cap filled with breadcrumbs, bacon, garlic and Parmesan), show-stealing garlic kettle chips and a gravy boat of sauce—there's a choice of seven, from Béarnaise to lemon chimichurri—the meals leave you satisfied, but not stuffed.
Showcasing the other red meats is part of Marvin's nose-to-tail philosophy, which he developed during his days apprenticing at a butcher shop in Paris while studying at Le Cordon Bleu in the '80s. "It gave me a good foundation and showed me the value of the [whole] animal," says the 53-year-old chef, who grew up in Hollywood cooking at the side of his Moroccan mother and grandmother (the latter taught him how to make the lamb sausage and peppers dish that earned him victory in a 2015 episode of Food Network's Beat Bobby Flay) and cut his teeth at Michelin-starred restaurants in France like La Mere Blanc and Le Moulin de Mougins. "I care about how the animal's raised. I care about what it's fed. I care about how it's talked to. I have personal relationships with everyone. What that means is, I go out there and I see a third-generation rancher throwing feed to the turkeys or I see the lambs, if they're limping or not limping. All of that is really important to me."
At the Sacramento Echo & Rig, grass-fed beef, as well as pork and lamb, are cut in-house by head butcher David Dein. "We make bone broth out of the bones and use it for stocks. The tallow, which is all the good fat, we render it all and use it for basting. When we bring in pigs, we'll use the head and make head cheese," Marvin says.
To that end, the restaurant offers a wide range of non-beef options, like lamb porterhouse chops and pasture-raised chicken, as well as seafood, from oysters on the half shell with pomegranate mignonette to a melt-in-your mouth horseradish-crusted butterfish served with a bright, tangy tarragon pinot sauce. "I actually prefer to cook seafood," Marvin says. "If you think about it, there are like 350 species of fish [that we  eat] and every single one of them has a different skeleton, a different weight and a different body type. So that lets chefs really show off their skill."
Herbivores won't be out of luck either—among the 60 items on the menu, 20 are vegetarian. True, they're salads and sides, but here that's not a snub. For example, the flash-fried spinach salad with chili-lime vinaigrette is delicate, colorful and flavorful, and enticing entrée accoutrements include asparagus with fried egg, potato gnocchi with mint-pea pesto, or (one of Marvin's favorites) roasted cauliflower spiced up with Fresno chilies and dusted with "brown sugar crack."
And while it'd be easy to pass over the humdrum-sounding portobello fries, don't. Made with thick slices of portobello mushroom caps that are dunked in whole milk and dredged in powder-fine Wondra flour before being fried and tossed in salt, pepper, Parmesan and Italian parsley, the wedges are exactly what you want in a fry—salty with a crisp exterior that gives way to a soft middle. Marvin debuted them at the L.A. hot spot Bottega Louie, which he founded in 2009, and they became an instant hit.
The same could be said for his buzzy new Sacramento restaurant, the idea for which began in late 2016 when Alex Taylor, a senior vice president with the Kimpton hotel group and a regular at Echo & Rig in Vegas, asked Marvin if he wanted to be part of a development project Taylor was working on in Sacramento (which eventually became The Sawyer).
"When I came out here the first time, there wasn't really anything [on this end of downtown]," says Marvin of the pre-arena area. But then he got a tour of the wider neighborhood, which included stops at Temple Coffee and Shady Lady, and saw a town on the verge. Wanting to be part of the urban renaissance, he was sold. "From the beginning, I felt Sacramento would be a good fit for me. Everything was changing—seeing what was going on out here, it felt like an explosion was coming," he says. "[This city's] ready to go nuts. It's exciting."