Heart Strong
Two local front-line nurses wear their hearts on their heads as they embark on a mission to donate much-needed scrub caps to health care workers across the nation.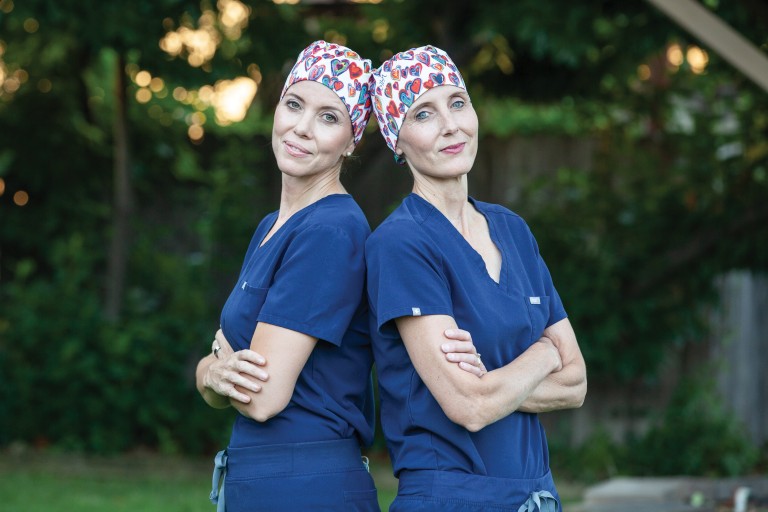 To help replenish the dwindling supply of personal protective equipment for health care workers during the coronavirus pandemic, front-line nurses (and sisters) Anna Ryan and Selena Srabian put their heads together, so to speak, and in June launched an effort called Protect with Heart to distribute free scrub hats to hospitals across the country, from Sacramento and Arizona to New York and Florida. Made of a sturdy and slightly stretchy polyester blend, the hand-sewn caps are printed with a heart design by family friend and local painter Tim Collom.
"We wanted to express our love for our colleagues by offering something that would protect them," says Ryan, a Carmichael resident who works as an ER nurse at Sutter Medical Center. (Srabian, who lives in Arden-Arcade, is an ICU nurse at UCSF Medical Center.) Spreading positivity is the hidden function of the scrub caps—not just the kind of endorphin release that comes with receiving a thoughtful gift, but also the kind that can be triggered by happy art. Palm trees and sunflowers were a couple of the optimistic motifs that were considered for the design. (The sisters have long been on a mission to prettify hospital attire—their Annie & Isabel line, launched in 2009, sells stylish, full-coverage patient gowns with prints like leopard and polka dot.) But All Hearts, originally a 2018 oil-on-canvas with energetic brushstrokes and a bright palette, just felt right.
"The heart is a universal symbol that makes people feel better," says Collom, who in addition to donating his work—his mother was a pediatric nurse for Kaiser Permanente—also gives the proceeds from prints of the painting to Protect with Heart. Other benefactors include Dr. David Langer of the Netflix docuseries Lenox Hill and his wife, Mount Sinai anesthesiologist Nancy Lipsitz, as well as San Francisco Giants outfielder Hunter Pence and his wife Lexi.
The project—which has thus far gifted nearly 4,000 caps and just released a line of face masks for the public—has certainly added many hours to the sisters' already long days, but they're happy to sacrifice their time for the cause. "If our hats bring joy to our colleagues during this challenging time, then all of this work will have been worth it," says Ryan.
To donate or for information, visit protectwithheart.com. To purchase Protect with Heart face masks (for every mask sold, one scrub hat will be donated to a front-line health care worker), go to annieandisabel.com.