#HereWeBuild
The Kings are staying and Sacramento finally has a shot at getting the urban core it deserves. We have a few ideas for it.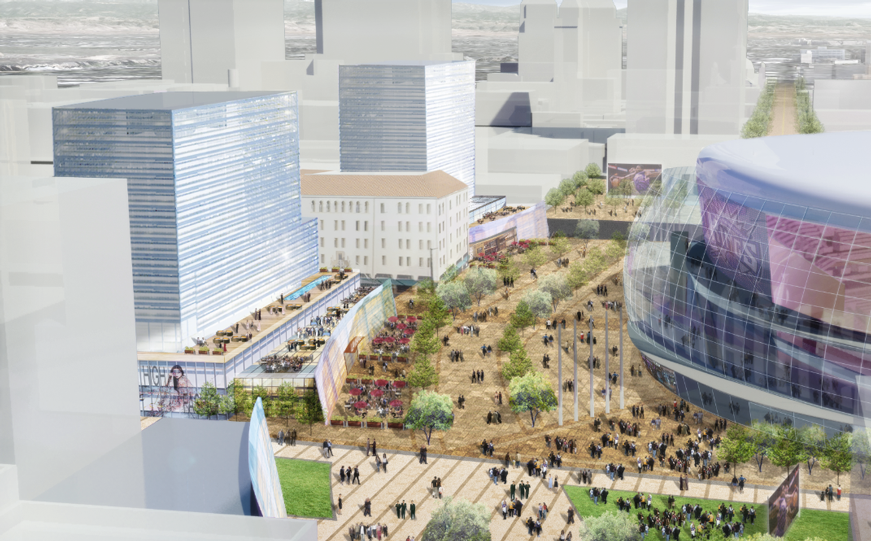 DDear Downtown Plaza and Arena Developers and Designers,
First, let me say that we're thrilled to have you. Several of you are a part of the Kings ownership group who helped save our team and some of you are very experienced real estate developers, and both of you promise to breathe new life into our downtown—a critical building block for our entire region—with new retail, entertainment and residential projects. And while you're far more experienced in building large-scale projects than we are—and successful ones at that— several of you are from out of town (which can be great because it's always good to have fresh ideas), so we thought we'd share some thoughts on what we think downtown needs from a local's point of view.
Reach for the Stars
We know you have a few midrise buildings in mind, based on the early sketches we've seen, but here in Sacramento, we've lost the few public spaces that let us get up high to look out over the city. Two hotels here (the Hyatt Regency and the Holiday Inn) used to have top-floor restaurants or bars that gave us bird's-eye views of downtown, although both closed them to the public years ago in order to host private events.
But you can help get us back on top.
When the Amway Center opened in 2010 as the new home of the NBA's Orlando Magic, it included the stylish One80 Grey Goose rooftop lounge that rises 100 feet above street level, offering dramatic views of the skyline at night. And a brightly lit spire that changes colors rises yet another 80 feet above the lounge, giving the arena a high-profile beacon.
Why not include a vertical component like that here?
Or consider an observation deck, akin to what the de Young Museum in San Francisco created, giving visitors sweeping views of the city. Both the lounge or observation decks should be open year-round to populate the arena even during non-event nights. A space like this would not only be a spot for post-game drinks, but also a true tourist destination.
Build All-Star Amenities
We were very happy to hear that a hotel project might be in the works and we hope, like NBA players, you'll go big and tall. Only a handful of NBA cities have never hosted an All-Star game and of those, Sacramento and Portland have been in the league the longest. A new arena will certainly help our case. And with New Orleans anticipating a nearly $100 million economic impact during its turn hosting the All-Star festivities in 2014, it's certainly a prize worth fighting for.
Portland is actively pursuing the 2017 game, and the NBA has expressed mutual interest, however the number of available hotel rooms in Portland is still an issue, as it would be here. Hotel rooms and their proximity to the arena will play a big role in the NBA's decision, so let's not come up short, literally or figuratively. A four- or five-star high-rise hotel adjacent to the arena is just what we need to not only lure an All-Star game, but also political conventions, Olympic trials, and perhaps even a role in the Olympic Games should they come to Lake Tahoe or San Francisco in the future.
Marry Art and Commerce
You may or may not have discovered yet that we have a fantastic program here overseen by the Sacramento Metropolitan Arts Commission which requires that at least two percent of publicly financed construction projects be devoted to public art. For a recent example of its impact, see the giant 56-foot- long red rabbit sculpture at Sacramento International's new terminal. But outside of the big bunny, we have a fairly serious dearth of big art projects around town. You can help change that, too.
As long as you'll all be spending money on public art anyway, (at least $5 million based on the city's $258 million arena contribution) think as big with the art as you did with the team. Our choice: Hire public sculptor Claes Oldenburg to create a piece for this exciting new complex. He's probably the most prolific and respected public artist in America today (for those of you from the Bay Area, you'll know his massive bow and arrow piece near the Embarcadero that was commissioned by the founders of the Gap as a gift to San Francisco). And while it will likely set you back a million or two, it will make a much bigger impact than a handful of smaller pieces. It will go a long way toward creating a sense of place, to making downtown a true destination. But there's no time to waste: Oldenburg is 84 now (though still going strong).
Light Up the Night
Quite simply, let there be light. A lot of it. Back in the heady days of the 2001-2 season when almost every Kings game was televised nationally, aerial shots of the city included the Capitol and Tower Bridge because, well, they were lit up. But around the same time, the state forced many of our buildings to douse their exterior lights because of an energy crisis. After the crisis passed, the orders were never formally reversed, and now some of those structures remain dark. So while you're finalizing your plans for this property, consider some brightly lit icons to help define the skyline of the city and give it a recognizable sense of place on the national stage. You guys at JMA Ventures helped develop Ghirardelli Square and know better than most how bright lights can help turn a retail block into a civic icon. It can work here, too.
Create a Place to Call Home
Possibly the single most important piece of the puzzle will be housing. Most of you weren't here in 2007 when developer John Saca came tantalizingly close to constructing two 52-story condo towers—the tallest residential buildings on the West Coast—just a few blocks from where the arena will sit. It sold surprisingly well at a time before current amenities like the $100 million Crocker Art Museum expansion opened, or before the K Street Mall began to crystallize. Other residential towers by architect Daniel Libeskind were also set to rise here. Once your project is completed, thousands of locals will want to live here and we don't need to tell you how important it is to have a built-in audience for your shops, restaurants and shiny new arena.
In short, Sacramento is doing great when it comes to everything from our thriving arts community to our unrivaled outdoor recreational activities, our nascent farm-to-fork movement and our constellation of surrounding towns that are filled with distinctive charms. We've already got the steak, but we could use a bit of help in the sizzle department in the heart of downtown— where every city needs it most—and that's where you come in. We know you have what it takes. We just hope you can right some of our past wrongs, and help Sacramento fill in this critical piece of our civic puzzle.
Build it and we will come.