Homes Away From Home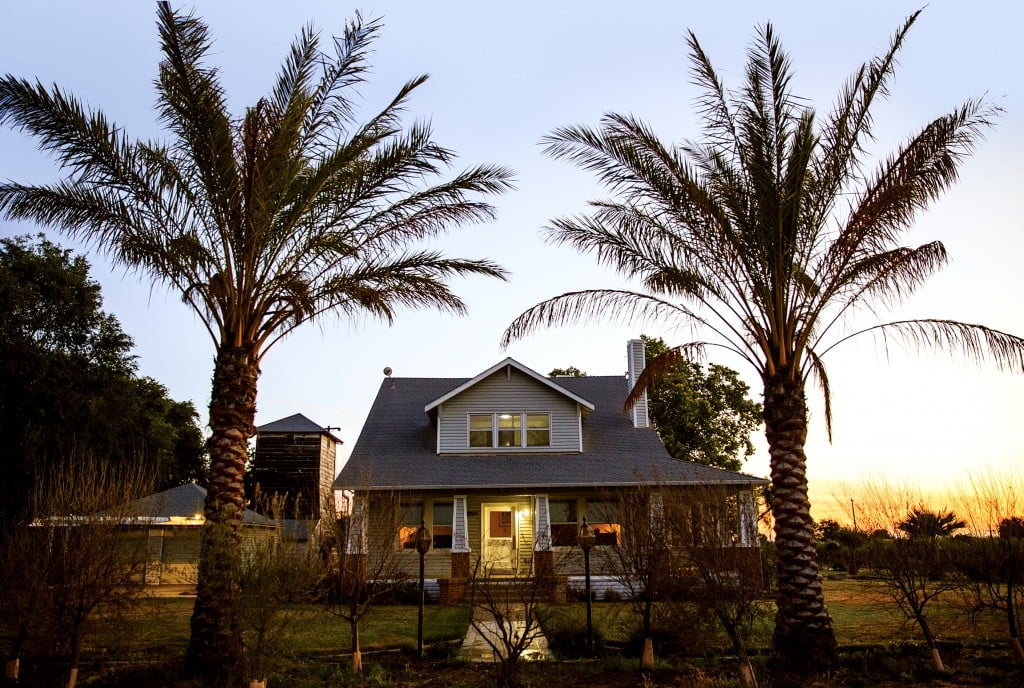 Want to get away without going away? Whether you dream of a house on the water, long for the simple pleasures of farming life, wish to be whisked to Middle-earth, or yen for some Zen, we've got the perfect Airbnb abode for the ultimate staycation. So go ahead, relax—in a Hollywood-worthy country cottage or an opulent Mongolian yurt—and make yourself at home.
Photographs by Jeremy Sykes, Max Whittaker and Anna Wick
Zen Nature Retreat
Stepping through the sunny yellow noren at the entrance to this Nevada City compound is to be instantly transported to the Japanese countryside (or the Sierra Nevada equivalent thereof). Among the towering pines and gnarly oaks, MJ Greenmountain and his wife Hiroko Kurosaki have created a peaceful oasis where deer lope from the nearby creek to graze upon the Shasta daisies and chamomile growing wild in the garden, and free-range hens strut around the mossy boulders looking for worms and insects.
It's a meditative scene that transpires each day to a pleasant soundtrack of birdsong and breeze, in full view of the single-room Airbnb, located in the west wing of the main Japanese-style wooden house. (Another Airbnb on site, a studio with a kitchenette, is situated in a separate building.) Although the quickest way to go from Type A to Zen is likely by absorbing nature's beauty through the private entry or large windows, the thoughtful trappings of the interior chamber—a traditional futon, antique tansu cabinets, river-rock door knobs—also help with the pursuit of tranquility.
With no television, Wi-Fi or cell phone signal on the premises, bucolic communing becomes less hippy-dippy and more, well, mandatory. Soon, the grounds will include a small tea plantation, integral to Greenmountain's long-held ambition to establish a tea education and retreat center on the 8-acre property. Just as breakfast and dinner are served in-room for an additional $15 and $20, respectively (during our visit, Kurosaki, a professional chef who teaches traditional Japanese cooking at the BriarPatch Food Co-op in nearby Grass Valley, prepared tamari-ginger trout surrounded by multiple sides, including miso soup made from her own soybean fermentation), a Chinese tea ceremony, or gongfu cha, is also on offer. Greenmountain, who has been practicing the ancient custom for more than two decades, guides guests through the ritual ($25-$60), which involves easy conversation over many tiny cups of meticulously brewed pu-erh tea. Only your mindful presence is requested, but if that even seems too much to ask, remember this: If you're here, you're already halfway there. $60–$70 per night plus fees. bit.ly/zennatureretreat —Leilani Marie Labong
Shipping Container House
The notion of relaxing in a corrugated metal shipping container might sound oxymoronic at first blush, but trust us that this 40-by-8-foot steel box in Oak Park is far cozier than cramped.
The tiny home is painted a cheery, bright royal blue and features French doors along the kitchen and bedroom that create a surprisingly airy vibe inside the 320-square-foot space. Owners Matt and Jamie Leonardo, who put the unit on Airbnb in February, offer visitors both necessities and niceties—including a double bed, spare futon, full bath and kitchen, Keurig coffee maker with pods, and a fridge full of La Croix—in a modern, minimalistic space dressed in a cool palette of blues, whites and grays accented with yellow throw pillows and gold ceramic statuettes.
Situated in the backyard of the couple's home, the structure is a bit hidden, but don't fret: Upon reservation, the Leonardos expertly relay the details of navigation, parking and self check-in.
The property is also a short six-minute walk to the burgeoning Broadway Triangle district, where guests can sip coffee at Old Soul, wander into boutiques like Rire and Display: California, peruse gardening goods at The Plant Foundry, or grab a bite at places like Vibe Health Bar, La Venadita and Oakhaus. With this Airbnb's attractive location, modern tiny home aesthetic and hospitable hosts, you may have trouble, um, "containing" your enthusiasm for this new staycation spot. $119 per night for two people, plus fees. bit.ly/shippingcontainerhouse —Jessica Rine
Milk & Honey Cottage
Set foot in Erica and Jimmy Barker's Milk & Honey Cottage in Auburn and you instantly feel as if you've walked onto the set of a dreamy Nancy Meyers rom-com. Go ahead, spin a Frank Sinatra platter on that working Victrola, fire up the pellet stove, and curl up with a handmade guidebook highlighting the best local hikes and places in the historic town to find a steak or a pint of cider. Does your conversation suddenly seem wittier in such impeccably staged surroundings? Maybe so.
Before Airbnb came along, the Barkers (Jimmy runs a local web design business and Erica homeschools their two daughters) used to satisfy their hospitality itch by throwing absurdly over-the-top dinner parties for their friends. Now the design-crazy couple pour their energy into constantly perfecting their one-bedroom cottage, which started out three years ago as a bare concrete-floored workshop down the hill from their home. The farmhouse-chic décor flourishes create a kaleidoscope of Instagrammable tableaux, while telling a story that's a love letter to Auburn, from locally sourced handicrafts to locally roasted coffee to locally grown bouquets of flowers.
But the perfecting doesn't stop there. Erica is on a mission to track down every amenity her guests—who range from honeymooners to avid hikers—might ever dream of, from plush terry robes to a professional-grade coffee bar that includes a burr grinder to a basket of toiletries filled with a toothbrush, deodorant, razor and even a packet of bandages for those hikers' blisters. In the kitchen you'll find full breakfast makings, including a dozen eggs cradled in a porcelain egg crate, a lush basket of strawberries, juice, yogurt and oatmeal. And just when you think your stay couldn't be more picture perfect, Bambi wanders into the frame, nibbling on the lawn. You won't mind the minimum two-night stay at Milk & Honey—in fact, the only thing that will interrupt your reverie here is seeing the credits roll at the end of an enchanting weekend. $95-$105 per night plus fees. milkandhoneyauburn.com —Hillary Louise Johnson
Gold Country River House
It's not every home, or perhaps any home, that can seamlessly blend mid-century aesthetics from the middle of two different centuries, but Kristiana Spaulding and Greg Didriksen's bungalow in the Lotus-Coloma area effortlessly accomplishes just that.
If Coloma rings a bell from elementary school history classes, you'll remember that's where gold was discovered in 1848 along the banks of the American River, the defining environmental feature of this waterfront abode. Pair those roots with the modernist interior design sensibilities of the 1950s, and you've got a decidedly cool place to hang your hat in Gold Country for a few lavishly lazy days.
This 1,000-square-foot home sits on a hill overlooking the South Fork of the American, with each of its three bedrooms featuring large glass doors that open onto a long wooden deck, where you can lounge or dine amidst the lush greenery and admire the view. Alternatively, you can head down the exterior stairs to the grassy riverbank where you can chill in silver Adirondack chairs, or launch your own raft or kayak into the refreshing waters for an aquatic adventure.
It would be easy to spend your entire stay (with a three-night minimum, you have time to settle in) outdoors, but inside the house is just as idyllic, with its hardwood floors, comfy tweed couch, Eames-inspired lounge chair and George Nelson bubble lamps. Helpful geographical maps of El Dorado County do double duty as artwork in the living room, and the master bedroom contains a framed invitation to the homeowners' wedding, held on the property in 2007. Upon booking, Spaulding—she and Didriksen live off-site—will let you know that cell reception here is spotty, making this riverside pad a perfect place to unplug and unwind. $292 per night plus fees. bit.ly/goldcountryriverhouse —Jessica Rine
Great Bear Vineyards
A few years ago, a winemaking weekend at a Sonoma vineyard had nearly enticed Marcus and Jenny Meadows-Smith, then aspiring vintners, to fork over a hefty $3,000 for the pleasure of taking part in the process. Instead, Jenny went on to complete a winemaking certificate program at UC Davis Extension, and the agriculturalist couple wondered, "If we were tempted by such a weekend in wine country, maybe other people would be too, especially if it were more affordable."
So this past April, the owners of the new Great Bear Vineyards in Davis—a 20-acre plot mostly planted with cabernet sauvignon grapes—became Airbnb hosts, listing their four-bedroom 1927 farmhouse, which holds up to seven people, for $250-$450 a night (the Meadows-Smiths live in the Mission-style winery house next door). While the home's vintage details have been beautifully preserved, from the dining room's original wood built-ins to the cast-iron bathtubs, many amenities have been modernized. For example, a fully equipped kitchen—chef's-grade appliances, every utensil imaginable and a Keurig coffee setup—can easily handle dinner prep for large parties. On breezy summer nights, the screened porch is the perfect spot to set the table and watch the parade of wildlife (including turkeys and jackrabbits) while you eat.
During harvest season—which falls during August or early September, depending on the year's rains—guests are invited to pick grapes, a crack-of-dawn endeavor that ensures the fruit is cool for transport to an off-site winemaking facility. (Or, if toiling in the fields at 6 a.m. is not your idea of a good time, taking in the cotton candy sunrises might be worth setting the alarm for.) Luckily, such vineyard duties aren't required to sample any of the vintages, including a light, not-for-sale 2017 zinfandel, billed as "much more fun than your average rosé." Schedule your stay (there's a two-night minimum) during the monthly public-tasting weekend, when the sunny courtyard at the main house is melodious with glasses raised in toasts. Any other time, just knock on the winery door—here, the pours seem extra deep for farmhouse guests, proving that neighborliness is next to godliness. $250-$450 per night plus fees. bit.ly/greatbearvineyards —Leilani Marie Labong
The Little Hobbit House
After an eight-month renovation of the former dental lab beneath their Meadow Vista home just outside Auburn, Birdie and Glenn Galbraith opened this 400-square-foot residence—complete with a separate entrance and full kitchen and bath—to visitors in February 2017 under the moniker The Little Hobbit House. While you won't find circular doors or low ceilings in this pint-size dwelling, you will find a snug mountain escape bedecked with an air of whimsy and boasting breathtaking river views.
From the sign at the front door that reads "Speak friend and enter" (a Lord of the Rings reference) to the farm-fresh eggs from the on-site chickens (available upon request), the details charm at every turn. Birdie's affinity for quirky kitsch—champagne corks painted like mushrooms, handmade ceramics, toadstool figurines—is displayed throughout the small den, lending fanciful notes to the earthy tones, rough-edge wood shelves and Middle-earth-style hutches with wrought-iron accents.
Vacationers can unplug from modern life with a set of wooden dominoes, or go forth and explore the bucolic 12-acre property—the Shire, if you will—via a series of short, scenic trails, for which the Galbraiths provide a vaguely Tolkienian map and gracious guidance. Take a picnic lunch down to "the ponds," a brook that flows into shallow pools, or grab the provided cushions and perch on Vulture Rock to watch the sun set over Bear River below. In the end, the best strategy here is probably not to have one at all—just relish in the unexpected journey and see where the roads take you. $175 per night plus fees. bit.ly/littlehobbithouse —Jessica Rine
Long Dream Farm
The first thing you might see pulling up Long Dream Farm's long, winding driveway is Attila, a mastiff the size of a small horse, padding along at a stately pace, carrying a bucket of dog food in his mouth. He's off for a picnic, as is his afternoon habit. Picturesque picnic spots abound on this 90-acre working egg and dairy farm in Lincoln (tip: bring along a sketchbook, or a Great American Novel). The rustic four-bedroom, two-bath guesthouse you'll call home for your stay just begs to host your next family vacation, but you'll want to be outside from the moment the rooster crows to when the cows come home at sunset.
Start your visit with a tour narrated by co-host Krista Abrahams or her husband Andrew. The couple, who resides in a separate house on the ranch, purchased the acreage seven years ago and set about creating an agrarian paradise where once there was only a log cabin-style home. Today there are barns, chicken coops and a dairy, where early risers can try their hand at milking cows.
After (strictly voluntary) morning chores, you're free to wander, or push your young'un on a swing atop a knoll overlooking a field where horses, burros and alpacas roam, and if you're lucky, a flock of emus plays kickball. You can supplement that picnic basket with samples of the Abrahams family's fresh-made cheeses or custard-style ice cream (sold by the scoop or pint) and maybe some deviled eggs from the 1,500 chickens that Attila and six other working dogs on the property protect from coyotes and mountain lions—just don't forget to pack the crackers, as it's 15 miles to the nearest store, and like the cows, you'll be eager to come home. $115 per night (two-night minimum on weekends) plus fees. bit.ly/longdreamfarm —Hillary Louise Johnson
Mongolian Yurt
This stunning Mongolian yurt, with its intricately painted red wood frame, is luxe enough to be worthy of Kubla Khan. But when hosts Richard and Stephanie Yue take you on the tour of their private, rentable Xanadu located north of Auburn, the roomy brocade-lined round sleeping quarters are actually the last thing you see. First, they will show you the retro trailer that houses the compact kitchen for the property—in which you might find complimentary sparkling wine, sparkling water and a welcoming treat of chocolate-dipped fruit or baked cream puffs made by Stephanie. The trailer also sports a bed, available as extra sleeping space for larger parties (this Airbnb boasts a total of six beds for up to six guests). Then there's the giant chessboard, pool with a tiny swim-up bar, hot tub with outdoor shower and palapa repurposed from a gigantic '70s-era satellite dish.
The whole compound is beautifully landscaped and decked with fairy lights, paper lanterns and vintage garden ornaments, perfect for wandering and lounging. This isn't a party pad; the vibe is more meditation retreat or quiet romantic getaway, with space to sprawl in a cushioned hammock and an unhurried pace that invites naps and lazy swims. And get ready to eat: The Yues take the second "b" in Airbnb seriously. Stephanie—who picked up cheffing and baking skills working at wilderness lodges in Alaska and the now-closed Maui Prince Hotel—does the cooking, and the lavish breakfast served poolside comes with fruit arranged to look like a palm tree and a choice of frittata or eggs Benedict. The couple has lived on the property since 2000—Richard's family has lived in the area since 1868—and in the 18 years since, built a quirky DIY compound loaded with personality. (Understandably, they're particular about guests following their guidelines for how to treat their showplace.)
At the center is the enormous tent, which used to serve as a show model for Richard, a former Mongolian yurt importer. According to him, there are only a few genuine Mongolian yurts in the Airbnb system (the majority are American made), so don't sleep on this opportunity. But feel free to sleep in—with its comfy double beds and lush, serene setting, this yurt offers a staycation fit for royalty. $149-$155 per night (two-night minimum on weekends) plus fees. bit.ly/mongolianyurt —Kate Washington