Host of the Town
Ever since opening his first bar back in 1969, Randy Paragary has personified the nightlife and dining scene in Sacramento. As Paragary prepares to reopen his flagship eatery, the godfather of good times looks back on five decades of food, music, décor—and even hair.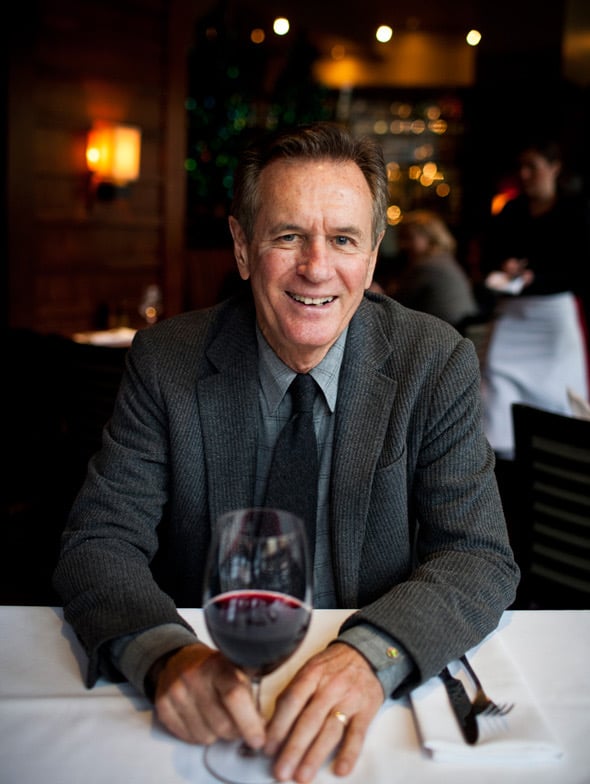 IIf it weren't for his hair, Randy Paragary might never have become our local mogul of mealtimes.
By 1969, the veteran Sacramento restaurateur—who was 23 at the time—had grown his staid Pat Boone barbershop cut down past his shoulders, joining the ranks of the hippie revolution that was already well entrenched in San Francisco, but just making its way here.
For Paragary—fun-loving and confident with a natural inclination toward the vanguard of pop culture—it wasn't social rebellion, just fashion.
"I wanted to let my hair grow because I thought it looked better. It was cool. Actors, rock-and-roll guys, all the stars were doing that," he says. But like the members of Five Man Electrical Band sang in their popular song of the era, the prevailing prejudice was "long-haired freaky people need not apply."
Working the night shift on the Sacramento Northern Railroad as a brakeman—the "low man on the totem pole"—the long brown locks quickly earned him the derogatory nickname of Prince Valiant from the old-school engineers, as in, " 'Oh, great. I get to work with Prince Valiant tonight,' " he says.
Despite the fact that he was just another neighborhood dad of a 3-year-old daughter (he'd married his high school girlfriend shortly after graduating from McClatchy a few years before), half-heartedly taking classes at City College and living in a little bungalow on 16th Street in family-friendly Land Park, he felt "discrimination," he says, because of that hair. It's hard to imagine that such an innocuous choice as a ponytail could rile up haters, but in Sacramento's still-conservative culture of flattops and bouffants, it was a statement about who he was that not everyone liked.
"Here I am, the same guy [that I was with short hair]—I wasn't really super liberal or super antiwar. I didn't go to Berkeley and march with the Free Speech Movement. I wasn't politically leaning that way," he says, anger briefly touching his usually impassive face. Still, he'd go places and hear, " 'Get out of here you longhaired scum' or that kind of thing."
"Chewing tobacco and spitting" to pass the time on the loud, rattling train during work, he'd daydream about a place he could be himself without judgment, hang out with other people who thought like he did and listened to the folk music he was into. Sacramento had some live music venues then, but none that played the Peter, Paul and Mary sound he dug. Someone, he thought, should fix that.
"I thought, 'I'm going to open my own bar,' " he says.
While at McClatchy High, Paragary had spent two years working as a busboy at a then-popular bar and restaurant in midtown called the Elbo Room. It was there that he got his first taste of the hospitality business. He watched the hustle and bustle of Sacramento society stream in and out nightly. So when he wanted to create a place for others like him, he drew on that experience and $1,000 that he'd saved up and opened the Parapow Palace Saloon on 30th and O streets in 1969.
That rowdy joint, Sacramento's first bar where longhairs were welcome, began a five-decade odyssey as the host with the most. He's the guy who isn't afraid to give people the kind of revelry they want even when they don't know what they're after, shape-shifting through the years to stay ahead of the ever-changing entertainment landscape. Time and again, he has divined what Sacramento was missing, what places like San Francisco and Los Angeles had that this city didn't, and brought it here.
From bars to restaurants and clubs, his reach now spans more than a dozen spots (including Paragary's, Esquire Grill, Hock Farm, Centro and five Cafe Bernardos) with more in the works. Paragary is a guy who, through discernment and sheer market dominance, has shaped how locals dine and drink for decades. His spots might not always rate four stars with critics (although some have), but they are inevitably popular. And when they're not anymore, he pivots. Over nearly a half-century in a business with one of the highest failure rates, Randy Paragary has built our region's biggest dining and drinking empire.
"All these things he's done, what do they all have in common? They all have the vision of Randy," says chef Patrick Mulvaney, who worked for Paragary in the 1990s. "His influence is wide-reaching."
That much fun takes hard work—and a few tricks.
*******
Now 68 with hair turning to gray and safely above the collar of his soft knit blazer (that fashionable crossbreed between jacket and cardigan) and plaid shirt, he is standing in the chaos of the construction zone that once was the site of his namesake restaurant Paragary's Bar and Oven at the corner of 28th and N streets in midtown. He's in the middle of a major remodel to reinvent the landmark spot 32 years after it first debuted in 1983. It's the first Monday after Thanksgiving, and the place is slated to reopen in spring 2015. It's got a long way to go, but he's not worried.
Today, he appears settled and prosperous, and this latest restaurant transformation reflects his place in life once again. His bohemian background behind him now, his newest vision is for a French bistro with inspiration drawn from Napa's Bouchon and New York's Balthazar, genteel but energetic. Giant custom-made beveled mirrors will line part of the dining room, strategically tilted to give diners an expansive view of the long wood bar behind them (men, Paragary says, typically get stuck in the chairs facing the banquettes and boring walls—the mirrors are his trick for giving guys something to look at). Mosaic tiles in gray, brown and white will pattern the floor, while a specially made, perforated white tin ceiling will both brighten the room and dampen the sound, hopefully giving the space a more intimate and quieter feel than a typical Paragary place, he says.
The biggest change might be what's gone—much of the back wall, where folding glass doors will open up to a redone patio, giving the space a lighter, indoor-outdoor feel that Paragary hopes will be a popular place for "upscale" Sunday brunches, a meal the old spot didn't offer. "Breakfast is a really popular dining-out scene in this town right now," he says, but "most of the places are casual. This will be a little bit more dressy."
The menu will stick to the simple, local, fresh ethos he pioneered in Sacramento, this time with a nod to his French heritage (Paragary is a French-Basque name). But the pizza oven gets a reprieve—the popular thin-crust pies will remain.
"I was always proud of our food and service throughout, but after 30 years, it's hard to keep the customers interested," he says of closing the place last year. "To try and get some more time out of it, it was time to tear it apart and create a completely new look."
Paragary has a rare talent for turning profits while having fun. He is in the mix and the moment, like he is "throwing a party 365 days a year."
If Paragary has one trait that's remained constant over the years, it's his individualism marked with an unassailable confidence, as evidenced by the fact that he shuttered this local institution and was certain he could reopen it as something relevant. That resolve has made him a one-man tour de force, hatching more than 30 restaurants and bars over the years, most of them moneymakers.
​Paragary has a rare talent for turning profits while having fun. Often he produces both in great quantities, largely because of his "sharp business acumen," says Jim Mills, a friend who worked for Paragary for decades as a manager and chef, and is now one of the key influencers of the farm-to-fork movement as sales manager for Produce Express, a wholesaler popular with local chefs.
Paragary is the guy walking the floor of his restaurants, greeting guests, remembering names. He is in the mix and the moment, like he is, as he puts it, "throwing a party 365 days a year."
But he also knows exactly what's happening in the kitchen, what the wait is for the people at the door and what kind of night it's going to be for the bottom line. He's cold-eyed when it comes to running a tight operation—a pleasure-seeking pragmatist who's rarely sucked too deep into his own moveable feasts. By his own admission, he's got almost no sentimental feeling for any of his properties, and is quick to shut them down and come up with new concepts when they stop producing cash. "If it's not working, really in my mind, there's no choice," he says with a shrug.
"He's very, very big picture, and relaxed," says his business partner and wife of 21 years, Stacy Paragary, an engaging brunette with a smile as easy as her banter. She says that the couple has "opened and closed maybe 20 places at least" in as many years. Paragary had another half-dozen establishments with other partners before that. And the list of closed Paragary restaurants is longer than the list of spots he has today. Remember Sammy Chu's? The politically themed Capitol Grill? Twenty Eight? The Cosmo Café?
"We've had some winners and some losers," says Kurt Spataro, his other current partner in Paragary Restaurant Group. The company's executive chef with an unruly shock of salt and pepper hair, Spataro started out as the pasta maker at a Paragary spot called Zito's on Fair Oaks Boulevard in the early '80s and weathered the closure of his namesake spot Spataro across the street from Capitol Park in 2013. It quickly reopened as Hock Farm and the bar Vanguard. "I think I'm much more emotionally attached to the restaurants and to people and to the whole thing. It's more difficult for me," he adds.
Knowing when a restaurant is losing money is a hard fact. Knowing what to open in the first place is a subjective art—and that's the territory where Paragary has established himself as a tastemaker for the town. He has honed the ability to find ideas that are forward-thinking and slightly edgy without being uncomfortable (except, he says, for Sammy Chu's, which was "too sophisticated in my opinion in retrospect—we had shrimp where you had to eat the head").
And his success has been centered on his hometown. Two of his biggest failures happened when he ventured beyond our region's borders. In 1987, he opened a Paragary's in San Francisco on Van Ness Avenue that didn't make it. More recently, in 2008, he opened a Paragary's in Stockton, funded in part by a controversial $2.7 million subsidy and five years of free rent from the city (as part of a downtown redevelopment). There was outrage over the public funding and even a call for a boycott. That, along with a weak economy, forced Paragary to sell the restaurant two years later.
Despite those defeats, "Randy [often] knew how to do the good balance of what was special and what was ordinary," says grocer Darrell Corti, a longtime friend. "That is fortunately one of his strengths. He's not tied to a particular model."
And while not every Paragary restaurant has been a hit, many have pushed Sacramento's dining scene just a bit further—giving us the city's first wood-fired pizza oven, the first restaurant to have its own garden, and the first craft cocktails (screwdrivers with fresh-squeezed juice instead of condensed).
His kitchens have been the training grounds for generations of Sacramento chefs. Like Mulvaney, Rick Mahan—chef-owner of renowned restaurant The Waterboy—worked for him for years (as chef at Paragary's Bar and Oven), as did Chris Nestor, chef-owner of Ink Eats & Drinks and Capitol Mall's House, Ella's current executive chef Rob Lind, and literally dozens of others. In turn, they've trained their own batch of professionals, as is the custom in the industry. "It's sort of like the genealogies of Scripture," quips Corti. "So and so begat so and so who begat so and so."
"Before farm-to-fork really came into Sacramento, at [Randy's] restaurants he was already doing that," says Chris Nestor, a former manager at Paragary's. "He set that trend [locally] without even knowing it."
He's also been instrumental in the creation of a handful of other hot spots like The Red Rabbit, BarWest and Assembly (a live performance venue that will reopen soon with new partners) in varying roles from advisor to silent partner to landlord.
But he's not a chef and had little passion for food for the first 14 years of his run, when he focused on bars. Back then, serving meals meant a ham sandwich or pasta with canned sauce. "I think he was a little bit out of his depth when he first started," says Corti, referencing an early Italian joint called The Arbor. "Some of the dishes were just terrible. Sometimes the food was just awful."
Cooking is a skill Paragary alumni largely learned from each other. But what they all learned from Paragary was how to survive in an industry that's notoriously difficult. "The people who worked for Randy by and large learned how to run a restaurant," says Corti.
That, says chef-restaurateur Nestor (who counts Paragary as a silent partner of Ink) is a talent that might be more valuable than culinary artistry.
"Not too many people can open up one restaurant," he points out. "Opening up two restaurants is a leap in anyone's eyes. For him to have as many locations as he does at the same time is something to aspire to."
And the learning didn't stop when they left. Patrick Mulvaney says that he turned to Paragary frequently when he first started his own celebrated establishment Mulvaney's B&L. "The first couple of years I would call and say, 'Hey, I need help.' The phone call was always returned promptly and he'd say, 'Here's the answer' or 'This is a big one—come down to Esquire and you buy the wine and I'll buy dinner.' " That, he adds, is how Paragary deals with all his workers when they move on.
"He does have a kindness that not everyone is aware of," says Spataro. "Usually, you see it when individuals ask for help. They might be employees, they might be friends, whatever. He can be kind and generous in that way. A lot of people don't see that because he doesn't make a big deal about it."
That mentoring and largesse has pushed him to be called the godfather of Sacramento's ever-growing restaurant culture enough times to make the moniker stick.
"That's a great feeling knowing that there's been this family tree created from being in the business for so long," Paragary says. "I'm very proud of that."
But godfathers don't survive without being tough.
*******
Paragary got his first taste of that crucial grit at Parapow.
In December 1969, K Street closed to cars as part of a downtown revitalization meant to bring the heat of city life back to the urban core (an experiment undone in 2013). Councilmen spoke at the kickoff event. A Mexican hat dance was performed. It was a big deal.
But for a certain crowd, the center of action was 20 or so blocks east at the corner of 30th and O, where Paragary and his high school friend Patrick Powers had just opened a Western-themed joint titled with a mash-up of their last names—Parapow. Hamm's beer was 25 cents and live bands played every night—which sometimes were just guitar-wielding hitchhikers pulled off the nearby freeway ramp. "We had a lot of fun. We were breaking every rule we could because we didn't know the rules," says Powers, now a public relations professional. "I'll be honest with you—we just wanted a place to party." He, Paragary and Paragary's first wife, Carol, took turns bartending as easygoing crowds mingled on the peanut-shell-strewn floor.
"It was a blast," Paragary recalls. "I had the only game in town for kids my age. That was a big part of the success, providing something that there was a demand for."
Even then, though, he was naturally equipped to handle the serious stuff, he says. His dad, a longtime Aerojet employee, left the aerospace industry to manage a lodge in Tuolumne County above Sonora (where Paragary worked in the summers) and his mom ran a jewelry shop on K Street with her second husband (she and Paragary's father divorced when he was in ninth grade), so he had seen how business was done.
"I had enough common sense to know that at the end of the night that money in the till wasn't just mine to stick in my pocket," he says. "I did have to pay payroll. I did have to cover the expense of buying beer and that kind of thing. Somehow I was disciplined enough to do that without blowing it."
The good times went on for two years. But then it started to change. The idealistic '60s gave way to the darker '70s. Inside Parapow, there was a "mixture of drugs and alcohol with bad people," says Paragary. "Enough to make me nervous." Powers had lost his taste for being a barkeep and sold his stake to Paragary.
Not all the patrons were rough, though. One of his well-behaved customers was the dean of the nearby McGeorge School of Law, Gordon Schaber, who came in to drink beers with his students. Paragary harbored a notion of becoming a lawyer (a career he thought sounded respectable and paid well), but hadn't finished his degree at Sacramento State. Schaber pointed out that an undergraduate degree wasn't required for admission. "He goes, 'Why don't you just come over, take the LSAT and I'll get you in.' " Paragary recounts.
Paragary—who never intended hospitality to be his career—took the offer, sold the saloon for $15,000, and started night school.
*******
If Paragary was cool in the '60s, he was swinging in the '70s. In the summer between his second and third years of law school, he says he started thinking, "Wouldn't it be great to open a restaurant?" He talked another buddy—this one, Jim Moore, a friend going back to California Middle School in Land Park who had briefly become a police officer—into partnering.
Soon The Arbor—the Italian place whose food Corti tolerated for the atmosphere—was up and running in an old grocery store in midtown on the opposite corner from where Paragary's Bar and Oven would one day be. It was a spot that was all about "sex, drugs and rock and roll," says Jim Mills, who helped him manage it. Not long after, Moore and Paragary bought the dive bar across the street and began remodeling it after a place called Henry Africa's on Broadway and Polk in San Francisco—the world's first "fern bar." Think Three's Company's Regal Beagle, with dark wood, Tiffany lamps, leaded glass and hanging plants—then the funkiest fashion around.
They named it after a WWII media tycoon in Britain with a ridiculous name, funny and slightly naughty—Lord Beaverbrook's. And when they finished decorating, it seemed like the most far out of achievements.
"I remember when it was completed looking at it and thinking, 'This is the ultimate. I am set. There is no way this will ever go out of style,' " he says. Others agreed. "We packed the place," he says. "It was like a New Year's Eve party almost on any given night."
After-work happy hours were back in vogue. Come 5 o'clock, the place was booming, blenders buzzing. Frozen daiquiris and "slushy margaritas" in curvy poco grande glasses flowed freely among the chain-smoking patrons. Fresh juice was squeezed because it was the thing to do, hip in places like San Francisco and New York, and "the cocktail waitresses were hot," Paragary, then "single and divorced," recalls.
"Those were John Travolta days," he says. "It was Saturday Night Fever."
Disco was in—Kool & the Gang, the Bee Gees, Donna Summer. Women came in "hose and dresses." Men went for shiny polyester Nik Nik shirts with big collars and bold prints. "You kept it unbuttoned down to here," says Paragary, pointing low on his sternum. "And you had a chain with a coke spoon on it. That was just sort of what certain people did in certain age groups in certain bars and restaurants."
But unlike with the marijuana and other substances that had plagued Parapow, "We had no misbehavior here," he says. "I'm not saying everybody was an angel all the time, but no violence, no fights, no overdosing."
Still, the prevalence of illicit substances among the crowds at Paragary's early bars led to rumors about him, including rumors about where he got the seed money at such a young age for Parapow (or The Arbor or Lord Beaverbrook's, for that matter). "It wasn't something I was selling, but it was sort of around in those days," he says of cocaine during the Beaverbrook's era.
It was the same for marijuana at Parapow and The Arbor, he adds. "I was there at the forefront of it and I was kind of high profile because I was in business. I owned a business where kids did smoke [marijuana], so therefore I was associated with it. Even the police thought [The Arbor] was a marijuana hangout because there was a concentration of people of that age and that persuasion. Therefore, 'Well, who owns that place? Oh, it's Randy Paragary so he must be the ringleader.' So that reputation got there just because I was that age and everybody that worked there and around us smoked it after work. I think it's that simple."
But even in those days of excess, he kept his head. He had a business to run and played the enforcer with his staff.
"We never allowed [marijuana] at our restaurants," he says. "I never allowed it while you were at work even when we were that age—that was still a no-no."
In fact, during the '70s, Paragary was living an unlikely double life. He passed the bar in 1976 and began practicing business law during the day while doubling as a restaurateur at night.
*******
By the '80s, the party had changed again—and so did Paragary.
He got serious about food, mostly because it was good business. By then, disco was dead. "Beaverbrook's had run its course," he says. So had his ambition of being a bartending barrister. He'd taken on a handful of law clients, meeting in the spartan offices above Lord Beaverbrook's, but it wasn't working. "I didn't like the pressure of a deadline of doing something for somebody else when I should've been taking care of my own stuff," he says. "I enjoyed restauranting or owning bars better."
But along with thinking he might make a career in hospitality, he started feeling that the bar business was too fickle—anyone could pour a beer and looks alone didn't keep crowds.
"A few years later, people wanted white walls with minimalism with tin-hood light fixtures and maybe some sheer wispy curtains," he says of Beaverbrook's. "It taught me a lesson. Things do change. There's no such thing as a look that's going to last forever."
He remembers thinking, "The only way I'm going to resurrect this place was to turn it into a restaurant."
He started looking around for a catchy concept and landed at the casual upstairs cafe of Alice Waters' Chez Panisse in Berkeley, which opened in 1980. Unlike the formal main dining room, this space was relaxed, dominated by a wood-fired pizza oven—but still focused on the ascetic approach of local, fresh ingredients gently prepared.
"This would be great in Sacramento," he remembers thinking after trying the thin-crust pies and salads for the first time. "There was pent-up demand for that kind of quality."
He closed down Beaverbrook's and had a friend get to work building a brick oven—the first in the city.
"The oven was the only cooking appliance we had," says Paragary. "That was the simplicity of Paragary's originally. Just some pizzas and salads and a couple desserts."
But, says Corti, that restraint was a profound shift for Sacramento palates at the time, when good food meant steakhouses or pseudo-French fare.
While owning a pizza restaurant today is hardly out of the ordinary, "It was then," says Corti. "It was really strange, especially [one with] a wood-burning pizza oven. In Sacramento, it was completely unfashionable."
But Paragary's dexterity at spotting what customers are hungry for didn't let him down. The restaurant was a hit—lively and different from anything else on the scene, with the kind of food that gourmands had been traveling to the Bay Area to get.
Paragary's pizzas came with local ingredients—pepperoni from Morant's near South Sacramento and vegetables from an area farmer who would bring goods to the back door of the restaurant. During the next few years, he expanded the idea with a broader menu. He and then-Paragary's head chef Rick Mahan took pasta-making lessons with Biba Caggiano in her home, adding hand-cut noodles and entrées to the offerings.
"All of the sudden we were involved in stepping up the game," says Mills, who served as Paragary's first pizza chef.
When Kurt Spataro took over as head chef of the restaurant in the '90s, he evolved the concept further. Spataro, more than a decade younger than Paragary, was also a huge fan of Alice Waters. Even in his early 20s when he was a touring guitar player in a new wave band, he'd take along the Chez Panisse cookbook and read it aloud to his bandmates. "I was so impressed with it. I'd go, 'Listen to this, check this out,' " Spataro says. He'd loved cooking since he was a kid, learning at the apron strings of his Sicilian grandmother in Oak Park on one side and his French Canadian granny in Elk Grove on the other.
Eventually, he helped Paragary's put in its own garden across the street from the restaurant in an empty parking lot, growing produce like basil and tomatoes—another idea adapted from Waters and Napa restaurants like Mustards Grill who were building the concept of California cuisine as the hottest food trend of the decade (long before the ethos morphed into farm-to-fork).
"Somehow four or five years ago, 'farm to table' became the buzzwords with the same description," says Paragary. "It's sort of like a resurgence of that same philosophy and sensitivity to cooking and ingredients. It's our philosophy. It's what we do. It's, 'been there, still doing that.' "
Nestor, a former manager at Paragary's, agrees, saying, "Before farm-to-fork really came into Sacramento, at [Randy's] restaurants he was already doing that. He set that trend [locally] without even knowing it."
*******
 
The Paragary's Bar and Oven is gone now—completely ripped out. Torn down to studs and subfloor with a cool November breeze blowing through, it's tough to remember the excitement that it once brought to dine here.
But "there are thousands of stories of people who have been in this place over [the past] 40 years," says Paragary, wandering through the hollow shell. "There are a lot of people who got engaged here and had their first date here. They were here the night before their first child was born," he says, coming uncharacteristically close to sentimentalism. It was a place where people celebrated milestone moments, politicians did business, and memories—both infamous and significant ones—were made. Ballerinas once danced on the bar and Jason Sehorn worked here as a dishwasher when he was young (the former New York Giants star isn't the only celebrity to have ever worked at a Paragary restaurant—Brandi Glanville, of Real Housewives fame, once greeted diners as a hostess at Capitol Grill).
In fact, it was here, at the bar, where Paragary met his future wife Stacy. Then 23 and a sales associate at Western Contract Furnishers, she wandered by in 1987 for after-work drinks with a girlfriend. Paragary promptly lied to her about his age, lopping a decade off his 41 years, and asked the two women to dine with him. Stacy and Randy have been a couple ever since (they have a 14-year-old son together, Sam, who is on the prestigious Jesuit High School robotics team; Randy also has a 48-year-old daughter, Lisa, from his first marriage). And Stacy has taken on many of the operational tasks over the years, along with the interior design (she's consulting with local architect Sarah Ellis on the new Paragary's)—though she started out as a minimum wage counter clerk at the first Cafe Bernardo across the street, learning the business from the coffee machines up.
It wasn't until she became involved in the business that Paragary moved from opening individual places to building a restaurant group, something he credits her with helping to do. In the two decades since Spataro and Stacy Paragary got involved, the three have been running an intense gantlet of expansion, starting new spots at a pace that keeps increasing. Just the last few years have seen them open the doors on Hock Farm, KBar, Cafe Bernardo at Pavilions and on K Street and an Esquire Grill at the airport, to list a few. If Randy Paragary on his own was adept at finding single concepts to draw the crowds, the Paragary Restaurant Group team has honed their skills at creating a sweet spot of restaurants that are polished and pleasing enough to replicate again and again in ethos, if not by name (the five Bernardos share a similar vibe with their other properties, all the type of places that most people wouldn't mind hanging out in for the atmosphere as well as the food).
"Setting aside [the fact that she's] my wife, as a partner and as a restaurateur, she's added a lot," he says of Stacy. "She's really organized and she's got good instincts. She's more cynical than I am. She's made me [see] things through different lenses at times."
Stacy contends that Paragary is the risk-taker and "big boss."
"I joke with him," she says. "I say, 'You've never worked for anybody since you were 19. You don't even know what it's like to have a boss.' He really operates on a level that's very, 'Don't answer to anybody.' I get upset, like, 'Do you think maybe you could've asked Kurt and me our opinion?' Ultimately, it's 'I do what I want to do.' That's been his attitude."
But it's one she's well equipped to handle.
"I'm not the kind of wife that showers him with what he wants to hear," she says with a touch of humor. "I'm just reality. I'll tell you, it's definitely not a recipe for a really smooth marriage when you're in business [together]."
*******
There's a full-circle feel to bringing Paragary's back to its glory, but it's far from a swan song, says Paragary. It's true that he spends less time running the restaurants (which he leaves to carefully hired managers and staff) and more time running a big business venture from the still-modest offices, with industrial carpet taped together at the seams, where he once practiced law.
Though he visits each place regularly, especially the Cafe Bernardo at Pavilions, which is close to his Sierra Oaks home, he's OK with stepping back from the party. "He's not out there every night anymore because of Sam," says Stacy Paragary. "He wants to be home with his son." Paragary agrees, saying, "One of the pleasures of my life is being a dad."
But rumors of his retirement are just that. "I'm not done," he says. He's got a sixth decade on the horizon (it includes Esquire, Bernardo and Centro concession stands at the new arena when it opens next year) and he plans to be just as relevant as he was back in the days of that first bar, Parapow, when he started learning that consistent success means constant change. He's even thinking about being a prep cook at Paragary's when it reopens—just to finally learn how.
"It's the people," he says of what keeps him wanting more—staff and customers who make coming to work interesting and entertaining. His restaurants and bars are still the kinds of places where he can be himself.
And if the crazy fun of the early years has faded into tamer times, that's all right. At 30, he says, he was disappointed that he "hadn't made it," despite running both The Arbor and Beaverbrook's, hair still halfway down his back and a law degree under his belt. He thought, "There was going to be more."
But approaching 70, he's feeling better. "I've had a really good career in Sacramento," he says. "I've got a good balance right now." Forty-six years after thinking he could figure it out for a bunch of Hamm's-swilling hippies at that first bar, he's pretty much got it down. There's no one in town who knows more than he does when it comes to hospitality, no one who has racked up more wins or survived more mistakes—be it shrimp heads or Stockton. He is, says Ink's Chris Nestor, "Mr. Restaurant Sacramento"—the connoisseur of the convivial that younger restaurateurs hope to become. When the new Paragary's opens, it's a good bet the banquettes will be full and the bar buzzing. If you make it in, raise a glass to the host: a guy, as the old toast goes, who doesn't see the glass as half empty or half full—just in need of topping off.