Hot New Hoods
It's no secret that Sacramento is at a tipping point. Amidst all the construction dust, however, there are a few areas, such as R Street, Oak Park and West Sacramento, that are ready for their close-ups right now, and they are where you should be heading this weekend if you want a taste or a sip of the buzziest neighborhoods in the region (a flaming Sex Panther cocktail, anyone?). Consider the next 18 pages your insider's guide to these hot hubs, where new restaurants, bars, boutiques and one-of-a-kind urban experiences await your arrival. Ready, set, go out!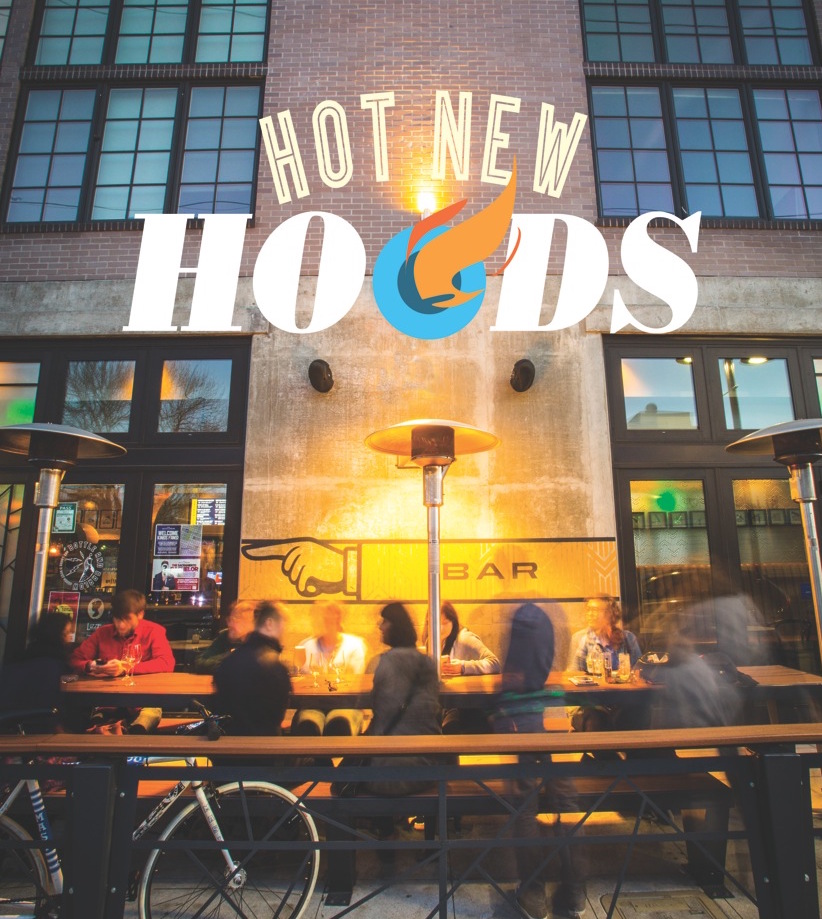 R Street Corridor
A century ago, the R Street Corridor was a thriving warehouse and manufacturing district, complete with a rail line—but just 10 years back, it was largely deserted between venerable British pub Fox & Goose at 10th Street and then-new R15 at 15th Street. These days, thanks to a few persistent visionaries and a healthy dose of city redevelopment funds, the converted historic brick buildings in that stretch and some cool recent additions draw throngs of eager diners, cocktail drinkers and a burgeoning wave of residents, enticed by hot bars and restaurants like longtime fave Shady Lady Saloon and newcomers Bottle & Barlow and Amaro. The neighborhood's growth has the momentum of a freight train—with more to come, predicts Michael Heller, who himself is developing the highly anticipated Ice Blocks at the eastern end of the area. "Can you imagine one day when we have a walking bridge connecting R Street over the river to The Bridge District? Now that gets me fired up!" he says. "There's no doubt in my mind R Street will help define the future of our city." —Kate Washington
What's Hot
Iron Horse Tavern
Sprawling in a high-profile corner space at R and 15th streets and spilling out onto a packed patio decorated with hanging succulent planters, Iron Horse (a 2015 venture from fraternal restaurateurs the Wong brothers, whose other offerings include Firestone Public House and Cafeteria 15L) lures the after-work and sports crowds with easy-to-like bar bites, like the brandy-fried chicken nuggets made from a secret family recipe and the cheesy, oblong flatbreads—not to mention its expansive, hopping central bar. Both the name of the restaurant and its brick-and-tile décor nod to the area's railroad history (look for a miniature vintage train above the tap pulls). Downing a cold one with friends, you'll instantly feel like you're in the heart of the neighborhood. 1800 15th St. 448-4488. ironhorsetavern.net
Bottle & Barlow
If you're going to hang with the R Street hipsters, you gotta get your hair right. Luckily dudes can do that in the district at Bottle & Barlow, which opened in mid-2015 with barbering ranging from a "corpse reviver" straight-razor shave to a haircut named The Morrissey (if you don't know the reference, brush up on your '80s alt-scene vocab). And since this establishment literally puts the "bar" in barbershop, grab your snips while drinking a beer or a Moscow Mule. Or skip the shears and stick to the watering hole side of the venue, which offers more complex spins on the classics, such as the Rented Mule. The difference from the Moscow variety? A stubbornly earthy, colorful slug of beets, plus an enameled camping mug with Bottle & Barlow's quail logo. There's a strong beer list, too, and cool cocktails like a daiquiri with avocado agave or the sharp kumquat-scented Second Kuming. 1120 R St. 379-7719. bottleandbarlow.com
Nido
When longtime neighborhood favorite Magpie moved to its bigger midtown location in the summer of 2015, R Streeters were briefly bereft—until Nido (the name means "nest" in both Italian and Spanish) quickly took its place, helmed by the same owners, Ed Roehr and Janel Inouye. The sunlight still pours into the easygoing, brick-lined space, the bakery case still overflows with treats like the storied carrot cake cookies, and the sidewalk patio still adds to the lively street scene. And best of all, the casual yet high-quality breakfast and lunch fare tastes happily familiar to Magpie devotees (yes, the signature smoked paprika hummus and fantastic chicken salad both remain on offer), with distinctive twists like the hearty house-made sausage sandwich on a pretzel bun (don't miss the Day-Glo-colored pickles), luscious breakfast biscuit sandwich upscaled with savory portobello mushroom, or pork belly bao with a miso dressing. More good news: Brunch hours, which currently run until 4 p.m. daily, will be expanded to 9 p.m. on weeknights and 10 p.m. on weekends starting this summer, when dinner service launches. 1409 R St. 668-7594. hellonido.com
Amaro
The newest restaurant on R Street, which opened in January, comes courtesy of owners Jason Boggs, Garrett Van Vleck and Alex Origoni, who scored hits with nearby Shady Lady and B-Side. At Amaro Bistro & Bar, the focus is on Italy, with a cocktail list built on astringent Italian digestifs (the eatery's name means "bitter") and décor as ruby red as Campari. We love the walls of all-scarlet books, but we're especially enamored with the Renaissance-themed portraits that add an irresistibly sophisticated Young Pope vibe. With a spacious patio overlooking the ever-growing foot traffic of R Street, on a warm night Amaro is the closest thing you'll find in Sacramento to al fresco dining in a bustling Italian piazza—an impression that's only heightened when you try the Naples-style pizzas, the saffron arancini (fried risotto balls) or cannoli filled to order. Add a bracing cocktail like a classic Negroni or an orange-zested Red Shirt Sour, and any hint of bitterness turns to la dolce vita. 1100 R St. 399-4145. amarobistrobar.com
WAL Public Market
With artist lofts upstairs in this thoroughly renovated historic warehouse, it's no surprise that the downstairs public market, which launched in May 2015, is cooler than cool. Burnish your collection of vintage threads at Old Gold, where the window displays are always crave-worthy; check out the rotating art exhibits on the WAL walls; or give the classic records and mid-mo goods at Kicksville Vinyl & Vintage and Medium Rare a spin. Hungry or thirsty? Fish Face Poke Bar, from Kru chef-owner Billy Ngo, dishes out an endless variety of bowls (our fave topping: tiny crisped rice balls), and Metro Kitchen & Drinkery serves up everything from quinoa bowls to fresh-pressed juices. WAL hosts events as well, such as its "First Friday" art walks, during which the building's enviable rooftop patio, normally reserved for residents, is open to the public. And on June 24, an R Street block party with live music, art and more will take over the vibrant corridor. 1104 R St. walpublicmarket.com
What's Still Cool
Fox & Goose Public House
Long before hip bars and farm-to-fork eateries took a chance on a formerly gritty R Street, Fox & Goose was packing 'em in for classic pub grub, live music (singer-songwriter Jackie Greene was discovered during one of its open mics) and trivia nights. (Developer Michael Heller, who is building the Ice Blocks project down the street, says, "We have Fox & Goose to thank for the early pioneering.") Open since 1975, the English pub—named for a centuries-old tavern in the Yorkshire home village of original owner Bill Dalton—occupies the 1913 Fuller Paint and Glass Co. building. Inside, it's a cozy, high-ceilinged warren, decorated with old-world ale posters that represent many of the British and Irish beers available on draft. The restaurant is especially popular for breakfasts like the traditional Full English (which includes "banger" sausage, eggs and baked beans) and the Welsh rarebit omelet, but vegans, take heart: tofu scrambles, tempeh bacon and other meatless options are equally tasty. 1001 R St. 443-8825. foxandgoose.com
Shoki Ramen House
A Sacramento favorite since 2007 and an R Street institution since 2011, Shoki has adopted the motto "a bowl of dreams," and justly so. We do dream about the ramen here, with chewy noodles nestled in perfect broth that takes six to eight painstaking hours to make. There's now a bigger sister location on 21st Street, but the busy little space on R Street still ladles up casual bowls of the signature tan tan men (ramen with spicy chili-spiked broth) to cure a cold—or a hangover, if by chance you've been hitting the R Street bars a little too hard. 1201 R St. 441-0011. shokiramenhouse.com
Verge Center for the Arts
The arts organization—which relocated to this area from Southside Park in 2014 and houses art studios, gallery shows and classes—lies a block away on S Street, but is a key element of this neighborhood's rebirth. Check it out for monthly movie nights, comic book workshops, and contemporary and experimental exhibits in the gallery. (On April 20, Verge will host a screening of Don't Blink—Robert Frank, a 2016 documentary about the groundbreaking photographer, and in the fall, it will present a show by the famed feminist art group Guerrilla Girls.) Also, look out for special events like the popular TV Dinner fundraiser, which this year takes place May 20 and has a Dynasty theme. 625 S St. 448-2985. vergeart.com
Editors' Note: These events have passed. Please check the website for updated information.
Shady Lady Saloon
With its sexy speakeasy vibe and craft drinks, Shady Lady was not just a trailblazer in Sacramento's cocktail renaissance but also an anchor of R Street redevelopment when it opened in 2009. (Jason Boggs, who with co-owners Alex Origoni and Garrett Van Vleck worked down the block at R15 before they launched Shady Lady, remembers the industrial block as a "wasteland" then.) A big bar with open sight lines, crimson-colored flocked wallpaper and photos featuring old-time shady ladies all encourage lingering. So do the excellent libations, which are inventive (like the Red Daisy, a blood orange margarita—which means "daisy" in Spanish—spiced up with jalapeños) or classic (foamy, tart pisco sours; impeccable Old Fashioneds). Get the duck tots—yes, they are tater tots with duck confit inside—and you'll never want to leave. 1409 R St. 231-9121. shadyladybar.com
What's Next
Places to eat and drink will keep coming: A small bar project from Simon and Henry de Vere White, The Snug, is slated to fill the empty space next to Roxie Deli in the 15th and R building (no word on an opening date, as the brothers are awaiting permitting). The de Vere Whites, owners of de Vere's Irish Pub, also plan to occupy the corner space of a large Cordano Company development at 11th and R streets—a revamp of the historic Sacramento Granite & Marble building—with a pub concept (but not another de Vere's). The project's manager, Steve Dolim, says he hopes to break ground in June 2017, with an estimated completion date of late 2018 or early 2019. Near 12th and R, craft coffee maestros Tim Jordan and Jason Griest will open what Jordan describes as "an Old Soul on steroids" in late summer or early fall. To the east, between 16th and 18th streets, the Ice Blocks, on the site of the old Crystal Ice building (which largely burned to the ground in 2015, necessitating a sharp pivot from reuse plans), is going full steam ahead. Developer Michael Heller expects the "Ice Sheds" building to open this summer, with cult San Francisco coffee chain Philz as a confirmed tenant. Also expanding the area's retail offerings (and livability) are new grocery options: In addition to the recently opened Sacramento Natural Foods Co-op down the street at 28th, Raley's is set to launch its own natural foods store, Market 5-One-5, in the heart of the neighborhood at 10th and R.
Gimme Shelter
The Warehouse Artist Lofts (WAL) helped pioneer new housing in this once-industrial area with a mix of market-rate studio apartments and larger affordable apartments aimed at working artists. Across the street at 11th and R, the Cordano Company's upcoming adaptive reuse project, designed by renowned local firm Vrilakas Groen Architects, will have 26 residential units. The two floors of apartments will be set back from the street-front profile of the historic building below and feature a sleek contemporary look that complements the preserved brick. Down the street at Ice Blocks, Heller expects apartments—142 units in total, from studios to two-bedrooms—to be move-in ready this July (iceblocksmidtown.com). Patrons at Bottle & Barlow can take the edge off with a Rented Mule or an avocado daiquiri. The parade of street life provides the entertainment for diners seated on Iron Horse Tavern's corner patio. Not your mother's shopping mall: The WAL Public Market caters to lovers of mid-century eclectica and handicrafts.
Oak Park
To borrow from Ernest Hemingway, Oak Park became one of Sacramento's newest hot spots two ways—gradually, then suddenly. Call it a renaissance, call it the dreaded g-word (gentrification), but the buzz on the historic neighborhood, which has been percolating for years now, is fast approaching critical mass. Some of Sacramento's most celebrated architects, designers, craft brewers, coffee roasters and all-around placemakers are carving out niches for themselves—and their community—here, injecting the area with new energy after decades of decline. Architect Ron Vrilakas is doing more than any one person to develop the look and feel of this reborn neighborhood; Roshaun and Maritza Davis, who run the event marketing outfit Unseen Heroes, are enlivening the Broadway Triangle with street festivals and storefronts; design and architecture firm Popp Littrell—which created the looks for local destinations like Magpie, Masullo and Ginger Elizabeth Chocolates—moved to the neighborhood last year; and a notable Bay Area restaurateur opened an eatery here recently, with one more on the way. Welcome to the new Oak Park. —Elise Craig
What's New
Gateway Arch and McClatchy Park
Standing under the sculptural, 52-foot span of the new Oak Park Gateway Arch (shown above) and watching moms with strollers or kids riding bikes on their way into McClatchy Park, it's easy to see that the neighborhood's revitalization is about way more than the new shops on Broadway. In December, the Oak Park Business Association erected a replica of a century-old city landmark—the arch that once welcomed visitors to an amusement park called Joyland. The slightly smaller steel version now sits at 35th Street and 5th Avenue at the edge of the park, which got its own refurbishment—including colorful playgrounds, new basketball courts and a butterfly garden—in 2014. The space next to the arch is also home to a popular Saturday morning farmers' market, which runs from May through October.
Rire and Nectar
Last July, Josie Lee opened her third brick-and-mortar store at 34th Street and Broadway—the first two Rire shops are in midtown and Davis—bringing the same playful mix of trendy but reasonably priced dresses (some as low as $32), separates and accessories (think chunky stone rings and knotted statement necklaces) to Oak Park. The boutique is also the only one in the neighborhood that's open seven days a week. For one-of-a-kind bling that won't break the bank, head next door to Nectar, which opened last June and focuses on owner Janell Lacayo's handcrafted jewelry, from gold-and-black agate hoop earrings ($18) to wire-wrapped bloodstone pendants ($38). Rire: 3330 Broadway. 668-7412. rireboutique.com. Nectar: 3328 Broadway. 616-5724. collectingnectar.com
La Venadita
Sacramento native Tom Schnetz already had four Bay Area restaurants under his belt, including Oakland hot spots Doña Tomás and Flora, when he came back home to launch La Venadita in Oak Park with his brother, David, last May. The bright, pink-accented spot has all the things you hope for in a taqueria—an outdoor patio, an array of tasty tacos, and chilaquiles for the ultimate hangover breakfast. It also has something you might not expect: a full bar. Show up for happy hour between 3-6 p.m. Tuesday to Friday, and you can bag two tacos and a margarita for only $13. Your best bets? The crispy (read: deep fried) and succulent carnitas taco, and the messy vampiro, with al pastor pork and salsa ranchera. La Venadita also serves breakfast and brunch, and recently started offering its popular egg-filled burritos all day long. 3501 3rd Ave. 400-4676. lavenaditasac.com
Capitol Floats
Stripping down to your birthday suit and floating in a tank of warm saltwater might not be your first thought when it comes to relaxation, but Capitol Floats says that its tanks can improve sleep and mental clarity, enable self-reflection, and help you realize your potential. In the year since the center opened, it has clearly won a lot of fans—on a recent Saturday, the 60-minute floats were fully booked from 8 a.m. to the last float of the day, at 8:30 p.m. For fanatic floaters, there's even a "Full Moon Float" once a month that lasts seven hours(!) and will set you back $150. If you're skeptical of the benefits, or the $65-an-hour price tag (which goes down to as low as $35 an hour with a subscription plan), know that lying in the LED-lit tank is relaxing, the ambiance spa-like, and, at 5-by-8 feet with 8-foot ceilings, the floating rooms feel far less claustrophobic than you might think. Just be careful not to get saltwater in your eyes. 3513 Broadway. 739-1218. capitolfloats.com
Miel

Miel's shelves are a magical curio cabinet stocked with everything from old-school crank eggbeaters to stone cutting boards and children's toys. After finding her online store a lonely operation, Ruebi Jimenez opened the shop at the end of 2016. She curates a mix of vintage finds and goods made by local artisans, including The Kitchenwitch and candle maker Peace, Love, and Soy Wax. Stop in for everything from beaded collars to wooden magic wands and retro music prints. 3324 Broadway. 836-4351. mielhome.bigcartel.com
Oak Park Brewing Company
With slick steampunk touches like gauge-topped taps and industrial light fixtures—not to mention its extensive beer menu—it's hard to believe that Oak Park Brewing Company started out with Dave Estis and Tom Karvonen home brewing in Estis' garage. The duo opened the brewery and restaurant in 2014—complete with massive brewing tanks visible from virtually every seat in the house—and offer a dozen beers, all of which make for perfect warm-weather antidotes on the property's expansive patio. They also recently brought on noted local chef Carina Lampkin, founder of downtown's Blackbird Kitchen, and she has already started to amplify the menu by making beer a more prominent cooking ingredient in the kitchen, with items like the beer-braised Brussels sprouts that use Ropeswing Cream Ale, and French fries doused in gravy infused with Aerostat Amber Ale. The team is also planning block parties to celebrate the brewery's seasonal releases. 3514 Broadway. 660-2723. opbrewco.com
The Plant Foundry
In 2014, Angela Pratt left her job at the venerable Talini's Nursery in East Sacramento and set out to put down her own roots. By the summer of 2015, she had found her oasis in the form of an old tire shop at 35th and Broadway, which she transformed into the Plant Foundry—a lush wonderland full of herbs and veggies from Sweetwater Nursery, a celebrated organic farm in Sebastopol; rare and heirloom plants from Annie's Annuals & Perennials in Richmond; and fruit trees and water-wise landscape plants. If you can tear yourself away from the orderly jungle outside, check out the well-curated gift shop inside. Look for intricate air plant frames crafted by Santa Monica designer Josh Rosen; fun books like The Drunken Botanist: The Plants That Create the World's Great Drinks; herb kits from Urban Agriculture Co.; and perfumes and lotions from the coveted TokyoMilk brand. 3500 Broadway. 917-5787. plantfoundry.com
Vibe Health Bar
Vibe Health Bar's menu of Liquidology cleanses, coconut-oil-and-butter-laced coffee and acai bowls might be a little intimidating for novice health nuts, but the friendly service, bright storefront and huge windows looking out on Broadway are reasons enough to pull up a stool and hang out, even if you're not quite ready for a full-on cleanse. Pick up a single juice—try the Bottle Rocket for the sweetness of watermelon with a kick of cayenne—snag avocado toast topped with pistachio pesto, or opt for Oak Park's own Brass Clover Nitro cold brew coffee in flavors like bourbon vanilla latte and salted caramel mocha. 3515 Broadway. 382-9723. vibehealthbar.com
Display: California
At the end of 2014, when Roshaun and Maritza Davis decided to open a pop-up shop next door to their event marketing agency, Unseen Heroes, they put a few parameters on the project. One, the installations in the store needed to change every few months. Two, all of the goods needed to come from California designers. Just over two years later, Display has kept to its promise, featuring unique items from Golden State artisans, such as hand-sewn, neighborhood-themed throw pillows by East Sacramento's Alicia Kerr, Newton Booth Builds' carved California-shaped bottle openers, and Dom Pérignon-infused gummy bears from Los Angeles-based Sugarfina. Buoyed by the successful launch of Display, the Davises teamed up with Maritza's cousin Sylvianette Thomas and her husband, Marvin, to open Damas, which only carries brands with female designers or CEOs behind them, last September in the same building. 3433 Broadway. 822-4925. displaycalifornia.com
Gather
Part street fair, part dance party, part massive backyard barbecue, Gather brings out neighbors of all stripes on the second Thursday of the month, from May to October, luring them to 3rd Avenue and Broadway with artisan beers, local wines, a pack of food trucks and the musical stylings of everyone from the Sacramento Philharmonic to the 11-piece salsa band Conjunto Liberación. The food lineup changes each month, but you can expect to see options like lobster rolls from Cousins Maine Lobster and Mama Kim's blackened catfish tacos. This year, the event—which was launched in 2014 by Unseen Heroes and the Oak Park Business Association—will also add restaurant booths to the mix, as well as a kids' disco, an art lab and a carnival. Can't make it on a school night? Try Gather's sister event, First Fridays, where you can walk into the businesses of Broadway 'til 9 p.m., grab a glass of wine, and even get an art lesson. gathernights.com
What's Still Cool
Arthur Henry's
Arthur Henry's Supper Club & Ruby Room looks and feels like an old-school steak joint, with dark lighting, big leather booths and Ray Charles on the jukebox. Owner Chris Pendarvis, who owns the popular Orphan Breakfast House and Naked Coffee (whose roastery also resides in Oak Park), opened the eatery—named for his grandfather—in 2013. It's charmingly anachronistic without veering toward divey, right down to a throwback lineup of grill-it-yourself meats and veggie skewers. The idea of heading to a restaurant to cook your own food may feel like an odd one, but armed with a $10 Old Fashioned, tasty marinades and spices, and helpful grilling tips on the menu, you have all the tools you need for a perfect steak. Just remember to bring the cash, and leave the kids at home; they don't take credit cards or those under 21. 3406 Broadway. 737-5110. arthurhenrys.net
40 Acres
The 40 Acres cultural center—which was created by former Mayor Kevin Johnson's St. HOPE organization and kicked off the Oak Park renaissance in 2003—houses the restored historic Guild Theater, which will host the 2017 Sacramento Asian Pacific Film Festival in May, and the excellent Underground Books, which is run by Johnson's mother, Georgia West, and includes an impeccable collection of African American literature. The complex also contains an Old Soul cafe, which opened at 35th Street and Broadway in 2010. Of all the coffeehouses in Oak Park, Old Soul is the buzziest, with friends meeting up for a beer or a glass of wine in front of the shop's taps in the afternoons, and laptop-toting worker bees parking at tabletops for the free Wi-Fi. It attracts a diverse crowd with its chill vibe, long hours—it's open from 6 a.m. to 10 p.m. every day—and its drip, cold brew, Chemex pour over, and French press coffee options. guildtheater.com. underground-books.com. oldsoulco.com
The Brickhouse Gallery
Brickhouse has the spare appeal of a sheet metal factory—because it was one. The converted space, which has been a presence in the neighborhood since it first opened in 2003, has a rustic, minimalist vibe and an open flow that makes it easy to focus on moving exhibits, like the recent African + American (A Forced Marriage) show featuring the work of Milton Bowens, a former military illustrator turned painter and fine artist, and an upcoming presentation in May of photographs by incarcerated foster youth. The complex, which is run by curator and director Barbara Range, also has a bigger mission: to encourage artists, and bring art into the community. To that end, Brickhouse also has nine studios, housing artists including Range herself, as well as ceramicist Deborah Pittman and photographer Quinn Ung. The gallery is open Thursday through Saturday. 2837 36th St. 475-1240. thebrickhouseartgallery.com
What's Next
The Schnetz brothers are bringing a new concept to the Broadway Triangle—German food. A nod to Sam's Hof Brau, where the Schnetzes ate as kids, as well as the Teutonic side of their heritage (their father is German, their mother Mexican), Oak Haus, which is set to open in early April near 34th Street and Broadway, will feature casual bites, like a roasted eggplant sandwich with olive tapenade, that harken back to the menu the siblings used to serve at their now-defunct '90s-era midtown coffee shop, Marshall Grounds, as well as a beer garden in the outdoor patio. The two will also pour German beers and local craft beers made in German styles. Meanwhile, Tim Jordan and Jason Griest plan to open a wine bar, tentatively named Cooper on 3rd, next to their Old Soul cafe at 40 Acres in the fall.
Gimme Shelter
If your aesthetic leans more toward classic architecture, but you prefer modern, clean finishes inside, would rather hang out on your patio than commit to the maintenance of yard work, and want to go out to dinner without ever getting in your car, consider the newest residences in the Broadway Triangle development. The fourth phase of developer Ron Vrilakas' project, Triangle East, brings six single-family homes to Oak Park—two three-bedroom Craftsman-style houses with full porches, two smaller bungalows and two townhouses. Each has its own private patio and access to a shared, grassy yard. The properties should be available by the end of the summer, but take note: Last year, the 11 homes in the first three phases of the project sold so quickly that Grounded, the broker, didn't even list them all.
West Sacramento
Long hidden in the shadow of its bigger sister city to the east, this industrial town is having its moment in the sun. Due in no small part to a daring, confident mayor in Christopher Cabaldon—it doesn't hurt that he's so hip he can pull off a pink seersucker suit, does it?—West Sacramento's burgeoning riverfront scene finally reached a tipping point in 2016 with the rise of lively, livable architecture in The Bridge District (styled TBD by those in the know). The adjacent Washington neighborhood, once the turf of the infamous "Broderick Boys" street gang, has also seen a flurry of trendy destinations open over the past few months, from a cool coffeehouse to a hot jazz club. Finding the shiny new gems (think Fido-friendly taprooms and a dive bar revamped by the Shady Lady guys) tucked among the city's unadorned reaches is a favorite sport among locals, as is strolling along the River Walk toward Raley Field humming "Take Me Out to the Ball Game" between licks of a cardamom-creamsicle ice cream cone you picked up from a devilishly charming treat shop. Or valet-parking your bicycle at the Barn to feast on food truck tacos and sip sangria to the tune of a local Americana band. So if it's been a while since you've crossed the river to this suddenly exploding burg, it's time to read the latest chapter in this west side story. —Hillary Louise Johnson
What's Hot
Bean & Barrel
As of February, the Washington neighborhood now has a serene, light-filled cafe where you and your MacBook can while away a morning at a communal table sipping an Americano from beans roasted locally by Camellia Coffee and munching on a slice of bread so good it may just be the platonic ideal of breakfasts: The summery Farmer's Toast, bedecked with lemon yogurt, avocado, cherry tomatoes and paper-thin ribbons of cucumber dressed in olive oil, is both virtuous and infinitely craveable. With wine on offer in the evening hours, this is a chill, convivial room to hang before or after work, a short hop across the I Street Bridge from downtown. 289 3rd St. 873-8136. beanandbarrelsacramento.com
Devil May Care Ice Cream
You'll think you've landed in some hipster's fever dream of Mayberry, R.F.D. when you nip into this adorable ice cream parlor in a strip of old-timey storefronts on 3rd Street, next door to Ray Mata's Barbershop, a joint that's right out of, well, Barbershop. If you've ever wondered what would happen if a chef with serious culinary chops did nothing but invent ice cream flavors all day long, meet Devil May Care's owner, West Sacramento native Jess Milbourn, who opened his parlor last November and handcrafts every batch of toasted almond and Thin Mints. We love the popular Coffee & Donuts, but our favorite treat on the rotating menu for a warm spring day has to be a pear sorbet float made with Burly Beverages ginger beer. 322 3rd St. 572-0456. devilmaycareicecream.com
Burgers & Brew
Opening last December, this latest offshoot of the popular local chain is an homage to beer geekery housed in the historic art deco Washington Fire House building at the foot of the I Street Bridge, refitted with hammered copper furnishings and witty details like a skinny fireplace that runs the entire length of the patio. The burgers are inventive—they had us at cilantro and garlic aoli—and the BLT, packed with applewood-smoked Niman Ranch bacon, is an instant classic. The 40-plus tap pulls include a changing selection of local brews and seasonal highlights like the coveted Pliny the Younger. 317 3rd St. 572-0909. burgersandbrew.com
Station 1
West Sacramento now has its Blue Note, as in a serious, first-class jazz venue right above Burgers & Brew. The dimly lit, sexy second-floor boîte draped in red velvet curtains, which opened in mid-December along with its downstairs neighbor, is the perfect spot for an intimate evening with a local diva like Beth Duncan or Vivian Lee, who are already regulars on the calendar, and the adjoining terrace promises to be one of the coolest places in the city for late-night lounging, preferably to the smooth strains of bandleader Peter Petty crooning Mack the Knife. 317 3rd St. 572-0909. station1westsac.com
Edible Pedal
The first new business to stake out this now-happening strip on the corner of 3rd and C streets in March of 2015, this bike shop-cum-food delivery service (cargo bikes at Edible Pedal's midtown location ferry grub to customers from places like Hot Italian, Magpie and The Porch) is yet another disarmingly charming business that seems like it should only be real in a world where leprechauns actually do roam the earth. West Sacramento is a bike commuter's paradise, and if you live here you can bring your vintage Raleigh in for co-owner Brian Asch to do a 24-hour overhaul, or browse through new and used inventory of the kind of two-wheelers you wear a beret to ride, not a spandex unitard. 328 3rd St. 873-8585. ediblepedal.com
Port Brewery District
With the addition of Jackrabbit Brewing in 2015, followed by Rubicon's Stillwater Brewery this past September, the density of taprooms in West Sacramento reached critical mass. Now styled the Port Brewery District by the city, this area is a collection of casual spots high on conviviality and low on décor budget—think concrete, corrugated tin and strings of Edison bulbs—with beer menus scrawled on chalkboards offering pints, flights and growler fills. You can bring your bike, your dog and your kids to any of them, and you'll usually find a food truck parked out front. Start your tour at Bike Dog Brewing (2534 Industrial Blvd.) with a pint of malty Milk Stout, brave the graduate-level challenge of the Tower Bridge 3x IPA at Yolo Brewing (1520 Terminal St.), then recover with a mild, wheaty saison at Jackrabbit (1323 Terminal St.) and end with a game of skee-ball at Stillwater (885 Stillwater Rd.) while nursing a goblet of Naughty Russian Imperial Stout, the sipping whiskey of beers.
Chando's Tacos
Last September, cult-favorite Chando's Tacos opened an outlet smack in the middle of the industrial area that also houses the Port Brewery District. The red-and-yellow fast-food-restaurant décor will barely register once your senses are preoccupied by the heady aromas and flavors of a taco filled with Chandos' marinated adobada, sliced to order off a rotisserie. You can also just get your food to go before hitting the taprooms, fortifying your beer belly with a savory meal of the signature mulitas—small corn-tortilla quesadillas stuffed with meat and ringed with crispy cheese. 2530 Boatman Ave. 375-0075. chandostacos.com
Sail Inn Grotto & Bar
Last March, the team that operates R Street hot spots Shady Lady and Amaro helped reboot this friendly neighborhood tavern for owner Wayne Morse. The nautical dive-bar theme includes a stuffed marlin on the wall behind the bar, a rope ceiling and a parade of frozen rum cocktails (as in "yo ho ho and a bottle of") decorated with umbrellas and strong enough you might just wake up in Shanghai with a new tattoo if you aren't careful. The playfully piratical vibe attracts in equal measure families that come for pub fare like the rum-soaked pineapple chicken sandwich and millennial urbanites who come for the frosé, a frozen pink wine that is a summer favorite on the patio. 1522 Jefferson Blvd. 272-2733. sailinngrotto.com
The Barn
A swooping riverfront pavilion designed by Dutch landscape architect Jerry van Eyck, the Barn debuted last July and quickly established itself as the social hub of the emerging Bridge District. A marvel of digital engineering in which all the curves are constructed out of straight pieces of lumber, the shingled structure is rustic enough to host a hootenanny and futuristic enough that when you see it you feel a frisson reminiscent of the big reveal in Close Encounters. It's the site of the Thursday night farmers' market and magical "Saturday Nights at the Barn": Picture yourself drinking in the Delta breeze—and a couple of craft cocktails—while listening to a hometown band playing Americana and feasting on tacos and gyros from food trucks courtesy of San Francisco-based Off the Grid, which also hosts a mobile eats festival during warm-weather months in nearby River Walk Park. 985 Riverfront St. barn.thebridgedistrict.com
What's Still Cool
Broderick Roadhouse
When Chris Jarosz of Wicked 'Wich food truck fame took over a shuttered jazz club in 2012, his then-new burger joint respected its neighborhood's working-class roots while tempting midtowners to cross the bridge. Broderick's burgers come either cheffed up, like the duck burger with pear fig jam and arugula (pair it with a pint of Angry Orchard cider) and the Lebanese-spiced lamb burger with goat cheese (try it with Six Rivers' macadamia nut porter), or down and divey like the Johnny Cash with house-made BBQ sauce and the Gold Rush, topped with bacon mac and cheese. Broderick now has outposts in midtown and Walnut Creek, with more in the works, but there's something special about the original's ramshackle simplicity. 319 6th St. 372-2436. broderickroadhouse.com
Raley Field
One of the charms of West Sacramento's riverfront is the ambient sound of the seventh-inning stretch wafting out of this minor league stadium, home to Sacramento's beloved River Cats, one of the winningest Triple-A baseball teams since 2000. While catching a Kings game at the Golden 1 Center may be the hottest sports ticket in town, there's nothing quite like the timeless, summery nostalgia of a day at the ballpark. The new baseball season began April 6, and foodies will appreciate a revamped menu for 2017, which will include offerings like street tacos and gourmet lamb burgers and falafel burgers. But some things thankfully never change: you'll still be able to cool off with a classic Merlino's Freeze. 400 Ballpark Dr. 376-4700. raleyfield.com
Lake Washington Sailing Club
Never heard of Lake Washington? Little more than a widening of the shipping channel near the towering rice silos you can see from Chando's Tacos, it shelters one of the Port Brewery District's hidden surprises, a charming private sailing club established in 1934 on a thumb-sized peninsula that welcomes new members warmly. Learn to navigate a dinghy for fun or take part in friendly club races—you'll gain a new appreciation for the Delta breeze, and work up a thirst for the nearby craft beer. 3251 Beacon Blvd. 374-0433. lwsailing.org
What's Next
Sometime in late summer, Drake's Brewing Company, one of the progenitors of the West Coast craft beer movement, will debut as the food and beverage operator at the Barn. The San Leandro-based brewery opened Drake's Dealership in 2015, now the buzziest beer garden in Oakland, and the West Sacramento location promises to be no less popular, offering Adirondack chairs ranged around fire pits and pints of Drake's popular IPAs, as well as a rotating selection from local breweries, wood-fired pizzas and even coffee service for morning bike commuters. Also breaking ground in TBD will be a mixed-use project called West, which is slated for completion in 2019 and will feature restaurants, retail and housing. Its cool factor will come from the proposed public "urban beach," the brainchild of landscape architectural firm Quadriga's John Suesens, a UC Davis grad. A sandy expanse that will run along the River Walk Trail, the beach will finally allow Sacramentans room to lounge, bask and exercise along the riverfront like the groovy Californians we are.
Gimme Shelter
If you'd like to sit on your front porch and take in the evening's entertainment at the Barn, or maybe walk to a Kings game at the new arena, then The Moderns at Eames Walk, which went on sale in April, are for you. These townhouse-style, single-family dwellings, from the Barn and Golden 1 Center developer Mark Friedman, are loosely inspired by the livable mid-century modern aesthetic of Sacramento design legend Ray Eames and her husband, Charles. But act fast, as the list of interested buyers already tops 400 (you can sign up at moderns-tbd.com).