How to throw the ultimate "Lady Bird"-themed Oscar party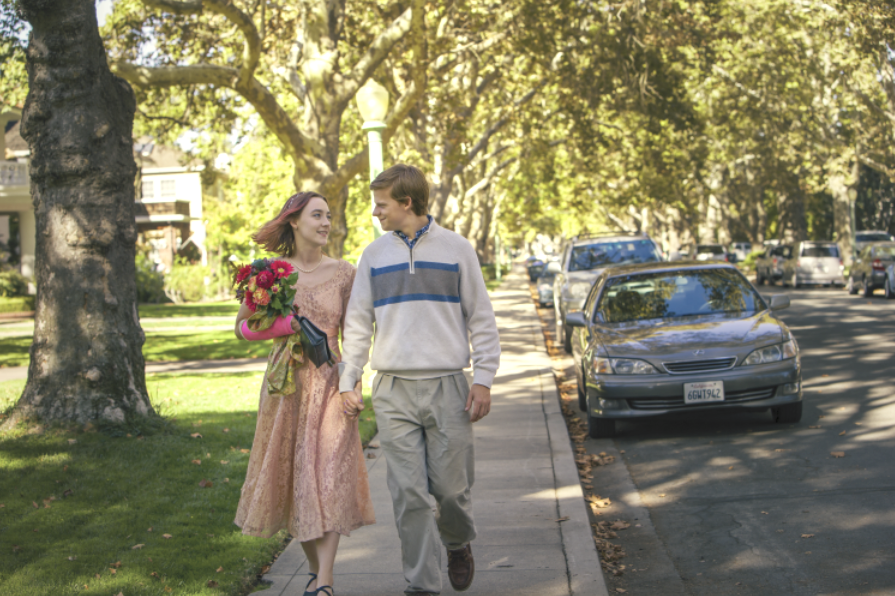 On Sunday, March 4, we'll collectively hold our breath as the 90th annual Academy Awards air on ABC at 5 p.m. Lady Bird—Sacramento native Greta Gerwig's semiautobiographical story about her senior year in high school—received five nominations, including best picture, best director, best screenplay, best actress and best supporting actress. Here are some ideas to help you cheer on "the Fellini of Sacramento."
Start Oscar morning with a Lady Bird walking tour
What better way to get in the Lady Bird party-throwing mood than to follow in Gerwig's footsteps? At 9 a.m. on March 4, Sac Running Tours will lead a 3.2-mile, two-hour walking tour through East Sacramento that will highlight stops at sites featured in the movie, like Club Raven, Pasty Shack, the McKinley Park rose garden and the blue manse in the Fab 40s that served as Lady Bird's dream home. Snap selfies as your tour guide reveals Gerwig's inspiration for shooting at each site, along with fun facts about the film and Sacramento history. $20. sacrunningtours.com (Find more info from Sactown's story on the tours HERE.)
Search for early aughts duds at Thrift Town
Looking for an outfit for your party? Head to Lady Bird's go-to secondhand shop (parts of the film were shot on location at the local chain's El Camino Avenue store), to search for era-appropriate gems—think peasant tops, layered tanks, velour tracksuits and miniskirts paired with Ugg boots for the gals, oversized sweaters and baggy or bedazzled jeans for the guys, and accessories like trucker hats, tinted aviators and "Live Strong" rubber bracelets. Or take advantage of Thrift Town's dress sale, which is being held Feb. 26-March 4 to pay tribute to Lady Bird finding two of her formal dresses amongst the racks. Bonus: the thrift store also has Catholic school uniforms. Thrift Town. Locations vary. Mon.-Sat. 9 a.m.-9 p.m. Sun. 10 a.m.-7 p.m. thrifttown.com
Deck out your pad with Lady Bird swag
Stock up on party favors, like handmade Lady Bird pins, (we especially love these and these from Etsy), and deck your walls with original artwork, like this poster by English artist Jordan Bolton, which cleverly depicts the cast and crew's names in a stack of cassette tapes. Lady Bird's production company A24 also offers printable "Vote Lady Bird" and "Lady Bird for President" posters, just like the ones seen in the film when the title character runs for student council. To download the posters for free, visit a24films.com.
Pick up Thanksgiving dinner or Greta Gerwig's favorite local fare
Create a party spread from places that were featured in Lady Bird, like Gunther's Ice Cream (2801 Franklin Blvd. 916-457-6646. gunthersicecream.com) in Land Park and East Sacramento's Pasty Shack (4746 J St. 916-454-9630), which offers take-and-bake versions of their savory hand pies that come in Cornish, Bavarian, chicken and vegetarian varieties (orders of 20 or more require at least a day's advance notice, and make sure to pick them up by closing time on Saturday as the Pasty Shack is closed on Sundays).
Have your friends fold napkins into fancy patterns like Lady Bird demonstrates for Danny's grandmother and order Thanksgiving takeout from the likes of Sam's Hof Brau (2500 Watt Ave. 916-482-2175. originalsamshofbrau.com), which doles up servings of hand-carved roasted turkey, baked ham and sides like sage turkey stuffing and mashed potatoes and gravy, or Oak Park's Oakhaus (3413 Broadway. 916-376-7694. oakhaussac.com), where the roasted half chicken or prime rib are accompanied by sides like Brussels sprouts with pancetta and a German mac-and-cheese called spaetzle.
Mix up a Lady Bird cocktail
Club Raven—whose circa-1946 neon sign made a proud cameo in the movie—has created a signature Lady Bird cocktail using vodka, Torani blackberry syrup, house-made sweet and sour, and a splash of soda. Co-owner Shannon Barnes-Arguijo, who developed the cocktail soon after the film debuted, describes it as slightly tart and sweet (much like the titular teenager). Bartender Paul D'Ambrosia at downtown's Grange Restaurant & Bar also got in on the action by crafting a light, dainty drink that is pastel yellow in color, effervescent and makes him think of warm, sunny Sacramento days. Recreate both drinks at home using the recipes below:
The Lady Bird (from Club Raven)
Pour 1 1/2 oz. Tahoe Blue vodka in a tall glass over ice, followed by 1/2 oz. sweet and sour (Club Raven makes theirs in house using fresh-squeezed Meyer lemon juice and a powdered sugar-based simple syrup) and a splash of club soda. Top with 1/2 oz. of Torani blackberry syrup and garnish with blackberries and a slice of lemon.
Lady Bird (from Grange Restaurant & Bar)
Combine 1 oz. sambuca, 1/2 oz. vodka, 3/4 oz. lemon juice and 3/4 oz. thyme simple syrup (D'Ambrosia recommends dissolving 1 cup sugar in 1 cup hot or boiling water and adding thyme leaves to steep until the simple syrup tastes to your liking), and shake over ice. Strain into a champagne flute and top with a splash of prosecco.
Put together a tight throwback playlist
Paying homage to Lady Bird's senior year, lead off with Dave Matthews Band's '90s alt-rock ballad Crash into Me, which the title character and her best friend Julie belt at the top of their lungs in one of the film's most memorable scenes. After that, load your playlist with songs you may have once burned onto a mixed CD, like Avril Lavigne's punk-pop "Sk8er Boi," Kelly Clarkson's American Idol chart-topper "A Moment Like This," Justin Timberlake's R&B breakup anthem "Cry Me a River," Nelly and P. Diddy's groove-worthy "Shake Ya Tailfeather," and Beyoncé's early solo hit "Crazy In Love."
Cheer on Greta Gerwig as the Oscars get underway
If you'd rather let someone else do the party-throwing work, St. Francis High School—yes, that's Greta Gerwig's alma mater and her inspiration for Lady Bird's Catholic all-girls school Immaculate Heart—is hosting an Oscar bash that's open to the public on March 4, complete with a costume contest for best thrift store prom dress, Gunther's ice cream and several screens live-streaming the Oscars. Plus, check out the drama department's footage of Gerwig's performances during her stage days in St. Francis' student productions, like The Wonderful Wizard of Oz and The Apple Tree, which will also be displayed at this Lady Bird-themed bash. ($25. 4:30-8 p.m. St. Francis Catholic High School. 5900 Elvas Ave. 916-452-3461. stfrancishs.org)
Club Raven is also holding an Oscar party that evening, which will start at the East Sacramento bar at 6 p.m., and include a red carpet photo-op area and an Academy Award ballot contest. Proceeds from orders of the bar's Lady Bird cocktail will benefit One Less Worry (a local nonprofit that helps cancer patients meet their financial needs), who will be on hand to dole out bites like pulled pork sliders with coleslaw. (Free. 6 p.m. Club Raven. 3246 J St. 916-447-8142. facebook.com/events)
You Might Also Like
Homecoming Queen: how Greta Gerwig created Lady Bird
Sactown's Q&A with actress Greta Gerwig from 2010
New "Lady Bird" walking tour launches in Sacramento