Inside Issue 69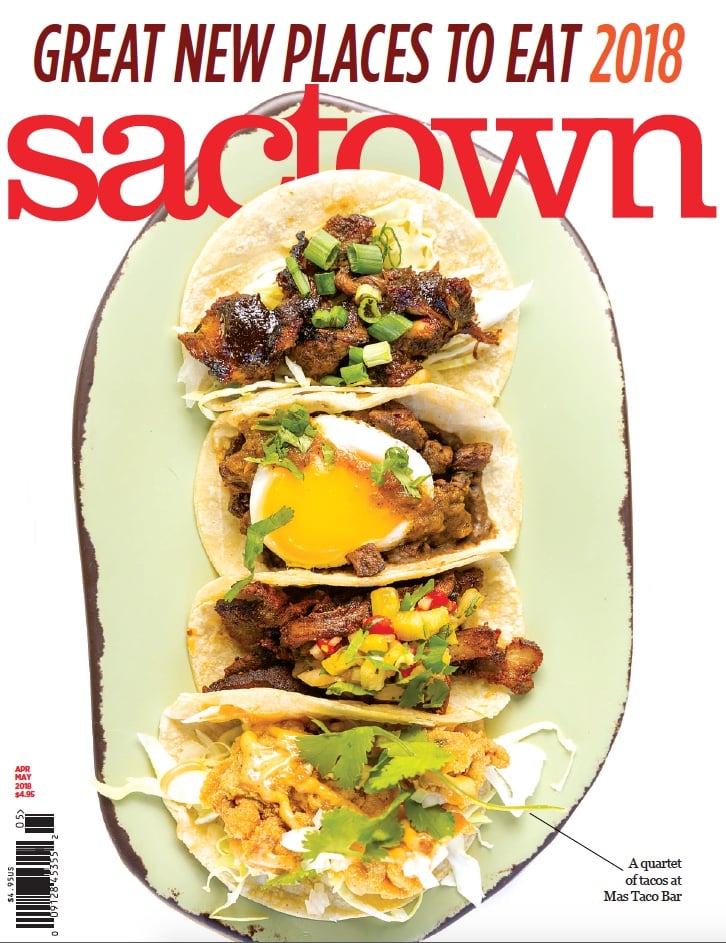 Inside the

April /
May 2018
Issue
Get Sactown delivered to your door. Subscribe HERE!
Great New Places to Eat 2018​
From a '90s hip-hop doughnut shop and a hip gluten-free cafe to a hot mid-century boîte and an elevated Italian seafood spot, what's old is new and what's new is gold in our latest roundup of recently opened restaurants that are worth expanding your culinary horizons (and your waistlines) for.
The Curious Case of
William T. Vollmann
​On some days, you might find him at home with his doctor wife in Land Park; on others, he's illegally jumping freight trains. Regardless of where you find him, one thing is for certain: William T. Vollmann is one of America's most prolific and important authors.
All Americans
​On Feb. 22, we met people from over a dozen nations on the day they became U.S. citizens. Some came here for religious freedom and others for education or economic opportunity. Sometimes it takes a fresh set of eyes to remind us what it means to be an American.

Riverfront Essay

Cities around the world are fighting litter, so as the capital city adjusts to its new place in the national spotlight, it's time to clean up our act.

Riverfront Q&A​
​Tired of traffic? Parking struggles got you down? The doctor is in: As the founder of UC Davis' Institute of Transportation Studies, Dr. Daniel Sperling has journeyed from the gridlock of Los Angeles to Jon Stewart's desk at The Daily Show to help cure the ills afflicting America's car-clogged cities. Sperling talks about the radical potential of the self-driving car and the wallet-friendly advantages of "pooling" in his new book, Three Revolutions.
Play

Seeing is believing—and intriguing—at the inaugural Photography Month Sacramento; Depeche Mode plays its music for the masses in the capital city for the first time in 20 years; the Boston Pops, Placer Pops Chorale and Sacramento Philharmonic go Hollywood with music from movies like Star Wars, Rocky, The Godfather and La La Land; feast on flicks at the Sacramento Food Film Festival

Dish
​A local confectioner turns into a cake pop boss for Cinco de Mayo; champagne wishes come true with the announcement of Fizz; Kru's new after-hours menu satisfies our midnight cravings; owners of The Rind prepare to live a life of pies with the launch of their new pizzeria; L.A.-based Gen Korean BBQ is about to get grilling in Sacramento

Why Not Here?
In southeast London, an underused parking garage has become a mecca for artists and a new observation point for local residents. Let's take Sacramento to the next level too.