Inside the Issue 78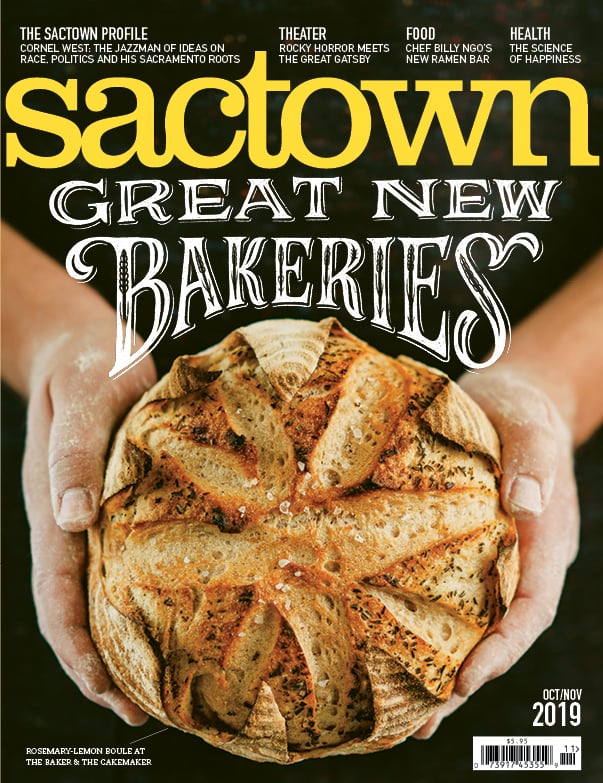 Inside the October/November 2019 Issue
Get Sactown delivered to your door. Subscribe HERE!
Great New Bakeries
Those lazy days of summer may be history, but with new bakeries popping up all over the region, there's no better time to loaf around. Whether you're a hard-core carbivore or simply have a soft spot for sweets, here are seven artisanal spots you "knead" to know about right now.
The Queen of Happiness
Everyone's in pursuit of happiness, but how do you capture it? Nearly 11 years after being diagnosed with ALS, Cathy Speck is alive and kicking butt. As she spreads her colorful brand of hard-won optimism, the Davis resident shows us all how to live like you were dying, while loving every precious minute of it.
True West
At a time when the nation feels hopelessly divided, the Sacramento-raised Cornel West has a message of love and compassion for all races, religions and political persuasions. And no matter how far he ventures from home, the renowned Harvard professor carries with him a moral compass that unfailingly points west.
Riverfront Q&A
With November marking National Homeless Awareness Month, we catch up with the tireless Sister Libby as she talks about switching gears from heading up Loaves & Fishes to founding Mercy Pedalers and delivering coffee and sympathy to the less fortunate on bike and trike.

Riverfront Essay
With decision time quickly approaching on the final design of the new I Street bridge replacement, we hope that our civic leaders will look on the sunny side and choose the Solar Arch concept.

Play
Let's do the time warp again as the Green Valley Theatre Company takes us back to the 1920s for its Jazz Age version of Rocky Horror; Momix, aka the Cirque du Soleil of dance, flies high in Davis; get a leg lamp up on the holiday season by takin Broadway Sacramento's rendition of A Christmas Story; local poet-rapper Hobo Johnson closes out his first global tour with a hometown concert; Lewis Black gets satirical with all things political at the Crest; clockwork orange: it's time to set a calender alarm for the sweet Mountain Mandarin Festival

Dish
Kru chef-owner Billy Ngo uses his noodles at Kodaiko, his new downtown ramen bar; launched as a dim-sum-style restaurant, Tiger reinvents the wheel and rolls out a new street-smart Cali-Mex menu; Solomon's Delicatessen mixes things up with its "newish Jewish" fare

Why Not Here?
Power up, Sacramento: Following the lead of cities like Stockholm and Buenos Aires, let's turn some of our region's many transmission towers into electrifying works of public art.