Into the Brew-niverse: Sacramento Beer Week returns with an outpouring of events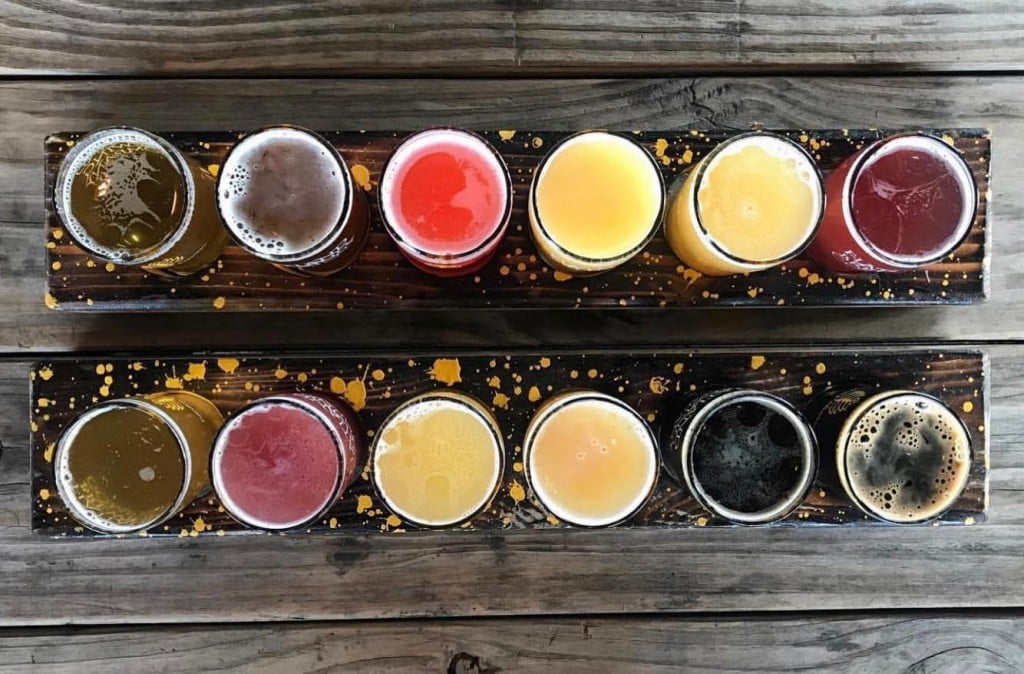 Sacramento's beer universe is constantly expanding, and with more than 300 events lined up over 10 days for the 10th annual Sacramento Beer Week—which will take place April 26-May 5—it is on track to keep the region swimming in craft suds for the foreseeable future. Read on for this year's highlights that include everything from beer and doughnut pairings to beer slushie releases and tap takeovers.
Food and beer makers will exchange Kraft for craft on April 26 with the kickoff event, Sac Mac and Brew Review, during which 15 regional breweries, including Urban Roots, Yolo Brewing, Tilted Mash and Bike Dog, will partner with area food purveyors—like Father Paddy's Irish Pub out of Woodland and Daddy Dave's Street BBQ based in Elk Grove—to compete for the best beer and mac 'n' cheese pairing. More than 40 breweries total will be on hand to pour their suds at the event, which will be held at River Walk Park.
If pairings hit your sweet spot, head to New Glory Craft Brewery's South Sacramento location on April 27 to taste a quartet of beers, including the NGB Pils and the new Fully Baked Imperial Stout, paired with doughnut holes from Carmichael's Sweet Dozen. Or get your sugar rush at Final Gravity tap room in Roseville on April 30 for the Beer and Cupcake Pairing, which will match up four Imperial Stouts from Monterey's Alvarado Street Brewery with mini cupcakes from Roseville-based bakery Smallcakes Sweet Treatery, like the Motor Oil No. 1 stout infused with Tahitian vanilla beans and coconut shavings paired with a coconut cupcake topped with fudge frosting.
Mraz Brewing in El Dorado Hills will highlight its signature lip-puckering ales during All Sour Day on April 27, which will feature 22 of its sours on tap, as well as a brewed-in-house kombucha. Crowd favorites will include the lambic-style Drinking With Friends and Capitol Luau made with guava and passion fruit; Mraz will also release new brews like a sour beer version of Two Rivers Cider's pomegranate cider, a collaboration with the local cidery, and a barrel-aged raspberry-infused sour called Twin Flames. Meanwhile, on May 5, Elk Grove's Flatland Brewing Company will release a new blackberry jalapeño margarita sour beer slushie (it started experimenting with beer slushies last year and has offered them in a variety of styles, including IPAs and a cookies and cream stout) in partnership with Sacramento's Preservation & Co.
The Monk's Cellar in Roseville will reprise its fifth annual Firkin Fest on April 27, at which a dozen firkins (10-gallon casks) will be lined up side by side, ready to pour suds from area breweries, including Placer County mainstays Moonraker, Knee Deep and Moksa. Line up with your paddle to get four tastes of beers directly from the firkins, like Monk's Cellar's Crooked Bridge ESB, or its collaboration with Rancho Cordova's Burning Barrel Brewing, a pineapple and vanilla kettle sour ale.
Get down and nerdy with New Helvetia Brewing Company, which will host a May the 4th 5K Fun Run and Beerfest on the unofficial Star Wars-appreciation day. The run (Star Wars costumes are highly encouraged) will kick off at the Land Park-based brewery at noon, as will the festival, which will feature pours from Bike Dog, New Glory and Tilted Mash. You can nosh on eats from Culinerdy Cruzer and Flour Dust Pizza Company and catch tunes from Sacramento sextet Tiny Sounds and Placerville bluegrass jam band Red Dirt Ruckus.
The 10-day celebration will close on May 5 with the inaugural Capitol Brewers Dinner, a 150-seat five-course meal in which five local chefs will be coupled with five area breweries, and each duo will present one course. Beforehand, attendees will partake in a "tasting hour," where dozens of Sacramento Area Brewers Guild members will serve tasters of their signature suds.
Sacramento Beer Week organizer Kate Whelan says that with the 10th anniversary fête, she hopes to highlight how far the local beer scene has come since the first Beer Week, when our region had only a handful of breweries. (There are now over 70 breweries and taprooms around town—in fact, last year Sactown highlighted 10 new ones that opened in 2018.) "What I think is unique about Sacramento as a beer destination is that you can find different varieties of beers, and there's always something new and exciting coming out," Whelan adds. "Like if you go to San Diego, it's IPA city. We have so many breweries that specialize in their own styles. We want to really show how much Sacramento has grown over the past 10 years. It's amazing."
For a full list of events and more information, visit sacbeerweek.com.
You Might Also Like
Eagerly awaited Cider House to open soon
Soak up the suds this summer at 11 new Sacramento breweries and taprooms
New Glory Craft Brewery opens new taproom and eatery in Granite Bay