Kanye West is latest in a long line of Sacramento showstoppers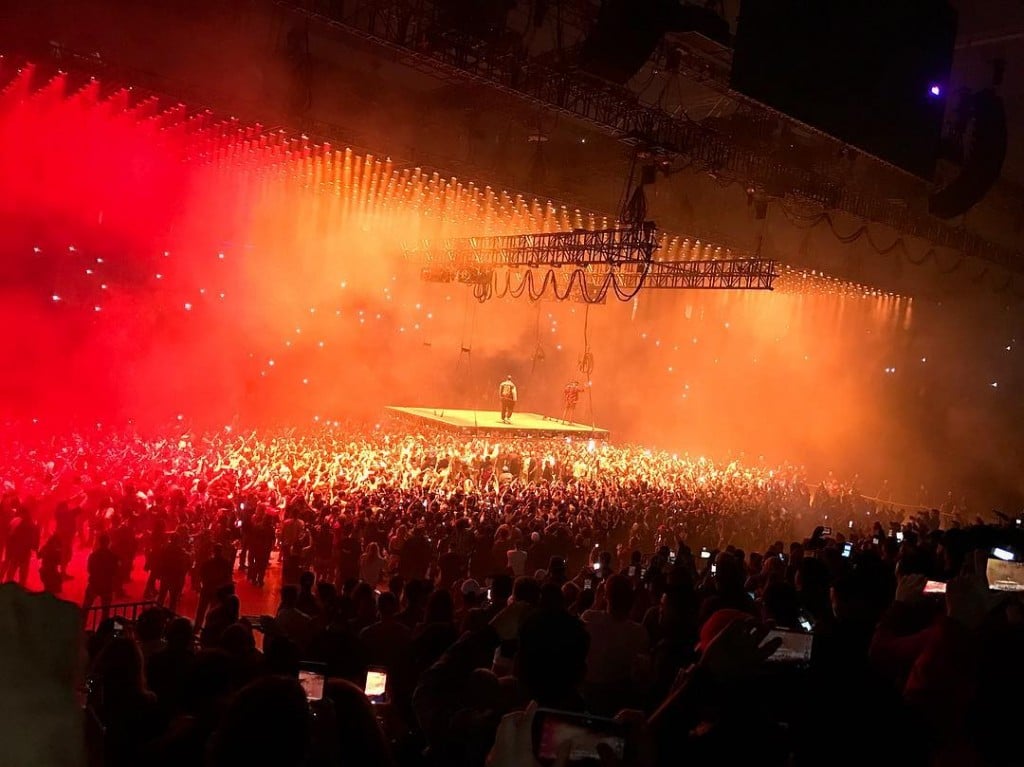 Saturday night, after showing up 90 minutes or so late, Kanye West abruptly ended his sold-out concert at the Golden 1 Center after a few songs, followed by an increasingly nonsensical diatribe in which he scolded Beyoncé and Jay Z and name-checked both Taylor Swift and the president-elect. Monday morning, West canceled the remainder of his Saint Pablo tour, and was hospitalized later in the day, reportedly due in part to "exhaustion" from … too much fashion design. Boy, we hate it when that happens.
Kanye either performed two, three or four songs, depending on whether you count parts one and two of Father Stretch My Hands as one or two songs (and according to this set list, he seems to have played part one twice).
Regardless, it turns out he's not the first artist to prematurely drop the curtain on unsuspecting local fans. In fact, we have quite the rich history. Read on for our list of memorably curtailed performances over the years:
The Rolling Stones (1965)
Fresh off The Ed Sullivan Show, the fresh-faced Stones (yes, it was that long ago) had taken to the stage in front of 5,000 screaming teens at Memorial Auditorium when Keith Richards' guitar brushed against an ungrounded microphone stand, resulting in a flash and a bang that electrocuted the musician, sending him to the emergency room, where one doctor opined that Richards' rubber-soled Hush Puppies may have saved his life. Perhaps the most shocking part of this story is that Richards was wearing Hush Puppies.
The Replacements (1985)
The band's performance at the UC Davis Coffeehouse is the stuff rock 'n' roll legends are made of. Says longtime music journalist Jackson Griffith, "The entire band was so wasted that the only one standing was the late guitarist Bob Stinson, who had dropped trou and was standing in his boxing shorts playing the 'Smoke on the Water' riff while Paul Westerberg crawled around onstage moaning 'We're gettin' arrested,' which they did, for trashing the dressing rooms, and Warner Bros. Records had to send someone on a plane from Burbank with bail money the next morning." According to news reports, the band never finished a single song. The next year, the band was banned from Saturday Night Live for similar shenanigans, although the ban was lifted in 2014, after nearly 30 years.
Bob Dylan (1988)
The 4,000 fans dotting the 12,000-seat Cal Expo amphitheater weren't showing Bob Dylan the love at this 1988 show, remembers former Tower Records' Pulse! Magazine editor Mike Farrace. "He played for around 30 minutes," Farrace recalls, "and got pissed because the crowd wasn't paying attention and walked off." The future Nobel laureate's listless, mumbling performance ended to boos. Concert promoter Jerry Perry was there, too. "People were pissed!" he remembers. Seems the prototypical singer-songwriter had gone from 'Blowin' in the Wind' to just blowing.
Guns N' Roses (1993)
Guns N' Roses opened its show at Arco Arena by sending a member of the road crew onstage to warn the audience that the band would stop playing if the crowd threw things at them. Guess what happened next? First, frontman Axl Rose baited the crowd, which had already erupted in fights, by repeatedly trash-talking fellow hair band Metallica between songs, to a chorus of boos. Then, about 90 minutes into the band's set, an audience member pitched a bottle of urine onstage, beaning bassist Duff McKagan and sending him to the hospital. Rose instructed the crowd, "If you find the asshole, kill him!" before stalking offstage. Minutes later guitarist Slash came out and urged the crowd to instead leave peacefully, which they did. Skip to 1:20 in the video to catch all the rock 'n' roll drama.
Candlebox (1994)
When this Seattle band opened for Metallica at Cal Expo in June, 1994, fans who had expected to see Alice in Chains took the last-minute switcheroo hard, hurling trash onstage and booing them off the stage. Eighteen months later the band headlined at the Crest Theatre before a sold-out crowd and all was forgiven.
Weezer (1994)
Later that year, Weezer did the unthinkable and dislodged both Guns N' Roses and Candlebox as "The Most Hated Band in Sacramento," according to J. Freedom du Lac at The Sacramento Bee. The band showed up late to entertain 2,000 souls at the KWOD Christmas Concert on Sacramento State's campus, where they weren't even the headliner (that would be Jesus and Mary Chain). They played one song and walked off. The next day, the Bee headline read: "A New Most Hated Band: Crowd stunned after Weezer cuts out at KWOD concert." Seems they'd lost their equipment, picked up some replacement gear, and didn't like the way it sounded. The concert, which also featured the Cramps, 4 Non Blondes' Linda Perry and two other acts, lasted five hours anyway.
​Bad Brains (1996)
This punk-reggae outfit's frontman, HR, was notorious for bizarre behavior, onstage and off. When the band played the Guild Theatre in Oak Park in 1996 (with a young Deftones opening), HR left the stage after playing less than 30 minutes, according to the show's promoter Brian McKenna. "HR had a history of both drug problems and mental illness," McKenna says. "I'm guessing it was one or both."
You Might Also Like
Bruno Mars will hit the Golden 1 Center stage in July
Video footage of Sacramento's inaugural Dîner en Blanc released
Through the Glass Darkly: Roseville singer-songwriter Chelsea Wolfe