KoJa Kitchen's futuristic underground bar to open downtown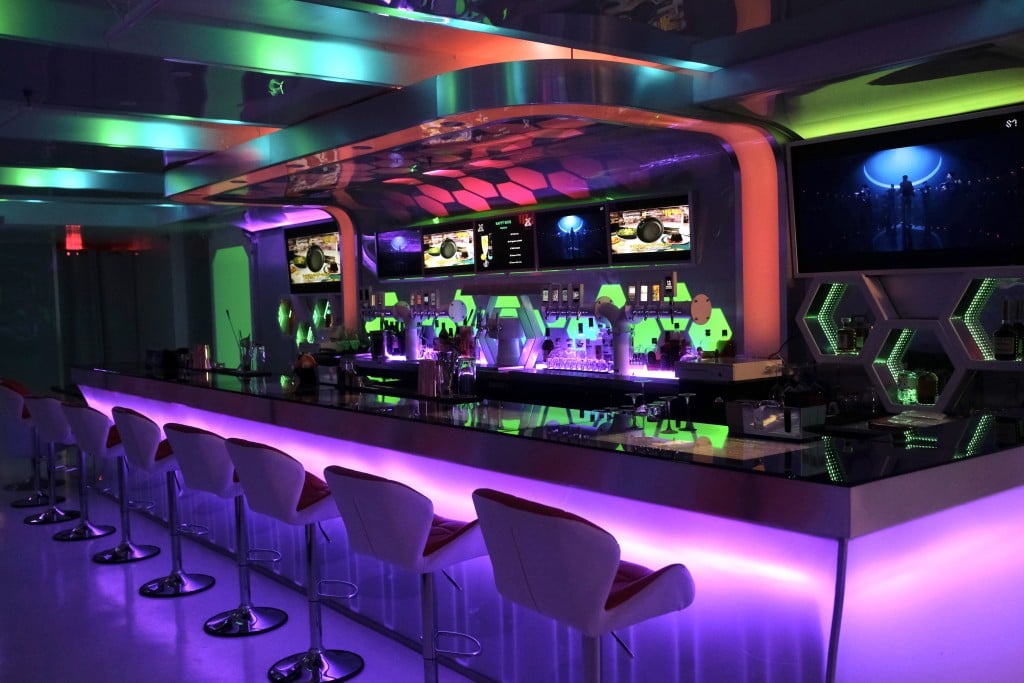 The future is now at the fast-casual Korean-Japanese fusion spot KoJa Kitchen, which will unveil its space-age basement bar on Friday, Dec. 20, a couple of months after its upstairs dining space debuted downtown in late October.
Descend the stairs to the underground K Street lounge (each step is lit with rainbow LEDs), where franchise owner Thomas Quach has been working to put the finishing touches. With moody, low-lit lighting, the space is outfitted with LED panels that stretch across the ceiling and down a wall painted with a 3D-patterned honeycomb design and lined with white tufted booths. Although the Bay Area-based chain operates 17 California locations, this is the only location to feature this bar concept.
Cushioned white and orange high-top chairs sit along the blacktop bar, where bar lead Juan Gonzalez, formerly of La Cosecha, will be whipping up a cocktail menu with drinks like the Bye Felicia, a mix of Japanese Yuzuri liqueur, orange liqueur, triple sec and cranberry.
While KoJa's top level—boasting its own sleek white tables and lunch counters that look out onto 7th Street through a floor-to-ceiling window—will continue to offer the chain's signature eats like short rib rice bowls and crisscut fries topped with barbecue beef, the basement level is expected to unveil its own menu of bar-bite snacks within the next month. (In the meantime, food from upstairs can be eaten at the bar.)
The downstairs area also includes two private rooms for parties of four to eight people that will offer bottle service and karaoke.
732 K St. The underground bar's hours are set to be Thurs.-Sat. 4 p.m.-2 a.m. and Sun.-Wed. 4-11 p.m. kojakitchen.com
You Might Also Like
Former Saddle Rock space to reopen as Saigon Alley
Popular SF cookie delivery company opens its first shop in Woodland
Signature restaurant announced for new downtown boutique hotel