Leading Lady
From Anne Gust Brown's days as a trailblazing executive at Gap to her work in Sacramento helping craft some of the biggest political milestones of the past decade, get to know the woman whose fierce intellect, pragmatism, candor and energy has quietly redefined what it means to be California's first lady.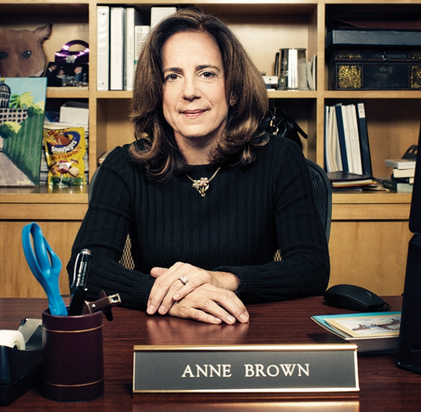 A
As political power centers go, Room 1007 in the State Capitol isn't much to gawk at. It's a small space tucked away in the Horseshoe, as Capitol denizens refer to the recesses of the governor's first-floor headquarters. Maybe three or four people at a time can convene here comfortably. A built-in bookcase climbs up one wall, stuffed with binders and accessorized with a plant, photographs and artwork featuring a mostly expressionless corgi. (A bag of Snausages dog treats leans against one such piece, a painting that features the corgi, Sutter, in Capitol Park; a book called Dogs at Work shares the shelves with titles like The Shriver Report, Power Concedes Nothing and Our Bodies, Ourselves.) More art—photos, watercolors, political cartoons—rests on windowsills that partly frame a view into the Capitol's interior courtyard. A computer monitor and a printer occupy one-third of a modest reddish-hued desktop that wouldn't be out of place in a tax accountant's office. There's a phone, a stapler, a tape dispenser, a pen cup with towering blue-handled scissors, a business card holder and a nameplate: ANNE BROWN.
The business cards don't boast a job title, only the name and its affiliation: "Office of Governor Edmund G. Brown Jr." This austerity befits the woman who sits behind the desk, an unpretentious lawyer who tends to avoid spotlights and eschew formalities. Technically, she is the governor's unpaid "special counsel," just as she was eight years ago when she first accompanied him to Sacramento in his role as the state's attorney general. She is also his wife, but the term "first lady" represents its own kind of nonsense to her.
"I don't dislike it—it's just hard for me to get my head around what it means, exactly," she says, tightly folding her hands as if trying to squeeze an alternate designation out of thin Capitol air. "I know it's just a title given to the wife of the governor. But it's hard to understand what it means beyond that, so I don't use it that often. Of course, I'm not that big on titles, period. I'd just as soon someone call me Anne."
Such is the plainspoken pragmatism that Anne Gust Brown lends to the administration of Jerry Brown, who commenced his fourth and final term as California governor in January and for whom neither plain speaking nor pragmatism might leap out as inherent traits to most observers. Jerry has always been more of an enigma—the political scion whose famous asceticism led him from the Jesuit seminary to a stripped-down bachelor pad during his first stint as governor in the late '70s and early '80s. Yet at 76, he remains a dreamer, a leader whose advocacy for everything from flat taxes to space travel to bullet trains to environmental stewardship and other utopian visions has colored a half-century of state and national politics. His penchant for grand thinking, while not necessarily unrealistic (after all, this is a man who has been elected governor an unprecedented four times), can get away from him.
Which is where Anne comes in.
"It's a pleasure to have a person and a mind on your side such as she possesses," Jerry says. "I think the important point is the exhilaration and even fun in the pleasure of working together. That's something I never had experienced before. And it's not the specific problem, but it's just the being together, attacking these things—and most of the time successfully."
The erstwhile litigator and corporate attorney began her relationship with the once and future governor in 1990, around the time Anne defended him in a lawsuit brought against the California Democratic Party, of which Jerry was chairman. Anne liked Jerry enough personally to consider playing matchmaker to him and one of her friends. He instead took an interest in the whip-smart 32-year-old lawyer herself, who resided near Jerry in San Francisco and who eventually found herself caught in the whirlwind around his third and final run for president in 1992. At the time, Anne Gust was well into what would become a powerful and influential career as executive vice president, chief administrative officer and chief compliance officer at Gap Inc.
"He's very much the same person—he's just a warmer human being," says Tom Quinn, who managed Jerry Brown's original campaign for governor in 1974. "That's Anne who's brought that out in him. He would have been a better governor last time around if he'd been married to her then."
These days (she turns 57 on March 15), Anne Brown's husband of nearly 10 years defers the last word in his election night victory speech to her, and she holds her grandfather's Bible (the same one used in their wedding in 2005) for Jerry's sixth swearing into service in a statewide office. Jerry is a perfect three-for-three in campaigns where Anne has participated as his adviser (Anne officially joined the Brown political regime during his successful 2006 run for California attorney general), and Jerry's closest friends and confidantes openly acknowledge her sanding down of his aloof rougher edges.
"I think he's very much the same person—he's just a warmer human being," says Tom Quinn, who managed Jerry's original campaign for governor in 1974 and worked alongside the couple as part of Brown's transition team in 2010 and 2011. "He's much more considerate of people. He's more thoughtful than he was. And that's Anne who's brought that out in him. It's been a great relationship for him. It's wonderful. He would have been a better governor last time around if he'd been married to her then."
Whatever changed for Jerry between 1982 (when, according to The Field Poll, he had an approval rating of just 43 percent as he wound down his second term) and 2014, the contemporary electorate has attested to its faith in his incumbency: Jerry barely needed to campaign last year to claim a 20-percentage-point victory over Republican opponent Neel Kashkari in November. Still, while the present day is challenging enough, it's tempting to imagine how a force like Anne—who has joked publicly about her work to "corral" Jerry's contemplative grazings in the policy-wonk weeds—might have guided the philosopher prince to the Pennsylvania Avenue promised land he envisioned for himself more than two decades ago.
"I try to move things along," Anne explains. "I think that Jerry is a very creative thinker and I'm a more linear, X-Y-Z, get-it-done [thinker]. We try to balance that. And I think that in meetings, people can appreciate that I—being his wife, and being as close as I am to him—can sometimes say, 'OK, Jerry, enough. Enough.' "
She half-chuckles and half-winces, making an exhausted sound that she attempts to disguise as a laugh. "Not that that's a lot of the time," she continues, "but I do think I can say [certain] things to him and that we balance each other well. And that in doing that, people can appreciate what I bring to the table."
*******
The question of what specifically Anne Brown brings to the table in Sacramento—whether it's the long, literal picnic table in Governor Brown's office at the Capitol, or his preferred first booth on the right at the rear of Frank Fat's, or the protean playing surface of California politics—is generally a question that Anne hesitates to entertain. As a shrewd veteran lawyer, Anne shies away from examples of how she advises the governor. Her associates, past and present, aren't much more illuminating. She engenders a deep loyalty that predates her time in Sacramento; it is only enhanced by her sensitivity to her unique status among the governor's team. "I would like people to think of me as just a coworker," Anne says, stating her reluctance to manage her husband's staff despite a résumé dense with high-level, private sector administration. She cites situations, such as the way she might leave the meetings on environmental policy to experts like her husband and other senior advisers, or how she'll pick up the slack on subjects where the team might struggle for clarity or a plan—"something I can add value on," she says. "I may actually run out and dig deeper on that."
Jerry is slightly more forthright about her work, particularly during his time as attorney general—a complicated conflict-of-interest case that he asked her to evaluate, for starters, as well as a closer look into predatory lending by Countrywide Financial, which resulted in a 2008 suit and an eventual multistate settlement netting $3.5 billion for borrowers in California. In reporting news of the settlement against the lender—then the nation's largest loan servicer—The New York Times pronounced it "the most comprehensive, mandatory loan workout program since the mortgage crisis began [in 2007]."
"I can't remember if she did it on her own, or if I asked her to," the governor says, adding that the state brought its action just before Countrywide was acquired by Bank of America, which pushed the disgraced lender into federal jurisdiction. "That case was dragging on and not going anywhere. She got in, got some new people involved and really—though others did a lot of the work—she spearheaded it. She brought it to a new level of focus, which enabled the case to actually be filed. It wouldn't have been filed without her."
There is more Anne folklore, such as that time in summer 2010 when Jerry's gubernatorial campaign sustained a succession of withering blows from billionaire Republican foe Meg Whitman, and Anne and campaign manager Steve Glazer prevailed on Jerry to conserve his limited funds for an attack closer to Election Day. (Jerry won the election in a landslide.) Or that time in 2011, with California teetering perilously over a budget hole exceeding $25 billion, when Anne helped devise the governor's proposal for nearly $13 billion in budget cuts and $12 billion in revenue increases to yank California back from the edge of the fiscal abyss.
"Anne was every bit a part of that because it was logical, it was straightforward, it required everybody to sacrifice, and it just plain made sense," says Darrell Steinberg, the former Senate pro tem who worked closely with Anne and Jerry between 2011 and 2014. Steinberg goes on to draw a stark contrast between the Browns and the couple that preceded them in the Horseshoe, alluding to the way Maria Shriver initiated political happenings like her marquee Women's Conference while distancing herself from the toil of governing that subsumed Arnold Schwarzenegger. "With Anne Gust Brown, it's different," Steinberg continues. "She's a full political partner."
Proposition 30, the 2012 initiative that approved up to $6 billion in new taxes annually through 2019 to fund public education, is another Anne legend. To the extent it emerged from a series of dead-end budget negotiations between Jerry and GOP leaders in the Legislature, the measure rocketed to victory thanks in large part to its careful crafting by the Brown legal team and a relentless home-stretch campaign push led by Anne.
"Anything Jerry would do directly, I can sometimes do without him—sit down and make a phone call myself, or a follow-up," she says of the Browns' fundraising apparatus, which ultimately rallied almost $70 million in support for the measure (much of it from labor unions) ahead of Election Day. "A lot of times, though," she hastens to add, "we're usually doing it together."
With or without him, Anne has gotten to know and engage Jerry's allies in his campaigns for governor and pet ballot initiatives like Prop 30 or last year's Propositions 1 and 2 (which, respectively, authorized $7.1 billion in new bonds for water infrastructure and dedicated a portion of the annual state budget to a "rainy day" savings fund). "Here we are," she will tell them. "This is really important. Can you step up yet again? This is why."
Other roles are more defined, such as when Anne—who oversaw human resources as a top executive at Gap—took on staffing duties in the governor's office during the transition from Schwarzenegger to Brown at the end of 2010. (The Brown administration cut $6.4 million of spending from the governor's office alone, by eliminating the state's secretary of education post, various other positions and field offices throughout California.) Anne personally recruited Nancy McFadden, a former lawyer for President Clinton and deputy chief of staff in the offices of both Vice President Al Gore and Gov. Gray Davis, to sign on as the governor's executive secretary (a title that both Anne and McFadden equate to chief of staff).
"[Anne's] got a great way about her, just in terms of personal interaction," says McFadden, who calls Jerry Brown's office both the leanest and highest-functioning political operation she's worked in. "She's funny, she's interested in people. She's somebody that you would want in your boardroom or at your kitchen table. And I don't think that's a strategy—I think that's who she is. And that has its own value because the more I got to know Anne, that had its attraction [for me] in joining this administration."
When Anne's not traveling with Jerry around the state, they bounce between the Browns' residence in the Oakland hills and their rented Sacramento loft on the top floor of the Elliott Building downtown, across the street from the Memorial Auditorium. She says Jerry mused on restoring the long-vacant Governor's Mansion where his father, Edmund G. "Pat" Brown, resided from 1959 to 1967, but that the magnitude and cost of the restoration during a budget crisis would have given the wrong impression to Californians. (Anne dryly cites the home's limited plumbing facilities above the basement level as "impediments, in my mind, to actually living in the place.") The mansion was one of the first things Jerry showed Anne after he reclaimed the governor's office in 2010, and while the structure closed in January for a $2.5 million preservation effort that launches this year, she says she does hope the building can someday make a full return to its past glories. "California is a big state; it's a beautiful building," she says. "We should have a Governor's Mansion, and the governor's family should be able to live there."
"I try to move things along," Anne explains. "I think that Jerry is a very creative thinker and I'm a more linear, X-Y-Z, get-it-done [thinker]. We try to balance that. And I think that in meetings, people can appreciate that I—being his wife, and being as close as I am to him—can sometimes say, 'OK, Jerry, enough. Enough.' "
Elsewhere around town, Jerry introduced Anne to favorite old haunts like Torch Club and The Virgin Sturgeon. Recently they settled in at Pieology, the new pizza place down the block from their loft, where Anne attempted to persuade Jerry to leave the jalapeños off their order. He ordered them anyway, then later admitted her instincts were right.
When the Legislature is in session, they typically spend Monday through Friday at the Capitol. They'll stay through the weekend when bill signings are imminent. At the governor's office, Anne's petite runner's frame glides through the cloisters and courtyard flanking the unassuming sanctum of Room 1007. She routinely cracks jokes; she says her natural temperament, inherited from her father, is to defuse tension with humor. When Sutter barks in the middle of her talking to a reporter, Anne practically exults in the distraction from a question about her proudest moment in eight years in Sacramento. "I'm the most proud of Sutter," she says with a grin. "I've mentored him."
Yet even at her breeziest, her brown eyes blink intently, as if guarding the inner workings of the institution and state around her, and she bristles at those who credit her with undue sway over her husband's ruminations or direction as governor.
"Jerry is totally in control," she says. "Let me really be clear: He's got his own ideas, and in the end, he decides. If he disagrees with me, there just isn't even any question. First of all, I wouldn't try to overcome [his decisions]. I've always felt that this is his governorship, not mine. And so if he's really firm on something, I don't even try."
Anne's presence alone signifies a unique break from first lady orthodoxy. Shunning causes or issues beyond whatever is on the governor's agenda, she maintains the lowest profile possible to accomplish the decidedly, if deceptively, unglamorous work of governing the Golden State. Whereas Shriver maintained but infrequently visited her own office at the Capitol over seven years, Anne occasionally shares her desk with another legal adviser in the Brown administration. (She opted out of continuing Shriver's annual Women's Conference, and she demurs when asked about pursuing policy objectives of her own during Brown's final term.) Whereas Sharon Davis waged a tireless public war against the forces that would unseat her husband Gray Davis in 2003's historic recall election, Anne prefers candid conversations with Jerry and their confederates behind the scenes. Whereas Jerry's mother, Bernice Brown, who was first lady to Gov. Pat Brown, once was credited with the tongue-in-cheek admission that "she never would have chosen a political career for her husband if the choice had been hers to make," Anne quietly shepherds the governor's ambitions toward concrete political reality.
"I don't want to sound like a doormat or something," she says, again invoking her primary role as unpaid special counsel to the governor. "He and I discuss [policies], and whatever he decides will be a worthy goal, in my opinion, because he's a pretty smart guy. I just want to help as best I can on that. I don't find [distractions] particularly helpful because these goals and things we're trying to accomplish are labor-intensive and involve a lot. I think the best use of my time is helping him with this, not coming up with my own separate goals."
This arrangement isn't quite a historical anomaly in either national or state politics. It echoes Franklin and Eleanor, or Bill and Hillary: A public, purpose-minded partnership rooted in ideas and pragmatism. Jerry and Anne's marriage is not merely nominal or convenient, a campaign-friendly PR ruse or a stratagem for tag-teaming tough issues or opponents. It's practically a 24/7/365 intellectual summit about the future of California.
"Jerry is constantly thinking and analyzing, and much of this is done out loud at work and at home," says Steve Glazer, the longtime Brown associate. "Given that Anne is around him so much, she has to absorb copious amounts of information, understand the people involved, and political circumstances. It is such a difficult role, but she has the capacity to make sense of it, support him and thrive."
But part of the Browns' purpose-mindedness, according to those close to them, is love. They plan date nights together; they often exercise together. (They used to jog together before Jerry's back flared up a year-and-a-half ago; now they lift weights three or four times per week.) They occasionally hike and camp on his family's 2,700-acre property outside Williams in Colusa County. When they can—when the dizzying logistics of their CHP escort don't deter them—they walk to work at the Capitol together. By all accounts, Anne and Jerry are genuinely, hopelessly smitten with each other.
"I cannot name another couple who I really, truly believe are soul mates," says Lauri Shanahan, Anne's successor at Gap and the current vice president of the California State Personnel Board, to which Brown appointed Shanahan in 2012. "I don't usually believe in that kind of thing, but they are. They are just completely meant to be together."
*******
Some of Anne's earliest memories in life are also her earliest memories in politics. They are based in 1962, when she was a 4-year-old whose father, Rockwell "Rocky" Gust Jr., was campaigning for lieutenant governor of Michigan. (Anne herself is named after her mother Anne Baldwin Gust; she once even added a "Jr." to her own name after mailings from credit card companies confused the two.) Anne recalls spending considerable time on the campaign trail with her parents ("Maybe my mother couldn't find a babysitter or something," she quips today), and at one stop, her family found young Anne joyously stomping around in a flower bed amid either roses or daffodils. She can't be sure which, nor can she confirm the version of this story that places Anne's rampage at the residence of George Romney, the Republican candidate for governor. She only knows her father pledged to keep a closer eye on her.
Not long afterward, though, young Anne went missing at another campaign event. Her parents undertook a feverish search of the venue when a voice surged over the crowd. It was the event's bandleader announcing that a little girl had come to the stage to request the folk tune "The Yellow Rose of Texas."
"That was one of my dad's favorite songs," Anne fondly recalls. "I had found my way up there and was asking them to do that, and my dad just thought that was adorable."
Rocky Gust lost that race, but Anne recognizes the nature of her political life that grew out of his legacy as an idea man—a probing and good-humored father who convened his wife and Anne and her four siblings (and, later, Anne's two young cousins who moved in after their own parents died) every night without fail around their dinner table in Bloomfield Hills, Mich. "My dad was always talking about what was on his mind, or politics and that sort of thing," Anne says. "I think that does sort of impact you, because you grow up discussing those things."
Anne shared valedictorian honors at her high school in 1976—the year of Jerry Brown's first try at the presidency—before traveling west to study political science at Stanford University. There, her fiercely smart, upbeat sensibilities made her a star among her peers.
"I think people would be surprised that she was getting A's—like all A's—because she was always the first one ready to go and have a fun time, too," says Anne's college roommate and close friend Carol Bounds. She recalls phoning Anne in the middle of the night in Michigan during summer break in 1977, inviting her on a trip around South America that Carol had just won on Hollywood Squares. Anne accepted without hesitation. The girls took a quarter off for their travels, caught up on classes, and graduated on schedule in 1980. That same year—more than a decade before Anne joined Gap—the roommates modeled the clothing retailer's colorful sweatsuits in an impromptu photo shoot for the magazine Women's Sports. Anne later served as maid of honor in Carol's wedding, and Carol was one of more than 500 guests who attended Anne's wedding to Jerry in Oakland in 2005. (Anne didn't gather a traditional bridal party of her own.)
"I totally see Anne as a powerful person and a powerful leader," Bounds says, recalling a favorite newspaper image of Anne sharing a hearty laugh with President Obama. "She's just so darn smart and knows what's she's talking about, [and] she can hold her own with just about anybody. I think when I was in my teens and early 20s, I just knew she'd be successful."
Originally a registered Republican (she later became a Democrat), Anne volunteered on the 1980 White House campaign of John Anderson, a GOP congressman-turned-independent presidential candidate from Illinois. It was low-level work at most (Anne recalls having predominantly "stuffed envelopes"), but she found the engagement with the campaign both exciting and compelling. Nevertheless, Anne withdrew from politics for the rest of the decade, returning to her home state for law school at the University of Michigan, then moving back to Northern California to serve as a litigator at a San Francisco law firm.
She recounts her and Jerry's gradual courtship in the early 1990s in San Francisco, where they lived just blocks from each other—Anne in a Pacific Heights flat she shared with another female lawyer, Jerry in his converted firehouse on Washington Street. Anne recalls attempting to set him up with a girlfriend; "That didn't quite take," she deadpans. Jerry, who had known about Anne as well through mutual friends, says he remembers seeing Anne exercising in their neighborhood. "Well, she was jogging, so she was quite…" The governor trails off suggestively. "What shall we say? She had just come back from jogging." Finally he called her, and they went out to dinner.
"I think people would be surprised that she was getting A's—like all A's—because she was always the first one ready to go and have a fun time, too," says Carol Bounds, Anne's roommate at Stanford. "She's just so darn smart and knows what's she's talking about, [and] she can hold her own with just about anybody."
Their dating kindled after Anne's work on the lawsuit against Jerry and the California Democratic Party. (She represented the notoriously thrifty politician pro bono.) Anne met and immediately liked his friends, including grizzled political hands like Tom Quinn, whom Jerry left unexpectedly on his own at his firehouse residence one night after Anne made them dinner at her apartment. "He left and went back to Anne's!" Quinn remembers, laughing. "He said he'd return in the morning."
While Brown flirted with and eventually commenced another run for president in 1992, Anne shot into the upper corporate echelons at Gap. Within a year of signing on as assistant general counsel in 1991, she earned the role of general counsel. By the end of the '90s, Anne had embedded herself thoroughly in the company's DNA as an executive handling matters from human resources to real estate to corporate compliance. It was in this latter role that Anne confronted revelations of sweatshop conditions at factories that produced clothing for Gap and its sister brands Old Navy and Banana Republic.
"That was a political sort of event at the Gap," she recalls, noting the labor union attacks, protests and backlash that accompanied the revelations. From her office in San Francisco, Anne and her team established the company's firm new labor standards for 3,000 factories around the world. What came next foreshadowed her later high-stakes campaign gambles with Jerry Brown: In May 2004, Gap released a 42-page "social responsibility report" that documented factory offenses, including health violations, psychological coercion and, in rare cases, child labor. Anne officially singles out the resolution detailed in the report—a coordinated compliance effort from China to India to Central America and beyond—as the hallmark of her Gap tenure.
"We didn't own any factories anywhere," she says. "We just contracted out, and in many instances, we were just a small part of any individual factory, so it was very hard to get them to go along with what they saw as a burdensome program." (The retailer discontinued working with 136 factories and declined bids from dozens more in the year leading up to the report.)
To the extent the report was a crucial overhaul of corporate policy, it was also a defiant retaking and reshaping of Gap's sweatshop story from the wilting, warping media glare. The transparency of the report was without precedent, sending shock waves through boardrooms everywhere.
"I remember getting a call from another general counsel from a very well-known, huge retailer," says Lauri Shanahan, Anne's close friend and deputy in their years at Gap. "He said, 'I can't believe you let them do this—that you let them put in all of this [and showed] them everything [you] had done wrong.' I didn't let them. I told them that they had to. And that was really Anne: If you're going to talk about it, you've got to be open and honest and comprehensive. It completely deflated our adversaries, because we put it all out there."
By then, the same Anne Gust who early on had eluded the spotlight with Jerry Brown was cohabitating with him in their loft in downtown Oakland, where Jerry was well into his second term as mayor. He proposed to her on her birthday in 2005; they were married a few months later in a ceremony officiated by Brown's close friend, Sen. Dianne Feinstein. A month before the wedding, Anne left Gap to help plot her soon-to-be husband's return to Sacramento as the state's attorney general. He hadn't even been elected in 2006 when Anne had to confront a different kind of speculation from observers of the campaign.
"People said, 'Oh, he doesn't care about being attorney general—he's just using this as a stepping stone to run for governor,' " she recalls. "I thought that was the craziest thing I'd ever heard." Even in the middle of Jerry's term as attorney general, witnessing his frustration as little more than a lawyer under Arnold Schwarzenegger (particularly with California's fiscal condition deteriorating around them), Anne insists she didn't foresee him running for the top office in 2010.
"It took me a while to come around to it and understand that he really wanted to do it," she says, admitting to a little reluctance at the idea of facing down Meg Whitman and her nine-figure war chest of campaign funds in 2010. (Anne, the fundraising linchpin, has said the Brown campaign topped out that year around $40 million.) Did the idea of being first lady—and navigating every added layer of visibility and tradition that the role confers—worry her?
"No, I didn't think about that at all," she says. "I probably should have, because it's definitely a lot different."
*******
Anne's office door interrupts a wall lined with printed portraits of California governors. (Brown's own portrait, painted by Don Bachardy, remains the Capitol's famous, lone diversion into gubernatorial modern art.) Across the corridor, 23 portraits of governors' wives hang beneath a gold-lettered dedication that reads, "California's Remarkable First Ladies… They Served Too." There are gaps in this record. This is partly due to the unavailability of portraits of early first ladies like Harriet Burnett (the wife of first California governor Peter Burnett). In two cases, though, the gaps are attributable to bachelor governors: Newton Booth, who led the state from 1871 to 1875, and Jerry Brown, who won the job—for the first time, anyway—a century later.
In lieu of a portrait wedged between the matronly headshots of Nancy Reagan and Gloria Deukmejian, Jerry's original run as governor is embroidered with rich, bright threads of mythology about his romances (most notably with superstar singer Linda Ronstadt). He acknowledges but doesn't dwell on the focus that someone like Anne would have given to his restless leadership of the 1970s and '80s. "She's just an extraordinary mind and would've brought a different perspective that would have been very helpful," the governor says. "Of course, it's hard to read back from a later period—it's kind of counterfactual. But if you want to imagine that, I would have no hesitation saying yes, I probably would have made some better decisions."
Indeed, Jerry can seem unsettled in relation to Anne, who contrasts her husband's style to her own painstaking, almost propulsive sense of order and organization.
"Jerry's more free-flowing," she says, betraying curiosity and the occasional surprise about the success of the Brown partnership in 2015. "I worried before we embarked on this endeavor [about] how it would work, and it really just works very well. Sometimes we'll disagree. But most of the time, we'll tend to agree on things, and we'll tend to have very heated conversations. But we get along really well, even when we disagree."
These days around the office, with the election behind them, Anne and Jerry Brown will impose that dynamic on new business that looks a lot like their old business. According to both, the administration's biggest challenges in the years to come are issues that she says most people find "boring"—keeping the budget on track, for example, particularly with the advancing age of infrastructure across the state and, according to data from the state controller's office, at least $198 billion in unfunded pension liability to state workers in the years to come.
"We just get out of it, and then we go right back into the soup," she says. "There are certain investments for the future that we do have to make—in our infrastructure, and otherwise. How do you balance that and manage through that process so we can sustain a healthy budget and not this boom and bust that we've faced?"
Listening to Anne speak—her relaxed but disciplined messaging, her humor, her warmth, her optimism, not just a little circumspection—it's easy to hear the candidate in her voice. Perhaps it's the rhetorical hangover of the recent election; perhaps it's a quarter-century of being around Jerry Brown. But after a while, you can envision Anne running for office herself, her influence and interests maneuvering her inexorably toward center stage in 2018 or another post-Brown election year. For her part, Anne says that while people have talked to her about running, she's not interested (especially in "dysfunctional" Washington, where Feinstein will be 85 when her Senate seat comes up for reelection in 2018). "If Jerry gets done here and he doesn't run for something else—which I don't think he would, but who knows?—I want to spend time with him," Anne says. (For his part, Governor Brown replies with bemusement when asked about the prospect of an Anne Brown candidacy. "It would surprise me if she wanted to run," he says. "If she wanted to, I'd certainly help her.")
Meanwhile, Anne has her desk in Room 1007, with the nameplate and the business card holder. Her portrait will one day hang among the wall of Remarkable First Ladies… They Served Too, despite her ambivalence about that distinction. She has Jerry, from the Capitol to Oakland and back again for four more years. She has Sutter, their famous corgi, to help her reinforce the strange and cherished anonymity that somehow encircles Anne Brown on the streets of Sacramento, even as arguably the most powerful woman in California.
"People will come up [and ask], 'Is that Sutter? Oh my goodness!' " Anne says, smiling as she describes an encounter with admirers who recently stopped her to ask for a picture with the First Dog. "Not once did they even ask who I was, let alone, 'Could I get a picture with you?' "
Anne shrugs. Her smile widens. "People kind of chuckle about it," she says, "but I'm quite happy with that."