Legendary radio station KZAP gets close-up in new documentary, free event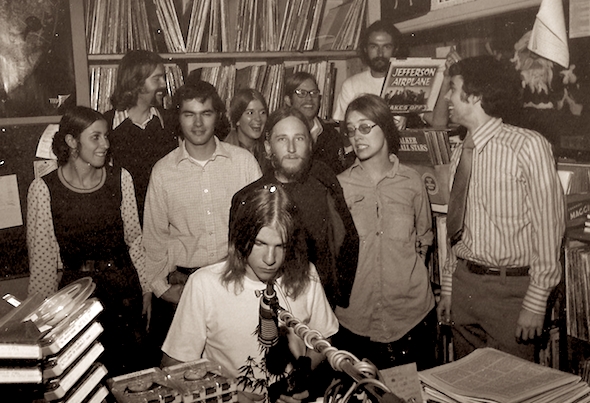 So much for quiet at the library: A preview of a forthcoming documentary about the wild, decibel-drenched dawn of FM radio will accompany a panel discussion about Sacramento's influential station KZAP on May 26 at downtown's Central Library.
"KZAP: Underground Radio Comes to the Valley" will explore the ascent of the station after its debut on Nov. 8, 1968, amid the gathering storm of "free-form" FM radio formats that counterbalanced—and eventually absorbed—the mainstream music programming of AM radio at the end of the '60s. A new clip from Free-Form, Baby!, filmmaker Mark Herzig's documentary in the works about this era, will screen along with a chat between KZAP veterans Jeff Hughson, Ed Fitzgerald and Dennis Newhall.
The event wraps the library's month-long history program Capital Decades: The 1960s, which has hosted looks back at the turbulent decade as it transpired in Sacramento.
Herzig says that he and his old friend Hughson both had an idea for a documentary about the heyday of KZAP, a project they commenced in 2012. After a flood of interviews in the early going, however (including 15 in one day, Herzig says), the scope of the story quickly expanded beyond the legendary station formerly at 98.5 on the FM dial.
"It became about the whole phenomenon of free-form or underground radio," Herzig explains. "It became a much, much richer and thicker broth. The message really is, 'This is not just about KZAP.' This is not just, you know, a bunch of old timers longing for the good old days. It's become a potent document about what I have come to see as the late 1960s/early 1970s equivalent of the invention of the Internet. It brought rare and widely ignored music to an entire new audience, and really fueled the social—and I would say the political—movements of the late '60s and early '70s."
The guiding concept behind free-form radio of the time, from KZAP to the pioneering KMPX in San Francisco, was simple enough: The on-air announcers played whatever they wanted to play, chose their own advertisers (and went to commercial breaks whenever they liked), and said whatever they wanted to about the music. The DJ's often defined their styles by mashing genres and generations, crafting an aural lineage of songs and artists between their own singular verbal riffs.
"[The announcers] would delve into the antecedents and the history by playing—not by droning on about this, this and this," Herzig says. "They'd play a Jimi Hendrix record, and then they'd play a Robert Johnson record. They would connect the two, and people would begin to understand this was a deeper and broader cultural sphere that they had stumbled onto."
The influence of free-form FM radio can still be heard today as nearby as 90.3 KDVS, the UC Davis-based college-radio station that celebrated KZAP's anniversary in 2012 by turning its airwaves over to more than a dozen KZAP alums including Fitzgerald and Newhall. Along with Hughson, those two figure among the nearly 200 subjects Herzig says he has interviewed for Free-Form, Baby!, from musicians shaped by early FM radio (Sammy Hagar, Elvin Bishop, Al Cooper) to other cultural figures with FM radio tales of their own (actor/author Harry Shearer, Tower Records founder Russ Solomon, and actor Howard Hesseman, who played the irreverent DJ Johnny Fever on the hit TV sitcom WKRP in Cincinnati).
Herzig targets a fall 2015 completion date for Free-Form, Baby!, followed by a release date to be determined. For now, a new, KZAP-focused clip from the film will tease the finished product—and the rocking media at its core—at the free library event on May 26.
"It mixed everything up and said, 'Here's this rich cultural stew. Eat from it, and you'll be a bigger person,' " he says. "And as people got exposed to more cultural forms—and cultural norms—they began to question their own. That's the essence of the story we're trying to tell."
Free. 6:30 p.m. Sacramento Central Library. 828 I St. 264-2700. saclibrary.org
You Might Also Like
Tower of Power: Sactown's opening night gallery of the new Tower Records documentary
K Street's new Coin-Op Game Room will host grand opening May 28
First phase of 2015 TBD Fest lineup announced