LeVar Burton Q&A
We catch up with the Sacramento-raised actor as he celebrates the relaunch of Reading Rainbow, two professional milestones (big anniversaries of both Roots and Star Trek) and one personal pinch-me moment (hello, Oprah!).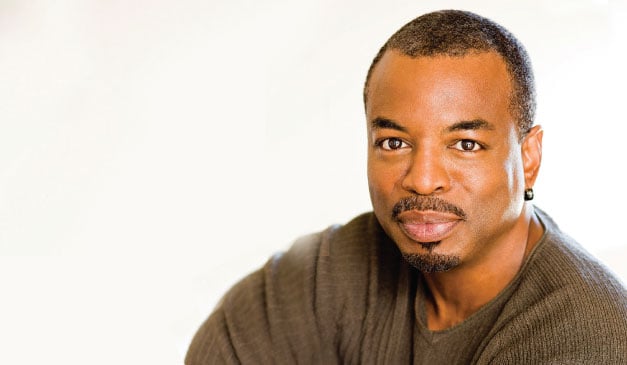 LeVar Burton has been a major figure in pop culture over the past 35 years, as part glitterati (having starred in the likes of Roots and Star Trek), literati (as former host and executive producer of the long-running PBS cult classic Reading Rainbow) and Twitterati (with more than 1.7 million followers and counting). We catch up with the Sacramento-raised actor as he celebrates the relaunch of Reading Rainbow, two major professional milestones and one personal pinch-me moment (hello, Oprah!).
How's your day been so far?
It's been an extraordinary day. About two hours ago, I was interviewed by Oprah, which is a dream come true for me. We sat and talked for about an hour and a half, and I'm still processing it. I feel like I'm in an altered state of consciousness.
It's really interesting. I get it now. Every day of my life, people come up to me and they say, "I grew up on Reading Rainbow," or they saw Roots or they're a big Star Trek fan, and they really have a sense of familiarity with me and feel like they know me. The medium of television gives you that sense of immediacy and intimacy. I've always understood that, but now I understand it from a whole other point of view. I'm a fan of Oprah. I'm a huge fan of not only what she does, but how she does it, the authenticity that she brings to what she does. And so to sit down and talk to her as if we're old friends out in her backyard [in Montecito] was so cool. I was really excited.
What was the occasion?
To celebrate the 35th anniversary of Roots [the landmark 1977 miniseries about slavery that starred Burton, Ben Vereen and Louis Gossett, Jr., based on Alex Haley's novel of the same name]. It was for a new show [Oprah and the Legendary Cast of Roots 35 Years Later, which first aired on Jan. 16] on her network.
Incredibly, Kunta Kinte was your first professional role. Did you have any inkling that Roots would become such a cultural phenomenon?
Did not know. Nobody knew. And I was 19. How much perspective do you have of the world when you're that young? But I certainly understand and appreciate what I'm a part of at this point in my life. It ended up being what I believe to be a part of the continuum of experiences. You can trace the energy from the end of the Civil War and the reconstruction of the South and the migration of black people from the South to the North, and then the West. And then you come to the civil rights movement in the '50s and '60s and Martin Luther King. And then there's Roots in the '70s and all the way up to Barack Obama being elected president. It's a continuum of energy. So Roots was a really critical moment in the history of America. Alex's novel is titled Roots: The Saga of an American Family. So Roots, even though it's about Alex's genetic family and his ancestors, is about the American family and our shared history. And what Oprah and I were able to talk about was that without Roots, there probably wouldn't be an Oprah Winfrey or a Barack Obama. It was able to bring a new dimension to the issue [of race]—Roots put a face on it.
This year, you're also celebrating a milestone anniversary of another cultural phenomenon. It's been 25 years since the debut of Star Trek: The Next Generation, in which you played Lt. Commander Geordi La Forge. I've gotta ask: What was it like to wear that VISOR day in and day out?
It was painful. It gave me headaches. And I couldn't see through it!
Are you doing anything special in conjunction with these anniversaries? Anything cool coming up?
Being here today [with Oprah] in Montecito is certainly part of that. One thing I'm looking forward to is going to conventions with the rest of the Star Trek cast throughout the course of the year. And we're celebrating Reading Rainbow this year by relaunching it.
That's right. You're about to launch a Reading Rainbow app for the iPad. Can you tell us about that?
It's impossible to talk about the Reading Rainbow [app] without talking about the original Reading Rainbow. It was a television show that started in the '80s, which used the medium of television—the technology of the day—to connect kids at that very important juncture in their lives when they're making the decision as to whether or not they're going to be a reader. It used television to really cement that relationship between the child and the world of literature. Kids today are digital natives. Television is only a small part of how they entertain themselves and consume content. So what we're doing is delivering to kids a universe that is populated by hundreds of picture books and an engine for exploration wrapped around elements that would be familiar to anyone who ever saw an episode of Reading Rainbow. One of the things that made me want to bring it back was that there were so many people who were part of the first generation of Reading Rainbow watchers, saying, "There's nothing like that for my kids. I miss it."
What's your role in Reading Rainbow 2.0?
My title is curator-in-chief. So I have my eyes and hands on every book that's in our service. I'm reading and reviewing, and listening to voice-over narration—about 15 percent of the titles at launch are read by me—and looking over artistic choices that have been made by our book producers in terms of what pages to animate and what the interactions are. You know, all of it.
What's out there [currently] in terms of reading apps are bookshelves. There's no curation. This is not a bookshelf; this is an experience. You are in a hot air balloon and being transported to all these different places where you have available to you hundreds of books grouped by category—we'll have an island that is themed "Animals," and islands like "Genius Academy," "Amazing Adventures" and "Magical Tales." And the longer you spend in the [app], the more we'll learn about what you like and what you might like.
If you were a fan of the show growing up, my goal is to remind you of what you loved in your childhood. And if you're an 8-year-old now, I want to introduce you to a way to connect with literature that you're going to love.
As curator-in-chief, do you have any favorite children's books?
Enemy Pie stands out as one of my favorites. Amazing Grace. And when my daughter Michaela was growing up, [my wife and I] would read Goodnight Moon to her almost every night. The brilliance of Goodnight Moon is that in service of a bedtime story, at the time you're trying to calm the child down, it brings order to what can be a chaotic universe: "Goodnight, moon. Goodnight, chairs." You know what I'm saying? That sense of, "This is your world. It was here last night, it's here tonight, and it's going to be here tomorrow."
Speaking of apps and new technology, you're huge on Twitter. What do you like about it?
It's just really immediate. It gives me an opportunity [to connect] without managers, publicists, studios and networks. Nobody is in the middle, asking me what I want, when I want. And people have the right to listen or not. I like that a lot.
You live in LA now, but Sacramento comes up regularly in your tweets.
It's my hometown, my home base. It's where I grew up. I was born in Landstuhl, Germany in '57, came to Sacramento in '59—we lived in Glen Elder—then went back to [Germany] in '64, then [returned to Sacramento] in '66. [Burton's father was a photographer in the Army.] My parents split up during that second tour of duty when I was in the third or fourth grade. So my mom, my sisters and I settled in West Sacramento, in Broderick. Then we moved to South Sacramento when I was in the sixth grade—St. Anne's Elementary.
What do you remember about growing up here?
I remember the trees, the rivers, the fog, the railroad tracks. The heat in the summers. Sting-Ray bicycles and riding to the levy. I remember inner tubes and jumping in the water.
Did you read a lot as a kid?
Books and literature always played a huge role in my life. My mother was an English teacher, so I grew up in a household where reading was emphasized. You know what was really big in the summer when I was growing up in South Sac? The bookmobile. It was great because it came right on our street, which was like, "Are you kidding me?"
Then when you were 13, you entered a St. Pius X seminary in Galt. What made you want to become a priest?
Oh, that's a long story. We'll have to save that for next time. But once I decided not to become a priest, it was a matter of finding something [else] that I could do with my life. We had a great theater tradition at St. Pius, and I became really passionate about acting. I got bitten by the bug. We did Murder in the Cathedral, Mister Roberts, The Odd Couple. It was an all-boys school, mind you. We tried to do shows that did not require women.
After high school, you left town to attend college at USC. How often do you come back to visit Sacramento nowadays?
Whenever possible. My mom and younger sister live out in the Natomas area.
What do you like to do when you're here?
See friends and family, and discover what's still here that was here when I was growing up. Just the other morning, when I was driving by the Coca-Cola bottling plant on Stockton Boulevard over by the UC Davis Medical Center, I realized that whenever we drove by that building [growing up], it made me happy as a kid. There's just something about Coca-Cola all lit up in red lights that always made me feel good. And when I drove by it the other day, it brought that feeling back. It felt like my childhood. It felt like home.