Lights, Camera … Action
Led by three members of its team—Latrice Montez Madkins, Danielle Moné Truitt and Jerry Montoya—B Street Theatre reimagines itself with the launch of a new online social justice series that aims to amplify the voices of BIPOC artists.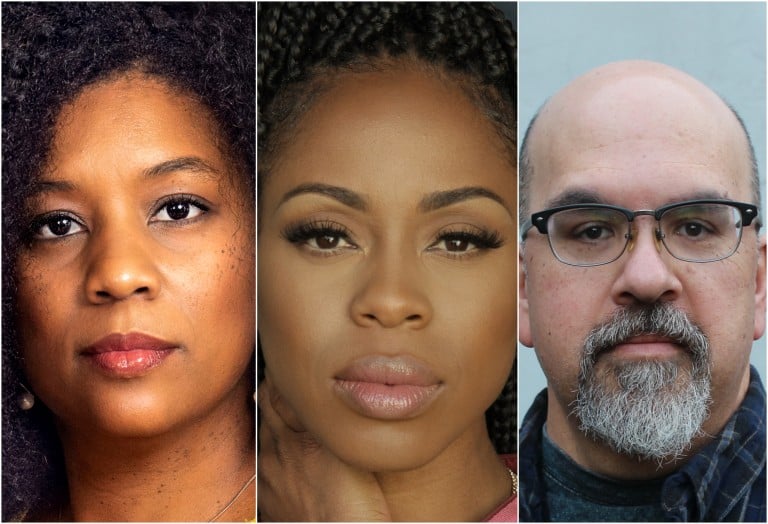 At first, the computer screen looked like any other Zoom meeting waiting to start—the hosts monitored attendees as they logged in and people in little boxes watched other people in little boxes texting on their phones. But as soon as Mary J. Blige's "Everything" came on in the background, the gathering revealed itself to be anything but ordinary. The song was a favorite of Breonna Taylor, the 26-year-old Black woman who was fatally shot in her Louisville, Kentucky, apartment on March 13 during a botched police raid, and it marked the prelude to a July 28 presentation of B Street Theatre's Re-Imagine, a new online variety series focused on social justice. The two-hour show—featuring Black female storytellers from all over the country like Florida motivational speaker Tabitha Christopher and Hollywood writer Savannah Ward—was dedicated to Taylor's memory and the fight to hold her killers to account.
Produced by Latrice Montez Madkins and Jerry Montoya with B Street company member Danielle Moné Truitt as its artistic curator, the nascent series—which launched in mid-July—already feels confident and assured. "We discussed what this would look like, making sure that it was for the Black artist, to give them a platform, a space for their voices," says Madkins, the troupe's freshly minted director of equity, diversity and community inclusion. The inaugural installment—which streamed live on July 14—featured a play called This Is How It Happened by local Black playwright Anthony D'Juan and was watched by nearly 180 households on Zoom and has received over 1,000 views on Facebook. Re-Imagine's September lineup includes a performance titled Black Girl Magic of Broadway (Sept. 15) and a music and poetry night (Sept. 22).
As sea changes go, the currents rocking the arts world this year are more than just temporary tempests. COVID-19 has put in-person audiences in limbo. The racial reckoning that surged after the death of George Floyd under the knee of a white Minneapolis police officer informs another charged issue: "What does social equity in the performing arts look like?"
B Street Theatre has taken the unusually bold step of converting its longtime mission to be a "theater for everyone" into substantive action. In a remarkably frank public statement made on June 1, the company threw down a gauntlet. "It feels like it is no longer enough to say that we are welcoming. That we seek diversity. It is no longer enough to sit passive and feel comforted in the knowledge that we are progressive."
A little over a week later, co-founder and producing artistic director Buck Busfield posted a poignant and heartfelt message on an internal B Street message board that was then shared on social media. "I have failed to do my utmost to ensure B Street Theatre accurately reflects the beautiful and diverse community that is Sacramento," he wrote. "B Street Theatre will remain focused on supporting systemic transformation through comprehensive diversity, equity and inclusion initiatives."
Enter Madkins, stage right. Though she newly joins the group's executive leadership, the former Sacramento County Citizen of the Year is not new to B Street, having served for the last five years as administrator of its long-running children's program Fantasy Theatre (now known as the School Tour). She was also informally serving as the company's ambassador to the Black community, inviting groups like the Black sorority Alpha Kappa Alpha and The Links, Incorporated, a Black public service organization, to host events at The Sofia Tsakopoulos Center for the Arts (aka The Sofia), B Street's home venue.
The modern-day crusade for diversity in the performing arts can be traced to the Black Arts Movement of the 1960s and '70s when Black theater makers began taking responsibility for producing content that was for, and about, their community. The Pulitzer Prize-winning playwright August Wilson redefined the turf and the battle with his sobering 1996 speech "The Ground on Which I Stand." In it, he boldly declared, "We reject any attempt to blot us out, to reinvent history and ignore our presence or to maim our spiritual product," but also offered a truce: "We can meet on the common ground of the American theatre."
Then in July 2020, a consortium of BIPOC (Black, Indigenous, People of Color) theater makers shared a blistering open letter titled, "We See You, White American Theater," which was signed "The Ground We Stand On." Part of the group's statement read, "As the calls for long-overdue change sweep every aspect of our society, we as Black, Indigenous, and People of Color theatre workers are meeting the moment, developing a new social contract for our work environments that cares for and sustains our artistry and lives."
The manifesto was followed by a 29-page set of demands, including, "Ensure that at least 50% of your theatres will be reserved for BIPOC stories, defined as stories written by, for and about BIPOC," "Develop affordable ticket price initiatives including reduced price ticketing" and "Stylists in the makeup department must exhibit proficiency in makeup techniques and applications specific to BIPOC skin tones."
Jerry Montoya, a 20-year B Street veteran, has been working with the Production Management Forum—which includes over 450 theaters, from regional stages to Broadway houses—to also help develop new guidelines and expectations for theater owners from people of color who work offstage in theater. "If you look around Sacramento or anywhere, it's diverse, but inclusion is a tactic," says Montoya. In other words, people are past optics and are now looking for substance.
Danielle Moné Truitt, a Sacramento native who studied theater and dance at CSUS before moving to Los Angeles, sees B Street's reawakening as an opportunity to contribute to her agenda as a performer and producer. She immediately reached out about getting involved.
"I have always been very vocal about my love for my people and our art. I just felt like it wouldn't be right if I wasn't part of it," says Truitt, who was cast as the title character in John Singleton's 2017 action drama series Rebel and recently starred in the Fox series Deputy with Stephen Dorff.
The actress' extensive industry contacts and professional relationships have been key for the Re-Imagine series. She wants to bring in the best artists she can find and present their work on the B Street platforms. "Part of my mission is to humanize the African-American experience," she says, "because the only way that you can put your knee on someone's neck is if you don't really believe they're human."
It's unclear what shape Re-Imagine will take moving forward—in the near future, there could be cooking demonstrations and discussion groups, and in the long run it may morph into a dedicated play or spoken word series—but the three architects agree that it must contribute to change in America. "Essentially, we all need to reimagine a better life for ourselves and for generations to come," says Truitt.