Local artist sculpts spoof on Jerry Brown's bullet train ambitions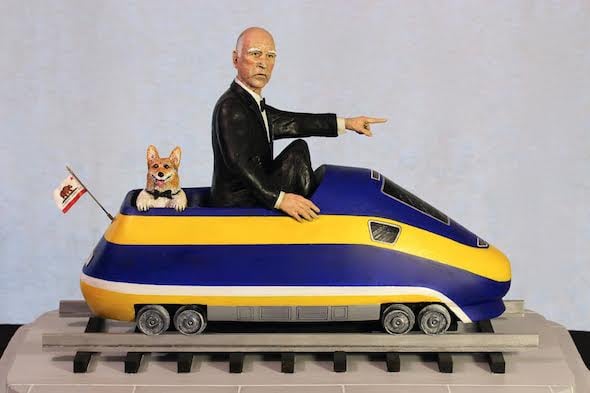 With Jerry Brown starting his historic fourth term as governor on Monday and officially breaking ground today on California's controversial high-speed rail project, inspiration is once again in the air for longtime Brown sculptor Laura Harling.
The El Dorado Hills-based artist's newest piece, High Speed Jerry, continues her streak of whimsical sculptures of California's most indefatigable politician. This piece features the governor squeezed into a toy-sized replica of a high-speed rail car, pointing ahead as his cheerful corgi Sutter perches behind him. Brown and the dog both wear bow ties, a design element that Harling says is a tongue-in-cheek commentary about her view on class disparities represented by the $68-billion rail project. "When people look at my piece I want them to be amused, and I want people to have fun," says Harling, who also included a small sign designating the train as the "Martini Express"—a reference to Brown's joke last year about the train getting "old people" off the road and on to a bullet train, working on an iPad and sipping a martini. "My pieces are kind of social satire, so I want people to think about [the issue], but I want people to enjoy it too."
Just under 12 inches tall and 18 inches long, High Speed Jerry is the result of months of work by Harling to design and sculpt the piece. It combines artist renderings of the
blue-and-yellow train as well as memories of her own experiences riding high-speed trains in Europe.
The artist says she was first inspired to portray Brown while working as a janitor for the state in the '80s, when she was assigned to clean his spartan bachelor pad. (A sculpture she created portraying Brown in the lotus position was once featured in Harper's Magazine, and Sactown previously showcased Harling's 2011 sculpture of Brown tangoing with Gavin Newsom.) Harling eventually began humorously depicting other California politicians, including former Governors Arnold Schwarzenegger and Pete Wilson and Assembly Speaker Willie Brown.
Other details like a miniature California flag and a bumper sticker with the words "Bakersfield or bust" round out the sculpture's playful tone.
The artist plans to debut the sculpture in public this summer at the California State Fair this summer. To view the sculpture and more of Harling's work, visit her website at lauraharling.com.
Related Links
Crest Theatre brings Big Lebowski, The Shining and other classics to the big screen
11 nifty New Year's resolutions to try around Sacramento
A pair of hip, new downtown stores to feature vintage vinyl, design and more