Local artists activate new midtown apartment building with performances, murals and a gallery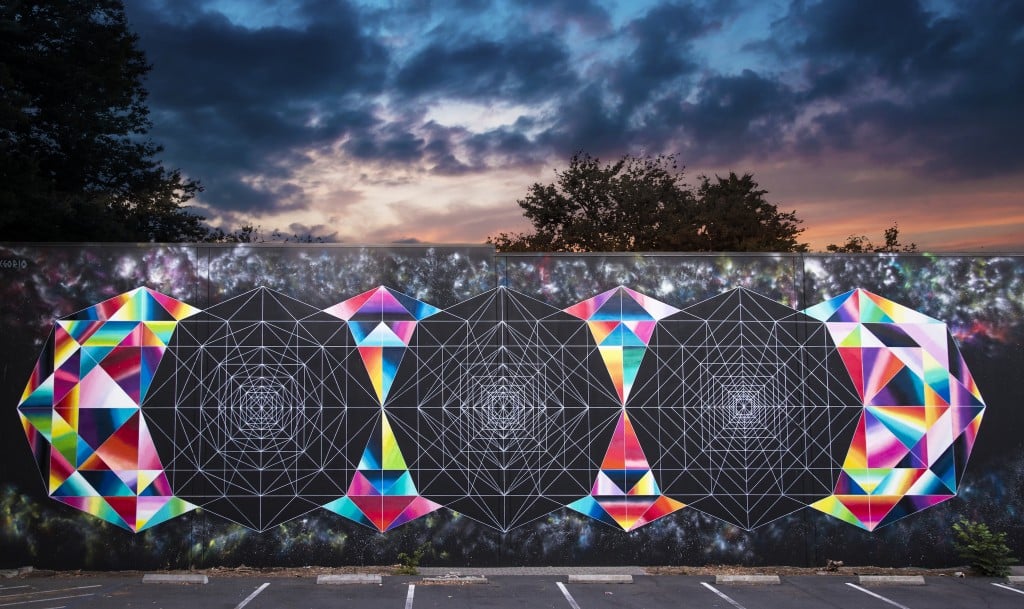 UPDATE: Art Rise has been postponed until further notice due to recommendations by the California Department of Public Health in relation to coronavirus. The event will be rescheduled to a future date. Check sactownmag.com for updates.
*********
In the spirit of Art Hotel and ArtStreet, both forgotten buildings temporarily turned into grand-scale art venues with awe-inspiring installations, there's now Art Rise—an art apartment block that's bucking the tear-down trend and rising up instead in midtown. A grand-opening event at the new H16 building will highlight the work of local artists in a series of original performances, and also on the walls of the new first-floor Groundswell art gallery space.
The ticketed show takes place from March 19-22, and will activate all five floors plus the rooftop at H16, named for its location at H and 16th streets. Guides will lead groups of 25 visitors up through the building to watch the acts, some of which take place inside a few of the 95 studio and one- and two-bedroom units.
Fair warning: audience members may become unwitting participants in these intimate productions. Just try not to get wrangled by B Street Theatre troupe members Dave Pierini and Stephanie Altholz during their Chicago-style, narrative-based improv set in a second-floor two-bedroom. And spoken word artist Natachi Mez won't let you forget you're in the living room of a fifth-floor furnished unit, where she'll verbalize a work exploring the idea of "home."
"My piece deals with the concept of letting people in," says Mez, "and what happens when there isn't a separation between home and work." (A must-see for the freelancing population.)
Art Rise creator Anastasia Bonaccorso—a former member of the B Street Theatre company, joining in 2016 after earning her MFA in acting from UCLA—likens the experience to a low-key version of immersive theater not unlike the Drama Desk Award-winning Sleep No More at New York's McKittrick Hotel. "That's a really crazy immersive show," she says. "Natachi's show will be more like that."
Rounding out the performances are musician Barry Crider (guitarist for Sacramento post-punk band Creux Lies), classically trained soprano Erica Wilens and dancers from Sac Dance Lab. An experiential installation by Melissa Uroff will take over a fourth-floor apartment. Patrons will also see three permanent murals: A dynamic piece by Jake Castro will pump up gym rats in the fitness center, while Jolene Russell's abstract homage to midtown will watch over the mailboxes. And John Tessler, who is known for realistic murals (like this underwater scene at Pier 39's Aquarium of the Bay), is adding his signature style to the ground-floor bike room.
The event also signifies the launch of the new Groundswell gallery space. Co-owners John Johnson and Micah Crandall-Bear originally opened Groundswell in 2018 near 25th and J, and will now occupy a first-floor retail space at H16. Rotating works by local artists will hang on the walls of the gallery and the building, including the lobby, ground-floor corridor and residential hallways. Johnson says the opening lineup features prints of work by about a dozen artists, including geometric paintings by Crandall-Bear, distorted digital portraits by John Horton and trippy multihued prisms by Jose Di Gregorio.
Bonaccorso says that with the uptick in art-focused building takeovers like Art Hotel and ArtStreet, and high-profile festivals like Wide Open Walls, property owners should be looking for more ways to collaborate with the local arts community.
"Ultimately a building is just a building if it doesn't have humans in it. We have to create spaces and opportunities for people to eat, drink, see comedy, to see art," she says. "So how do we create a partnership, how can we help each other? I think Sacramento is the perfect Petri dish for that type of exploration."
$50 (all ticket proceeds go to artists). March 19-22. 6-9 p.m. H16 Apartments. 731 16th St. artrisesac.com
You Might Also Like
9 city-centric artworks to celebrate Sacramento's birthday
New hotel and residential project to rise next to Tower Bridge
In the Name of the Father