Local Motives
A new Davis eatery with a decidedly local spin opens next to the city's train depot. With its eclectic vibe and its modern take on classic fare, Our House is definitely on the right track.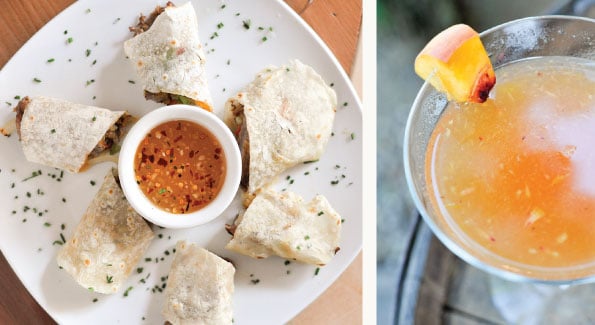 Our House
808 Second St.
Davis
530-757-1232
ourhousedavis.com
R
WWhen Jon Sanchez and Charlie Swanson teamed up to open a new restaurant, they chose a spot near the downtown Davis train depot that had become a culinary outpost for popular Sacramento restaurants like Aïoli, Paesanos and Tres Hermanas. But this Yolo-based duo wanted something different: a restaurant that was distinctly Davis. And they certainly had a hometown advantage.
Swanson is the longtime owner of The Graduate, a popular burgers-and-brew institution amongst the university crowd, and Sanchez is a veteran chef who spent more than
16 years working at restaurants like Fat City, California Fat's and Tower Café before hanging up the chef's hat for a decade-long career in Davis real estate.
Their concept was simple: open a new restaurant with an urban feel but with a homey, welcoming name, and create a sophisticated menu that was also accessible.
And when the former downtown Davis site of Aïoli Bodega Española became available last February, the men, along with their wives, Rochelle Swanson and Cary Arnold, set about the transformation. "We were thinking kind of 'modern chic in the country,' " says Sanchez. "We were picturing The Carneros Inn in Napa, or something in San Francisco."
By the time they threw open their doors in June, they had what they wanted—the sophisticated city vibe, plus a bit of rural charm and a dash of college-town pub, all tossed together in an eclectic dining room filled with pools of light and the sound of delightfully retro train whistles blowing gently in the background.
Reclaimed red-and-yellow farmhouse-style windows rest on the blue-gray walls like picture frames with no view. A single booth is strewn with pillows and cloaked in plush, maroon curtains that can close for a romantic repast. One wall is covered with textured, redwood fencing boards salvaged partly from Swanson's yard. Near the bar, there's a vintage 1955 Hiawatha bike hanging from the ceiling, as well as bicycle-themed throw pillows throughout the room, as a nod to Davis' bicycle tradition.
"We're trying to be a little different," says Sanchez. "We wanted it to be comfortable and we wanted a place that would appeal to—I hate to categorize things—you know, my age group."
Sanchez is in his 40s. Our House is getting his "age group," but it's also appealing to Davis' younger base because there's an energy to its eclecticism. And the standout cuisine is attracting diners of all ages.
Sanchez still calls it comfort food, but he's underselling himself. The food is sophisticated, at times luxurious, and always restrained. The flavors are on target, sometimes subtle, sometimes bold, but everything has a deft, delicate touch.
The tuna poke appetizer, as one example, is a dish that in many restaurants runs toward the sweet, viscous and overtly pineappley end of the flavor palate. At Our House, the poke stays focused on the tuna, with a fresh, robust earthiness from the soy-ginger dressing and tuna that comes across soft to the point of creamy.
Another example is the steak au poivre, a classic dish that Sanchez loves. With his version, though, the cognac, cream and peppercorn sauce doesn't bury the tender meat, but subtly seasons it, adding tiers of tang and snap and texture.
Or there's the barbecued salmon entrée, a dish that can show up in some places with big, sweet sauces that, frankly, belong on ribs. In the Our House version, the savory sauce is layered with soy, mint and cilantro and makes for a satisfying smokiness while still giving the salmon itself some pop.
That's so much more than just comfort food. That's serious cooking, classical with contemporary zest. It is, in short, a grown-up approach to food—don't show off, give it depth, let the ingredients do the work.
"I guess we're trying for a mature approach—not stodgy or old, just a classic cooking style," Sanchez says, his voice rising and his speech accelerating as he describes his passion for food. If he were a cartoon, there would be little glow lines coming off his head. "Most of these dishes are what I first learned how to cook, like the chicken piccata (chicken in a lemon, wine and caper sauce). That's the style I like: taking the meat from the bird, cooking it in the pan with a sauce—I love sauces—and cooking in the French style, with long, slow braising. That's always my first choice."
In an era when so many new restaurants are turning to fusion, molecular gastronomy and other modern trends, Sanchez says he believes that his classic style is almost cutting-edge by comparison. What's old is new again.
Where Our House is very au courant—and very Davis—is its devotion to fresh and local ingredients (using cheddar from Winters Cheese Co. in its mac and cheese, for example), a commitment that's enabled—and expected—in a town with a stellar, year-round farmers' market only a few blocks from the downtown core.
Sanchez and his team extend that seasonal approach to their bar, and particularly to their vibrant Market Muddles—cocktails that alternate every Wednesday and are built from whatever's fresh at the farmers' market that particular week.
That leads to some of the most unique cocktails you'll find anywhere. The range of Muddles has included strawberry mojitos, a Fuji apple and champagne grape martini, a cocktail made from pluots (a plum and apricot hybrid) and a Persian melon martini that's slightly sweet and seriously dangerous.
Our House's light, soul-warming bread has a different kind of Davis roots. Sanchez got some sourdough starter from Dave Whitmire, a former teacher and football coach at Davis Senior High School. Whitmire, in turn, got it from a foodie friend back in 1977. "He was told it was over 100 years old," marvels Sanchez.
When it comes to the exterior of Our House, however, there isn't as much to marvel at. The low, yellow, ranch-style façade resembles a small-town real estate office, and thus it's overshadowed by its more colorful culinary neighbors like Tres Hermanas and Paesanos. "You can drive right by and not know we're here," Sanchez acknowledges. "But hopefully, our little corner becomes a dining destination." And as Davis' homegrown restaurant scene blossoms, it's a pretty safe bet that this is one newcomer that won't be left at the station.