Looking for a Square Deal
Once the site of Sacramento's most ambitious building project, 301 Capitol Mall may be in play again. But will it rise to the occasion? Here's why CalPERS holds the future of our grandest boulevard in its hands.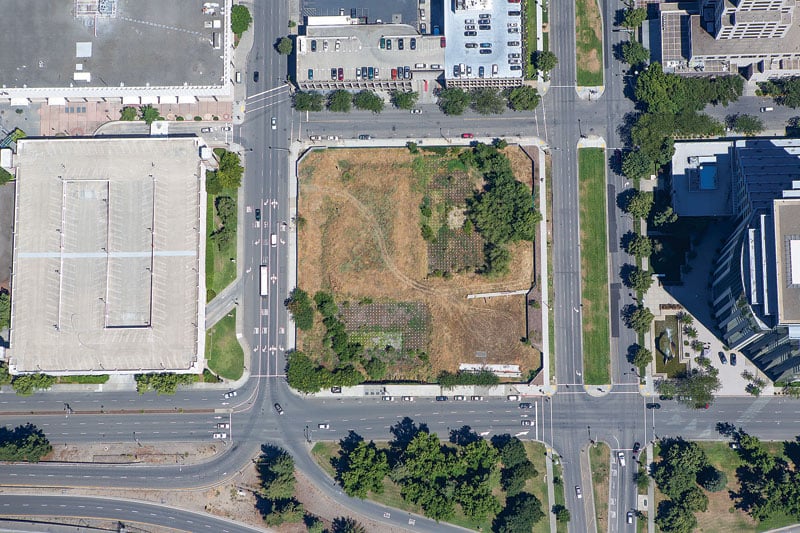 GGood things are happening downtown these days. Plans for the new arena and surrounding
Downtown Plaza are picking up speed. Local entrepreneurs are lining up to open exciting new restaurants and other entertainment venues in long vacant storefronts on K Street. There's talk of new bridges over the Sacramento River and even a streetcar system.
But as plans for the central city coalesce and as the economy continues to rebound, the fate of the 300 block of Capitol Mall—the single most prominent undeveloped block in the entire region—has the potential to shape the city's future as much as any other piece of real estate in town.
If you think that's an overstatement, just consider its placement, its history and its current owner.
Situated on Capitol Mall between 3rd and 4th streets, the site was for decades the headquarters of the now defunct Sacramento Union. But today it's better known as the block where Sacramento developer John Saca boldly proposed two 53-story condo towers that would have become the tallest residential structures on the West Coast. The plans included a luxury InterContinental Hotel in one of the towers and high-end retail on the ground floors. It would have been a game changer for Sacramento.
In 2006, about 2,000 concrete piles were pounded into the ground to anchor the 615-foot-tall buildings. Had the project been realized, it would have flooded downtown with thousands of new residents. With so many well-heeled condo dwellers and visitors nearby, it's likely that Westfield—one of the world's largest mall companies—would have invested heavily in Downtown Plaza. Once the project died, however, Westfield poured $240 million into its Roseville location, eventually selling Downtown Plaza.
And Capitol Mall—today a virtual ghost town after-hours because of the density of private and government office buildings, and lack of retail and residential properties—could have attracted other projects that would have breathed new life into a potentially grand boulevard.
As Saca was struggling to pull together the financing, the Sacramento-based California Public Employees' Retirement System (CalPERS)—the largest public pension fund in the nation, then managing a $207 billion portfolio—came to the rescue with a $100 million investment, its single biggest financial commitment ever in the state capital, with the exception of its own $110 million headquarters on Q Street and a $265 million expansion that opened in 2005.
Then the housing market crashed, followed rapidly by the rest of the economy. Sacramento's brashest real estate project was dead on arrival.
But even after the project was abandoned, there was one ray of hope for the future of the site.
When the project went belly-up, CalPERS acquired the parcel and publicly vowed to pursue a signature project worthy of its prominent location once the dark economic clouds parted. As one of the fund's spokesmen told KCRA in 2007: "We're going to work … to make sure we can develop something that's iconic of nature that the city can embrace."
CalPERS then contracted with the Los Angeles development firm CIM Group to plan a scaled-down version of the project. At the time, CIM principal John Given told The Sacramento Bee, "It is a very important location for Sacramento's development. … We envision planning the site so that it can have an office building and a hotel-condo building."
But several years later, CalPERS and CIM took another direction entirely, offering up the block as a site for a new county courthouse in 2010, a move that could have permanently crushed any hope of Capitol Mall becoming a vibrant boulevard with retail and residential components. A courthouse would have been another office building that closes at 5 p.m. and, perhaps worse, would have attracted dozens of bail bond storefronts to the center of three of the city's biggest tourist attractions—the Crocker Art Museum, Old Sacramento and the Capitol—just like the constellation of bail bond businesses that surround the current courthouse. Fortunately, the project's advisory group recommended the railyards as the future home of the courthouse, granting a virtual stay of execution to Capitol Mall's chance at a brighter future.
And now, with the economy on the upswing and developers promising a new arena and retail district, downtown real estate is heating up again and it remains to be seen if the community-minded CalPERS of 2007 will step up to the plate, or if the purely business-minded CalPERS of 2010 will.
While it's true that CalPERS is not a developer, it has invested heavily in retail and residential real estate projects throughout the world, from Chicago to New York and even Moscow.
But one place it has not invested heavily, especially in new projects—outside of its headquarters and a widely derided office tower at 450 N Street (whose windows used to pop out)—is here in Sacramento, home to the Capitol and more state workers than any other place in California.
While CalPERS certainly has a fiduciary responsibility to invest wisely for the benefit of its members, it should also assume some responsibility for investing in the downtown of the one city where so many of its members live and work. And while many of its members may live in the suburbs, investing in a city's urban core pays dividends throughout the region. Signature downtown projects create ripple effects by attracting companies and people to the region, regardless of where they end up living or working.
To its credit, in addition to the $100 million it had earmarked for Saca's project, CalPERS had planned to invest millions in housing on Del Paso Boulevard and the R Street Corridor, giving each of these on-the-cusp neighborhoods just the kind of jump-start they needed. But the economy stalled, and most of those projects were never built.
And CalPERS' recent decision to consider a courthouse for Capitol Mall now calls into question its pre-recession dedication to improving the capital's urban core.
CalPERS and CIM Group should recommit to their 2007 promises of a transformative project on the 301 Capitol Mall site, and make plans for a mixed-use high-rise that will complement the new arena and Downtown Plaza projects.
But even if they do, there's reason to be concerned. Because the state isn't required to hew to city design guidelines, Sacramento has been saddled with some urban design nightmares like the uninspiring CalPERS-funded 24-story 450 N Street tower and the state's massive complex at the eastern edge of Capitol Park. In both cases, the state largely ignored pleas from city officials to make the projects more attractive. Instead, the state created dark-windowed monolithic structures that run counter to every modern urban design principle in the book.
But there is also some reason for hope.
CalPERS has some cash to spend these days. After taking a beating during the recession, its fortunes are rising, logging an annual return of 13.3 percent in 2012—its highest since 2006—with its portfolio reaching $258 billion as of June 30. In the past year, it has invested $500 million in a Chicago mall, $530 million in Asian real estate funds, $250 million in a Moscow mall, and $400 million in luxury New York apartments. But the critical property three blocks from its own headquarters remains a desolate civic scar.
In January, CalPERS chief investment officer Joseph Dear told Fox Business that among its real estate goals is to invest in "central business districts." And one of CalPERS' real estate investment partners recently named Sacramento as one of the urban areas it's looking at.
In CalPERS, Sacramento ostensibly has one of the most powerful real estate investment allies in the world. It did, after all, take a risk on what would have been a massive catalyst project for downtown. And it did commit millions to residential units before the economy went belly-up.
So while we can't expect the investment gurus at CalPERS to be savvy urban designers, we can expect them—as citizens of this city and this state—to be good neighbors, and to realize that investing in a transformative civic project in Sacramento will pay dividends that can't be measured on a balance sheet alone.