Love is in the air at pop-up store and wedding chapel in Sacramento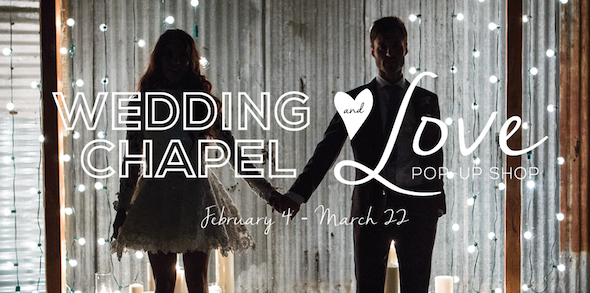 Every day will be a nice day for a white wedding starting Feb. 2 at Display: California's Vegas-style Wedding Chapel.
By next month, Display—Oak Park's revolving pop-up storefront featuring products from a list of Californian designers—will transition from its current holiday-themed store to its newest venture: The Wedding Chapel and Love Pop-Up Shop.
Display co-founder Maritza Davis says the chapel—artfully put together by local companies like KMK Designs, Unseen Heroes and Botanica Floral & Event Design—will offer a place where couples of all persuasions can tie the knot, renew their vows or simply celebrate being in love.
"We're working with a great crew of professionals who really want to make anyone's wedding day special," says Davis, who adds that she was inspired to help couples streamline the often overwhelming wedding process after planning her own nuptials in 2010. "For the next two months, we want to provide an intimate space that's beautifully decorated while also being cost-effective and totally stress-free."
Wedding packages offer all the elements of a classic matrimonial soirée: the officiant, the photographer and videographer; the bouquet and boutonnière (provided by Botanica Floral); and the option to add personalized invitations from Pigment + Parchment, as well as a reception dinner at midtown's Hook & Ladder.
Guests can also check out the adjacent, love-themed pop-up shop where products from California designers (like cards by Semi Sweet Press and funky tote bags by Graphic Anthology) make ideal gifts for the happy couple.
And even if you're not looking to get hitched, the chapel will also host non-wedding events over the course of its six-week run, including a Feb. 11 "Galentine's Day" celebration for women, complete with custom card-making and floral arrangement workshops. Keep an eye on the Display website for more events and information in the coming weeks.
Display: California's ongoing Holladay shop is open through Jan. 22, when it will shutter temporarily while transitioning to its new pop-up chapel and store.
"We're just really excited to see all the couples that come to get married here," adds Davis. "You can't not love love."
Display: California. 3433 Broadway. 822-4985. displaycalifornia.com
Related Links
–New pop-up concept showcases local designers at a "Holladay" market
–A pair of hip, new downtown stores to feature vintage vinyl, design and more
​–Sacramento menswear designer R. Douglas launches women's line