Maine Attraction
A new lobster ramen dish bowls over downtown diners.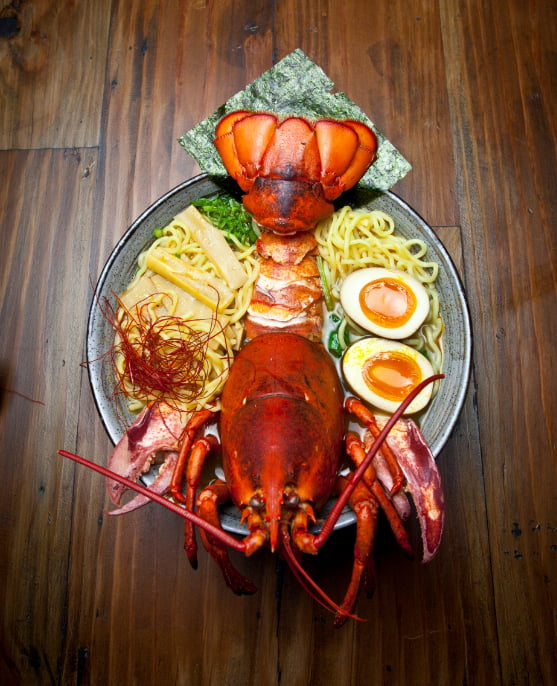 Celebrities and flaming desserts are known to turn heads in restaurants, but rarely does a humble bowl of ramen leave the next table gawking. Well, one noodle dish—topped with a whole 1.5-pound Maine lobster—is making quite a splash at Takumi Izakaya, a new Japanese restaurant that opened in downtown Sacramento in August.
"While we were developing the menu, we said, 'Let's do something crazy,' " says the eatery's co-owner Guang Chan. "Let's have a ramen that's a little different."
Mission accomplished. At $50 a bowl, it's a worthwhile and eminently shareable splurge. The generous chunks of freshly poached crustacean beg to be dipped into the warm, chicken-based miso broth, which is made in-house and serves as a savory accompaniment to the sweet lobster and toothsome noodles.
The entrée was conceived by executive chef Phuong Vo, formerly a sushi chef at Morimoto Napa and head chef at District One Kitchen & Bar in Las Vegas, known for its whole lobster pho.
Vo gets live lobsters delivered to the restaurant every day for the dish. The shellfish arrives at the table over a bed of noodles with its claws and body de-shelled but left intact for effect. Laden with a soft-boiled ajitsuke egg, wood ear mushrooms, bamboo shoots and spinach, the ramen is finished with nori, chopped scallions, chili threads and a kick of chili oil.
"It's becoming popular," says the chef of his signature crustacean creation. "I don't think anyone would have thought we'd put it on the menu. It's a good catch."
826 J St. 228-4095