Mas Taco Bar to open in Dos Coyotes space on R Street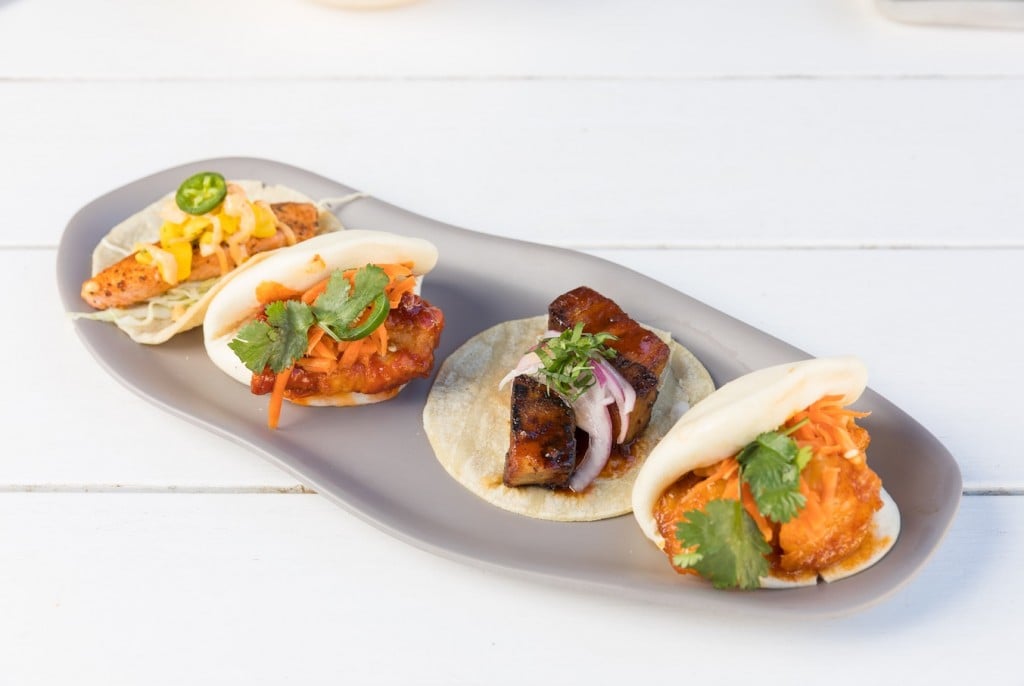 March 19 UPDATE: Mas Taco Bar, the casual taco chain from Mason, Alan and Curtis Wong, is set to open on R Street this Thursday, March 22, at 11 a.m., as well as in Arden-Arcade (at Arden Town Center) and the Palladio shopping complex in Folsom in September or October. The menu, created by the Wongs' executive chef Christian Palmos, will feature 14 variations of tacos—think duck confit in a citrusy tamarind glaze on a corn tortilla or red curry shrimp with green cabbage, pickled vegetables and cilantro on a bao bun or an off-the-menu lobster taco with corn salsa and sriracha aioli—as well as inventive dishes like the habañero fireballs, a blend of habañero and jalapeño peppers, bacon, and pepper jack and cream cheeses that has been rolled into balls, which are deep fried and served with a sweet, tangy mango sauce. Weekend brunch-goers will find a blend of savory (chilaquiles, pupusas) and sweet (blue corn pancakes, dulce de leche French toast) breakfast items to pair with drinks like the horchata cold-brewed coffee. The restaurant will have a coastal vibe, thanks to accordion glass doors that lead to the wraparound patio, multicolored hand-blown glass pendant lights and a white, quartz-topped bar serving up cocktails that adhere to a tropical theme—like the pineapple ginger mojito with mint and garnished with a sizeable pineapple wedge and the caipirinha (a traditional Brazilian drink) with cachaça and seasonal fruit flavors like pomegranate, blood orange and dragon fruit—as well as California craft beers from the likes of Track 7, Knee Deep and Ballast Point breweries. Mas Taco Bar will be open Monday through Friday for lunch and dinner starting at 11 a.m., and Saturdays and Sundays for brunch starting at 9 a.m., with dinner service beginning at 3 p.m. The restaurant will also be open late on Fridays and Saturdays until 2 a.m.
********
The owners of Iron Horse Tavern will take over the next-door space that Dos Coyotes Border Cafe will vacate on R Street at the end of June.
Mason, Curtis and Alan Wong, who also own downtown hot spots Firestone Public House, Cafeteria 15L, Mix, Ma Jong's Asian Diner and Gogi's Korean BBQ, are not planning to expand Iron Horse Tavern, but rather launch a casual new 3,400-square-foot Mexican bar concept called Mas Taco Bar, which will seat 141 diners, at the location currently occupied by Dos Coyotes. The restaurant group's executive chef Christian Palmos is expected to head up the menu, and the team's longtime design partner, the Napa-based firm Shopworks, will work on this new venture.
Iron Horse Tavern, at 15th and R Streets, which is named after the trains that used to thunder down the R Street corridor, opened in the summer of 2015 with a menu of creative New American dishes, including popular standouts like brandy-fried chicken nuggets. Dos Coyotes opened its first location in Davis in 1991 and currently has nine other spots throughout Sacramento and the Bay Area.
Stay tuned to sactownmag.com for future updates or visit Mas Taco Bar's website.
You Might Also Like
Hot New Hoods: R Street Corridor
Exclusive sneak peek at K Street's new Jewish deli
10 tasty food festivals to attend in June and July