Mayor, Redefined
What does it mean to be a mayor? It turns out the answer isn't so black-and-white. For a hundred years, Sacramentans have hemmed and hawed about whether or not a "strong mayor" system will help or hurt us. In November, we have a chance to push our city forward. Here's why it's more important than ever to vote yes for a strong mayor.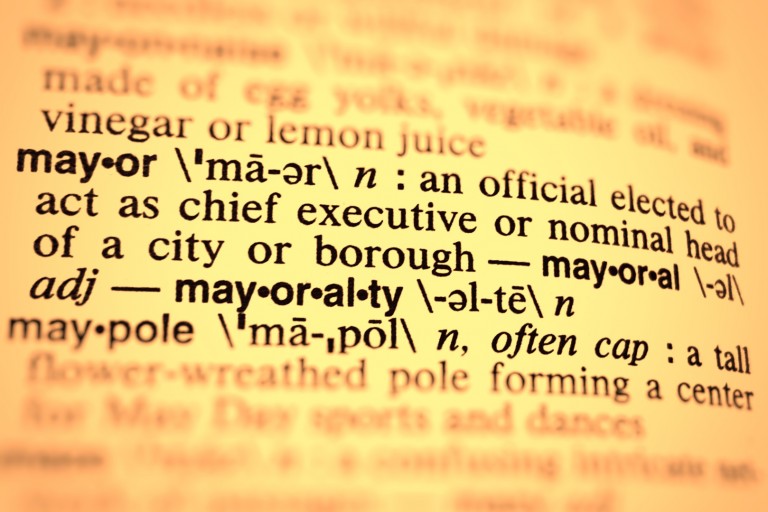 T
There's a scene in one of the Pirates of the Caribbean movies where Elizabeth Swann tells Captain Jack Sparrow that there will come a moment when he "has a chance to do the right thing." Jack smiles and says, "I love those moments. I like to wave at them as they pass by."
It's a funny scene. Except when it reminds me of Sacramento, which is, well, more often than I'd really care to admit.
You see, when it comes to the issue of city governance in Sacramento (OK, yes, I see I'm already losing a few of you, but try to stay with me here; there are some Hollywood-worthy plot twists ahead, I promise), we have a serious case of municipal metathesiophobia—a fear of change.
Every decade, I watch as opportunities for Sacramento arise and, after endless discussions, debates, deliberations and disagreements, these moments far too often pass us by.
In the 1980s, for example, we attracted some of the world's top architects to design a signature tower that would define our skyline, but instead, downtown's most promising lot sat empty for decades and now it will be a squat condo project. In the 1990s, we had a chance to merge with the county to become America's seventh-largest city; instead we became every urban planner's nightmare—a region of competing little fiefdoms that don't always work together to solve regional issues, from transportation to climate change. In the past decade, big talk of turning Capitol Mall into a civic showpiece has gone nowhere. And our waterfront—our defining civic amenity—remains, arguably, the biggest lost opportunity of them all.
And now another opportunity to do the right thing lies on the horizon.
You've likely heard that on Nov. 3, we'll be asked to vote on Measure A, which is about modernizing our city charter—our constitution, in effect—by switching, temporarily, to what is commonly known as a "strong mayor" form of government.
It's been debated for generations, but here's why now is the time to finally do something about it.
We are in the midst of two simultaneous crises—a global pandemic (California has been hit particularly hard and it may get worse this fall) and a national reckoning on race, politics and police. Throw in a recession, sky-high unemployment rates and a homelessness epidemic, and it's more critical than ever that our city can respond quickly and proactively when it needs to.
But that's not how Sacramento's current system of governance is built. Instead, it's designed to be deliberative, incremental and reactionary.
The time has come for a change, and not a second too soon.
So, what exactly is a strong-mayor system?
It's different in every city, but in essence, its key component is that the mayor effectively acts as the city's CEO—he or she proposes the budget, has the authority to hire (and fire) department heads, has some degree of veto power over the council (though he or she can be overruled on that with a two-thirds majority vote of the council, as a safety net for a mayor who might overstep his or her boundaries) and can make certain decisions quickly without building consensus with the council first. It's a system designed to allow a city to make faster decisions on important issues, either in moments of crisis or opportunity.
This is not the form of government we have.
Sacramento has what is colloquially known as a "weak mayor" form of government, a structure established in 1921. As the name implies, the "weak" mayor is largely a ceremonial figurehead without much more authority than the eight members of the council. A weak mayor has one vote, just like each member of the council. Yes, he or she has a louder virtual megaphone, and more ability to steer the conversation in council meetings, but make no mistake, the mayor is not in charge.
Instead, the real control in City Hall rests in the hands of an unelected "city manager" who is hired by the council to essentially "run" the city, proposing budgets, hiring and firing key staff, etc.
Your next question might be, "Didn't we already vote on this?" We did, back in 2014. It was called Measure L then and was put forth by then-Mayor Kevin Johnson.
According to the City, that was the one and only time it knows of that the citizens of Sacramento have voted on this issue in the past century. It was rejected by 56% of voters due to, I believe, Mayor Johnson's polarizing nature along with a fear-based campaign by political opponents and others who played the age-old "power grab" card.
So, here's why that vote was a missed opportunity.
Progress in Sacramento moves at a glacial pace.
I was born and raised here, but I spent a decade living in Manhattan, which showed me what can happen when a city moves quickly. Sure, NYC has more resources, but our relative lack of capital is not the only thing slowing us down.
How long have we been hearing about the transformational promise of the railyards? How long have we been discussing the reimagination of Old Sacramento and the waterfront? How long have we talked about addressing homelessness and affordable housing and air quality? The list is long.
Sure, there's been incremental progress and some big wins here and there, but even those were mighty struggles. Yes, we saved the Kings and built a new arena that ultimately spurred an urban renaissance. But we barely pulled that one off, and our weak-mayor system almost scuttled the whole deal.
The NBA deadline for Sacramento's financial plan for a new arena was March 1, 2012. Without it, the NBA would have let the team move to Seattle. The council met on Feb. 7 to discuss using parking revenues to fund part of the arena. The question before them: Would they make the decision themselves (which is why we elected them) or would they punt the issue to a public vote?
Had they sent it to a public vote (which they didn't), the results would have been meaningless because the election would have been in June—months after the NBA deadline. The Kings would already be SuperSonics by then.
The council was split 4-4 and Johnson was the tiebreaker. But had one more council member opted for a June vote, the team would have vanished, along with our hopes for a vibrant downtown.
However, in a strong-mayor system, even if the council voted 5-3 to send it to a public vote (effectively losing the Kings with that one vote), the mayor could have vetoed the council's decision in the best interests of the city, keeping Sacramento on the path to retaining the Kings and building an arena.
********
A
Aside from the arena, progress at virtually all levels of Sacramento government is measured in years and often decades. Perhaps as a government town, it's simply part of our civic DNA. Maybe we're natural-born deliberators, hardwired for endless commissions and task forces, studies and visioning sessions.
Or maybe, just maybe, we can trace our lack of progress to the fact that, basically, no one is actually in charge around here. It sounds crazy, of course, but unfortunately, it's more true than not.
I'll wager that most of you believe that when you vote for mayor, you're voting for someone to run the city. Perhaps you listened to their campaign promises, evaluated their experience and demeanor, and maybe even watched a debate or two.
After all, voting for mayor feels like an important decision—these men and women we elect are ostensibly the leaders of our city. Why else, you might ask, would we even have a mayor if they're not running the city? What else would they … do?
Consider, for a moment, Merriam-Webster's definition of a mayor: "An official elected or appointed to act as chief executive or nominal head of a city, town, or borough."
As we've established, our mayor is not the "chief executive" of Sacramento. Instead, a well-respected city manager (currently Howard Chan) acts in that capacity.
Now, note the alternate word that the dictionary uses to describe a mayor: "nominal." The dictionary's definition for "nominal," you ask? "Existing or being something in name or form only," or "trifling, insignificant."
And therein lies the problem.
Sacramento is a big city now. There are about 522,000 people here, at the heart of a region with 2.6 million. When the current system was established in 1921, our population was about 65,000—the size that Carmichael is today.
And the unmistakable trend in recent decades is that big cities are moving to strong-mayor forms of government.
To wit, two-thirds of the 25 biggest cities in America operate under a strong-mayor system, and other cities our size—Austin, Portland and San Jose—are currently studying it. Here in California, the system is already in place in San Francisco, Los Angeles, Oakland, Fresno and San Diego.
In 2006, nine years after Fresnans voted to switch to this form of governance, The Fresno Bee's editorial page editor wrote of the change, "One thing is certain: It's far better than the old system."
But perhaps even more notable is the fact that the two most recent California cities to adopt a strong-mayor system—Oakland in 1998 and San Diego in 2006—had built-in sunset clauses that required a second public vote six years later. In other words, in both cities, the citizens voted in favor of a strong-mayor system twice. They tried it on; they liked it.
Mayor Darrell Steinberg's revised proposal also has a sunset clause; his is 10 years, but the exact number is, if you will, a nominal factor. In November, we'll be asked if we want to try this on for size too. If we don't like it, we'll vote it down in 2030.
To be fair, having a city manager run things does make sense in smaller towns where the mayor and council are part-time employees with other jobs. The mayor of Roseville, John Allard II, for example, runs a Molly Maid housecleaning franchise. The mayor of Davis, Gloria Partida, is a neurobiologist at UCD.
And, as crazy as it may sound for a city our size, Sacramento's mayors were part-timers too, until 2002—a point of civic debate reaching as far back as at least 1965. Stockton actually had a full-time mayor before we did.
Like I said, we move slow.
To add insult to injury, our council members are still part-timers—an absurd notion given the size of their respective districts, their level of responsibility, and the hours they put in.
But, in the meantime, yes, a full-time mayor and the only person elected citywide to lead the city should have more authority than both part-time representatives who represent much smaller districts, and an unelected city manager.
Who could argue?
********
A
Among the most high-profile voices opposing a strong-mayor system are incoming Councilwoman Katie Valenzuela (who defeated Steve Hansen to represent District 4, comprising mostly midtown, downtown and Land Park, and who will take office in December), council candidate Mai Vang (who is vying to replace Larry Carr in District 8 in South Sacramento), and former Mayor Heather Fargo who held that office from 2000 to 2008.
Valenzuela, the council's first democratic socialist, doesn't have a voting record on the council yet, but I respect her passion for the environment (she's the policy and political director for the California Environmental Justice Alliance) and equality. She's also shining a bright light on the critical issue of affordable housing.
From her public comments, however, we know she has characterized the strong-mayor measure as "dangerous" if it falls in the wrong hands; she says that it represents a "centralization of power"; she believes it will weaken the power of the council and thus the voices of the citizenry; and she vows to fight it.
She does agree that we should reconsider the role of the mayor, but not as Measure A suggests. As she said when she called into the Aug. 4 council meeting—the date when the council convened to vote on whether or not to place Measure A on the ballot—she believes other structural options should be considered first, like, for example, "What if we didn't have a citywide mayor?"
Obviously, I disagree that the strong-mayor measure is the ominous issue that many of its opponents make it out to be.
In fact, every Sacramento mayor in recent decades has, unequivocally, supported some form of a stronger mayor.
In 1989, former Mayor Phil Isenberg told The Sacramento Bee: "The classic concept of the city manager in Sacramento and in the Western United States is essentially dead. It's not dying, it's simply dead." In 2010, the paper said Isenberg felt that "government and politics is so broken that he's willing to change the structure of City Hall. 'I think the system ought to have a shake-up,' he said."
Also in 1989, future mayor Joe Serna Jr. said, "We lack firm, accountable leadership in the form of a strong mayor. The chief executive ought to be responsible to the voters and every four years ought to go back to the voters.''
In 1990, Anne Rudin was mayor when the issue of the city-county merger was actively being pursued. Had it come to fruition, Sacramento would have been a much larger city. In preparation for the proposed merger (one that would ultimately fail), the council had to vote on whether the mayor of a larger city should have greater authority, including limited veto powers over the council (which could be overturned by a two-thirds council vote).
The day after the council meeting, the Bee reported, "In Monday's key vote, City Council members [Joe] Serna, [Josh] Pane, [Kim] Mueller, Heather Fargo, and Terry Kastanis joined Mayor Anne Rudin in supporting the veto powers."
In other words, the one sitting mayor, Rudin, and two future mayors in the room—Serna and Fargo—all voted to significantly extend the mayor's authority.
Yes, Fargo and Rudin have spoken out against the need for a stronger mayor, but when it came to the idea of a mayor running a bigger, more complex city (which I'd argue we are now), they voted to empower the mayor with limited veto powers.
That means the last six elected Sacramento mayors have, at various times, supported a stronger-mayor system in some form.
********
I
I understand why incoming council members wouldn't want any constraints on their ability to effect change. But consider that the people closest to this slow-moving system—the people who have lived bound by its constraints for the longest periods of time—largely support (or have supported) a change much like this one.
In addition to the former mayors, the two longest-serving members of the council—Angelique Ashby and Jay Schenirer—support it too, and each made compelling cases for it on the night of Aug. 4 when they voted to place it on the ballot in November.
"If a city elects a mayor—one person's vision that they really want implemented—that person needs to have the ability to implement that vision," said Ashby. "Otherwise, it's not fair to hold them accountable for not implementing a vision … when they have no greater power than the other eight people on the council."
Ashby, whose district is Natomas and has served on national women's leadership groups that have often included mayors, also observed: "Their structure of governance is directly tied to their results and how much they're able to achieve in their terms."
For his part, Councilman Schenirer, whose district includes Oak Park, lamented, "Things just take so long to get done. The system itself just bogs you down and makes it so difficult. I used to say, after the first few years, that the city bureaucracy has beaten the urgency out of me. I think this change in governance has the potential to really mark a difference in how we operate, and the speed with which we operate. I think we need to move much quicker."
"I don't think you could run a business with nine people making decisions," he continued, "and having to get consensus every time you might want to move forward on something. That just wouldn't work. The buck has to stop somewhere, and right now it stops in nine different places."
********
H
Here's how I know he's right.
I'm a small business owner with my wife, Elyssa Lee (our business being this magazine). As it happens, we're a team of exactly nine full-time people at the moment. And after 14 years, I can tell you for a fact that we'd go out of business fast if all nine of us needed to reach a consensus, like the council, every week.
There needs to be someone who makes the final call, and quickly, especially in times of crisis. That doesn't diminish the roles of our colleagues; they're amazing and we couldn't make this happen without them. Sure, there are differences between businesses and cities, but let me ask sincerely: Who among you believes our city moves fast enough on important issues?
My guess is that none of you do.
So, to the opponents of this measure: Please don't ignore the voices of those who have been trapped inside this system over or decades or generations. Five of the eight council members wouldn't have voted to send this to the ballot if it diminished their roles and dampened the voices of their constituents.
Think about it: Have you ever seen a politician vote to give him or herself less power?
And while Councilman Allen Warren voted against sending Measure A to the ballot, it's not because he opposes a strong mayor; in fact, he supports one ("I do believe… the mayor needs enhanced authority," he said). He objected only to Steinberg coupling the measure with a second charter amendment regarding racial equity protections. Warren, like others who called in that night, felt that the two measures should be voted on separately, so he voted no in protest.
That left only two members of the council who didn't want to see the strong-mayor measure go to the ballot.
Two.
It's an awfully hard argument to make that Measure A "weakens" the council when effectively six out of eight council members support letting the people decide.
Councilman Jay Schenirer said so on Aug. 4: "This doesn't take power away from the council. It shifts some responsibilities and in some cases, the power [of the council] will grow." That's because a strong mayor would no longer lead the council. The modicum of power that "weak" mayors do have is that politically deft ones—like Steinberg—can often steer the dialogue to align with their own agendas. In other words, a strong mayor won't be running the weekly meetings anymore, giving the council more freedom to set its own course.
I'd also ask the measure's opponents not to outright dismiss the opportunity for a potentially more efficient form of government on the off chance that we might get a mayor whose goals don't align perfectly with those of every person on the council.
Besides, many mayors have flourished under such a system.
Consider Mayor Pete Buttigieg.
When the two-term mayor of South Bend, Indiana (population: 102,000) campaigned for president, he said: "An executive, especially in a strong-mayor system like the one that I've been governing in for going on eight years, that's a role where you were on the hook for everything. There is no one else to call. When you get something hitting your desk that could be anything from an economic development deal to an officer-involved shooting or an emergency operation center activation for a weather situation, you learn the urgency of public service and government work."
He was crediting his experience as a strong mayor with giving him the tools to govern effectively.
Did Mayor Pete run roughshod over democracy or, to the contrary, did many believe he was actually the best person to lead this country?
A strong-mayor system does not breed "bloodthirsty Roman emperors" or "dictators" as many of Mayor Steinberg's detractors have suggested in recent weeks. In a late July Facebook post, even council candidate Mai Vang wrote: "Giving 1 person all the power is never good."
That's just not what's happening here.
I can't believe I need to say this, but no one is proposing an autocracy in left-leaning Sacramento.
Reasonable people can disagree on the merits of each system, but this kind of hyperbole is counterproductive and, candidly, deeply misleading. Again, effectively six out of eight sitting council members would not support sending this to the ballot box if they were giving "all the power" to one person. And again, the council retains the ability to overrule a mayor in this proposed system.
Even Councilman Steve Hansen, who opposed the strong-mayor proposal in 2014, said on Aug. 4 that the notion that this measure will create an all-powerful mayor does "not bear any reality with the world that we live in."
Don't believe me? Ask the most famous democratic socialist on the planet.
********
W
Which brings us to the curious case of Mayor Bernie Sanders.
In 1981, when the then-39-year-old socialist was elected mayor of Burlington, Vermont, he stepped into a system like ours and soon found himself unable to implement the kind of change he campaigned on. With little authority, for example, he could only appoint a few department heads, and Sanders, like Mayor Steinberg, was largely just another vote on a crowded council dais.
But if you assumed the future presidential candidate spent years patiently building consensus by winning the respect of his council colleagues to get things done, well, you'd be wrong.
That's because Sanders—a democratic socialist, a progressive—fought like hell to become … a strong mayor.
And he succeeded, with no apologies.
One tactic: he created an entity called the Community and Economic Development Office. The New York Times chronicled how the office was an effort "to seize power from the Planning Department." He "won Republican backing by promising to use it as an instrument of economic growth. But the office also allowed Mr. Sanders to pursue his own agenda of creating more affordable housing." That office's formation, according to its one-time director, "was the beginning of creating a strong mayor."
In a 1984 interview with The Burlington Free Press, three years into office, Sanders readily agreed that "as a result of 100 different fights… more authority is now coming to" the mayor's office.
His justification? He wasn't going to pass the buck.
"I am not going to be a mayor who keeps shrugging his shoulders saying, 'Gee, don't blame me for the police, don't blame me for the fire, don't blame me if we don't have a master plan, don't blame me if zoning is inadequate, blame the commissions.' That is what used to go on in the past, and there was an element of truth when a former mayor would make those statements. I chose not to make those statements."
Instead, he accumulated more control of the budget and gained a measure of control over the police and fire departments. "Eventually the mayor appointed all department heads," says Bruce Seifer, who worked for Sanders then. "The structure of government was changed so we could govern more effectively."
The result: he was reelected three times.
In 2015, The Nation profiled Sanders' mayoral years and categorized him as "a hardworking, pragmatic, effective mayor who helped transform Vermont's largest city (population: 38,000) into a thriving town."
"Thanks to the enduring influence of the progressive climate that Sanders and his allies helped to create in Burlington," the article continued, "the city's largest housing development is now resident-owned, its largest supermarket is a consumer-owned cooperative, one of its largest private employers is worker-owned, and most of its people-oriented waterfront is publicly owned. Its publicly owned utility, the Burlington Electric Department, recently announced that Burlington is the first American city of any decent size to run entirely on renewable electricity."
And yes, his opponents accused him of "consolidating power" and "eliminating checks and balances."
Sanders' response to the Free Press: "There's no question. We are absolutely rewriting the role of what city government is supposed to be doing. We plead guilty to many of the charges."
"To me," he explained, "if we're talking about democratic government, which means having elected officials who are trying to respond to the needs of the people who elected them, you have got to give those elected officials the authority to act."
So it turned out that he was something more than just a democratic socialist.
He was also a pragmatist.
********
R
Regardless of whether or not you agree with Sanders' priorities or his tactics, let's be frank here. He fought for structural change within a bureaucratic system—similar to what we have now—for one simple reason: to get shit done.
It's the same reason why, as the mayor of Oakland, Jerry Brown successfully fought to create a strong-mayor system there. As only Brown could, he described his detractors as being "tranquilized" by "the drug of gradualism." They felt safer making small, slow incremental changes.
He also explained that the strong-mayor "counterbalances the parochialism of council districts." In other words, it balances the needs of the whole city against the sometimes-conflicting demands of specific neighborhoods.
Someone needs to be focused on the big picture.
This isn't about power in the pejorative sense.
But it is about the power to effect change quickly, and when it matters the most.
During the council debates on this topic in late July and early August, one or two of the opposing Sacramento council members and a flood of call-in detractors argued that the timing of this measure is terrible (a common refrain over the many years that this concept has been debated).
And this is one area where I'd actually agree with them.
The timing is terrible.
This needed to happen a long time ago.
This needed to happen before December 2018 when the mayor challenged each council member to identify land in their districts for 100-bed homeless shelters—because today, nearly two years later, only two of the eight large shelters have opened. A strong mayor could have expedited this process by exerting more control over the budget and directing city staff to make this issue a priority.
This needed to happen before the Measure U debacle last year, when Mayor Steinberg promised citizens that a sales tax increase would go underserved neighborhoods and not primarily to pay off bloated pension debts. But because our mayor doesn't propose the budget (the city manager does), just a few months after the measure passed, the city manager informed the mayor that yes, most of the funds would, in fact, be used for pension obligations and not in the ways the mayor had promised.
This needed to happen before the global pandemic, so that when the coronavirus struck, the mayor could have called for a citywide mask mandate, as he wanted to (but apparently didn't have enough votes on the council, so he didn't take it to them).
Also, back in March, within weeks of COVID's arrival, mayors in Seattle, Oakland, San Francisco, San Diego and Los Angeles—all strong-mayor cities—immediately created "slow streets" (where miles of city streets were partially or completely blocked from through traffic to allow people to socially distance) and emergency pop-up bike lanes, which were constructed to allow essential workers to safely navigate their cities at a time when no one wanted to ride crowded public transportation during a pandemic.
In San Diego, for example, Mayor Kevin Faulconer issued an executive order to immediately mobilize staff to develop a slow streets program before taking it to council, in order to expedite the process. "As a strong mayor, Mayor Faulconer had the authority to reallocate personnel and resources to implement this innovation immediately," said city spokesperson Rebecca Rybczyk.
This also needed to happen before the anti-racism protests in June pitted citizens against police, leading the local Black Lives Matter chapter to demand a charter amendment to place the police chief under the control of the mayor and council instead of an "unelected" city manager who can't be held accountable by the public.
In summary, we can't just keep doing the same thing, Sacramento. In times like these, deliberation can mean death. Literally.
So yes, this should have happened a long time ago. But more crises—and more opportunities—will come our way, and we need to be better prepared when they do. Our system is broken, and no matter how many energized young voices join the council, we can't be progressive without progress.
The Irish writer George Bernard Shaw once said, "Progress is impossible without change, and those who cannot change their minds cannot change anything."
It's been 100 years under this system, and it's simply not working. It's time to listen to the generations of people who know this system best and act accordingly.
These are not "trifling" or "insignificant" times we're living through.
Now is not the time to fear change. Now is the time to embrace it.
Now is the time to take bold action in order to change this antiquated system for the better, and stop waving to opportunities as they pass by.