Mercy Pedalers Founder Sister Libby
Her name is Libby Fernandez, but everyone knows her as Sister Libby, one of Sacramento's most tireless advocates for the city's homeless. The 58-year-old Catholic nun earned the distinction in large part through her long tenure (including 11 years as executive director) at Loaves & Fishes. Her latest endeavor, Mercy Pedalers, tends to the hungry and impoverished at street level, with squads of volunteers helping the less fortunate by bike and trike. We tracked Sister Libby down to talk about her growing organization, how best to address the homeless crisis, and how just saying "hi" can be the start of a beautiful relationship.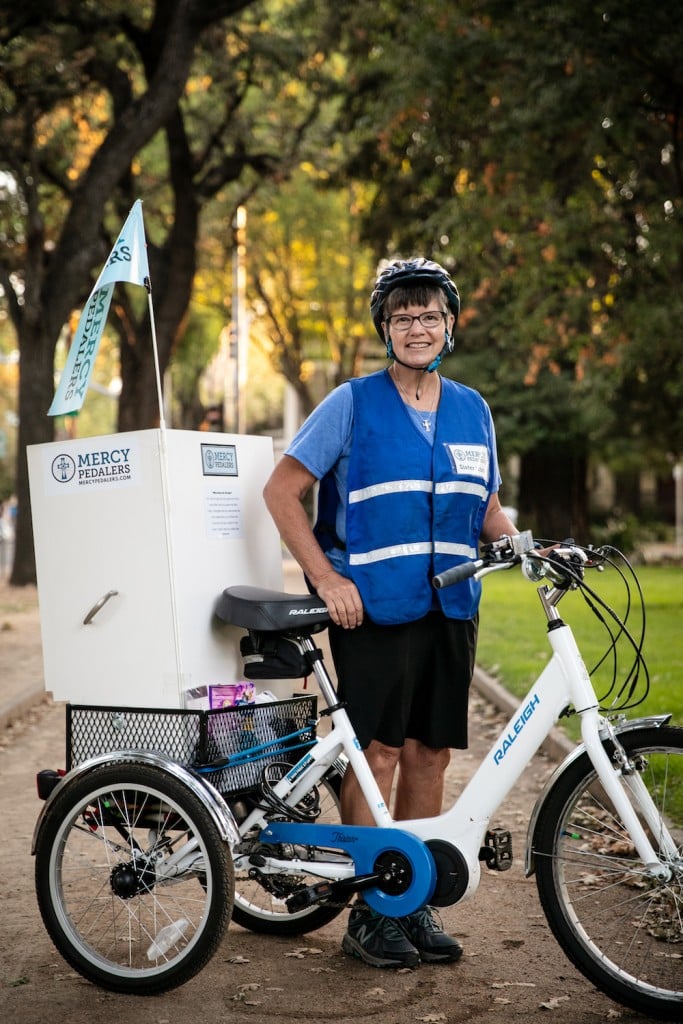 YYou founded Mercy Pedalers two years ago. Can you tell us about the organization?
The idea is to bicycle or tricycle and reach men and women who are experiencing homelessness on the streets. It really is about connecting one-on-one with a person on the streets and you, a Mercy Pedaler, seeing that person eye-to-eye, seeing their dignity, being respectful, connecting as a human with the same values, and going from there. It's relational.
What does a typical morning look like?
I wake up at 4:30 a.m. and start [my rounds] early—7 a.m. I brew about 80 cups of coffee and load up my trike, which holds coffee, nutritional bars, cream, sugar and lots of hygiene items, from shampoo to hand sanitizer to toothbrushes and toothpaste. I'll just pedal from midtown, where I live, and go down the street. I look left and right, and when I see someone who is in need—generally who's homeless—I'll ring my little bell and say, "Hi, I'm Sister Libby. I'm a Mercy Pedaler. Would you like a cup of coffee today?" And that begins the conversation with someone. They go, "Oh, sure, I would love a cup of coffee." Then, as I stop and pull over, I'll ask, "Do you want sugar and cream? And how else can I help you today?"
So the relationship begins by building a sense of trust with that person, finding out their name and how I can help them. Then maybe the next day I'll see them again, and so the relationship goes deeper: "Oh, yes, I would love coffee, and this time I need a toothbrush." Maybe a month or so later, the person finally opens up and says, "Hey, you know, I really need to get into a recovery program." Then we'll go from there and try to find resources.
What inspired you to start Mercy Pedalers after leaving Loaves & Fishes?
I spent 20 years at Loaves & Fishes, but I still have this energy and desire to continue to serve my community. And then I was on a retreat, and I thought, "Well, I love biking. I love being outdoors." And it just came to me, this idea of peddling mercy—bringing mercy to the streets. Now we have over 75 Mercy Pedalers; all are volunteers.
Even though they're mostly on bicycles, not all Mercy Pedalers actually pedal. What are the different ways your volunteers make the rounds?
I have one person who has a bicycle custom-made with cabinets in the front and back, and it's electrified. [We have] tricycles with various baskets and wagons that people can push. [Some people] custom-make cabinets for shopping carts. I have someone using a Smart car, and she opens the back and it's all set up with little rows of coffee and hygiene items. Some have vans and they go to areas that are harder to reach by bicycle like Arden-Arcade and Carmichael. I work with CHP on bikes, police on bikes, the midtown guides and the downtown guides. We're all kind of working together.
Now that it's fall and winter is approaching, how does the organization adapt to the elements?
We go out rain or shine. I try to get tarps, ponchos, hats, gloves and hot coffee, of course. For a homeless person to know we're out there in the wintertime too, it makes them feel good because they're like, "Oh my God, what are you doing out here? It's raining hard." "Well, you're out here too, you know." [We'll let them know] if there's an extra shelter open or where they can go to get out of the rain or where they can go to receive a hot meal.
What first prompted you to dedicate yourself to helping the homeless in the first place?
I went to high school in the Bay Area, but got my undergraduate and graduate degrees at Sac State. Like many people when they're in college, I was trying to figure out, "What am I studying? Where am I going? Where is God calling me?" My first step was to really look at that. I was at the Air Force Academy, so I thought I wanted to be a military officer and fly jets. My dad was in the Air Force. But when I was at the Academy, I had this "aha" moment, [with God] saying, "Come serve me." And so I left the Academy.
Were you a person of faith growing up?
Yes. I was raised Catholic. I'm one of seven children, and my parents raised us to go to mass every week and get a religious education. There was something instilled in me about God. There was always this little voice in me saying, "Come serve, come serve." And I kept following it. I've been a Sister of Mercy now for 29 years.
The subject of homelessness is obviously a lightning rod in cities all over California, and Sacramento is right up there among the most affected cities in the state. The number of people experiencing homelessness here is at an all-time high. You've closely witnessed the growth over the years. What are the changes that you've seen recently in this population?
[The homeless count] has jumped almost 50 percent from two years ago. And it's not advertised as much, but there are also [many] more on the streets compared to two years ago—all the shelters are full. There's a waiting list just to get into an emergency shelter. There are [years-long] waiting lists for affordable housing. Many who are homeless have drug and alcohol addictions, and there are even waiting lists to get into recovery or emergency beds. Fifty percent [of homeless individuals] have mental illness—and then of this group, [at least] 50 percent have a dual diagnosis—both mental illness and addiction. That is a very serious issue.
But we also have people who are on fixed incomes who just cannot afford the growing rent, [including] seniors who are on the edge of becoming homeless. We are still seeing a lot of younger homeless men and women between the ages of 16 and 30. So many who were in the foster system or group homes are now adults and don't have the education or the relationship with family or [other types of] support to make it on their own and out of homelessness. Those two populations have increased a lot: the older population and the younger population.
And we have people who are looking for jobs and can't find them. Maybe they have an eviction on their record. It's very difficult for people who are functional, but just have a terrible record—not good credit, things like that. It's also very difficult for those who maybe don't have an addiction or mental illness, but have a slight learning disability. They sometimes fall through the cracks.
It seems as though everyone in Sacramento has an opinion about the homelessness crisis here, but no one really has anything remotely resembling a solution. What do you think the priorities should be?
Definitely affordable housing, but mixed income. The 7th and H [Housing Community] is a great model. They have three groups of renters: extremely low income, very low income and below market rate. You really want that blended community—not 100 percent of people with mental illness or 100 percent who are homeless.
Another model that works—and we need more of it—is shared housing. Sacramento Self-Help Housing has a great program where they will work with a property owner of a house, say a six-bedroom Victorian house. You'll have a case manager living there and five homeless people in that house. It's a small house in a neighborhood, it blends in, and it's manageable. And we need more property owners and management companies to say "yes" to this model and disperse it everywhere.
Going into your third year, how do you plan to grow Mercy Pedalers?
I would like to develop more teams for different neighborhoods. We just started a new team at Wellspring Women's Center, which is in Oak Park. The nonprofit has two trikes, and they make the coffee in the morning, collect hygiene items and have a whole slew of volunteers that go out every morning, Monday through Friday. We also have St. Mark's [United] Methodist Church with a team and we have Unitarian Universalist Society of Sacramento with a team. The [goal] for 2020 is to try to [build] more of these teams and connect them either with a nonprofit or a faith-based community.
I would like to see [Mercy Pedalers] grow into different neighborhoods, and then expand to other cities where it makes sense. Sacramento is not the only city that has [homeless] issues—every city does. But does Mercy Pedalers make sense in your town? Someone contacted me from Prescott, Arizona, and said they'd like to try this. They tried it, but they found that the distance between homeless people was too long. And San Francisco has too many hills for bicyclers. So some cities are not practical for Mercy Pedalers. Sacramento is ideal. It's a flat, bike-loving town.
How can non-bikers contribute?
Many can't pedal, many can't contribute money. But most people can find a gently used hat or poncho or gloves. It doesn't have to be new. It just has to be from the heart and useful. The biggest thing is hygiene items: hotel shampoos and lotions, hand sanitizers, toothpaste, new toothbrushes—basically any individually packaged item that we can carry on our trike or bicycle and bring along the way. No bulky stuff: We can do sleeping bags, but we can't do heavy blankets. We have to be practical.
The most important thing for anyone who cares is to open your eyes and see the person on the street, and then approach the person with a little bit of care. You know, just connect with the person on the sidewalk as you go by. Say "hi." That's the start of a caring relationship. Then from there, connect with resources like Mercy Pedalers, Loaves & Fishes or The Salvation Army and ask, "How can I help?"
For more info on Mercy Pedalers, including how you can donate, visit mercypedalers.com