Message in a Bottle
Downtown's new Tequila Museo Mayahuel pays homage to the culinary art of Mexico and the unexpectedly elegant side of the country's most celebrated spirit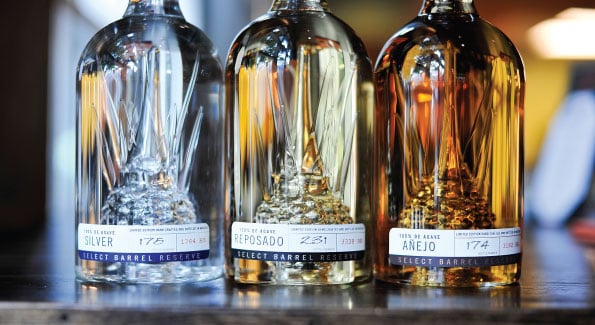 Tequila Museo
Mayahuel
1200 K St.
441-7200
tequilamuseo.com
R
At most museums, when you get hungry you have to leave the collections and head to the cafe. At restaurateur Ernesto Delgado's new Tequila Museo Mayahuel, the museum is the cafe—and the bar and the restaurant. Delgado, who has an extensive background in Napa Valley and Sacramento restaurants as well as training from Sacramento State in design, dreamed up Mayahuel (pronounced, roughly, my-uh-well) as a living exhibit of the flavors, sights and sounds of the Mexican culture he loves. With the restaurant's prime location on the corner of the Hyatt Regency complex at 12th and K (Ella and The Broiler are across the street, and Pizza Rock and Ambrosia Café's new late-night dessert bar are just a block away), Delgado's vision of Mexico's proud heritage is at the heart of Sacramento's suddenly booming downtown restaurant scene. Delgado's "museum" features Mexico's vast diversity of cuisine and, yes, tequilas. "The best way I can describe this place is that I want to showcase the Mexican culture through the history and production of tequila," says Delgado, 40. "And that's why it's a museum of Mexico." Every detail about Mayahuel bolsters that mission: Delgado works closely with the Mexican Cultural Center of Northern California, and donates 10 percent from every gift card purchase to the center. Chef Ramiro Alarcón—who dubs himself "Investigador y Defensor de la Real Cocina Méxicana" and offers a menu of refined, traditional and, in many cases, regional Mexican fare—trained at two Mexico City cooking schools: the Instituto Gastronómico de México and Centro Culinario Ambrosía. That training is a point of pride for Delgado, who says he believes that Mayahuel may be the only Mexican restaurant in Sacramento with a chef professionally trained in the Mexican capital. Mayahuel also employs a "tequila maestro," Don Luis Navarro, whose role is analogous to that of a sommelier: he pairs tequilas with food and suggests flights for tasting to guests.
That might come as a surprise to diners whose main association with tequila is with an unfortunate experience pounding shots in college. Part of Mayahuel's mission, however, is to explore tequila's more refined side, its nuances and flavor notes. The restaurant offers more than 60 tequilas, as well as specially designed flights for tasting the three major styles of tequilas: blancos ("white"), which are unaged and taste more strongly of the agave; reposados ("rested"), a smoother style that is aged between two and 11 months in wooden barrels; and subtle, ultra-smooth añejos ("aged"), which stay in the barrel at least one year and can take on sweeter cinnamon and vanilla notes. To that point, you won't find a shot glass behind the bar at Tequila Museo Mayahuel. Instead, you'll sip these fine tequilas out of high-end Riedel flute glasses, which are specially designed to be lighter and smaller than a champagne flute.
But tasting isn't the only way in which tequila is treated as fine art: Strikingly designed bottles from the limited-edition 1800 Essential Artists series are spotlit in a dozen precisely carved niches in the main dining room; similarly colorful Jose Cuervo Reserva de la Familia boxes—specially commissioned, collectible boxes that have been issued annually with a reserve tequila since 1995, Cuervo's 200th anniversary—hang simply behind the bar. "As a designer, I always look at the bottles," says Delgado. "And Mexico does such a wonderful job in showcasing their culture through the packaging of tequila, in the glass blowing, the labeling, the tops, the boxes. I don't see any other spirit that goes as far as Mexico does with their tequila." One group of bottles behind the bar that Delgado is particularly proud of is made by Milagro for its Select Barrel Reserve, with a spiky, intricate glass agave plant blown into the bottom of each bottle. In the adjacent Coa Room (named for the shovel used to harvest agave, the plant from which tequila is made), a group of private tequila lockers are rented out to aficionados, and one wall is adorned with a large mural by local artist Gabriel Romo, which features Aztec-style touches and allegorizes the story of tequila.Delgado, who was born in the northern Mexican state of Michoacán, grew up in Napa, where he got his start working as a dishwasher and busser in restaurants ranging from the prestigious French eatery La Boucane to Sizzler. Here in Sacramento, he assisted with the design and creative development of Zócalo and was a partner in opening El Patrón Bar & Grill, where he first met Mayahuel's chef, Ramiro Alarcón. But Delgado credits his vision as a restaurateur to an even more formative influence: his mom. "My mother was a host to everyone who came to her home," he says. "I've come to realize that I love being a host, and that's also why I'm in the restaurant business."
Delgado fondly recalls his mother, who passed away seven years ago, as someone whose hospitality flowed at all times. "If someone came to her home, she always wanted to offer you food. 'Can I get you something to eat? Can I get you something to drink?' 'No, I've just eaten.' 'Can I get you a dessert?' And that's the same role that I've taken. My mom used to always introduce herself as 'Elvira Delgado, para servirle a usted,' to everybody. In translation, that means 'to serve you.' " As a tribute to her, he considered opening a restaurant named Elvira's—but the name Mayahuel also expressed his vision, with further resonances. "I like for everything I do to have meaning," says Delgado. "Mayahuel is the Aztec goddess of the agave plant. And Maya is my daughter's name."
His daughter's name on its own has been incorporated into the restaurant as well. Painted on the cinnamon-colored walls (Delgado chose the interior colors, which also include an agave-like light green) above the open kitchen are the words "Maya's Kitchen." This part of the "museum" is a walk-up kitchen that serves fast regional street food dishes, all priced under $10, from the flautas (fried rolled tortillas stuffed with beef or chicken) of Mexico City to the taquitos cochinita pibil (pork marinated in achiote) of Yucatán and the sopes (thick masa cakes topped with meats and cream) of Sinaloa. The kitchen also serves handmade tortillas cooked to order, aguas frescas (sweet, light juice drinks) and horchata (a cinnamon-spiked rice milk), which are all part of traditional Mexican culinary culture.
Some of the same flavors grace the more formal dinner menu, which ranges widely in regions and styles. The full scope is easy to grasp in the menu's first dish, an array of bocaditos de México, says chef Ramiro Alarcón. Speaking in Spanish (translated by Ernesto Delgado), Alarcón notes that for him this dish—an assortment of six small starters, or "little bites," such as tinga de pollo (shredded chicken), nopales (cactus) and requesón (ricotta)—encapsulates the varied styles. "The bocaditos represent the diverse culture and colors of my country," says Alarcón. "In Mexico, every region has a [distinct] texture and a flavor in its food. We have beef, pork, chicken, shrimp and vegetarian. Each and every one has a different flavor and a different presentation."
Another dish that Alarcón considers to be representative is one of the menu's simplest: a silky smooth, deep green cream of poblano chile soup. (Poblanos, sometimes labeled pasilla at the grocery store, are a distinctive forest green, triangular-shaped chile with thick, sturdy walls and a complex, mildly spicy flavor.) "Most people only know the poblano as a chile that you stuff for [chiles] rellenos," says Alarcón. "But with this chile you can make a salad, a soup, a main entrée or you can use it as a spice, or even as a dessert. We're going to have it here in a flan using chile ancho, the dried form. That chile represents Mexico."
Delgado agrees—and says that Alarcón's rendition of the chile in a simple, rich-tasting soup was the dish that led Delgado to choose him as the chef.
Other dishes range from the Pescado Mayahuel—a sophisticated dish based on imperial Aztec fare that consists of fish topped with stretchy Oaxaca cheese and covered with bean sauce—to the costilla de puerco, simple and savory pork ribs with salsa and grilled cactus. The latter dish and the complex mole poblano are two of the menu items that remind Delgado most strongly of his mother. "If you talk to any Mexican person, they always judge a Mexican restaurant by their mother's food," he says with a smile. "And everyone comments on those two, 'Wow, that's just like my mom's.' I feel these two dishes are just extraordinary, because I judge them against my mom's food."
Delgado pauses to reminisce about his mother's cooking. "The costilla de puerco is my favorite. That's what my mom used to make me all the time," he recalls. "When I was living in Sacramento and I would go visit her in Napa, she wouldn't even ask. That's what she would make me."
That feeling, of recapturing a whole culture through food and drink, is Delgado's aim with his museo—where every dish, every sip of tequila, is part of the exhibit. "This is all part of the museum," he says. "We're trying to tell the story of where [dishes and drinks] come from, and really just stick to the tradition. That's our culture; that's Mexico."