Midtown gets weird with a "Stranger Things" art show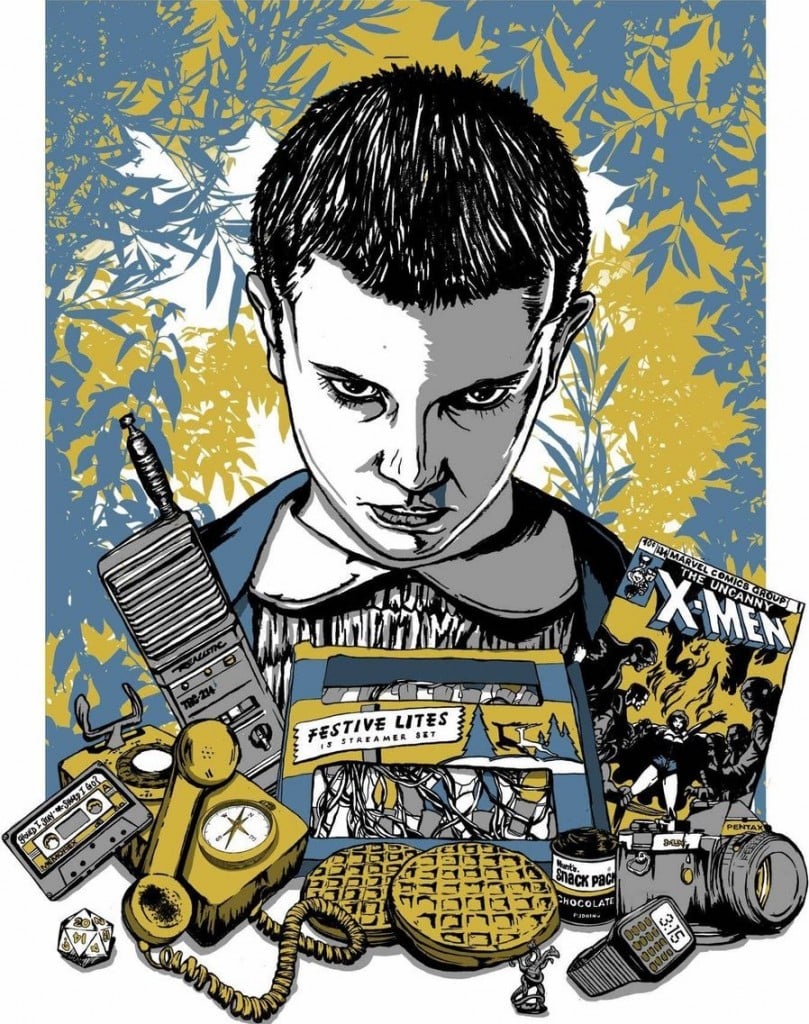 Lace up your Chuck Taylors and grab your Swatch watch—a new Stranger Things-themed art show promises creativity, '80s nostalgia and a healthy dose of weird starting Jan. 27.
A collaboration between local art groups Menagerie Sacramento and Retrograde Collective, Stranger Things II: The Art Show will feature 80 works by 50 artists (both local and from around the world) themed after the Emmy-winning Netflix series. The exhibit will be on display until the end of February at midtown's Outlet Coworking, and is a follow-up to an inaugural Stranger Things­-themed art show, which was held in December 2016 in response to the first season's release that year.
"I watched the show and immediately was like, 'I want to draw this, I want to paint this,'" says Sarah Marie Hawkins, co-founder of Menagerie Sacramento and creator of the art show. "Stranger Things is basically '80s nostalgia porn. It has [references to] The Goonies, Stand By Me, Firestarter and Ghostbusters—it wasn't just the visual [elements], it was interesting to me because it was my childhood."
Fans of the series can view works like fiber artist Lindsay Swearingen's Members Only jacket—a reference to the one one of the main characters, Steve Harrington, wears in the show—embroidered with an image of Steve taking on the demogorgon with his nail-studded baseball bat; ceramicist Kurt Salinas' 12 doughnut sculptures, each inspired by characters from the series; and multimedia artist Filthy Forry's 3-foot-tall replica of Dart—the "demodog" introduced in season two that becomes a cat-eating monster—which features moving parts. Also on display will be graphic paintings of characters Eleven and Will by Boston-based artist John D. Wiltshire and Sacramento artist Julia Garcia's stylized demogorgon boudoir sketches.
At the exhibit's kickoff party on Jan. 27, Outlet Coworking's courtyard will be decked in tinsel and '80s decor to replicate the season two finale's Snow Ball. Attendees can dance awkwardly (remember, it's middle school) to throwback tunes spun by DJ Lady Grey, and participate in a costume contest—a prize will be awarded to the person with the best character getup, and the two with the best '80s ensembles will be crowned Snow Ball king and queen.
While waiting to see the art show (admission is free, but entry times are every half hour), folks can munch on Stranger Things­­-themed snacks like 3 Musketeers bars, or pay a visit to the on-site Burly Beverages bar, which will be shaking up cocktails with names like The Upside Down Mule (vodka, ginger beer and pineapple and lime juices), Billy's Camaro (tequila, black lime and bay leaf shrub, butterscotch root beer reduction and French gray salt) and Hot Barb, a toddy with bourbon, cinnamon and honey-lemon switchel.
Kickoff party: Free ($10 suggested donation). $10 for pre-reserved, timed tickets, which can be purchased in advance at Eventbrite (password is Bologna). Jan. 27. 7:30 p.m.-midnight; last entry to the show is 11:30 p.m.. Outlet Coworking. 2110 K St. The exhibit runs through the month of February. For more information, call 916-642-9389.
You Might Also Like
A new '80s cafe is a blast from the past
A snapshot of the region's first Photography Month set for April
Sacramento's Rock & Radio Museum seeks new home