Midtown's Truitt Bark Park announces grand opening date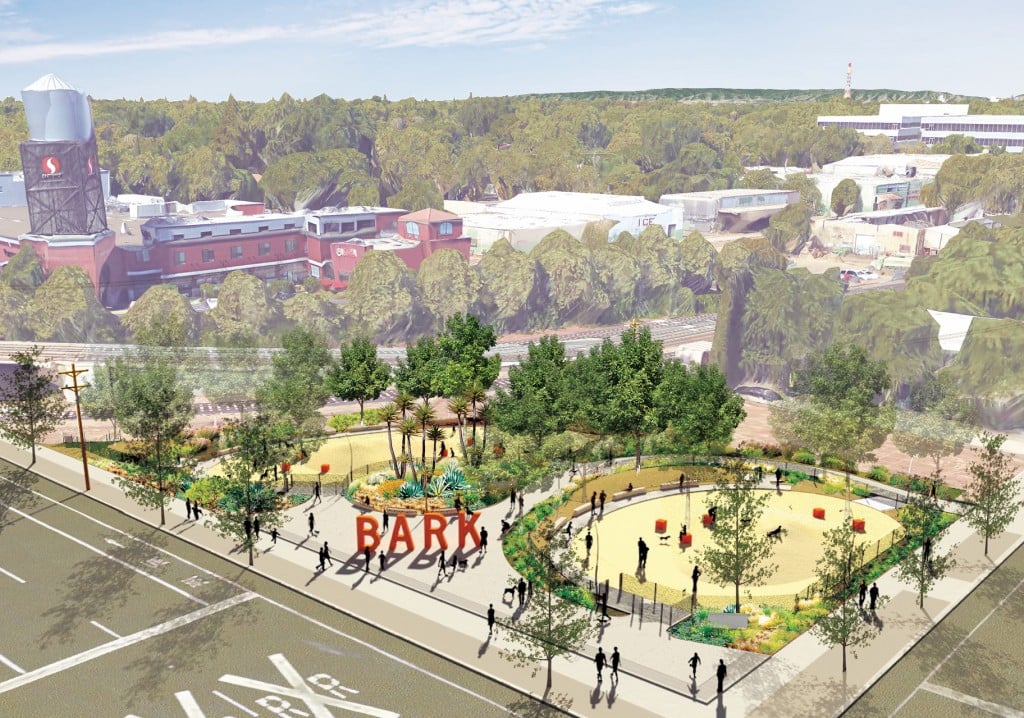 Time to let the dogs out! Urban canines will soon have a new piece of glamorous real estate to call their own with the unveiling of midtown's highly anticipated Truitt Bark Park, which will host its grand opening Saturday, July 29.
Designed by local landscape architecture firm Quadriga, the .72-acre space at 19th and Q Streets is midtown's first permanent dog park. It will feature separate off-leash sections for larger dogs and smaller pups, with California sycamores and Palo Verde trees providing a canopy of shade and drought-resistant plantings, as well as a public plaza and community garden.
A collaboration between the City of Sacramento and the Capitol Area Development Authority (CADA), Truitt Bark Park, named after late midtown resident and civic watchdog Brooks Truitt, broke ground at the previously vacant lot in November.
At the grand opening celebration, which begins at 9 a.m. on July 29, four-legged attendees can roam the two oval-shaped parks, visit a pet portrait studio to have their picture taken in front of a Sacramento-themed backdrop, and compete in contests like "cutest dog," while their two-legged friends shop for bespoke collars and other dog wares from local merchants.
The most eye-catching element at this new dog park will be the recently installed 7-foot-tall letters spelling "BARK," which will be painted by a different artist every couple of years. Local muralist Stephen V. Williams (who participated in February's ArtStreet) has first dibs. Known for creating art with whimsical characters, Williams will paint the "BARK" letters with dog-related imagery, which will be revealed at the opening ceremony.
Volunteer organizer on the project Laura Braden says that CADA plans to keep the park activated year-round, hoping to partner with the Sacramento SPCA and Front Street Animal Shelter for adoption events and bringing pet trainers to the park for free workshops.
"We want to be more than a dog park," says Braden. "There's so much construction going on in this neighborhood, and you've already got really great amenities like grocery stores and restaurants. The dog park is really going to cement this part of midtown as a really great spot to live, work and play."
July 29. 9 a.m.-12 p.m. Truitt Bark Park. 19th and Q Streets. midtownsacdogpark.com
You Might Also Like
15 fun, completely free things to do in the Sacramento region this summer
First look: New dog park proposed for midtown
Going viral: El Dorado Hills rescue cow that thinks she's a dog