Mirror Image
A shiny new object in West Sacramento strives to reflect its evolving surroundings, shifting with the changing elements and combining sculpture with nature along the waterfront.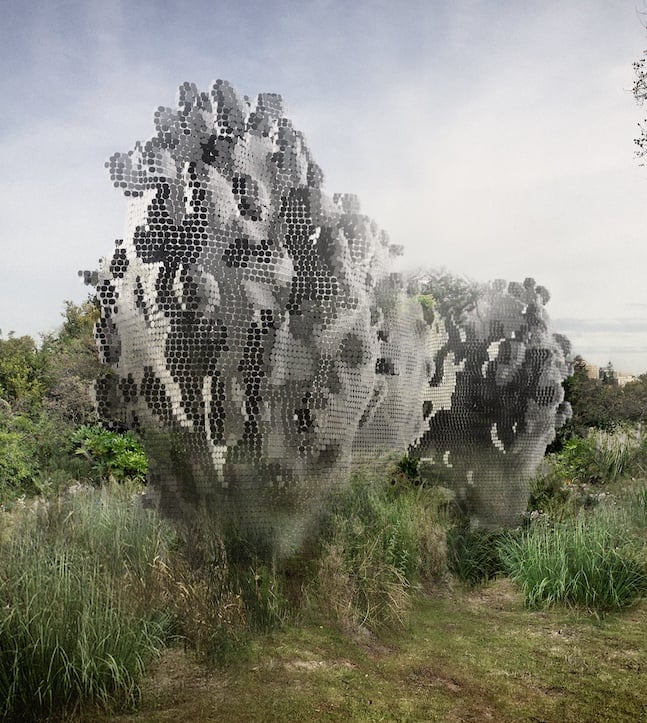 "When you approach the sculpture from a distance, you don't even see the edges of it," says artist Federico Díaz, who is of Czech and Argentinian descent, through a translator on a phone call from his home in Prague. "It absorbs and shapes the environment."
His piece, Subtile (the mysterious title suggests a variation on the idea of subtlety), which is set to be completed by the end of November, is an undulating, 40-foot-long, nearly 16-foot-tall organic form on four trunk-like stilts, an armature covered in over 4,000 2-inch laser-cut steel discs designed to flutter in the Delta breeze.
While they're rendered in steel, Subtile's reflective "leaves" function more like unstable pixels in the viewer's visual field—a disturbance in the landscape. "We can perceive it as an error in the environment," Díaz, 46, explains.
That "error" underscores the landscape's natural beauty, much the way Van Gogh's visible brushstrokes (considered to be mistakes by critics of the time) in his depictions of the Provençal sky suggest the movement of the mistral, that region's tumultuous wind. But in the case of Díaz's piece, the artistic interpretation of the landscape's motility becomes part of the landscape itself, art interacting with subject matter.
"I think it's brilliant that the city picked such an extraordinarily interesting artist," says Mark Friedman, president of Fulcrum Property, which developed the Barn, the similarly free-form pavilion just down the path from the new installation. Díaz was given a choice of several locations along the waterfront, and picked this one, roughly midway between the Barn and the Tower Bridge in West Sacramento, for its position at the margin of the riparian zone that connects the river to the built environment.
"There are unseen motions going on around us, like photons and sound waves," says Friedman. "A lot of his work is making invisible things visible. Because you see these shimmering mirrors that move like sequins on the skin of the work, reflecting what's around it, it hides in the landscape, but also pops out from it. He looks at things that are very site-specific, and the work itself is almost like the display of big data."
Díaz agrees that what he does is similar to the kind of data visualization usually reserved for programmers working in artificial intelligence—he even bills himself as a "visual activist," not a sculptor. "Some sculptors work with clay; I work with a computer," he says. For Subtile (and some of his previous works) he employed an algorithm called an L-system, named for Hungarian theoretical biologist Aristid Lindenmayer, which simulates the growth patterns of plants to create shapes featuring the random, fractal beauty found in seashell chambers and the branching of a tree. To "grow" the sculpture's shape, Díaz tended to the emergent algorithm on a computer, much the way a botanist might tend to a growing shrub, pruning and feeding it until it reaches maturity. "I'm looking for the final form as I influence the sculpture to grow in front of my eyes," he says. "I'm trying to shape the form by employing various dynamic fields."
"A lot of [Díaz's] work is making invisible things visible," says developer Mark Friedman. "Because you see these shimmering mirrors that move like sequins on the skin of the work, reflecting what's around it, it hides in the landscape, but also pops out from it."
The sculpture is imitative of nature without being identifiable—it suggests a grove of trees (like the oaks along the river that it reflects), but it's also reminiscent of the turbulence of a gust of wind or a body of water. The artwork is in a perpetual dance with its surroundings, moving in response to the breeze and mirroring the changing colors and visual patterns of its environment. On a cloudy day, it will nod and wink under a soft gray sky; in a rainstorm, droplets striking its petals will make its entire surface dance and flash like a disco ball; in bright sunlight under a clear sky, it will sparkle green and blue. At night, it will glow, illuminated by two spotlights, and as The Bridge District grows up alongside it, Subtile will also include kaleidoscopic reflections of the shades and textures of buildings in its repertoire.
Díaz is fascinated by the intersection of the urban and the untamed. He talks about his work as being a lot like ivy, that invasive creeper known for slathering brick façades with a dense layer of leaves, resulting in forms that are at once vegetal and architectural. "The sculpture shapes the environment as much as the environment shapes the sculpture," he says.
His most notable installation in the United States to date is a work titled Geometric Death Frequency-141, erected in 2010 outside of the Massachusetts Museum of Contemporary Art's classical building, where it remained on display for two years. For the piece, Díaz programmed robotic arms to attach 420,000 small black orbs to each other with adhesive droplets to create a stunning—if somewhat sinister-looking—mass akin to some quick-spreading species of kudzu from outer space.
Díaz exhibited another installation at Art Basel in Miami in 2008 at the invitation of MoMA's PS1, and has shown works in London, Paris and Beijing, among other places, but Subtile will be his first piece to be permanently on public display in the United States.
The West Sacramento installation is the culmination of a process that began in 2015, when the city, which has no dedicated art staff, turned to its bigger neighbor across the river for help managing the process of finding an artist for the $500,000 project. The effort is backed by a Housing-Related Parks Program grant from the state of California, which makes beautification funds available to towns that construct a minimum number of income-restricted housing units—something West Sacramento has been paying attention to in pursuit of livability.
Katy Jacobson, West Sacramento's community investment manager, hired the Sacramento Metropolitan Arts Commission (SMAC) to oversee a selection committee that includ-ed citizens, city officials and arts professionals. SMAC's then-director Shelly Willis put out a broad public call for submissions, in part to ensure that local artists had a chance to compete. Wanting something cutting edge and site-specific, she also sent individual invitations out to a handful of artists she thought would be interesting choices, including Díaz. "He was making work that explores the connection between man-made environments and nature," Willis explains.
Díaz was one of over 100 applicants, and after a careful process, the committee unanimously selected him. When he visited here to become intimate with the site in 2015, he was inspired by the Barn, designed by Dutch landscape architect Jerry van Eyck, then under construction. The wooden structure is also a product of the computer age, its compound curves, like those in Díaz's work, the result of pure processing power. Díaz appreciated that with so many acres of land ripe for development, the city and Fulcrum chose to prioritize the Barn as a visual manifesto for what this new area should be. Subtile reflects not just the trees and the sky, but the nascent neighborhood's design-centric ethos. "It's a unique approach to cultivating an environment, the attitude of starting with art first, then adding everything else," he says. "It's not common at all, and I appreciate it as an artist."
The shepherd of this emerging zeitgeist is Jacobson, who has been spearheading the district's art-first approach to development. Subtile is an early manifestation of a grand vision she has crafted for turning the waterfront into an open-air gallery. She has joined forces with the city of Sacramento and the Crocker, located directly across the river from The Bridge District, to land a joint National Endowment for the Arts' Our Town grant, given to cities to fund creative community development, for a public art program called River Crossing. "The Crocker Art Museum has a new sculpture park planned," she says, "so there's a synergy being created from all of these efforts." On the West Sacramento side, in addition to Díaz's piece, work is already underway on two more installations, a poem by former Sacramento poet laureate Jeff Knorr to be embedded in brass lettering in the sidewalk along two blocks of E Street leading to the river, and a lighted sculpture of the word "West" by Brooklyn artist Janet Zweig to be erected at the end of the recently renovated Mill Street Pier.
Subtile was shipped in pieces to West Sacramento from the Czech Republic, and Díaz will assemble it in situ over a period of weeks starting on Oct. 30, after which the public can watch it evolve along with its surroundings that will, in a few years, include a vibrant community of people living, working and playing in its multifaceted reflection. "It's exciting. It feels like everybody's on the same page about making [The Bridge District] as [great] as it can possibly be," says Willis. "There will be no opportunity to develop another site like this [here], to have this emphasis on design, architecture, art, placemaking and landscape architecture. Federico is a deep thinker who is able to translate all of these ideas into something beautiful."