Morning Stars
When the weekend rolls around, we like to play our own version of the hunger games, seeking out our favorite meal of them all—brunch. In our latest quest, we tracked down sweet 'n' savory chicken and waffles in Davis, a magnificent mango-stuffed French toast in Roseville, perfect pumpkin bacon pancakes in midtown, and a tangy Welsh rarebit omelet downtown, along with dozens of other egg-cellent dishes. So, top of the morning (or afternoon) to you, Sacramento—here's our region's best of the brunch. Let the games begin!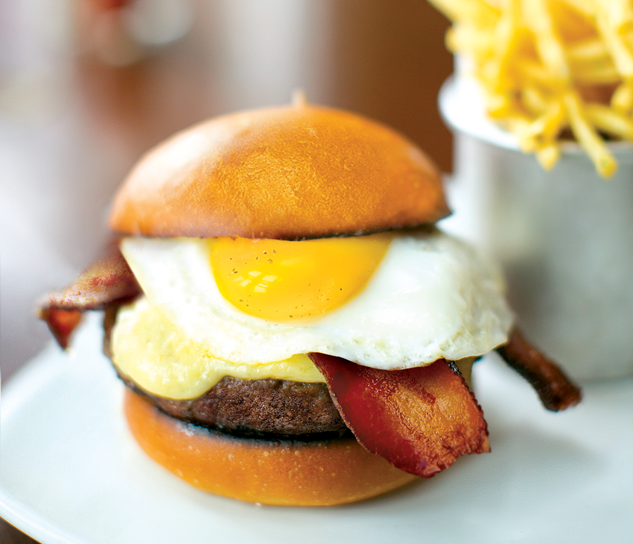 Roxy Restaurant
Brunch is served Sat. & Sun. 9 a.m.-2 p.m.
2381 Fair Oaks Blvd.
489-2000
roxyrestaurantandbar.com
R
Sometimes brunch can just mean pancakes and eggs for lunch (not that there's anything wrong with that), but at the elegant, Western-themed Roxy Restaurant & Bar, brunch is clearly a special kind of crossover meal. Sure, there are straight-up breakfast items like the light and tangy buttermilk pancakes, but it's the dishes with something extra that really make a brunch, and Roxy has plenty, starting with its irresistible doughnut holes, which are warm and airy little sugar-coated orbs served with chocolate, caramel and vanilla bean dipping sauces. Healthy eaters can opt for the farmers' market omelet, made with a seasonal selection of regional fresh veggies. But if you're looking for creativity, look no further than the slow-braised pork belly with jalapeño cheddar grits, the luxurious tri-tip beef Benedict, or the brand-new breakfast burger with a half-pound patty, sunny-side-up egg, smoked bacon, aged white cheddar, caramelized onions and house-made steak sauce. (A cornerstone of the menu is the naturally raised beef from Lucky Dog Ranch in Dixon, which belongs to Roxy owners Terri and Ron Gilliland.) And for the adventurous: the Bacon Mary, a twist on the Bloody Mary with bacon-infused vodka and garnished with a hefty slab of, you guessed it, bacon. "It's almost its own meal," says executive chef Danny Origel. We'll eat to that. —Rick Kushman
---
Bacon & Butter
Weekend brunch is served Sat. & Sun. 8 a.m.-2 p.m.
1119 21st St.
346-4445
R
If butter makes everything better, then adding bacon to the equation surely makes everything spectacular. So it's no wonder that Bacon & Butter, the midtown breakfast spot that debuted last May with liberal servings of both ingredients on its menu, has quickly become one of our new favorite brunch spots.
Creative comfort food reigns supreme—and sublime—here with inventive dishes by chef-owner Billy Zoellin, formerly of The Golden Bear, such as his perfectly cooked, made-from-scratch buttermilk pancakes in rotating flavors like blueberry ricotta and pumpkin bacon that just might be the best flapjacks in town; the deeply satisfying breakfast biscuit sandwich with bacon, eggs, onions, chives, mascarpone and a crispy cheese skirt; and thick slices of French toast dipped in orange custard and topped with cranberry sauce and whipped cream.
And complementing B&B's down-home fare is its country-chic décor—think Roy Rogers posters, distressed wood tables and curtains made of coffee burlap bags (the restaurant's logo hand-stamped on white paper tablecloths is an especially nice DIY touch)—which makes the 1,300-square-foot dining room feel that much cozier as you tuck into the popular B&B potatoes with melted cheddar, lardon and eggs. Trust us, one bite and you'll be saying, "Mmm, bacon—and butter." —Elyssa Lee
---
Fox & Goose
Weekend brunch is served Sat. 6:30 a.m.-2 p.m.
& Sun. 6:30 a.m.-3 p.m.
1001 R St.
443-8825
foxandgoose.com
R
Since 1975, the Fox & Goose—which is housed in a former Fuller Paint and Glass warehouse and boasts soaring ceilings, frosted industrial window panes, walls filled with quirky, antique British ephemera, and a battered wood floor that just might date to the building's origin in 1913—has been one of downtown's hottest spots for morning meals, with devotees often braving hour-long waits for brunch.
Happily, 2012 saw a number of improvements that have alleviated wait times, including nine new outdoor tables for al fresco dining and an extension of its Sunday brunch hours from 2 to 3 p.m.
One thing that has not changed in this British pub is the same hearty quality, not to mention quantity, coming out of the kitchen. For the crowd that loves authentic English food—insert joke here—there's the Welsh rarebit omelet with its tangy cheese sauce, and the British omelet with juicy bangers and a zippy English cheddar. And what's an English breakfast without crumpets? But the menu here is as eclectic as its walls, and blue-blooded Yankees will appreciate that the New Yorker may be the best smokedsalmon omelet in town, with plenty of cream cheese and a generous helping of salmon. There's also a range of tofu scrambles (try the pesto) and cereals, including their homey Harvest Grains. Quite simply, as it approaches its 39th anniversary, the Fox & Goose hasn't lost a step. And that's no joke. —Rick Kushman
---
The Porch
Brunch is served Sat. & Sun. 9 a.m.-3 p.m.
1815 K St.
444-2423
theporchsacramento.com
R
The Porch may be the ultimate embodiment of the lazy Sunday ethos.
Inspired by Southern slow cooking found in research trips to the Carolinas, the team that owns the Capitol Garage opened The Porch just over a year ago.
As you step through the actual front porch for which the restaurant is named, you'll notice the faux window frames on the walls giving you a peek into the lush landscape at Charleston's Magnolia Plantation & Gardens, replete with white pedestrian bridges and bald cypress trees. And in another nod to the region, each table features a glass jar filled with uncooked black-eyed peas holding a candle.
For brunch, take our word and start with the light, golden, piping hot beignets, artfully dusted with powdered sugar. For something a bit more toothsome (and filling), bring on the cornbread skillet, made with sweet corn, garlic, pimentos and sharp cheddar.
The entrées change frequently, with a recent menu featuring creative plates like a Duck McMuffin, with duck confit and Creole mustard hollandaise; the Sactowne Fry, with pan-fried oysters, scrambled eggs, cheese and applewood-smoked bacon; and the barbecue gulf shrimp with creamy organic cheddar grits. And there are always at least a couple of dishes featuring freshly made, oversized biscuits, like the brisket and biscuit with poached eggs and barbecue hollandaise. Or simply get a biscuit on the side and smother it in the frosting-like house-made honey-jalapeño butter, then wash it down with an artisan mint julep.
Southern comfort, indeed. —Rob Turner
---
Katrina's Cafe
Weekend brunch is served Sat. 7 a.m.-2:30 p.m.
& Sun. 7 a.m.-2 p.m.
456 Grass Valley Hwy., Auburn
530-888-1166
R
City brunch, meet your country cousin.
The sizable crowd on the front porch should be the first clue that Katrina's Cafe is worth the drive to Auburn. On weekend mornings, a virtual tailgate party of hungry patrons gather in the spare space, literally 10 feet from Highway 49, clutching steaming white mugs full of strong coffee and waiting their turn for one of the 16 tables inside this sunny roadside hot spot. Once inside, its country warmth shines through with antique plates mounted on walls painted bright yellow and red, and white ceiling fans spinning lazily overhead. Katrina's serves up tasty brunches that are full of flavor, home-cooked goodness and just enough surprises to make it a true destination stop. The veggie Benedict is served with softly cooked spinach, still with a bit of snap, sautéed mushrooms and a zesty hollandaise sauce with a hint of citrus. The corned beef hash, a generous helping of finely minced potatoes, onions and meat, is a cult favorite for good reason. And then there's the signature lemon-yogurt pancakes, which are light, delicious and sprinkled with powdered sugar. But make sure to stop at the ATM first—it's cash and check only, and you'll want to have plenty of money to tip the friendly and efficient waitstaff. —Anita Chabria
---
Four Sisters Cafe
Weekend brunch is served Sat.
& Sun. 6:30 a.m.-3 p.m.
9050 Fairway Dr., Roseville
797-0770
R
One of the newest spots in the region, Four Sisters Cafe is already breaking as many rules as eggs with its inventive brunch menu that includes everything from oatmeal brûlée to buttermilk "Mancakes" packed with bacon and sausage. The restaurant, which opened in October, is owned by four Roseville natives (yes, sisters) who have been in the dining business since their teen years waiting tables at Chubby's Diner. Now they're running their own place and the family pride shows through in the house-made ingredients. For example, Gina, the oldest sister, cures the bacon for about five days in a salty-sweet marinade and smokes it to perfection with hickory chips. They also make their own syrup, served hot. It's the perfect accompaniment to the sweet mango-stuffed French toast made from a house-baked croissant filled with mango cream cheese, which is topped with slices of mango, banana and toasted coconut shavings. And not to be missed: the fresh Garden Benedict, with sautéed spinach, slices of tomato and avocado, poached eggs and hollandaise sauce over butter-grilled herb focaccia bread, and the popular Four Sisters omelet, with the house-cured bacon and an over-medium egg folded inside a soft omelet casing. This is definitely one family where there's not a bad egg in the bunch. —Tori Masucci
---
Mama Kim Eats
Brunch is served Sun. 11 a.m.-3 p.m.
1616 Del Paso Blvd.
515-9971
mamakimcooks.com
R
With its newly revamped menu, Enotria has been generating all the buzz lately as a culinary beacon on Del Paso Boulevard, but we think its neighbor down the street deserves some time in the spotlight, too.
The Creole-inspired Mama Kim Eats, just a few blocks east of Enotria, has been quietly growing a loyal following since opening last May in the former Supper Club space. And count us as one of its biggest fans, especially on Sundays when the restaurant hosts a jazz brunch that's music to your ears and taste buds. While a local ensemble—which on most weeks is Kumyn, led by singer Phillip Rayburn, who co-owns the restaurant—sets the mood with standards like "Summertime," chef-owner Kim Scott (aka "Mama Kim") presents a Mardi Gras parade of impeccably plated, soul-warming Southern-style dishes.
Among the signature entrées is the über-popular chicken and waffles. Made from a Rayburn family recipe, the chicken is drizzled with honey mustard and is so finger-licking good that it comes with its own wet towel. Then there's the house-smoked pork with Creole sauce, two eggs sunny-side up, aged white cheddar grits and dinosaur kale from locally based Feeding Crane Farms. And the baked cinnamon apple French toast is like eating a warm apple pie for breakfast. Be sure to leave room for the scrumptious sides, though, like the freshly baked cheese-and-chive biscuit and one of the heavenly, incredibly moist house-made scones (our favorite is the maple-glazed blueberry). But in the end, it doesn't matter what you get—Mama Kim will jazz up any brunch dish you order. —Elyssa Lee
---
de Vere's Irish Pub
Brunch is served Sat. & Sun. 9 a.m.-2 p.m.
Davis: 2117 E St. 530-204-5533. Sacramento: 1521 L St.
231-9947
deverespub.com
R
You might think a pub is mainly for drinking—and grown-ups. But de Vere's (with locations in both Sacramento and Davis) is an under-the-radar, cozy and delicious spot for brunch with the whole family (there's an unusually wide-ranging kids' menu, from shepherd's pie to the "Mashy Smashy" with mashed potatoes and veggies).
The rib-sticking breakfasts include Irish classics like a fry-up, accompanied by traditional Irish brown bread (baked twice daily in-house), and Irish-American mash-ups like a luscious breakfast sandwich—stuffed with house-cured smoked ham, peppery bacon and Dubliner cheddar—or the popular pork and apricot sausage omelet. Don't miss the corned beef hash, with plenty of delectable crispy bits, or the Nutella-stuffed challah French toast. Above all, don't forget it's still a pub, with an excellent selection of brunch cocktails: If the Tullamore Dew Irish coffees topped with thick whipped cream don't sate you, then try the "Man-Mosa," made with Harp lager.
These authentic pubs, run by three de Vere White brothers, come by their family feel honestly. Look for mementos on the walls, such as the teakettle their father gave to their mother as an engagement present in the Sacramento location. Or you might just find the de Vere Whites themselves: One recent morning found their mum rocking her grandchild and chatting with kids nearby, who were chowing down on the excellent fish and chips. Now that's a hearty Irish welcome. —Kate Washington
Monticello
Brunch is served Sun. 10 a.m.-2 p.m.
630 G St., Davis
530-792-8066
monticellocuisine.com
R
Brunch doesn't get more farm-to-fork than at downtown Davis' two-year-old Monticello (pronounced Monti-sell-o and named after a nearby historic settlement of the same name). That's because husband-and-wife owners Tony and Rhonda Gruska customize the refined, inviting bistro's menu to showcase whatever arrives that day from Monticello's third co-owner Jim Eldon, a longtime Yolo County farmer whose Fiddlers Green Farm provides much of the restaurant's ingredients.
Eldon's organic produce shines in dishes like a light, fluffy egg scramble featuring seasonal veggies like asparagus and leeks, or the popular Eggs Monticello, a delightful take on a traditional eggs Benedict layered with greens like chard and Bloomsdale spinach. Other nearby producers include Davis' Village Bakery, whose walnut loaf is found in the decadent French toast sprinkled with walnuts and served with a house-made caramel syrup. And the organic coffee comes from Davis' Pepper Peddler, which roasts its beans using energy derived from a stationary bicycle rider (the town is America's bicycle capital, after all). And the farm Mary's Free Range Chicken (with poultry raised near Fresno) provides the main ingredient for one of the eatery's most popular dishes: a mountainous platter of moist, buttermilk fried chicken served with cheddar-and-chive cornmeal waffles.
Further illustrating Monticello's love of regional agriculture are the photos of Fiddlers Green Farm on the walls and the massive mural of vibrant fruits and vegetables—a perfect backdrop for indulging in this exquisite, farm-fresh fare. —Stephanie Towne
---
Tower Cafe
Weekend brunch: Sat. & Sun. 8 a.m.-3 p.m.
1518 Broadway
441-0222
towercafe.com
R
If you're like us, the white spire of the Tower Theatre on the northern edge of Land Park draws you in like a hungry moth to a flame on weekends.
Aside from the unavoidable wait on sunny days, the multicultural culinary oasis that is the Tower Café has everything you could ask for in a local hangout. There's the sprawling, leafy outdoor patio (heated in winter and misted in summer), an energetic warren of indoor rooms strewn with exotic international art, a full bar with plenty of innovative cocktails (try the Hibiscus Sunset, with pomegranate vodka, the sweet essence of its namesake flower, lemonade and a dash of soda), and a menu that executive chef Piag Tourville regularly updates with her eclectic mix of global influences that, while complicated on the surface, fits well with the mashed-up diversity that makes this city a cultural standout.
There's little question that the signature dish here is the cafe's celebrated French Toast (feted in The New York Times, no less), crispy on the outside and creamy on the inside, and soaked in custard overnight. But the brunch menu here is an ensemble cast, and you'd be remiss to miss the Carnitas de Mariachi with tender, slow-roasted juicy pork, fluffy scrambled eggs and flour tortillas; or the nap-inducing Monte Cristo wedged between two slices of the aforementioned French toast and served with a chipotle raspberry jam (the Madame Cristo adds over-medium eggs on top). Sweet dreams. —Anita Chabria