Mother Superior
A former chef at Ella Dining Room and Bar opens the "Mother" of all vegetarian restaurants just a block away on K Street.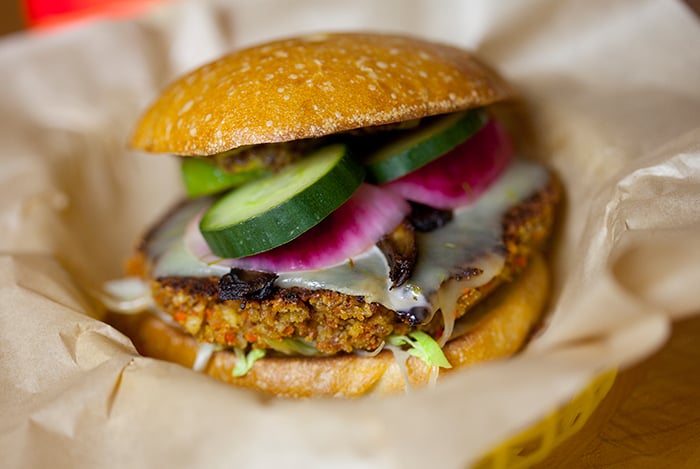 Mother
1023 K St.
594-9812
mothersacramento.com
SSurprise: The hottest table in Sacramento right now is at an inexpensive vegetarian restaurant that its owners—former Ella Dining Room and Bar executive chef Mike Thiemann, his wife Lisa Thiemann and local food photographer Ryan Donahue—didn't even mean to open. Their plan, all along, was to open a higher-end, meat-focused rotisserie, to be named Empress Tavern, located inside the venerable Crest Theatre on K Street. But then a Blimpie two doors down from the Crest closed, so the landlords asked the Empress crew if they wanted to move in, and Mother was quickly born, the first in a planned group of several restaurants.
Mother opened in January, with the drab fast-food storefront transformed into a colorful, airy space with blond wood tables, paintings by local artists and vibrant chalkboard murals. The Thiemanns are "stoked" (as Lisa says) to be on K Street, which is in the midst of a renaissance. Both love downtown; Mike, a Rancho Cordova native, has fond memories of punk shows at the Crest, while Lisa worked nearby at Espresso Metro after graduating from St. Francis high school.
The restaurant was hotly anticipated. Long lines from its first week came thanks to pop-up events around town and the loyal following that Thiemann gained at Ella, where the chef was known for adding inventive vegetable dishes and sides to a largely meat-based menu.
Still, Thiemann says, he never set out to go vegetarian. He and Lisa are still meat eaters on their (rare) days off—though Lisa confides that she lost 10 pounds in the weeks after the restaurant opened, thanks to eating mainly vegetable-based fare. He enjoys the paradoxical flowering of creativity that the constraint on his cooking has spawned.  "At places like Ella, you have to serve meat," he says. "You get one spot [on the menu] for vegetarian, and now I get to fill 20 to 25 spots. It helps us think out of the box and just be creative. There are no rules."
Some of the no-holds-barred dishes Thiemann has experimented with include a chunky chile verde made hearty with potatoes, hominy and beans, topped with radish and serrano chile slices cut to transparent thinness; vegetarian poutine with succulent mushrooms, roasted fingerling potatoes and a you-can't-believe-it's-meatless savory gravy that Lisa justly cites as one of the kitchen's triumphs; a popular carrot nutburger; and side dishes like cauliflower with harissa and green olives or tender roasted Brussels sprouts with dried apricots.
Pastas are house-made, with wide-ranging toppings; one night, a tangle of spaghetti was lightly dressed with a flavorful mix of fennel, herbs, popped mustard seeds and fromage blanc. Fromage blanc also makes an appearance standing in for cream cheese frosting in an addictive, avant-garde, deconstructed carrot cake for dessert, which gets crunch from fried quinoa (yes, really) and candied almond slices. The most popular dessert so far, however, is a simple but richly flavored brown butter cookie with sea salt.
Chef Thiemann, of course, has his favorite dishes, such as his popular gumbo (Mother's menu is inspired by Southern cuisine). "I've made the gumbo a hundred times now and I'm at the point where I don't miss the pork in it," he says. "Or our fried mushrooms that we fry like chicken. That's always like one of the more surprising things to guests. They go, 'Wow. This tastes like chicken.' " The meaty, slippery texture of the oyster mushrooms that he fries in a light, crispy batter are indeed reminiscent of a chicken thigh, but for Thiemann, who puts them in a lavish, highly popular po'boy sandwich, they're also a sly play on words: Fried oysters are a traditional filling for a nonvegetarian po'boy.
Thiemann says he's even more excited about the produce seasons to come; seasonality is a key tenet of the restaurant's philosophy. (Mother's tagline reads simply "Winter, spring, summer, fall," and a striking wall of paint-dripped colors—blue, green, yellow and orange—are meant to represent the seasons as well.) "We actually opened in the worst vegetable season ever," says the chef, speaking in February just weeks after Mother opened. "Right now, there's [almost] nothing being planted or grown. We're scraping by with, like, kale and broccoli right now, but when we get into spring and summer, this place is just going to explode."
Despite the relative lack of bounty in the winter season, Thiemann added color and flavor with a lineup of house-made pickles and preserves—everything from kimchi to vibrant salt-cured Meyer lemons—arrayed in jars on the long counter. "Almost everything is house-made, except for two of our buns [for the sandwiches]," he says, noting that Mother will start offering house-made bread when Empress opens and he has access to the bigger kitchen.
Despite the small kitchen, Thiemann, Mother's co-executive chef Matt Masera and crew manage to handle the high traffic flow—which has been a factor since day one, with lunchtime lines snaking out the door and down the sidewalk.
"Lunchtime is nuts," says Thiemann frankly. "We do counter service because that's the best way we can operate fast and feed a lot of people quickly, even though we're not that big. It's the whole La Bonne problem," he adds, referring to downtown's late, celebrated La Bonne Soupe Café, whose popularity daily exceeded its tiny seating capacity. "At night we do table service, so we control the seating better and we can pull out the menu a lot more."
Both menus change daily, but the offerings at dinner are more extensive, including a 10-dish chef's sampler. But whether you're ordering at the counter for lunch or sitting down at dinner, Mother retains, by design, a down-to-earth, homegrown vibe.
The restaurant's name itself evokes this feeling, referencing the idea of Mother Earth and of food culture (a "mother" is the starter that turns wine into vinegar), while also positioning the restaurant as the matriarch of its owners' planned group of eateries. Thiemann hints that future concepts, after Empress, may include a casual ice cream and French fry joint (a natural pairing, he says, since his secret to great French fries is freezing them) and, eventually, a seafood restaurant. But the name Mother also hides a secret history: in 2007, Thiemann was working in New Zealand at a restaurant called Sweet Mother's Kitchen.
"One night, I was watching Trainspotting," he remembers. "And this is really kind of bad—there's this scene where [a character] goes and buys heroin from [a dealer known as] Mother Superior, and the transaction is like, 'What's on the menu today, sir?' That stuck with me. I always wanted to name a restaurant Mother Superior, but we all agreed that here we were too close to the Catholic church," referring to the nearby Cathedral of the Blessed Sacrament. So they dropped "Superior"—but kept the concept of Mother, and the idea of an ever-changing menu, albeit one with vegetables rather than drugs.
Perhaps the most significant idea behind the name Mother, however, is that of a place that mothers and nurtures everyone, vegetarians and meat eaters alike. That's really what the Thiemanns and Donahue hope to achieve with this modest yet ambitious former lunch counter. "I've always wanted to work at a restaurant or own a restaurant that my friends can afford—that everybody can afford," says Mike Thiemann. "Mother is very inclusive."